50 Best Research Universities for Undergrads 2022
Interested in attending a STEM school? Our ranking of top research universities for bachelor's degrees displays schools that will best prepare you for STEM careers.
10 Best Research Universities for Undergrads
A research university is a great option for students interested in obtaining STEM degrees. Such students benefit from engaging in experimental inquiry, exploring cutting-edge technologies, and pursuing innovation in a rich and dynamic campus atmosphere. The top research universities give students a chance to work closely with influential professors and choose from a wide range of well-funded degree programs and research opportunities.
What is a research university?
A research university is any university that invests heavily in research, and which consequently provides meaningful and extensive opportunities for its students and faculty to participate in research. The best research universities are classified into different tiers based on their quantifiable commitment to research activities. This tiered ranking is called the Carnegie Classification. This is where terms like R1 university and tier one university come from.
Related: Differences between research universities and teaching colleges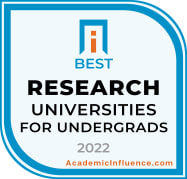 If you would like to see this ranking without school size considered, visit our best universities in the US ranking.
The following list of research universities is composed of both private and public schools. We've identified 394 research universities in the US. Of those, there are 185 private research universities in the US. In order to be included in this list of best research universities, a school must be a fully accredited university, offer doctoral degrees across the range of STEM subjects (Science, Technology, Engineering, Math), and it must report high levels of research activity based upon the number of research and/or practice doctorates awarded each year.
Photo Credit: California Institute of Technology, Beckman Institute. By Canon.vs.nikon, via CC BY-SA 3.0.