Web Developer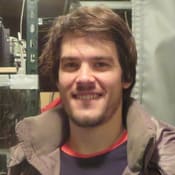 Tommy Doak is a front-end web developer. He grew up in Chattanooga, Tennessee and graduated from the University of Georgia with a BA in Marketing. He worked as an alarm technician in Halifax, Nova Scotia and door-to-door salesman in Chicago before moving to Barcelona to complete a TEFL course. He taught ESL at a language school in Shanghai and public schools in Ho Chi Minh City.
Tommy worked in a salmon fishery in King Salmon and later as a deckhand on two commercial fishing vessels, one gillnetter near Kenai and one purse seiner off the coast of Kodiak Island. He returned to teaching English abroad for online Chinese companies in Medellin, Mexico City, and Berlin while working as a headhunter for a cruise line recruiting agency. He also worked in McMurdo Station, Antarctica for an ironworks company as a construction laborer and helped put up the roof and sidings on a new science research building.
After Antarctica, Tommy moved to Paris to complete a Master's degree in digital strategy management from Grenoble Ecole de Management where he found his passion for web development.