Our Team
Jed Macosko, PhD
Research Director and Chief Public Liaison
Hailing from Minneapolis, Jed has lived in Minsk, Princeton, Tashkent, Chicago, Copenhagen, Albuquerque, and Strasbourg. He graduated with a BS from MIT and earned his PhD at UC Berkeley. After a postdoc with Howard Hughes Medical Investigator Carlos J. Bustamante, he worked with Nobel laureate Kary Mullis at a start-up in Irvine, California. Currently, Jed is a professor of physics at Wake Forest University. He continues his two decades of research on the mechanics of cells and molecular motors while teaching undergraduates the basics of big data and virtual reality. His lab has received millions of dollars in outside funding, and he is a contributing author of several books. His work has been cited thousands of times, and his patents have been developed in the biotech sector. One of his most fulfilling intellectual projects so far has been with the team at AcademicInfluence.com.
Wayne J. Downs
President
Keen to overturn the subjectivity and bias in university rankings, Wayne became intrigued with AcademicInfluence.com's revolutionary machine-learning approach to ranking schools and people by influence. Having spent nearly ten years studying and directing content about higher education for some of the largest online education websites in the world, Wayne saw in AcademicInfluence.com a way to do rankings right, helping people make better decisions about their education and thereby advancing their lives. A native of Kentucky, Wayne obtained his BS in biblical studies with a minor in psychology at Campbellsville University, an MDiv at Baylor University, an MA in philosophy at Texas A&M, and thereafter completing PhD coursework in philosophy at the University of Kentucky, focusing on the cognitive sciences and metaethics. He muses that because of the mistakes he made cramming his 4-year degree into 6 years, he is able to help others avoid similar mistakes. Wayne is passionate about higher education, and sees in AcademicInfluence.com the key to bringing integrity to academic rankings.
James A. Barham, PhD
Academic Editor
James is a Texas-born historian and philosopher of science. He received his BA in classics from the University of Texas at Austin, his MA in history of science from Harvard University, and his PhD in history and philosophy of science from the University of Notre Dame. While at Harvard, he was a Sheldon Traveling Fellow at the University of Athens and a Visiting Fellow at the Byzantine Institute of the Serbian Academy of Arts and Sciences in Belgrade. Barham conducts research on the conceptual foundations of biology. He has published papers in a number of scholarly journals, including BioSystems, Rivista di Biologia, and Studies in History and Philosophy of Biological and Biomedical Sciences.
Winston Ewert, PhD
AI / Machine Learning Expert and Software Engineer
Winston is a software engineer. He received his BS in Computer Science from Trinity Western University, his Master's degree in Computer Science from Baylor University, and his PhD in Electrical and Computer Engineering from Baylor University. His specializes in computer simulations of evolution, specified complexity, information theory, and the common design of genomes. Ewert worked for Google for two years after earning his doctorate as a software engineer and was deemed the most productive programmer in his team. Winston left Google's Mountain View, California, campus and returned to Vancouver to work independently as a software engineer and programming consultant.
Robert J. Marks II, PhD
AI / Machine Learning Expert
Bob is distinguished professor of engineering in the Department of Engineering at Baylor University. He was attracted to Baylor University after twenty-six years at the University of Washington in Seattle by Baylor's vision of being the home of cutting-edge research while celebrating the Lordship of Christ. Marks is an American electrical engineer. His contributions include the Zhao-Atlas-Marks (ZAM) time-frequency distribution in the field of signal processing, the Cheung-Marks theorem in Shannon sampling theory, and the Papoulis-Marks-Cheung (PMC) approach in multidimensional sampling. He was instrumental in the defining of the field of computational intelligence and co-edited the first book using computational intelligence in the title.
Brian Carlson, PhD
Lead Developer and SEO Analyst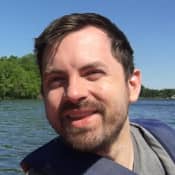 Brian began his career with a PhD in philosophy. After teaching for several years, he decided that the Academic life wasn't for him. Brian had always been interested in computers, so he taught himself how to program and joined the AcademicInfluence team as a developer in the end of 2019. Along the way, Brian picked up skills in SEO and web-design. In his free time, Brian enjoys playing guitar, drums, and hiking.
Dave Tomar
Managing Editor
Dave Tomar is an expert on plagiarism and contract cheating in higher education. Author of The Shadow Scholar: How I Made a Living Helping College Kids Cheat (Bloomsbury, 2012), Tomar worked for a decade as an academic ghostwriter before bringing widespread attention to this thriving cheating industry that undermines higher education. This book arose out of an earlier 2010 article that he authored titled "The Shadow Scholar." Under the pen name "Ed Dante," "The Shadow Scholar" became the most widely read article in the history of The Chronicle of Higher Education and received special citation from the Education Writers Association. In this article and the subsequent book, Tomar detailed his work as an academic ghostwriter and exposed the need for significant reform in higher education to combat this form of contract cheating. Tomar has written for Huffington Post and The New York Times; has appeared on ABC World News, Nightline, Fox Business, and The Today Show; and has advised leading plagiarism detection companies including turnitin.com. Today, Tomar consults on various issues in higher education, and serves as Managing Editor for Academic Influence as well as its opinion, editorial, and news analysis journal, Inflection.
Dan Edelen
Director of Strategic Planning
Home-based in the idyllic countryside of southwestern Ohio, Dan works sandwiched between Amish communities and Cincinnati. A summa cum laude Christian Education graduate of Wheaton College in Illinois, his professional career spans technical marketing (Apple, Inc.), instructional design (Luxottica), computer network administration (at NASA Ames Research Center and P&G), knowledge management (Synchrony Communications), and business and academic writing/editing. Interests include board games, birding, and writing speculative fiction. Dan resides on a 13-acre organic fruit farm with his wife and college student son.
Jenn Finley
Content Manager
Jennifer holds a BA in English and an MA in English with an Emphasis on Technical Writing from Wright State University. Upon graduation, she ventured to Okayama, Japan, to teach conversational English to Japanese university students. Back in America, Jennifer then worked for 10 years as a project manager for an IT organization until she and her family moved to Kentucky. She homeschooled her four children for five years, then ventured into the world of academic rankings. After becoming disillusioned with the lack of integrity found on many ranking sites, she was intrigued (and encouraged!) by what she discovered at AcademicInfluence.com, and happily joined the team.
Justin Downs
Head of Marketing
As Head of Marketing, Justin taps into his creativity and interest in psychology to scout out, and implement, new ways of sharing the news and resources offered by the team at AcademicInfluence.com. Obsessed with KPIs and other analytics, Justin's competitiveness, stemming from his athletic career, helps to establish clear-cut goals in mind for every campaign. Previously serving as an intern and outreach specialist, Justin has gained experience in copywriting, editing, data collection, CRM management, SQL, paid ads, graphic design, and much more. Seeking to expand on his undergraduate degree from Georgetown College, Justin is enrolled in the MS in Marketing program at the University of Cincinnati. Outside of his professional life, Justin enjoys spending his free time relaxing with his wife. They oftentimes take their two dogs (Wentz and Willow) out to the farm to enjoy the open fields and swimming pool. Other interests include creating prints on his iPad and exploring Kentucky history via the Kentucky Bourbon Trail.