In March 2019, a massive FBI sting revealed the details of the biggest college admissions scandal in history. At the center of the investigation—codenamed Operation Varsity Blues—was Rick Singer, the founder and CEO of a college admissions consulting company catering to wealthy families. Singer pled guilty to multiple felonies for helping these families scam their way into top colleges.
Inflated test scores, bribed coaches, and fabricated athletic careers were just the tip of the iceberg in a conspiracy that drew extra attention for the complicity of millionaire CEOs and Hollywood actors. On March 17th, 2021, nearly two years later to the date, Netflix is premiering a feature length documentary on the scandal. In doing so, the streaming video service will expose to the widest audience yet the inequality that runs rampant through college admissions.
When a massive college admissions scandal spilled out into the news on March 12, 2019, it made for some unusually splashy headlines in the otherwise unglamorous world of college cheating. With millionaire CEOs, celebrity parents, and college coaches ensnared by a sting operation, and the lead perpetrator turned FBI informant, the tabloid nature of the story all but assured a feature length production would follow. Exactly two years later, it arrives in the form of a partially dramatized Netflix documentary.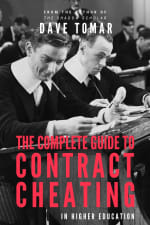 On its surface, the scandal is innately cinematic. Rick Singer, the man at the center of a scheme, sat atop Key Worldwide Foundation and The Edge College & Career Network, two college admissions consulting companies offering admissions support and test prep. In reality, these entities were part of an elaborate cover for a host of illegal activities which included hiring stand-ins to take standardized tests for student customers, fabricating athletic careers, and bribing coaches, test proctors, and other willing co-conspirators to look the other way as students defrauded various college admissions offices. All was done in an effort to help students from wealthy families fake their way into some of the nation's top schools. By his own accounting, Singer applied his efforts on behalf of some 750 families before ultimately attracting the attention of the FBI.
Once confronted with his crimes, Singer cooperated with authorities, becoming the key witness in an investigation referred to as Operation Varsity Blues. In wiretapped conversations with the wealthy parents who made up his clientele, Singer coaxed incriminating exchanges from dozens of customers. Famously, the investigation ensnared prominent figures like former president and COO of Wynn Resorts, Gamal Aziz, Academy Award-nominated actress Felicity Huffman, fashion-designer Mossimo Giannulli and his wife, television actress Lori Loughlin. They were among 53 individuals—a combination of industry leaders, test administrators, university coaches, and athletic directors—charged as part of the conspiracy.
Naturally, this is a story which has all the trappings of a highly streamable documentary complete with reenactments featuring Mathew Modine. Netflix tapped the Golden Globe winner—recently of Stranger Things acclaim—to tackle the lead role. But who is Rick Singer and what does his story tell us?
Singer currently awaits sentencing, and is facing the threat of fines in excess of $1.25 million along with up to 65 years in prison. But how did Singer come to be at the center of this scandal? And what do his misdeeds reveal about the relationship between college access, educational opportunity, and affluence? What does the decade-long success of his scam reveal about higher education in general?
Growing Into the Crime
At the center of the film are actual audio recordings of FBI-bugged conversations between Singer and the wealthy parents of underperforming students. Singer—58 when he pleaded guilty, in March 2019, of money laundering, racketeering, obstruction of justice, and tax evasion—was the founder and CEO of a non-profit organization called Key Worldwide Foundation, as well as the for-profit LLC, Edge Consulting Company (also known as "the Key,").
The Key referred to itself as a "Private Life Coaching and College Counseling Company," geared explicitly to the needs (and budgets) of wealthy families. Its website claimed that all of its clientele came through referral, and that this allowed it to focus its expertise on providing high quality services to "the world's most renown [sic] families and individuals."
We now know that the nonprofit Key Worldwide Foundation, which claimed to serve disadvantaged students seeking college access, was in fact a "side-door," used to channel money from wealthy families into the hands of test administrators and coaches awaiting bribes.
The for-profit Edge College & Career Network was the front for this admissions bribery scandal.
It does seem as though Singer, once upon a time, entered into the field of college admissions consulting with earnest intentions. According to Rolling Stone, Singer launched the Future Stars College & Career Counseling agency in 1992. At some point, he sold the company to more responsible stewardship, or at least it would seem so because Future Stars remains an active company today-so says the "Coronavirus Update" banner atop its webpage.
In fact, it is important to note that college admissions consulting is indeed a legitimate field in which a wide range of certified agencies provide access to admissions support, test prep, and a host of other services that can improve opportunities for access to a student's top choices. And with a variety of service offerings, families of varying financial backgrounds can access meaningful support.
For a look at the top fully-certified college admissions consulting companies, check out our conversations with consultant and admissions expert David Nguyen of NextLevelPrep, who ranks The Best College Admissions Consulting Agencies.
Singer's time in the world of legitimate college consulting was short lived. His next several steps found him hopping between executive roles in mortgage lending and an array of other business settings. He parlayed those experiences into a new startup, gaining support from private investors and assembling an advisory board of real higher education heavies like Occidental College president Ted Mitchell (who has since roundly condemned Singer's actions). Singer launched CollegeSource in 2004, and followed with the development of Edge (the Key) in 2007.
The focus on wealthy families proved a profitable business strategy for Singer, who allegedly collected more than $25 million from customers between 2011 and 2019. Some portion of this would be used to bribe his collaborators, and some portion would go into Mr. Singer's pocket. In exchange for a widely variant set of price points, Singer's customers would receive a veritable guarantee of admission into a school of their choice, whether fulfilling this guarantee meant: dispatching a stand-in to take the SATs; using photoshop to invent high-school athletic careers that never actually existed; paying psychologists for falsified disability reports such that students would be granted leniencies to complete SAT/ACT exams under private conditions, including under Singer's oversight; and bribing coaches to falsely identify certain applicants as athletic recruits.
The cost for Singer's services, and the scale of the bribes, were both considerable. Former Georgetown tennis coach Gordon "Gordie" Ernst received just under $1 million for his role in stamping 12 of Singer's customers with recruitment status. In other words, Singer's clientele were uniformly wealthy. This affluence made for a mouthwatering news cycle.
Affluence and College Admissions Access
This affluence also forced a much broader conversation about the role of wealth in higher education. Few would consider it controversial to say that wealthy families enjoy tremendous advantages when it comes to accessing and affording the top universities. A combination of university legacy status, personal connections, and most obviously, the sheer resources to choose from any and all schools without financial limitations all denote a higher education landscape where the top tiers are inevitably more scalable for the wealthy.
But the Varsity Blues scandal revealed just how deep this inequality runs-that students with unlimited financial resources have access to an entire world of exclusive opportunities that do not merely suggest privilege and advantage, but which suggest an altogether different playing field. It isn't simply the case that the wealthy have higher odds of gaining access. It's that, with unlimited financial resources, one can literally purchase a stacked deck. What's more, Singer's scandal reveals the irretrievably blurred line between what is acceptable among the wealthy and what is not.
Make no mistake—Singer's actions were illicit and illegal. About this, there is little ambiguity. But some of his practices suggest an extremely slippery slope between what is commonly accepted among the privileged and what, by contrast, might find you netted as part of a sprawling criminal investigation.
To wit, Singer accurately explained to his customers that the practice of falsifying disability reports was quite commonplace. According to transcripts from his recorded telephone calls, Singer explains that this is happening "everywhere around the country. What happened is, all the wealthy families...figured out that if I get my kid tested and they get extended time, they can do better on the test. So most of these kids don't even have issues, but they're getting time. The playing field is not fair."
A 2019 article in Forbes confirms Singer's claim, noting that "Up to 46 percent of students that attend private high schools are recipients of extra time, despite the fact that only five percent of the population has a learning disability, according to the National Center for Learning Disabilities."
The article confirms that this method of tilting the odds is not uncommon among affluent families. In fact, a Wall Street Journal report from 2018 indicates that as many as 25% of students at elite American universities are classified as disabled.
These are startling figures, simply because they so deeply defy credibility, and yet, go largely unchecked. Thus, to Singer, they represented an opportunity. Indeed, his business model seems largely fashioned to exploit vulnerabilities in the college admissions infrastructure. In doing so, Singer also exploited a system that is deeply unequal.
America's elite schools thrive on the impression of exclusivity. Their prestige, and indeed, their rankings among the world's top schools, depend to an extent on this impression.
Take a look at our review of, and conversation with, Jeffrey Selingo for a closer look at the growing exclusivity of prestige.
The Singer scandal casts an unflattering spotlight on the effect that increased prestige and exclusivity has on the college admissions process, particularly for wealthy families. As the elite schools ratchet down their acceptance rates-as sure a signal of prestige as any in the world of college ranking-even reasonably wealthy families must do more than what was once required to tilt the scales in their direction. According to The New York Times, "A donation to an Ivy-caliber school would have to be valued at $10 million or more to earn an applicant truly special consideration beyond their merits, according to several experienced college admissions consultants."
Even then, there are no guarantees. By comparison, Rick Singer's services seem like a bargain. He was selling guaranteed access. And he backed that guarantee by establishing his own personal network of co-conspirators within the worlds of educational testing and athletics. Singer was not only guilty of corrupting the readily corruptible, he also viewed the inequalities in higher education as an opportunity.
Improving Your Odds of Acceptance
Certainly, this is part of the elevator pitch for any college admissions consultation company. The goal is to provide paying customers with tips, tricks, strategies and hacks aimed at penetrating the highest portals of the ivory tower. How inherently fair is it that these companies generally cater to the wealthy-those who already enjoy considerable advantages on their way to college?
Well, not terribly fair, but then, it is reflective of the higher education hierarchy as it is. Even Rick Singer began as a player in the legitimate world of college consulting. The FBI probe into his business revealed that his consulting company, the Key, did in fact have legitimate clients who, though wealthy and paying top dollar for consultation and test prep services, did not slide down the slippery slope of criminal behavior along with Singer.
But it would seem that his legitimate work gave Singer a singular look into the system riddled with inconsistencies and vulnerabilities. As much was evident to those around him even before he came to be at the center of this bombshell scandal. Rolling Stone relates a damning anecdote.
In 2014, Singer self-published and, with author Rebekah Hendershot, co-wrote two books which outline an array of legitimate strategies for improving your fortunes with the admissions process. The books themselves would contain the usual advice about writing effective personal statements and studying for exams.
It was what co-author Hendershot observed during her time with Singer that tells a fuller story. In an interview with U.S.A. Today, Hendershot related that she witnessed Singer urging a wealthy student to submit a personal statement to a top university claiming that he was the disadvantaged child of a poor single mother.
Hendershot recalled that "The kid was very nervous, very upset. It was a personal statement all about his experiences growing up poor, and I was literally sitting in a mansion when he showed it to me. Rick had been telling him for weeks to write this essay telling him he was a poor student. But the kid was having trouble writing it because he couldn't imagine what it was like to be poor."
Today, it's clear that Rick Singer's case is an extreme one—that he exploited the system to its farthest ends. But arguably, at one time, he was just another ambitious college admissions consultant with loose ethics. And he was growing his business in an ecosystem largely inhabited by the wealthy. The New York Times describes a college admissions consulting sector in which a family could pay as much as $1.5 million for a comprehensive "five-year, full-service package of college admissions consulting from a company in New York City called Ivy Coach."
The service will guide the student through every step of the college admissions competition starting in eighth grade, including guidance on selecting courses, choosing extracurriculars, and acing standardized exams. There is nothing in this service that could be considered illegal, but there is also little disputing that this is an advantage accessible only to a certain class of customer—not unlike "the world's most renown [sic] families and individuals" who were served by Singer's now-defunct consulting company.
Alexis Redding, a visiting scholar at the Harvard Graduate School of Education says that "Private college consulting is almost like the wild West."
Professor Redding noted that the scale of the admissions scandal "isn't surprising to anyone who has either studied the high stakes world of private admissions or private consulting," though she admitted that the celebrity gossip dimension of the scandal was something of a surprise.
The Netflix Treatment
Perhaps, though, the celebrity dimension creates some opportunity for higher education reformers. No doubt, the names connected to the FBI's investigation allowed this scandal to register well beyond the immediate world of higher education. Americans have been inclined to ask at the dinner tables and water coolers what this reveals about college admissions, whether we're doing something wrong, what we could be doing better.
Presumably, the Netflix documentary will only expose this conversation further to the light of day. And as it happens, the Netflix documentary is directed by Chris Smith, who previously directed Fyre about the famously ill-fated music festival, and produced by the team that brought you the early pandemic trash-culture phenomenon, Tiger King. In other words, anticipate a highly watchable, schadenfreude-laden affair that leaves you feeling entertained and more than just a little dirty.
You can watch the trailer here:
***
If all of this leaves you wondering about the college admissions consulting business, you're not alone. The Singer scandal exposed the excesses that some will go to shift the playing field for their clients. This is not a reason to avoid the valuable support that college admissions consulting can offer. It simply means that you need to shop wisely, and only seek out those agencies which are certified by Higher Education Consultants Association (HECA) or Independent Educational Consultants Association (IECA).
These independent agencies provide oversight and certification, ensuring that member agencies adhere to all appropriate legal, ethical, and commercial standards both on behalf of consumers and within the higher education infrastructure. Agencies listed in their directories may be considered trustworthy and legitimate.
And for more on how you can safely and effectively navigate the college admissions consulting landscape, check out our conversations with consultant and admissions expert David Nguyen of NextLevelPrep:
And check out our other related articles on the college admissions process: