The master's degree in medical science is a unique advanced degree specifically designed for students who have a professional interest in learning medicine but who do not intend to become licensed, practicing physicians. If you wish to become a practicing physician, you would need to attend medical school, complete your residency, and pass the medical licensing exam. Earning a master's degree in medical science can prepare you to transition into a med school program. And if you wish to become a medical researcher, it can also be an important stepping stone on the way to a PhD in medical science.
Key Takeaways
A master's in medical science is an advanced degree that may either be a terminal degree a stepping stone for a medical doctorate.
While most graduate degrees in medical science require you to pass the Medical College Admission Test (MCAT), some will allow you to take the Graduate Record Examination (GRE) instead.
A master's in medical science may qualify you to work in healthcare administration or in treatment and health consultation.
However, if you work in a field such as nutrition, biomedicine, or public health administration, the master's in medical science can be an ideal degree, providing a practical knowledge of the medical field for an array of healthcare professionals.
Just getting started in the field? Check out our look at the medicine major to find out how you can get an undergraduate degree in medical science.
If you're ready to earn your graduate degree at one of the most prestigious schools in the world, get started with a look at the Most Influential Schools in Medical Science.
Or read on to find out what you can expect as a medical science master.
Featured Programs
Medical Science as An Important Degree and Career Track
Admission to medical schools is competitive. Simply enrolling in medical school after getting your bachelor's degree might not be the best move. You'll probably need further medical knowledge, skills in medical research, and standardized test preparation. In this case, a master's degree in the medical sciences might be helpful.
A master's in medical science program from a biomedical science, medical, or dental school will provide the competitive edge you'll need in the medical sector.
Program Goals
Students who enroll in medical science master's degree programs get access to medical faculty who are highly qualified, as well as access to a top-notch educational experience.
Medical students receive guidance and support from the time they sign up for the program until they graduate and submit their applications to medical school. Most schools let students become a part of a network of experts who provide letters of recommendation backing their application.
The supportive environment provided by graduate programs in the medical sciences encourages students to help one another with their academic work through tutoring, group projects, and information-sharing.
Students are provided access to local hospitals and clinics to interact with genuine patients and underserved people and become aware of issues with social justice and insurance. Weekly sessions let students learn more about different medical schools and the application process.
Medical science is a broad discipline, with professionals in surgery, respiratory therapy, MRI technology, radiation therapy, physical therapy, phlebotomy, genetic counseling, nutrition, and epidemiology.
Why get a master's degree in medical science?
The healthcare industry is composed of countless professionals performing an extremely wide range of important tasks and responsibilities, from those involved in treatment and clinical research to those responsible for facility administration and the application of advanced technologies. For these roles, a working knowledge of current medical ethics, philosophies, and treatments can significantly improve opportunities for career advancement and improved earning power.
And increasingly, for positions like physician's assistant, a master's degree is becoming that basic threshold for employment. In fact, according to the Bureau of Labor Statistics, the master's degree in medical science is increasingly viewed as essential for individuals serving a wide range of non-physician roles in healthcare. If you see yourself working in a healthcare, clinical, or laboratory setting, consider pursuing this advanced degree as a way to improve your long-term career security and trajectory.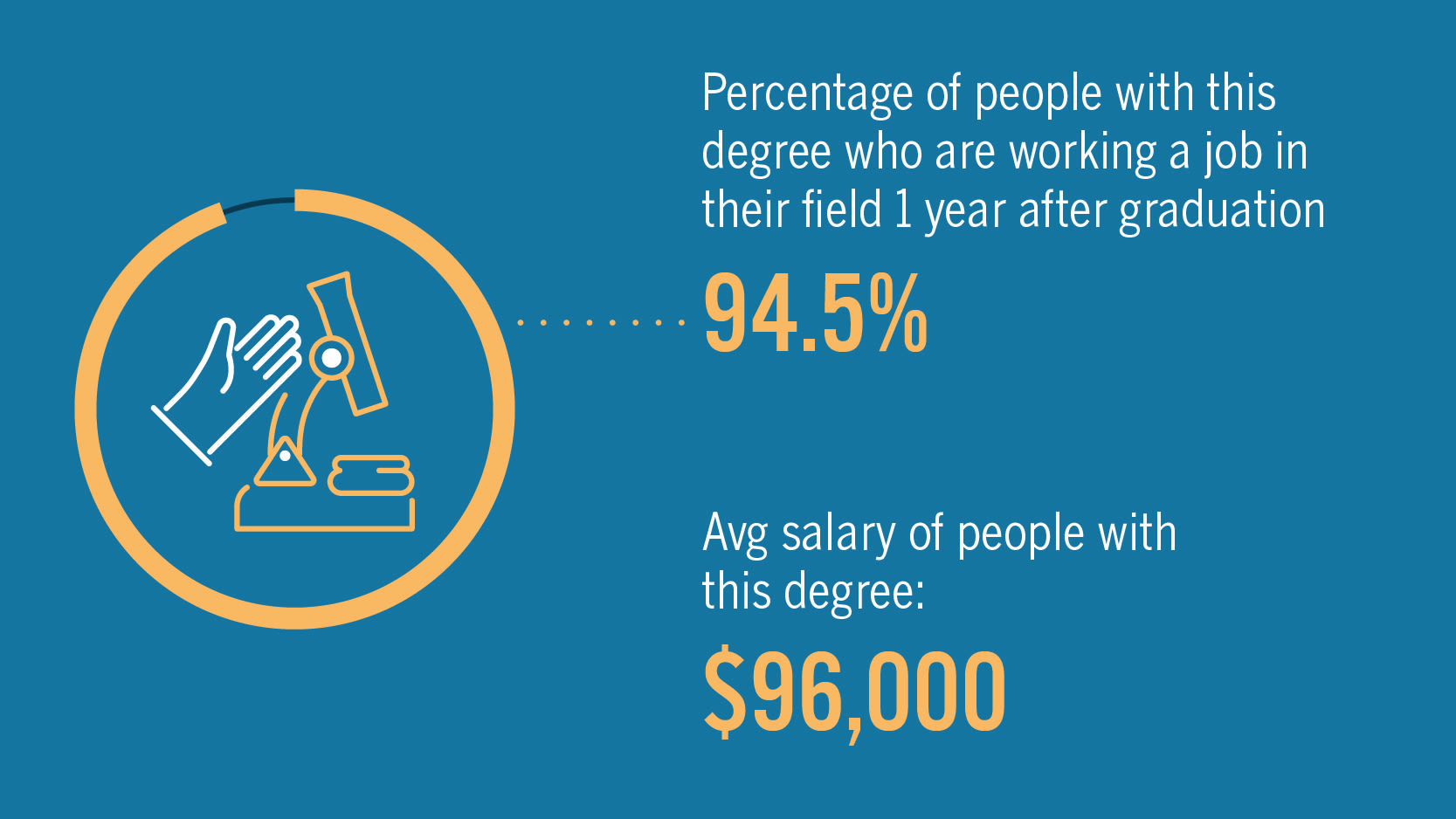 How can I qualify to get a master's degree in medical science?
As with medical school, a number of master of medical science degree programs will require you to pass the Medical College Admission Test (MCAT). There are, however, some programs which will allow you to take the Graduate Record Examination (GRE) instead. If the GRE is needed, your program may require a general exam alongside a GRE specific to the life sciences. Some programs may require you to meet a certain scoring threshold while others may merely require that you complete the exam. These requirements will vary from one medical science master's program to the next.
For testing tips, check out our Guide to the GRE.
If no MCAT or GRE is required, the primary requirement for gaining eligibility into a medical science master's program is completion of a bachelor's degree from a properly accredited undergraduate school. Most regionally-accredited graduate schools will require that your bachelor's degree be granted by a regionally-accredited college or university.
Some colleges may offer bundled bachelor's and master's degree programs, where you could earn your advanced degree in one continuous five-year program. This option could save you time and money if you already know that you'll be pursuing your advanced degree. However, the accelerated pace of such a program may make this a challenging way to earn both degrees. Find out if your school offers this bundling option and ask about eligibility requirements. But be sure you're up to the added challenge!
For any additional questions about eligibility, refer to your intended program and learn more about application requirements and any additional requirements such as work experience, academic performance thresholds, and referrals.
If you're still working on building your qualifications, check out our look at the medicine major to find out how you can get an undergraduate degree in medical science.
What kinds of advanced medical science degrees are there?
The degree you earn in the field of medicine will be a direct determinant of your professional eligibility for a wide range of roles. At the master's level, you'll have the chance to pursue a complimentary medical education alongside a professional area of focus such as nutrition, genetics, or epidemiology. However, if you wish to become either a practicing physician, a post-secondary medical educator, or a medical researcher, you would need to earn a doctoral degree. In some cases, your master's degree will be an excellent transitional step. Your career goals will determine which of the following advanced medical degrees is right for you:
Master of Health or Medical Sciences (MS): A master of health or medical sciences typically takes two or three years to complete and requires 45-60 credits. This can either be a terminal degree, or a stepping stone on the way to earning a doctor of medicine (MD). MS in health sciences degrees are available with a range of specializations, including pediatrics, gerontology, and endocrinology. The MS engages students with advanced knowledge through a combination of lab work, professional experience, and advanced coursework in topics like anatomy, biochemistry, and epidemiology. Students also must typically complete a thesis project. Graduates are prepared for mid-level roles, including genetic counselor, orthotist, and physician's assistant.
Master of Public Health (MPH): A master of public health typically takes two to three years to complete and requires 45-60 credits. Like a master's in health sciences, an MPH can be a terminal degree, or a stepping stone on the way to earning a doctorate. Rather than focus on individual patient outcomes, an MPH is focused on public and community health issues, and can be pursued through specializations such as epidemiology, health services administration, environmental health, biostatistics, and disaster management. Students complete a blend of advanced coursework, research and thesis work, lab work, and field experience.
Doctor of Medicine (MD): An MD is the required degree for anyone who wants to pursue a career as a medical doctor. With specializations as numerous and unique as there are parts of the human body, an MD is a highly-advanced degree that is notoriously challenging to earn. After completing their pre-med studies, MD students must work for anywhere from three to ten years or more, engaging in advanced coursework, residency experiences, lab work, comprehensive exams, and dissertation research and writing before they are qualified to certify as full medical doctors. Even then, many students also choose to complete post-doctoral studies.
PhD in Public Health: Typically taking three to five years to complete, a PhD in public health can be earned on its own, but is just as often earned in addition to an MD. These programs take a highly advanced approach to public health, and prepare students for roles including hospital director, public health administrator or consultant to a government health agency. Students must complete a combination of coursework, comprehensive exams, field experience, and dissertation work.
What are some popular medical science specializations?
Your specialization will depend directly on your career goals and the area of medicine where you plan to work. Choose your specialization to compliment an existing set of skills or area of focus. The following are among the most popular advanced medical science degree specializations:
Community Health
Biochemistry
Epidemiology
Diet and Nutrition
Genetics
Health Services Administration
Environmental Health
Biostatistics
Emergency Management
Pediatrics
Gerontology
Women's Health Issues
What courses will I take as a medical science master?
Your specialization will determine many of the courses you'll take as a medical science master. Most advanced degrees in medical science are designed to work in concert with your existing area of professional focus. However, there are a number of basic medical science master's courses that you'll likely take regardless of your concentration.
Common medical science master's courses include:
Medical Biochemistry
Medicine & Society
Microanatomy
Medical Leadership
Immunology
Biostatistics
Research in Medical Science
Pathology
Advanced Human Anatomy
Ethics Issues in Medical Science
Scientific Writing in Medical Literature
Molecular Genetics
Is a master's degree in medical science worth it?
Healthcare is a large and constantly growing field. The demand for qualified medical professionals is high, and the array of roles is expansive. In fact, the Bureau of Labor Statistics (BLS) forecasts that the field will grow by 15%, adding roughly 2.4 million jobs, between now and 2029.
The Bureau of Labor Statistics also points out that the master's degree is a strong determinant of earning potential. For instance, says the BLS, the master's in medical science is increasingly becoming a basic threshold for those who wish to become a physician's assistant. For this profession, the median wage for those with a master's degree is 44% higher than that for professionals with just a bachelor's degree program. Moreover, the BLS warns, bachelor's programs for aspiring physician's assistants are increasingly being phased out entirely in favor of the master's program. This means that many non-physician medical professionals must pursue this advanced degree.
What are the top jobs with a master's in medical science degree?
Medicine is a huge field, full of dozens of specializations. What you do with a master in medical science depends on your area of focus. Whether you work directly in treatment or health consultation, or you oversee the operation of technology or the administration of a healthcare facility, an advanced degree in medical science can improve your qualifications and make you a more competitive candidate for the following non-physician, non-nursing jobs:
Biomedical Scientists produce research and innovations in the use of medical technology, treatment procedures, drug treatments, therapeutic treatments, and more.
Microbiologists study biological processes at the atomic level, producing insights and innovations in areas like pathology, agriculture, and renewable energy.
Epidemiologists conduct research on the spread of disease and provide important findings in the public battle against infectious disease.
Postsecondary Teachers support the development of medical research skills and provide instruction in medical science programs.
Health Insurance Administrators apply their health science knowledge to the oversight of operations management for companies in the complex business of processing medical insurance claims.
Pharmacologists work in research and development of pharmaceuticals, biologics and other innovative applications of the biomedical sciences.
Genetic Counselors provide support to general healthcare providers, or directly to families, navigating the potential risks of inherited genetic conditions.
Dietitians and Nutritionists provide research on diet and nutrition as well as direct client support to individuals managing a regulated diet or nutrition strategy.
***
Now that you know how to earn a masters in medical science, check out The Most Influential Schools in Medical Science:
Check out the full list here and get started on your path to a medical science degree.
And if you're still shopping for the right college, be sure to bookmark our Resources on critical issues like Accreditation, Scholarships, Financial Aid, and more!
A master's degree in medical science is a great way to advance your career. Online grad school is also an increasingly popular and powerful way to advance your career and improve your salary potential. Online education is convenient, flexible, and accessible, making it the perfect option for working adults. Discover if online grad school is right for you with our pros and cons list.