Cheating in higher education has increased to nearly epidemic proportions, and the rise in the popularity of online education has only served to intensify the problem. Academic Influence is pleased to announce the publication of Dave Tomar's guide to one of the most pressing issues for colleges today.
***
I'm excited to announce the release of my newest book, The Complete Guide to Contract Cheating in Higher Education. This is the single most comprehensive resource on contract cheating in higher education yet compiled.
But that's not why I wrote it. I wrote it because our students are struggling, and whether educators realize it or not, the pandemic of cheating in higher education is a window into this struggle.
Ten years ago, I published a book entitled The Shadow Scholar: How I Made a Living Helping College Kids Cheat. I used this book as an opportunity to tell my personal story—one of disaffection and dishonesty—in an effort to convey a struggle that I believe is relatable for a lot of American college students.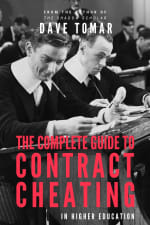 My first book was written for students. This one is for educators.
Today, I have the advantage of being more than 20 years removed from my youthful disaffection, and more than a decade removed from my dishonest former profession. My career as an academic ghostwriter feels like a lifetime ago.
But the problems plaguing higher education have only intensified. Student debt has intensified. Student cheating has intensified. Student mental health issues have intensified. And all of these things are related.
America's students are desperate...
Desperate to compete with their fellow students
Desperate to succeed in a terrifying job market
Desperate to justify the enormous expense of their higher education
Desperate to skate by without the critical academic skills needed to succeed
Desperate to get a degree and get out of college before anybody realizes how deeply in over their heads they really are
My hope, with the Complete Guide to Contract Cheating in Higher Education, is to demonstrate that cheaters are neither evil nor immoral. Cheaters are students who believe they have no other choice.
In order to cure this belief, we must begin to look at cheating not as an ethical issue, but an educational one. When you consider what's at stake, it should be obvious that few students actually want to cheat. They just believe they must in order to survive.
The purpose of my new book is to provide you with everything you need to understand exactly why your students believe this, and what you can do about it. This book is a reference and a resource, a comprehensive look at the triangular relationship between the contract cheating business, the student-customer population, and the big business of higher education.
Is this relationship symbiotic or parasitic?
And what can you, as an educator, do to better understand the problem of cheating in higher education?
How can you confront cheating, not as a police officer, but as a teacher?
I humbly offer The Complete Guide to Contract Cheating in Higher Education with the ambition of providing everything you need to answer these questions.
For an in-depth look into more of Dave Tomar's work, check out our round-up of his accomplishments.