How To Graduate in Four Years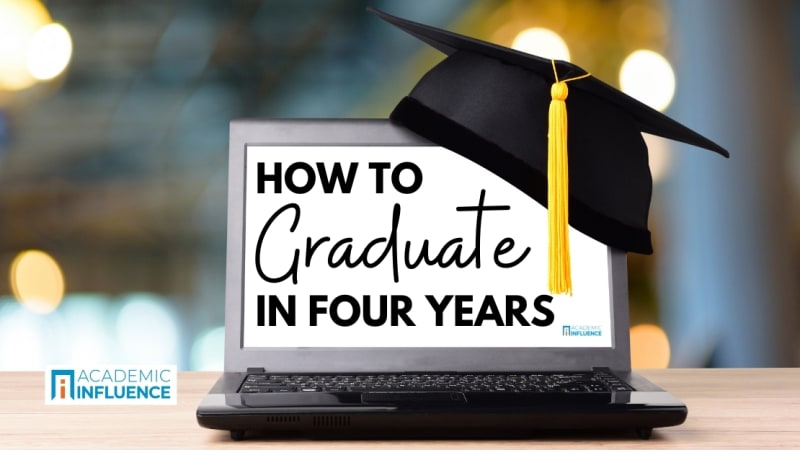 Graduating in four years is a worthy goal, but it will also take a lot of preparation, diligence and, to an extent, some good luck. That's why we're here, to help you maximize your chances of earning a bachelor's degree in four years so that you can get on with your life and your career.
Earning a bachelor's degree in four years is an increasing rarity in American higher education. Indeed, the phrase "four-year college" is kind of misleading. After all, according to a 2019 report from the National Center for Education Statistics, just 41% of all students will actually graduate in four years. Only 59% of students will complete this process in six years. The result of these paltry graduation rates is a generation of students overburdened by student loan debt and, in far too many cases, managing this expense without the benefit of a college degree. The truth is, the longer it takes to complete college, the more it costs. The more it costs, the likelier a student is to drop out because of financial hardship. So graduating in four years amounts to more than a tremendous savings. It also significantly improves your likelihood of graduating at all!
You can start by checking out these schools with an excellent track record for graduating students on time.
How do you graduate in four years? To graudate in for years, you need to start planning before you begin college by developing a good plan with a counselor. Once you start college, you need to make a budget, study hard, check in with your academic advisor and take off season courses.. That's easier said than done, so read on for 10 Tips To Complete College in 4 Years…
Like, really early. Like, sophomore-year-of-high-school early. The key to graduating in four years is knowing exactly why you're going to college and what you hope to get out of it. This begins in high school, when you'll not only start researching prospective schools, but where you should also actively consider what you plan to study. What are your career goals? What are your academic strengths? What kind of degree program will help you realize these goals and channel these strengths? Start seeking the answers to these questions by taking high school electives, participating in extracurricular activities, and seeking internships in your intended area of study. Learn as much as you can about this area before you make the commitment to study it in college.

Many high schools enjoy partnerships with local community colleges which could allow you to take college-level courses even as you work toward the completion of your high school education. Depending on the nature of your program, you may be able to earn these credits either through a program housed directly at your school, or you may take courses on weekends or evenings either remotely or directly at a nearby community college. Be sure that any four-year colleges on your list will recognize the credits you earn in this program. That should give you a big jump on completing the 120 credits you'll ultimately need to graduate in four years.

If you've taken the two steps above, you should be in a much stronger position to decide on your major before you get to college. Some schools actually require you to declare an intended major before your arrival. You absolutely reserve the right to change your major. In fact, most students do change their major at some point. However, shifting gears midway through college will likely cost you some time as you regroup and shift your attention to a different set of prerequisites. In other words, the more certain you are of your major ahead of time, the better your chances are at completing your degree program without any setbacks.

Check out our advice on finding the right area of study for you to get help declaring your major.

This is the most important thing you can do to ensure your likelihood of finishing on time. There are few things that cost more time than transferring midway through college. Of course, if you feel that you're at the wrong college, transferring is certainly a better decision than struggling or dropping out altogether. But if you can take preemptive steps to ensure that you match up with the right school for your needs, it will improve your chances of graduating on time. Do you prefer a small private campus with opportunities for intimate learning or a large public university with a sprawling array of opportunities? Are you prepared for the rigor of a Top 50 School or would you be better served by a reputable school with a higher admission rate? And what about the programs, professors and classmates? How does your school rank in these areas? Ask the important questions about yourself and your needs before you arrive at school. And begin planning your campus visits early. Start your list by identifying your Target, Reach, and Safety schools using our College Strategist tool.

Once you've arrived at school and declared your major, sit down with your college counselor or academic advisor and make a four year plan. Identify the prerequisites that you must take in order to enter into your degree program, choose the courses you'll take in order to satisfy the requirements of your major, and find space for interesting electives without being sidetracked from your top academic priorities. Also be sure that you come up with a Plan B for each semester in the event that some of your required courses fill up before you can register (because this does happen). Ultimately, you should depart this meeting with a road map to graduation. Follow it closely.

One of the biggest impediments to college completion is financial hardship. College is not only expensive, but it can take a long time to complete. This duration can present economic challenges as students manage tuition, housing, food, and general living expenses. For many, these expenses become too difficult to manage, or to balance with workplace and personal responsibilities. If you face an uphill climb when it comes to paying for college, developing a rigid and controlled budget is critical. You may have to live lean for a couple of years—impoverished college students have kept the freeze-dried ramen soup industry afloat for decades. But the short-term sacrifices will pay off in a big way when you are spared the enormous expense of one or two extra years in college.

Here are some tips on how to manage the real cost of college.

To quote John Lennon, life is what happens when you're busy making other plans. Certainly, the COVID crisis proves that there is so much that we can't control. The only thing you can do is prepare by building a strong support system around yourself. Create connections with your instructors, advisors and classmates. Join study groups, find friends who can share their notes if you miss a class, and enlist family members to be available in the event of an unforeseen emergency. If you are fortunate enough to have a strong network of friends and family, this can go a long way toward helping you navigate the unexpected.

Check out our guide to learn how to navigate and survive college.

It's a good idea to keep in close contact with your advisor over the entire course of your college education. You may have a plan for earning your degree, but sometimes, colleges can shift right around you. Professors may retire. Courses may be discontinued. Degree programs may even alter the prerequisites which qualify you for admission. Make sure that you stay on top of any changes, and that you shift your strategy accordingly. You don't want to discover that one of your courses no longer exists, or that the credits no longer count toward your major, when it's already too late to adjust.

Stuff happens. You might withdraw from a course. Perhaps you've been locked out of registration because an important class has already filled up. If factors beyond your control prevent you from completing the requisite 15 credits per semester, or from completing the specific classes that you must in order to advance in your major, try to squeeze a few credits into the specialized summer and winter sessions offered by many schools. If you can make up for lost time in between the spring and fall semesters, there's a much better chance that you won't have to tack this time on after your senior year.

It goes without saying that one of the most important things you can do is succeed in your education. If you can excel in your classes, pass your exams, and maintain a high GPA, the odds are much lower that you'll have to withdraw from or retake any essential courses. Obviously, this is much easier said than done. But at the end of the day, this is what you're here for—to make the most out of your academic experience. You may be seeking graduation in four years, but you should do your best to get everything you can out of those four years.

Fortunately, we've got some great resources to help you on your way. Learn how to improve your college study skills.
And to reiterate the most important point, your success and efficiency in completing college begins with selection of the right college. Fortunately, we have some amazing tools to help you narrow your choices. Check out our Custom College Rankings tool, where you can tailor your college search according to the factors that matter most to you. Get started by matching up with a four-year school and actually finishing in four years!