6 Reasons Online Community College Is Worth It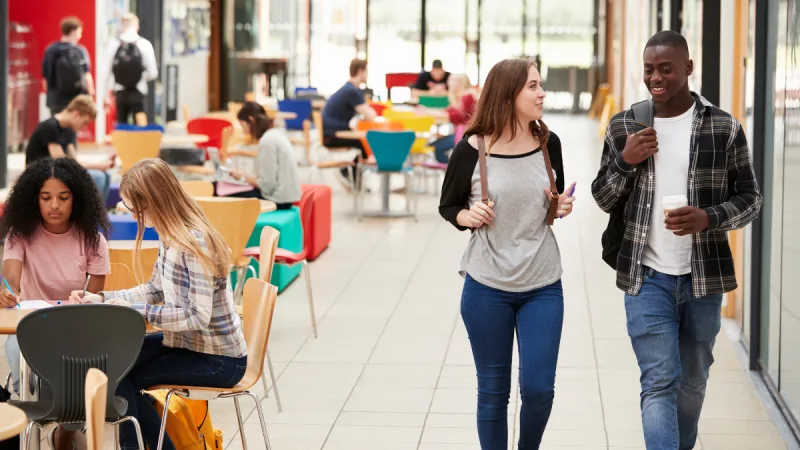 Is community college really worth it? We show you six reasons why attending a two-year college can be a great option.
Community college is a popular option, both for recent high school graduates and working adults. That's because community college offers a flexible and affordable introduction to higher education, one that can open up a wide range of entry-level career opportunities as well as pave the way to a four-year undergraduate degree. And with the growing availability of reputable and fully accredited online community college offerings, you have more options than ever before for earning an excellent two-year associate degree.
But is online community college worth it?
In short—yes, online community college is worth it, as long as you:
Choose a reputable, accredited community college;
Complete your degree program in its entirety; and
Have a post-graduate career or transfer plan in place.
Community colleges typically offer associate degrees, which are two-year, 60-credit degree programs that provide introductory level college education in a wide variety of undergraduate subject areas.
The versatility of the associate degree makes it a popular starting point for many students. According to U.S. News & World Report, roughly 30% of students are currently enrolled in two-year associate degree programs through public community colleges.
For a look at the community colleges who truly excel at offering a stellar two-year education, check out The 50 Best Community Colleges Today.
Otherwise, read on for a look at the top reasons that online community college is well worth the investment...
One reason so many students choose community college is because it offers a quick and affordable pathway to an undergraduate degree. And because so many community colleges also offer associate degrees online, students save money by avoiding expenses like campus fees, transportation and residential housing.

More importantly, community colleges typically specialize in an amenity-light college experience. Every dollar you spend goes directly toward education and infrastructure. That's why tuition for even the most expensive school on our list of the best community colleges is less than $15,000 per year. In fact, tuition for most of the two-year schools on our list will cost you less than $5,000 per year.

Northeastern reports that those with an associate degree, by average, earn $7,400 more per year than high school graduates. This means that the community college is particularly well-suited to provide a quick return on your investment.

As long as we're on the subject of saving money, did you know that you can still qualify for in-state tuition discounts even when you earn your degree online? That's a pretty compelling reason to stay close to home.

But that's not all. Some online degree programs—especially those in the sciences or in professional training—may require an in-person component. Others may require an internship, which may be easier to secure when your college has connections to local businesses and organizations. Finally, you may simply enjoy the occasional opportunity to visit your campus to participate in study groups, use the school's libraries, and more. In other words, you don't need to attend in-person classes to be part of the community.

You can get started by looking for The Best Community Colleges Near You.

This is another great reason to look for an associate degree in your current state of residence. Transfer agreements are formal agreements between community colleges and affiliated public, state universities which are designed to streamline the process of transferring of credits and degrees.

If you do plan to transfer, look for a community college that shares a transfer agreement with your state's public universities. This can make it much easier to receive full recognition for the credits, certifications, and degree you've earned.

This is also a good opportunity to make certain that your associate degree is fully accredited. You should also be aware that transferring to a regionally accredited four-year college will require you to earn an associate degree that is regionally accredited. Most regionally accredited four-year colleges will not recognize associate degrees earned from schools with national accreditation.

Fortunately, community colleges are typically regionally accredited. As long as this is the case with your school, and you earn good grades during your time in community college, you will significantly improve your chances of getting into your state's public college or university, and making the transfer with a minimum of bureaucratic hassle.

Many students begin their pursuit of a four-year degree at community college for a reason. The terms for admission to an associate degree program are far less rigorous than those for most four-year state universities. The reason is that community colleges and associate degree programs are consciously designed to be accessible to a wide variety of learners. The admission requirements to community college typically include the following:

High school diploma/GED
FAFSA form
Completed school application
High school transcripts*
ACT/SAT score*

If you can parlay admission into community college into excellent grades (and perhaps accompany these grades with standout achievements in your profession, in community service, or in another area), you may be able to continue your studies at an excellent four-year institution.

*Your high school grades and test scores will usually not prevent you from getting into community college. This information will typically be used to determine class placement and learning needs.

Community colleges are designed to serve a few different purposes including focused professional training for students seeking entry-level work, well-rounded introductory education for students who will transition to four-year degree programs, and some foundational courses in an extremely wide range of disciplines and subject areas.

In other words, you have a ton of options for your major when pursuing an associate degree. Associate degrees are often highly generalized, providing a foundation in the humanities, liberal arts, and natural sciences. However, you will also get the opportunity to take introductory classes in a specific discipline.

This gives you a chance to dip a toe in a subject area before making a long-term commitment like declaring a major or earning a bachelor's degree. Begin exploring with a look at these online associate degrees:

Online community colleges are flexible when it comes to class scheduling, access to professors, and even degree program pacing. This makes the online community college an extremely attractive option for working adults.

Whether you're a recent high school graduate facing immediate financial pressure or a working adult with existing job responsibilities, there is likely a local online community college option designed to accommodate your needs.
For the ultimately in flexibility, check out our look at Online Colleges That Start Anytime and the Benefits of Self-Paced Education.
Ask A Question
Are you a student who has questions about this topic? Submit your question below to have one of our expert team members answer it for you! (Questions will be posted with their answers directly to this article, and we'll notify you when yours is answered!)