50 Best Community Colleges Ranked for Students in 2022
The best community colleges provide an effective springboard into higher education, offering students high-quality two-year degree programs in a wide range of disciplines. The top rated community colleges offer a broad selection of associate's degrees, affordable tuition rates, and strong partnerships with public four-year schools so that students can easily transfer their credits into accredited bachelor's degree programs.
A community college is a public two-year college that awards associate degrees as well as some professional certifications. Community colleges typically attract students drawn from the surrounding region. Top community colleges tend to offer a wide selection of associate degrees spanning a variety of disciplines. Community colleges can be especially attractive to students interested in getting an affordable start on a four-year degree. So too, these schools appeal to students seeking professional two-year degrees designed to provide technical and practical skills for immediate entrance into the job market.
We've identified 839 community colleges in the US. In order to be included in this list of the best community colleges, a school needs must be fully accredited, and must primarily provide two-year, or associate, degree programs (along with certificate credentials in most cases).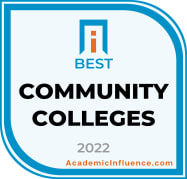 Photo Credit: Pasadena City College, By Michael Wu, via Wikimedia Commons, CC BY-SA 3.0.