Find top-ranked online associate in health information technology degree programs for students wanting to enter the workforce as a medical biller, coder or registered health information technician, or transition into a four-year bachelor's degree program.
Key Takeaways
Health information technology and health informatics associate degree programs are a blend of technology and healthcare concepts, starting with an associate degree.
Insurers, doctors, administrators, and patients benefit from skilled health information technology associate's degree graduates who are adept in information systems.
Information technology and data management skills are required for health information technology jobs. Basic office duties and clerical work will also be required.
Top 10 Online Associate Degree in Health Information Technology Programs
Featured Programs
Biological sciences, computer technology, and healthcare management can be combined to produce a rewarding career in health information technology. The healthcare industry is booming. In particular, the need for health information technology professionals is projected to grow by as much as 7% between 2021 and 2031 as the health information management field moves towards electronic records.
As healthcare digitalizes, a registered health information technician can streamline processes and offer more options to prevent, diagnose, and treat diseases. Informed decisions can also improve patient health and treatment outcomes. Health information professionals manage patient's electronic health records and analyze medical data to improve and research healthcare.
You can become a health information management professional by earning an online associate degree in this field! If you're starting and want to test out the healthcare sector, enrolling in an online associate degree in health information technology and informatics is a concrete step.
As a registered health information technician or health informatics graduate, you may be able to find employment in hospitals, insurance companies, research centers, clinics, and pharmaceutical companies.
Career Outlook for Health Information Technicians with an Associate Degree Online
Health records and information specialists, as well as registered health information technician jobs, have a fairly good career outlook. Professionals who manage health information are in high demand. Medical records specialists who perform medical coding, among other tasks, are projected to have 14,900 openings per year over the next decade.
According to Payscale, health information professionals who obtain work following completion of associate degree online programs in health information technology earn an average of $55,000 annually.
Back to Top
Possible Jobs for Graduates of an Associate Degree in Health Information Technology and Informatics
Medical Coder
Having obtained an associate degree in health information management, medical coders analyze patient health records and assign codes to patient data so that payments can be calculated and assigned easily. A medical coder helps insurance companies, hospitals, and government programs bill patients with their coding systems.
Medical Transcriptionist
Medical transcriptionists create written reports from audio recordings made by physicians and health officials. It involves listening to recordings of a patient's symptoms and treatment, then typing out the details for storage in the patient's medical record. An autopsy report, patient progress report, or notes from a medical meeting may be transcribed by a medical transcriptionist.
Transcriptionists must be adept at understanding medical terminology and health information technology to be successful in their careers.
Computer Support Specialist
Computer support specialists evaluate issues raised by customers and troubleshoot them. A tech support communication chat or phone line is often used for this.
Frequently Asked Questions About Health Information Technology Degrees
Why get an associate's degree in health information technology?
An associate degree in health information technology (HIT) will provide students with the training to analyze data and enter patient's health information into electronic healthcare systems.
How long does it take to get an associate in health information technology?
This roughly 60-credit degree can be earned in as little as 18 months, and health information programs are available both online and on campus.
What classes are needed to get an associate in health information technology?
In addition to courses like medical coding, health information ethics, and health insurance and billing, students may also take general healthcare classes covering topics such as human anatomy, physiology, and pathology.
What can you do with an associate in health information technology?
Upon graduation and completion of the registration exam from the American Health Information Management Association, students can enter the workforce as medical billers, coders and health information technicians, or transition into a four-year bachelor's degree program.
Learn more about how to major in medicine.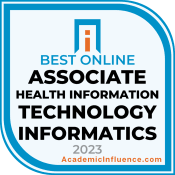 Median Salaries of Similar Careers in the U.S.
The following graph depicts the average salaries of similar occupations to Health Information Technologists and Medical Registrars in the U.S.
Source: U.S. BUREAU OF LABOR STATISTICS
61410
Health Information Technologists and Medical Registrars
64880
Healthcare Practitioners and Technical Workers, All Other
Back to Top
25 Best Online Associate in Health Information Technology Degree Programs
Back to Top
The 5 Best Online Programs for Associate in Health Informatics Degree Programs
Health information technology programs vs health informatics programs
Health information technology focuses more on the information systems and typical IT needs of hospital and healthcare centers. It is sometimes confused with informatics, however, they're very different. Health information technology degrees teach you to build, manage, and/or use the data systems, storing and retrieving data securely and professionally. Health informatics is a data analytics career. In informatics, you learn to use the data to improve patient care by analysizing data.
Back to Top
Online Health Information Technology Programs Looking for You
Finding Sources of Financial Aid to Pay for Associate in Health Information Technology and Informatics Degrees
Paying for an associate degree in health information technology can be difficult. Luckily, if you choose an accredited degree program, it is often possible to find financial aid to help pay for it.
The Federal Student Aid website is a great resource for important information regarding how to apply for financial aid. The first step in being awarded financial aid is to fill out the FAFSA.
Many students qualify for loans, but those don't have to be your only source for financial aid, especially if you're concerned about paying back the loan once finished with your degree in health information technology. Financial aid can also come in the form of scholarships and grants.
Bottom Line: Getting financial aid to pay for your online associate in health information technology doesn't have to be difficult. The Federal Student Aid website breaks down the process into manageable steps.
Back to Top
Online Degree Frequently Asked Questions
If this is your first time taking an online course, the experience may require a time of adjustment. Although you'll typically learn the same material and take the same exams as your on-campus peers, going online will require greater independence and responsibility than going in person. You'll be accountable for your own time management, for harnessing the online educational technology that you'll need to use, and for completing the course requirements, such as listening to lectures, learning lessons, reading texts, and handing in assignments. This means you'll need to create a suitable workspace for yourself, maintain a realistic schedule, and take the initiative in building relationships with your instructors and classmates. With online college, your goal is to find a balance between independence and engagement.
No. The only part of online education that's easier than campus-based education is ease of access: all you need is a computer and an internet connection for online education. But even this seeming advantage of online education can be misleading: what's easier, studying online with your computer and internet connection from your home where you need to cook, clean, pay rent, and maintain a job? Or studying on campus in a dorm where all your living needs are handled by the school, and college staff are there to help you every step of the way?
If you take the commute to campus out of the equation, campus-based education is easier. All the support structures available on campus for students, especially with real people to help you in person, are not there online. The demands on you as an online student will largely be the same as for your campus-based counterpart, but without the same helps.
In general, your online courses will present the same material and test you in the same way as traditional in-person courses. In many cases, you'll even have the same instructors as your on-campus counterparts. In fact, if you are adjusting to the experience of independent learning with remote educational technology for the first time, online college may be considerably more challenging than campus-based college. For a few insights on how to manage this new online experience, check out our 10 Tips for Adjusting to School Online.
Accreditation is especially important when it comes to online college. This is because the online education landscape is a mix of highly-reputable non-profit institutions on the one end and less-than-reputable for-profit institutions on the other end. Accreditation gives you the power to identify the more reputable actors in online education. Accreditation is a stamp of approval from an independent accrediting agency indicating that a college or university is meeting standards of quality and credibility. School-wide accreditation falls into two major categories: regional and national accreditation. Regional accreditors generally hold jurisdiction only over schools in the states comprising their region, whereas national accreditors hold jurisdiction over schools in all states. Regional accreditation is widely regarded as a more rigorous standard of quality and credibility than national accreditation.
Attending a college or university that is not regionally accredited could limit your opportunities. For students seeking an online education, we strongly recommend that they opt for regionally accredited schools. Regional accreditation ensures eligibility for federal loans and grants, ensures your college credits can be transferred between schools, and ensures that your degree credits can be accepted if you wish to earn an advanced degree. For more on this important topic, check out our What is Accreditation and Why Does It Matter? College & University Accreditation Guide.
As long as your online college degree is regionally accredited (see the previous point), you should have little difficulty transferring most of your credits or credentials to another regionally accredited undergraduate school. Every school carries its own standards and procedures for granting a transfer of credits. In many cases, you will encounter some bureaucratic haggling in which some of your credits will be transferred and others may be refused. However, provided that you have attended an online school with recognized regional accreditation, you should be in good shape in transferring your credits earned online.
In most cases, as long you graduate from a well-regarded, regionally-accredited online college, prospective employers won't look sideways at your degree. In fact, unless you attend an exclusively online college or university, there will likely be no specific indicator on your degree, transcript, or resumé differentiating your school from its brick-and-mortar counterpart. This means that your employer will likely only differentiate between an online and in-person degree if you mention this distinction.
Some employers may express the concern that because you did your degree online, you may need to transition from an online education experience to in-person workplace experience. But in an age of Covid, that concern seems much diminished. The fact is that much employment these days is remote. And collaboration increasingly happens online over Zoom. Many employers will therefore view your online degree as evidence of valuable 21st century professional skills such as independence, self-motivation, time management, and tech savvy.
If you are a student who thrives on the dynamic energy of in-person discussion, who requires the physical surroundings of a classroom to feel engaged, or who considers the social aspects of education to be of equal importance to the actual content of your courses, online education will be less than ideal for you (though depending on your circumstances, it may also be the only viable option).
While there is much in traditional campus-based education that can be substituted or simulated through the online medium, some students may find that there is nothing that can replace the conversation, collaboration, and motivation that occur in an actual in-person classroom setting. As you transition to online education, one of the biggest challenges you will likely face in getting the most out of your online classes is overcoming this difference between "real reality" and "virtual reality." Fortunately, we've got some great Tips for Online Education Beginners.
The advantages of online classes are many. Above all, online courses give you the freedom and flexibility to attend class from anywhere that works for you, whether you're at home, in a coffee shop, or in a quiet conference room at work. In many cases, you'll also enjoy the convenience of asynchronous learning opportunities-educational experiences that you can complete at your own pace and on your own schedule. This may include pre-taped lectures, ongoing chat-board discussions, and 24/7 access to digital materials. And of course, just as there are some learners who prefer the energy of a live classroom, there are those who learn best when working in their own personal space, free from distractions. If this sounds like you, you might find the solitude of online learning to be a major advantage.
Whether you're just getting started on your college search, you're looking for survival tips on your way to a bachelor's degree, or you're preparing for the transition into grad school, we've got guides, how to's and tons of other valuable resources to keep you moving forward in your educational journey.