Study Tools for Online College and Grad Students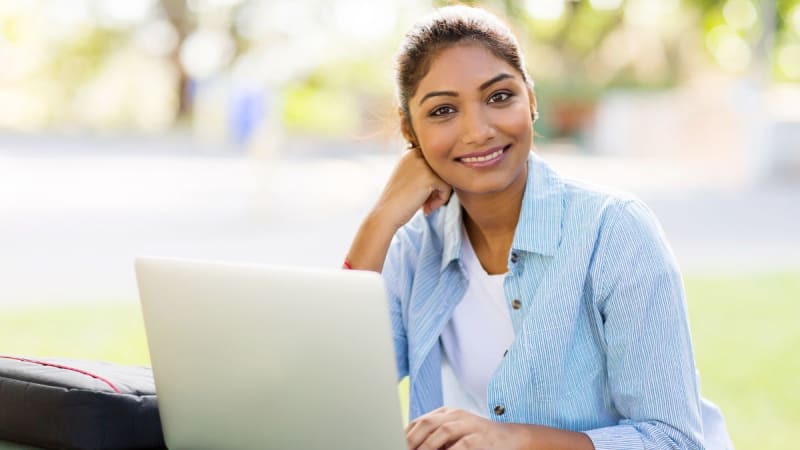 Students who were in high school during the COVID-19 pandemic are making one thing abundantly clear with their college choices: online learning is here to stay. Currently 22.7% of college students are enrolled in fully online programs.
Although many colleges and universities offered online and hybrid options before the pandemic began, the past two years have seen an acceleration in both the number and variety of degrees offered and the number of students enrolled in them.
The needs of students in an online environment are different from those in a brick and mortar school. Communication is carried out virtually, Zoom calls have replaced office hours, and laptops are the new textbooks. This list of resources is designed to assist students who are either currently enrolled in an online degree program or planning to enroll in the near future.
If you are just getting started on your search for the right school, check out the Best Online Colleges 2022 .
Otherwise, read on for a look at the top student resources for preparing to get an online degree, succeeding in online college, and continuing into online grad school.
Featured Programs
College Prep Resources
Looking to test out of an introductory foreign language class? Use Duolingo to brush up on your skills in more than 38 languages (including Klingon and High Valyrian, although those probably will not count for foreign language credit). The engaging platform helps boost your knowledge of grammar, vocabulary, and pronunciation.
Figuring out which college to attend can be hard, but figuring out how to pay for it is even more of a challenge. Edvisors is a database that helps students navigate the complex world of scholarships, loans, and lenders. Use its "search by school" feature to easily find out what options are available to you at your chosen college or university.
This app markets itself as being able to "organize your life," and that is something that future online college students will need. Keep track of notes from different classes, deadlines for assignments, and all of your extracurricular activities in this one easy-to-use app that can sync with your Google Calendar and help you waste less paper.
Getting into your dream school is about more than test scores and GPA. Show off your real-world skills and abilities on your college application by taking part in an internship. internships.com is sponsored by Chegg, and it can match you with an internship to help you stand out to an admissions officer.
Need to brush up on your English or math skills for the SAT? IXL offers practice questions grouped by skill so that you can refresh your memory on a variety of topics and state standards. By providing detailed explanations for the questions you miss, IXL ensures you understand where you went wrong so that you can avoid making the same mistake on test day.
Due to a partnership with the College Board (makers of the SAT), Khan Academy may be the most comprehensive SAT prep website around. Khan Academy utilizes your PSAT scores to develop a personalized study profile to target your weak spots and maximize your performance on all standardized tests.
If you are ready to take your study skills to the college level, check out the study guides, tips, and resources available on Study Guide Zone. Their resources are broken down to address the needs of different learning types. Whether you are a visual learner, a kinesthetic learner, or a learner with ADHD, this website has information tailored to address your specific needs.
Enrolling in an online college program means that your computer will be a large part of your classroom. Make sure you are ready to take rapid-fire notes in online lectures by taking lessons and tests designed to strengthen your typing skills.
Back to Top
Online College Resources
Accounting can be a daunting class for aspiring business or marketing majors. Accounting Coach helps make a complicated subject easy to understand through short, informative modules that cover all of the basic concepts. Even if your online degree does not require an accounting class, knowing the ins and outs of financial management is a valuable skill.
Suffering from sticker shock after seeing the price of textbooks on your school's website? Instead of breaking the bank buying directly from the school, check out Chegg. This site lets you affordably rent your books for a semester or buy used books at a deep discount. Chegg also provides additional resources such as a grammar check and a plagiarism check to help improve your writing skills.
Computer science and coding are tough subjects for a lot of students, particularly in an online learning environment. Codeacademy offers video lessons in specific coding languages, career paths, and technical skills. If you are unsure of where to start, take the free diagnostic test to see what lessons would be right for you.
Backed by colleges such as Duke University and Johns Hopkins University, Coursera lets you take a course or earn a certification from one of over 170 colleges and companies. Becoming a well-rounded student may require you to supplement your typical course schedule, and Coursera lets you build résumé-boosting skills through their Coursera for Campus program. This program is free for one year to currently enrolled college students.
If grammar and spelling are not your best subjects, Grammarly is your new best friend. This tool finds and offers corrections for spelling mistakes, grammatical errors, and awkward phrasing. Grammarly is available as a website where you can upload your papers and projects for a final review, or as a Chrome extension that will highlight your errors as you type. Never worry about sending your professor an email with a typo again!
The days of needing to be on campus to perform research are over thanks in part to Google Scholar. This database lets you search for scholarly papers and article reviews to conduct your research from the comfort of your home. While some articles only allow views of the first page or abstract, you can use your university affiliation to gain full access to lots of resources.
This app is designed to help channel your inner Ernest Hemingway, who famously wrote in short, concise sentences. If your research paper feels too wordy, run it through the app to receive a check for difficult and lengthy sentences, use of passive voice, and overuse of adverbs.
Visual learners, this one's for you. If listening to online lectures is not the best method for you to learn, use Otter's service to turn the audio into text. Each user can get 600 minutes free every month. Reading over the lecture can save you time and allow you to quickly reference different parts of the lecture without having to rewatch the video.
If your classes are online, your books should be, too. Project Gutenberg has compiled a library of over 60,000 free eBooks, including many classics that may show up on required reading lists. Whether you are looking for a book for class or a book to pass the time between classes, Project Gutenberg has plenty of reading material available.
This has long been considered the holy grail of formatting guides. There is a big chance that your professors will direct you to Purdue University's Online Writing Lab (OWL) for all of your MLA and APA needs. This helpful site gives examples and step-by-step instructions for in-text citations and works cited pages, as well as providing tips on subject-specific writing and tools for ESL students.
Use your phone or laptop to create customized flash cards for any subject you are studying. Quizlet lets you take learning out of the classroom and on-the-go, while also providing textbook solutions and pre-written flash card decks for a wide variety of subjects.
Even college students need to sleep! Getting a good night's rest is critical when it comes to staying on top of your assignments and remaining alert during online lectures. sleepyti.me lets you program your desired wake-up time and tells you the optimum time to go to sleep to get the best rest. Putting down the flash cards may be hard the night before an exam, but you will be glad you did it the next morning.
Be prepared for your freshman English Literature class by taking advantage of Bright Notes. These guides make difficult literature accessible to all students with helpful introductions to the author and the work, character summaries, plot guides, chapter overviews, test essay and study Q&As, and more. With 220 titles available, Bright Notes cover the top classics.
Transitioning to college can be a stressful time, particularly for online students who may be balancing a job and a family in addition to coursework. If you are feeling stressed or overwhelmed, you will be interested in TED-Ed's student page, which has videos addressing stress, imposter syndrome, and mental health issues in addition to their wealth of educational and academic videos. Learning to care for your mental health is an important part of succeeding in the college journey, and these quick videos can provide some helpful support.
Research papers can sometimes have you searching for niche information on an unfamiliar topic. Take advantage of ThoughtCo. which has aggregated articles and resources on languages, humanities, science, technology, and math in one easy-to-use platform. The site also includes study tips and guides on how to be successful in college.
Entering a college-level math class is an intimidating task for many students. If you need a little extra boost on a homework question or with developing a particular skill, Wolfram Alpha is designed to help. With Wolfram's math input mode, you can enter textbook math notation directly into the site to get an immediate answer to your question, or you can get step-by-step solutions to wow your professors.
Back to Top
Online Grad School Resources
If you are searching for inspiration on your thesis or dissertation, this EBSCO database is the place to go. The database collects theses and dissertations from 1955 onward, and many of them are available to the public free of charge. Type in an author, search term, or topic, and see what yesterday's students (many of whom are today's professors and scholars) have written.
Don't let the name fool you-MERLOT is an educational resource, not a wine. With over 98,000 resources and 4400 member institutions, MERLOT has an unmatched library of online learning and support materials. Their in-house content creation tool also makes it easy for you to share your knowledge with others by uploading your own research or writing.
As you further your academic goals in graduate school, you may want to brush up on some subjects outside of your discipline. MIT Open Courseware gives students access to lecture notes, exams, and video lectures from Massachusetts Institute of Technology with no registration necessary. Courses cover everything from private pilot license training to introductory algorithms.
Funding for graduate school can be difficult to find, so the developers of Profellow created a database to help students match up with fellowships and other funding sources. Currently, there are over 1800 funding awards available on the site for both graduate study and professional development.
Supplement your degree by pursuing unique courses that can broaden your knowledge base. If you are preparing to leave academia behind and enter the workforce, Udemy can teach you a wealth of office productivity and business skills. If teaching is your ultimate goal, create your own class! Share the knowledge you gained while pursuing your online degree with other students eager to learn from your experience.
At the graduate level, courses can cover multiple topics and move at lightning speed. To avoid missing anything going on in your lecture, use Vimeo's free screen recording service where you can record your online lecture for later review. The service is available as a website and a Chrome extension.
Now that you know about some of the top online grad school resources, find a master's program that gives you the best chance to succeed. Get started with a look at the Best Online Master's Programs 2022