A private university will on average be much smaller than a public university, the best of which are large state schools serving 30,000 to 40,000 students, or more. Small here doesn't mean tiny, but it does mean more intimate, with readier access to mentors and research faculty. The best private grad schools also have an abundance of resources (often through large endowments), which they can make consistently available to students.
Even the best and largest public grad schools may face budget crunches when state legislatures decide to cut costs. We've seen it happen at large public universities where, on account of budget cuts, teachers have to provide their own chalk and students their own exam booklets. Finally, especially for doctoral programs, both private and public grad schools will, depending on the field, offer tuition remission and a stipend, so the out of pocket cost for graduate students tends to be no different, and thus no higher, at private graduate schools.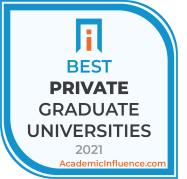 How can you choose the best graduate school for you? A good answer to this question looks to your personal and professional goals. Certain professions will require you to earn an advanced degree. In other cases, an advanced degree can make you eligible for leadership roles and higher pay. For instance, the best graduate schools for education can improve your earnings as a teacher, make you eligible for tenure, or help you meet the basic threshold for continued employment. On the other hand, the best graduate schools for business can simply make you a more competitive candidate for job openings and management roles.
The best graduate school for you should have a stellar reputation and employ highly influential professors across the board and especially in your area of study. Indeed, much exciting academic work these days is cross-disciplinary, and for such work to flourish it helps to be at a school that is strong across discipines. The following list is composed of only private graduate schools.
We've identified 715 private colleges and universities that meet our criteria. In order to be included in this list of best graduate schools, a university needs to satisfy the following four conditions:
It must be a private non-profit institution.
It must be fully accredited.
It must offer doctoral degrees and a broad range of advanced degrees.
It must have a student body of at least 2,000.
How do we determine the best private graduate colleges & universities?
The people affiliated with a school are ultimately what make it great. This is why influence gets at the heart of what is truly best in education. At the undergraduate level, the best colleges and universities are those with the highest concentration of influence. Our Concentrated Influence metric adjusts overall influence by size of undergraduate student body, thus allowing smaller schools to compete with larger schools so long as they have proportionately as strong influential faculty and alums.
But at the graduate level, the combined influence score of a college or university's top academic influencers is the best indicator of academic excellence. Overall influence, and not influence controlled by other variables, thus becomes the best gauge of academic excellence at the graduate level. Where smaller size is an advantage at the undergraduate level (hence Concentrated Influence), graduate studies benefit from a large and vibrant community of graduate students, who promise to become the new generation of academic influencers.
If you are serious about finding the best graduate schools, you should be asking where the most influential professors are teaching, and whether their graduates themselves are advancing the school's reputation for academic excellence. Most ranking sites rely on an opaque combination of reputation surveys and arbitrary performance metrics. Influence, as measured by our InfluenceRanking engine, provides a ranking that is free from bias, insulated from manipulation, and reflective of real-world educational outcomes.
50 Best Private Grad Schools in the US
Other Rankings

What is Boston University known for?

Boston University's faculty and alumni have been influential in:

Medical
Literature
Biology
Business
Philosophy
Education
Political Science
Communications
Psychology
Computer Science

Most Influential Alumni

REQUEST INFO

Other Rankings

What is George Washington University known for?

George Washington University's faculty and alumni have been influential in:

Law
Political Science
Medical
Business
Biology
Literature
Education
Communications
Engineering
Mathematics

Most Influential Alumni

REQUEST INFO

Other Rankings

What is Tufts University known for?

Tufts University's faculty and alumni have been influential in:

Medical
Biology
Business
Political Science
Engineering
Philosophy
Economics
Literature
Psychology
Law

Most Influential Alumni

REQUEST INFO

Other Rankings

What is Washington University in St. Louis known for?

Washington University in St. Louis's faculty and alumni have been influential in:

Biology
Medical
Engineering
Business
Law
Chemistry
Psychology
Literature
Physics
Mathematics

Most Influential Alumni

REQUEST INFO

What is Syracuse University known for?

Syracuse University's faculty and alumni have been influential in:

Literature
Business
Mathematics
Communications
Political Science
Philosophy
Engineering
Education
Law
Biology

Most Influential Alumni

REQUEST INFO

Other Rankings

What is Brandeis University known for?

Brandeis University's faculty and alumni have been influential in:

Mathematics
Philosophy
Psychology
Biology
Literature
Computer Science
Political Science
Business
History
Physics

Most Influential Alumni

REQUEST INFO

What is The New School known for?

The New School's faculty and alumni have been influential in:

Literature
Engineering
Philosophy
Economics
Psychology
Political Science
Business
Education
Communications
Sociology

Most Influential Alumni

REQUEST INFO

Other Rankings

What is University of Rochester known for?

University of Rochester's faculty and alumni have been influential in:

Biology
Medical
Physics
Computer Science
Economics
Literature
Psychology
Mathematics
Engineering
Business

REQUEST INFO

Other Rankings

What is Brigham Young University known for?

Brigham Young University's faculty and alumni have been influential in:

Business
Literature
Law
Education
History
Biology
Computer Science
Political Science
Medical
Engineering

Most Influential Alumni

REQUEST INFO

Other Rankings

What is University of Notre Dame known for?

University of Notre Dame's faculty and alumni have been influential in:

Philosophy
Mathematics
Business
Law
Engineering
History
Education
Religious Studies
Literature
Political Science

Most Influential Alumni

REQUEST INFO

Other Rankings

What is American University known for?

American University's faculty and alumni have been influential in:

Political Science
Law
Business
Education
Communications
Literature
Economics
History
Computer Science
Philosophy

Most Influential Alumni

REQUEST INFO

Other Rankings

What is Case Western Reserve University known for?

Case Western Reserve University's faculty and alumni have been influential in:

Medical
Biology
Computer Science
Engineering
Chemistry
Physics
Business
Mathematics
Psychology
Education

Most Influential Alumni

REQUEST INFO

Other Rankings

What is Howard University known for?

Howard University's faculty and alumni have been influential in:

Law
Education
Medical
Political Science
Literature
History
Business
Biology
Mathematics
Communications

Most Influential Alumni

REQUEST INFO

Other Rankings

What is University of Miami known for?

University of Miami's faculty and alumni have been influential in:

Medical
Business
Biology
Law
Mathematics
Engineering
Philosophy
Physics
Education
History

Most Influential Alumni

REQUEST INFO

Other Rankings

What is Fordham University known for?

Fordham University's faculty and alumni have been influential in:

Law
Business
Literature
Philosophy
Education
Religious Studies
History
Political Science
Mathematics
Communications

Most Influential Alumni

REQUEST INFO

What is Rensselaer Polytechnic Institute known for?

Rensselaer Polytechnic Institute's faculty and alumni have been influential in:

Engineering
Computer Science
Physics
Business
Chemistry
Biology
Mathematics
Philosophy
Medical
Psychology

Most Influential Alumni

REQUEST INFO

Other Rankings

What is Drexel University known for?

Drexel University's faculty and alumni have been influential in:

Engineering
Computer Science
Business
Medical
Education
Biology
Mathematics
Chemistry
Literature
Physics

Most Influential Alumni

REQUEST INFO

What is Northeastern University known for?

Northeastern University's faculty and alumni have been influential in:

Business
Computer Science
Engineering
Biology
Law
Education
Philosophy
Political Science
Literature
Medical

Most Influential Alumni

REQUEST INFO

Other Rankings

What is Yeshiva University known for?

Yeshiva University's faculty and alumni have been influential in:

Medical
Biology
Law
Philosophy
Religious Studies
Mathematics
Education
Psychology
Physics
Literature

Most Influential Alumni

REQUEST INFO

Other Rankings

What is Boston College known for?

Boston College's faculty and alumni have been influential in:

Business
Law
Philosophy
Education
Religious Studies
Political Science
History
Literature
Biology
Medical

Most Influential Alumni

REQUEST INFO

Other Rankings

What is Tulane University known for?

Tulane University's faculty and alumni have been influential in:

Medical
Law
Biology
Business
Engineering
Literature
Mathematics
Education
Political Science
History

Most Influential Alumni

REQUEST INFO

Other Rankings

What is The Catholic University of America known for?

The Catholic University of America's faculty and alumni have been influential in:

Religious Studies
Law
Philosophy
Literature
Biology
Political Science
Education
Physics
Engineering
History

Most Influential Alumni

REQUEST INFO

Other Rankings

What is Southern Methodist University known for?

Southern Methodist University's faculty and alumni have been influential in:

Business
Law
Religious Studies
Education
Engineering
History
Medical
Political Science
Literature
Psychology

Most Influential Alumni

REQUEST INFO

What is Illinois Institute of Technology known for?

Illinois Institute of Technology's faculty and alumni have been influential in:

Engineering
Computer Science
Mathematics
Law
Physics
Business
Chemistry
Economics
Education
Political Science

Most Influential Alumni

REQUEST INFO

Other Rankings

What is Pepperdine University known for?

Pepperdine University's faculty and alumni have been influential in:

Business
Psychology
Political Science
Law
Education
Literature
Philosophy
Communications
History
Religious Studies

Most Influential Alumni

REQUEST INFO

What is Santa Clara University known for?

Santa Clara University's faculty and alumni have been influential in:

Business
Law
Computer Science
Engineering
Philosophy
Psychology
Mathematics
Education
Political Science
Religious Studies

Most Influential Alumni

REQUEST INFO

Other Rankings

What is DePaul University known for?

DePaul University's faculty and alumni have been influential in:

Business
Law
Religious Studies
Education
Computer Science
Philosophy
Political Science
Literature
Mathematics
History

Most Influential Alumni

REQUEST INFO