We ranked the best private non-profit online schools with Department of Education approved accreditation.
Key Takeaways
A growing number of private non-profit colleges now provide affordable online degrees.


Online programs from private colleges can be convenient and flexible.


Accreditation is important when it comes to finding excellent online learning options.
Online degree programs are often more affordable because students can cut costs in areas like housing, transportation, and campus amenities. If you're searching for the cheapest online college with private funding and a tradition of academic excellence, you'll want to start with a look at these affordable online degree programs. Each of these cheap accredited online colleges specializes in both quality and affordability.
If you think you'd like to maximize your savings, you can jump to our list of the most affordable online degrees in any category. Otherwise, read on for a look to find the most affordable online university with private funding...
What are online bachelor's degree programs?
Online bachelor's degrees are online degree programs for undergraduate students. Most online students can complete their bachdelor's degree programs in a minimum of four years. Both online and traditional students will typically be required to earn 120 credits toward the completion of their undergraduate bachelor's degree programs. In most cases, you would pay the same (or slightly more) per credit hour as on campus students.
Back to Top
How can you get into an online bachelor's degree program?
Most students who earn a high school diploma or complete a high school education equivalency test will qualify for undergraduate learning opportunities. In most cases, private non-profit colleges and universities that provide distance education will maintain the same eligibility requirements for both students in online programs and brick and mortar schools.
Back to Top
What's the difference between public and private non-profit colleges and universities?
The primary difference between public and private non-profit schools is the way that they are funded. Public or state schools are funded in part by tax dollars, whereas private non-profit schools are funded entirely by tuition revenue and private endowments.
This often means that public college students will pay lower tuition rates than students in private universities. This is especially true for students earning their degree through a state university in their home state. Public accredited online colleges generally offer a high quality education with generous in-state tuition rates. This means that students looking to save money on private degree programs are often focused on finding cheap online colleges that meet their requirements.
Many affordable private colleges and universities are religious institutions. In addition, some of the the most affordable online colleges among private schools are those that find ways to reduce costs around student amenities, campus fees, and other college lifestyle perks. As an online student, your focus will be specifically on completing your degree program, as opposed to indulging in the various activities and diversions enjoyed by on campus students.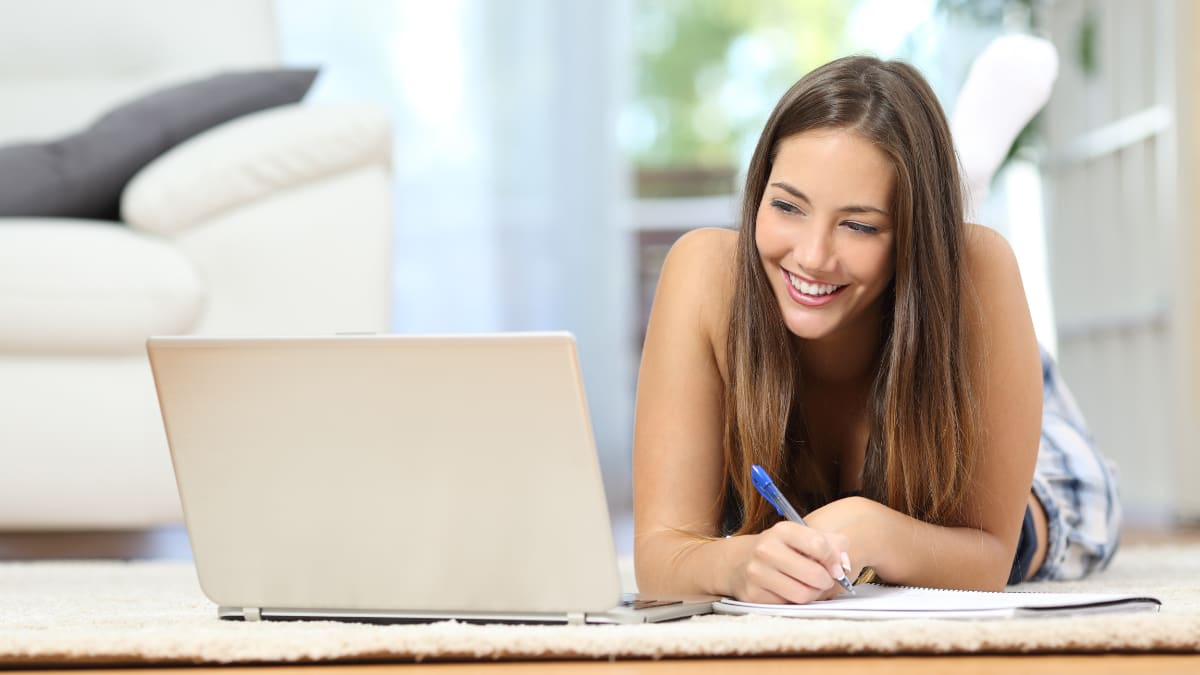 Back to Top
What are accredited online schools?
Accredited online schools are colleges and universities that award degrees primarily through online classes and are recognized by a Department of Education approved accreditor. Higher education accreditation is a process by which an accrediting association provides recognition to colleges and universities that meet a set of standards for quality, curriculum, faculty, and more.
Only students who attend colleges and universities with accreditation from Department of Education recognized accreditors will be eligible for financial aid.
There are two main types of institutional accreditation—regional accreditation and national accreditation. Regional accreditation is generally considered the more rigorous standard. This is particularly important for students who plan to transfer credits into a regionally accredited program or an advanced degree program. In either case, only credits from regionally accredited online colleges will be recognized.
If you plan to transfer or pursue an advanced degree, be sure that the undergraduate degree from your online school is accredited by a schools commission on colleges and schools in your region. For instance, if you're searching for the best online degree programs in the state of Georgia or Florida, be sure that your online degree is accredited by The Southern Association of Colleges and Schools Commission on Colleges (SACSCOC).
Programmatic accreditation is another type of accreditation, usually given to degrees rather than institutions. Programmatic accreditation is more important when it comes to specific degree program types, especially for online graduate students. For instance, if you're considering a master's degree in business administration, you may want to search for those with accreditation from the Association to Advance Collegiate Schools of Business.
Back to Top
Is online education respected?
Online degree programs are respected by employers as long as they are from accredited schools. An accredited online degree can offer a strong point of entry into a broad spectrum of potential careers in areas like business, education, criminal justice, and health sciences. Distance learning is likewise an excellent option for students with an interest in teacher education, legal education, and much more.
And because an ever-growing number of reputable and regionally accredited institutions are offering online courses and bachelor's degree programs, a wide range of employers are coming to view online degrees with the same level of respect given traditional degrees. In fact, as long as you earn your online degree from an accredited institution, most employers will not distinguish between online and traditional students.
Back to Top
What are the advantages of online learning?
Online students enjoy several advantages over traditional on campus students including lower student expenses, greater scheduling flexibility, and access to the college education in your state regardless of your geographic location. An online degree program gives distance learners access to most of the same undergraduate and graduate programs as traditional students.
This means online learners typically have the option of completing academic programs in popular subjects such as business administration, criminal justice, mental health counseling, computer science, early childhood education, human resource management, health education, organizational management, and much more. And with an online program, you will generally have the ability to earn your credits on your own time.
This means that working adult learners can generally enjoy access to the same academic programs, student support services, and professors as their on-campus counterparts. Prospective students interested in either undergraduate degrees or graduate degree programs may have the option to pursue self-pacing options and other asynchronous learning strategies that make it possible to balance work, life, and either online bachelor's programs or online master's degrees. This also makes online learning a great option if you're pursuing career and technical education, or certificate programs.
Another important advantage is the savings in cost. While you may pay a little more per credit hour online, most affordable online programs will lower your expenses in areas like housing, transportation, and for certain campus fees. In most cases, the affordable online college will help you earn a college degree with minimal student loan debt.
How We Rank the Most Affordable Accredited Online Private Non-profit Degree Programs
The purpose of this ranking is to demonstrate affordability among online private, non-profit colleges and schools with accreditation from a Department of Education-recognized accrediting agency. Therefore, we filtered our findings to include only those private colleges and universities which are non-profit in structure. For-profit private colleges and universities have been excluded from our findings.
By filtering out both public and private for-profit options, we have produced a list that contains a large number of religious institutions.
After filtering to assure proper accreditation, we ranked these accredited private programs based on tuition rates and predominance of online degree offerings. The institutions ranked below are all private, non-profit options with an extensive range of online classes and tuition below $10,000 per year.
Back to Top
The 15 Most Affordable Accredited Online Private Non-Profit Schools
Other Rankings

What do we love about Southern New Hampshire University?

Southern New Hampshire University is a private university located near Manchester, New Hampshire. SNHU is unique for its predominant emphasis on distance learning. While the main campus is home to 3000 students, another 135,000 SNHU students are currently earning online degrees.

Southern New Hampshire University is one of the fastest growing universities in the U.S.

Southern New Hampshire University is great for:

Adult learners as well as those pursuing professional certifications..

Southern New Hampshire University might not be the best fit for:

Students seeking a traditional on-campus experience.

Southern New Hampshire University's Online Degrees

BA in Digital Photography

Required Credits: 120
Completion Time: None Reported
Format: Online

BS in Fashion Merchandising And Management

Required Credits: 120
Completion Time: None Reported
Format: Online

BA in Game Art And Development

Required Credits: 120
Completion Time: None Reported
Format: Online

BS in Accounting

Degree Concentrations

Forensic Accounting And Fraud Examination

Required Credits: 120
Completion Time: None Reported
Format: Online

BS in Accounting Finance

Required Credits: 120
Completion Time: None Reported
Format: Online

BS in Business Administration

Degree Concentrations

Accounting
Entrepreneurship
Finance
Human Resources Management
International Business
Management Information Systems
Marketing
Nonprofit Management
Organizational Leadership
Project Management
Public Administration
Sports Management
Management Information Systems
Healthcare Administration
Industrial Organizational Psychology

Required Credits: 120
Completion Time: None Reported
Format: Online

BS in Data Analytics

Required Credits: 120
Completion Time: None Reported
Format: Online

BS in Finance

Required Credits: 120
Completion Time: None Reported
Format: Online

BS in Marketing

Degree Concentrations

Digital Marketing
Social Media Marketing

Required Credits: 120
Completion Time: None Reported
Format: Online

BS in Operations Management

Degree Concentrations

Logistics And Transportation
Project Management

Required Credits: 120
Completion Time: None Reported
Format: Online

BS in Sport Management

Required Credits: 120
Completion Time: None Reported
Format: Online

BS in Technical Management Ii

Required Credits: 120
Completion Time: None Reported
Format: Online

BS in Computer Information Systems

Degree Concentrations

Data Validation And Decision Making
Networking And Security
Project Management
Project Management

Required Credits: 120
Completion Time: None Reported
Format: Online

BS in Computer Science

Degree Concentrations

Data Analysis
Information Security
Project Management
Software Engineering
Project Management

Required Credits: 120
Completion Time: None Reported
Format: Online

BS in Game Programming And Development

Required Credits: 120
Completion Time: None Reported
Format: Online

BS in Information Technologies

Degree Concentrations

Business Management For It
Cybersecurity
Data Analytics
Project Management For It
Software Development
Business Management For It
Project Management For It
Cybersecurity

Required Credits: 120
Completion Time: None Reported
Format: Online

BA in Information Technologies

Required Credits: 120
Completion Time: None Reported
Format: Online

BS in Criminal Justice

Degree Concentrations

Corrections
Criminology
Homeland Security And Counterterrorism
Human Services And Advocacy
Police Administration And Operations
Substance Abuse

Required Credits: 120
Completion Time: None Reported
Format: Online

BA in Anthropology

Required Credits: 120
Completion Time: None Reported
Format: Online

BA in Communication

Degree Concentrations

New Media
Professional Writing
Business Communication
Public Relations

Required Credits: 120
Completion Time: None Reported
Format: Online

BA in Creative Writing And English

Degree Concentrations

Fiction
Non-Fiction
Poetry
Screenwriting

Required Credits: 120
Completion Time: None Reported
Format: Online

BA in English Language And Literature

Required Credits: 120
Completion Time: None Reported
Format: Online

BA in General Studies

Required Credits: 120
Completion Time: None Reported
Format: Online

BA in History

Degree Concentrations

American History
European History
Middle Eastern Studies
Military History

Required Credits: 120
Completion Time: None Reported
Format: Online

BA in Human Services

Degree Concentrations

Child And Family Services
Gerontology
Substance Abuse

Required Credits: 120
Completion Time: None Reported
Format: Online

BA in Political Science

Required Credits: 120
Completion Time: None Reported
Format: Online

BA in Sociology

Required Credits: 120
Completion Time: None Reported
Format: Online

BS in Community Health Education

Required Credits: 120
Completion Time: None Reported
Format: Online

BS in Health Information Management

Required Credits: 120
Completion Time: None Reported
Format: Online

BS in Health Science

Required Credits: 120
Completion Time: None Reported
Format: Online

BS in Healthcare Administration

Degree Concentrations

Health Information Management
Patient Safety And Quality

Required Credits: 120
Completion Time: None Reported
Format: Online

BSN in Nursing

Required Credits: 120
Completion Time: None Reported
Format: Online

BS in Public Health

Required Credits: 120
Completion Time: None Reported
Format: Online

BA in Psychology

Degree Concentrations

Addictions
Applied Psychology
Child And Adolescent Development
Mental Health
Social Psychology
Forensic Psychology

Required Credits: 120
Completion Time: None Reported
Format: Online

BS in Environmental Science

Required Credits: 120
Completion Time: None Reported
Format: Online

BS in Geosciences

Required Credits: 120
Completion Time: None Reported
Format: Online

Other Rankings

What do we love about Brigham Young University-Idaho?

Brigham Young University is a highly regarded private university affiliated with the Church of Jesus Christ of Latter-day Saints (LDS). BYU-Idaho is a sister campus to the flagship BYU campus located in Provo, Utah.

Brigham Young University-Idaho actually began as a junior college called Ricks College in 1888 before joining the Brigham Young University system and granting its first baccalaureate degrees in 2001.

Brigham Young University is great for students who:

Are seeking an undergraduate degree in areas such as sciences, engineering, and agriculture.

Brigham Young University might not be the best fit for students who:

Are not affiliated with the Church of Latter-day Saints (LDS). BYU students are expected to adhere to a behavioral code that aligns with LDS beliefs.

Brigham Young University–Idaho's Online Degrees

BS in Applied Business Management

Required Credits: 120
Completion Time: None Reported
Format: Online

BS in Applied Technology

Required Credits: 120
Completion Time: None Reported
Format: Online

BS in Communication

Required Credits: 120
Completion Time: None Reported
Format: Online

BS in Professional Studies

Required Credits: 120
Completion Time: None Reported
Format: Online

BS in Applied Health Informatics

Required Credits: 120
Completion Time: None Reported
Format: Online

Other Rankings

What do we love about Bellevue University?

Bellevue University is a private institution based in Bellevue, Nebraska. Founded in 1966 as Bellevue College, the university's broader mission has long been to serve the specific needs of adult learners. As a result, more than 80% of the student population is over the age of 25 .

Bellevue University's focus on adult learning also encouraged the introduction of various flexible degree programs including accelerated bachelor's degree programs and online master's degree programs.

Bellevue University is great for students who:

Are above traditional college age.

Bellevue University might not be the best fit for:

Recent high-school graduates looking for the typical campus lifestyle.

Bellevue University's Online Degrees

BA in Graphic Design

Required Credits: 127
Completion Time: None Reported
Format: Online

BS in Accounting

Required Credits: 127
Completion Time: None Reported
Format: Online

BS in Business

Required Credits: 127
Completion Time: None Reported
Format: Online

BS in Business Administration

Required Credits: 127
Completion Time: None Reported
Format: Online

BS in Business Analysis And Management

Required Credits: 127
Completion Time: None Reported
Format: Online

BS in Business Analytics

Required Credits: 127
Completion Time: None Reported
Format: Online

BS in Business Leadership And Management

Required Credits: 127
Completion Time: None Reported
Format: Online

BS in Hospitality Management

Required Credits: 127
Completion Time: None Reported
Format: Online

BS in International Business Administration

Required Credits: 127
Completion Time: None Reported
Format: Online

BS in Management

Required Credits: 127
Completion Time: None Reported
Format: Online

BS in Management Of Human Resources

Required Credits: 127
Completion Time: None Reported
Format: Online

BS in Marketing

Required Credits: 127
Completion Time: None Reported
Format: Online

BS in Project Management

Required Credits: 127
Completion Time: None Reported
Format: Online

BA in Sport Management

Required Credits: 127
Completion Time: None Reported
Format: Online

BS in Sport Management

Required Credits: 127
Completion Time: None Reported
Format: Online

BS in Supply Chain, Transportation And Logistics Management

Required Credits: 127
Completion Time: None Reported
Format: Online

BAS in Computer Information Systems

Required Credits: 120
Completion Time: None Reported
Format: Online

BS in Computer Information Systems

Required Credits: 127
Completion Time: None Reported
Format: Online

BS in Data Science

Required Credits: 127
Completion Time: None Reported
Format: Online

BS in Information Technology

Required Credits: 127
Completion Time: None Reported
Format: Online

BS in It Operations Management

Required Credits: 127
Completion Time: None Reported
Format: Online

BS in Management Information Systems

Required Credits: 127
Completion Time: None Reported
Format: Online

BS in Software Development

Required Credits: 127
Completion Time: None Reported
Format: Online

BS in Systems And Network Administration

Required Credits: 127
Completion Time: None Reported
Format: Online

BS in Web Development

Required Credits: 127
Completion Time: None Reported
Format: Online

BS in Child Protection And Juvenile Justice

Required Credits: 127
Completion Time: None Reported
Format: Online

BS in Criminal Justice (Cohort)

Required Credits: 127
Completion Time: None Reported
Format: Online

BS in Cybersecurity

Required Credits: 127
Completion Time: None Reported
Format: Online

BS in Cybersecurity (Cohort)

Required Credits: 127
Completion Time: None Reported
Format: Online

BS in Emergency Management

Required Credits: 127
Completion Time: None Reported
Format: Online

BS in Intelligence And Security Studies

Required Credits: 127
Completion Time: None Reported
Format: Online

BS in Legal Studies

Required Credits: 127
Completion Time: None Reported
Format: Online

BS in Security Management

Required Credits: 127
Completion Time: None Reported
Format: Online

BS in Adult Education

Required Credits: 127
Completion Time: None Reported
Format: Online

BA in Communication Studies

Required Credits: 127
Completion Time: None Reported
Format: Online

BS in History

Required Credits: 127
Completion Time: None Reported
Format: Online

BS in Leadership

Required Credits: 127
Completion Time: None Reported
Format: Online

BA in Liberal Studies

Required Credits: 127
Completion Time: None Reported
Format: Online

BS in Public Health Education

Required Credits: 120
Completion Time: None Reported
Format: Online

BS in Health Science

Required Credits: 127
Completion Time: None Reported
Format: Online

BS in Healthcare Management

Required Credits: 127
Completion Time: None Reported
Format: Online

BS in Behavioral Science

Required Credits: 127
Completion Time: None Reported
Format: Online

BS in Professional Psychology

Required Credits: 127
Completion Time: None Reported
Format: Online

BS in Psychology

Required Credits: 127
Completion Time: None Reported
Format: Online

BA in Psychology

Required Credits: 127
Completion Time: None Reported
Format: Online

BS in Mathematics

Required Credits: 127
Completion Time: None Reported
Format: Online

What do we love about City Vision University?

City Vision University is the accredited online college affiliated with Christian non-profit group TechMission. City Vision is headquartered in Kansas City, Missouri but has focused predominantly on distance learning since its 1998 founding.

City Vision University's primary focus is on addiction counseling and Christian Ministry.

City Vision University is great for students who:

Are interested in pursuing faith-based counseling professions.

City Vision University might not be the best fit for:

Students who are seeking a secular education in addiction or mental health counseling.

City Vision University's Online Degrees

BA in Addiction Counseling

Required Credits: 120
Completion Time: None Reported
Format: Online

BA in Business

Degree Concentrations

Nonprofit Management
Social Entrepreneurship

Required Credits: 120
Completion Time: None Reported
Format: Online

BA in Christian Ministry and Leadership

Required Credits: 120
Completion Time: None Reported
Format: Online

What do we love about Bethesda University?

Bethesda University is a private Christian College based in Anaheim, California. Founded in 1976, Bethesda offers a Christ-centered undergraduate education.

Bethesda University is a member of the Transnational Association of Christian Colleges and Schools and holds programmatic accreditation from the Association for Biblical Higher Education.

Bethesda University is great for students who:

Are seeking a small, intimate college experience..

Bethesda University might not be the best fit for:

Desire a secular undergraduate education.

Bethesda University's Online Degrees

BA in Business Administration

Required Credits: 126
Completion Time: None Reported
Format: Online

BA in Religion

Degree Concentrations

Biblical Studies
Christian Education

Required Credits: 126
Completion Time: None Reported
Format: Online

What do we love about the College of Biblical Studies?

College of Biblical Studies is a private evangelical biblical college based out of Houston, Texas. Founded as a vocational institute in 1976, today the College of Biblical Studies serves a mix of online and on-campus students in subjects like Biblical Counseling, Christian Leadership, and Women's Ministry.

College of Biblical Studies is accredited both by the Southern Association of Colleges and Schools Commission on Colleges and the Association of Biblical Higher Education.

College of Biblical Studies is great for students who:

Enjoy a diverse student body.

College of Biblical Studies might not be the best fit for:

Are seeking a secular learning experience.

College of Biblical Studies's Online Degrees

BS in Biblical Studies & Biblical Counseling

Required Credits: 120
Completion Time: None Reported
Format: Online

BS in Organizational Leadership

Required Credits: 120
Completion Time: None Reported
Format: Online

What do we love about Embry-Riddle Aeronautical University?

Embry-Riddle Aeronautical University is a private university that places an emphasis on aviation and aerospace education. In fact, Embry-Riddle is the single largest accredited university system in the aviation and aerospace discipline.

Embry-Riddle Aeronautical University began as a small Cincinnati-based regional school for pilots and mechanics in 1926. Today, it serves more than 33,000 students at both the graduate and undergraduate levels through campuses in Daytona Beach, Florida, Prescott, Arizona, and online.

Embry-Riddle Aeronautical University is great for students who:

Want to take short, fast-paced courses in aviation operations, management, and supervision.

Embry-Riddle Aeronautical University might not be the best fit for:

Students seeking a liberal arts education.

Embry–Riddle Aeronautical University's Online Degrees

BS in Aviation Business Administration

Required Credits: 120
Completion Time: None Reported
Format: Online

BS in Business Analytics

Required Credits: 120
Completion Time: None Reported
Format: Online

BS in Leadership

Required Credits: 120
Completion Time: None Reported
Format: Online

BS in Logistics and Supply Chain Management

Required Credits: 120
Completion Time: None Reported
Format: Online

BS in Project Management

Required Credits: 120
Completion Time: None Reported
Format: Online

BS in Safety Management

Required Credits: 121
Completion Time: None Reported
Format: Online

BS in Technical Management

Required Credits: 120
Completion Time: None Reported
Format: Online

BS in Homeland Security

Required Credits: 123
Completion Time: None Reported
Format: Online

BS in Communication

Required Credits: 120
Completion Time: None Reported
Format: Online

BS in Interdisciplinary Studies

Required Credits: 120
Completion Time: None Reported
Format: Online

BS in Emergency Services

Required Credits: 120
Completion Time: None Reported
Format: Online

BS in Aeronautics

Required Credits: 120
Completion Time: None Reported
Format: Online

BS in Aviation Maintenance

Required Credits: 120
Completion Time: None Reported
Format: Online

BS in Engineering

Required Credits: 128
Completion Time: None Reported
Format: Online

BS in Engineering Technology

Required Credits: 122
Completion Time: None Reported
Format: Online

What do we love about The Baptist Missionary Association Theological Seminary (BMATS)?

BMATS is a Baptist seminary located in Jacksonville, Texas. Formed in 1955, BMATS serves a small population of both undergraduate and graduate students.

BMATS places an emphasis on degrees in ministry, and awards the Associate of Divinity, Bachelor of Arts in Religion, Master of Arts in Church Ministries, and other similar ministry and divinity credentials. BMATS is accredited by the Commission on Colleges of the Southern Association of Colleges and Schools.

BMATS is great for students who:

Are seeking a small, intimate educational setting.

BMATS might not be the best fit for:

Students who are seeking a larger campus community.

Baptist Missionary Association Theological Seminary's Online Degrees

BA in Religion Hybrid

Required Credits: 66
Completion Time: None Reported
Format: Online




Other Rankings

What do we love about Liberty University?

Liberty University is one of the largest Christian universities in the world as well as one of the largest private non-profit universities in the U.S. Much of this size is based on its online enrollment.

Liberty University enrolls roughly 15,000 residential students across its 17 colleges, and an additional 80,000 through its extensive online course and degree offerings.

Liberty University is great for students who:

Wish to attend the world's largest seminary—Liberty University's Rawlings School of Divinity.

Liberty University might not be the best fit for:

Students who do not identify with Evangelical Christianity.

Liberty University's Online Degrees

BS in Commercial Music

Required Credits: 120
Completion Time: None Reported
Format: Online

BS in Fashion Merchandising

Required Credits: 120
Completion Time: None Reported
Format: Online

BFA in Graphic Design

Required Credits: 120
Completion Time: None Reported
Format: Online

BS in Accounting

Required Credits: 120
Completion Time: None Reported
Format: Online

BSBA in Business Administration

Degree Concentrations

Automotive Dealership Management
Communication
Data Analytics
Digital Marketing And Advertising
Economics
Entrepreneurship
Finance
Financial Planning
Green And Sustainable Management
Healthcare Management
Human Resource Management
International Business
Leadership
Marketing Analytics
Marketing: Sales Management And Professional Selling
Project Management
Public Administration
Real Estate
Strategic Marketing Management

Required Credits: 120
Completion Time: None Reported
Format: Online

BEd in Business Education 6-12

Required Credits: 120
Completion Time: None Reported
Format: Online

BS in Christian Leadership And Management

Required Credits: 120
Completion Time: None Reported
Format: Online

BS in Sports Management

Degree Concentrations

Conference And Event Management
Sports Administration
Sports Communication And Public Relations
Sports Outreach
Sports Venue Management

Required Credits: 120
Completion Time: None Reported
Format: Online

BS in Computational Mathematics

Degree Concentrations

Actuarial
Computer Science
Engineering

Required Credits: 120
Completion Time: None Reported
Format: Online

BS in Information Systems

Degree Concentrations

Accounting Information Systems
Data Networking
Database
Information Assurance

Required Credits: 120
Completion Time: None Reported
Format: Online

BS in Information Technology

Degree Concentrations

Application And Database Development
Data Networking And Security
Gaming Design
Web And Mobile Programming

Required Credits: 120
Completion Time: None Reported
Format: Online

BS in Computer Science Cybersecurity

Required Credits: 121
Completion Time: None Reported
Format: Online

BS in Criminal Justice

Degree Concentrations

Business Administration And Management
Corrections And Human Services
Crime Scene Investigation
Criminal Psychology
Homeland Security
Juvenile Justice
Public Administration
Strategic Intelligence

Required Credits: 120
Completion Time: None Reported
Format: Online

BS in Fire Administration

Required Credits: 120
Completion Time: None Reported
Format: Online

BS in Government

Degree Concentrations

National Security
Politics And Policy
Public Administration

Required Credits: 120
Completion Time: None Reported
Format: Online

BS in Law And Policy

Required Credits: 120
Completion Time: None Reported
Format: Online

BS in Paralegal Studies

Required Credits: 120
Completion Time: None Reported
Format: Online

BS in Early Childhood Education

Required Credits: 120
Completion Time: None Reported
Format: Online

BS in Elementary Education

Required Credits: 120
Completion Time: None Reported
Format: Online

BEd in Elementary Education

Degree Concentrations

Middle Grades English
Middle Grades Mathematics
Middle Grades Science
Middle Grades Social Science
Special Education

Required Credits: 120
Completion Time: None Reported
Format: Online

BEd in English Education 6-12

Required Credits: 120
Completion Time: None Reported
Format: Online

BEd in Mathematics Education 6-12

Required Credits: 120
Completion Time: None Reported
Format: Online

BEd in Middle Education

Degree Concentrations

English
Math
Science
Social Science

Required Credits: 120
Completion Time: None Reported
Format: Online

BEd in Physical Education 6-12

Required Credits: 120
Completion Time: None Reported
Format: Online

BEd in Physics Education - Earth Science 6-12

Required Credits: 120
Completion Time: None Reported
Format: Online

BEd in Social Studies Education

Required Credits: 120
Completion Time: None Reported
Format: Online

BS in Special Education

Required Credits: 120
Completion Time: None Reported
Format: Online

BEd in Special Education

Required Credits: 120
Completion Time: None Reported
Format: Online

BS in Teaching English As A Second Language

Required Credits: 120
Completion Time: None Reported
Format: Online

BS in Applied Ministry

Required Credits: 120
Completion Time: None Reported
Format: Online

BS in Biblical And Educational Studies

Required Credits: 120
Completion Time: None Reported
Format: Online

BS in Cultural Engagement

Required Credits: 120
Completion Time: None Reported
Format: Online

BS in English And Writing

Degree Concentrations

Creative Writing
Journalism

Required Credits: 120
Completion Time: None Reported
Format: Online

BEd in English As A Second Language

Required Credits: 120
Completion Time: None Reported
Format: Online

BS in History

Required Credits: 120
Completion Time: None Reported
Format: Online

BS in Interdisciplinary Studies

Required Credits: 120
Completion Time: None Reported
Format: Online

BS in Military Studies

Degree Concentrations

History
International Security
Professional
Resiliency

Required Credits: 120
Completion Time: None Reported
Format: Online

BS in Political Science

Required Credits: 120
Completion Time: None Reported
Format: Online

BS in Public Administration

Required Credits: 120
Completion Time: None Reported
Format: Online

BS in Religion

Degree Concentrations

Apologetics
Biblical And Theological Studies
Christian Counseling
Christian Ministries
Evangelism
Global Studies
Nextgen

Required Credits: 120
Completion Time: None Reported
Format: Online

BS in Social Media Management

Required Credits: 120
Completion Time: None Reported
Format: Online

BSW in Social Work

Required Credits: 120
Completion Time: None Reported
Format: Online

BS in Strategic Communication

Required Credits: 120
Completion Time: None Reported
Format: Online

BS in Worship Studies

Required Credits: 120
Completion Time: None Reported
Format: Online

BS in Health Sciences

Required Credits: 120
Completion Time: None Reported
Format: Online

BS in Healthcare Administration

Required Credits: 120
Completion Time: None Reported
Format: Online

BS in Informatics-Healthcare Informatics

Required Credits: 120
Completion Time: None Reported
Format: Online

BSN in Nursing (Rn To Bsn)

Required Credits: 120
Completion Time: None Reported
Format: Online

BSRT in Respiratory Therapist

Required Credits: 120
Completion Time: None Reported
Format: Online

BSN in Nursing Global Studies (Rn To Bsn)

Required Credits: 127
Completion Time: None Reported
Format: Online

BS in Psychology

Degree Concentrations

Addictions And Recovery
Christian Counseling
Criminal Psychology
Online Crisis
Development Psychology
Life Coaching
Military Resilience

Required Credits: 120
Completion Time: None Reported
Format: Online

BS in Aviation

Required Credits: 120
Completion Time: None Reported
Format: Online

BS in Aviation Maintenance Management

Required Credits: 120
Completion Time: None Reported
Format: Online

BS in Aviation Management

Required Credits: 120
Completion Time: None Reported
Format: Online

BS in Civil Engineering

Required Credits: 120
Completion Time: None Reported
Format: Online

BS in Industrial Engineering

Required Credits: 120
Completion Time: None Reported
Format: Online

What do we love about Midwestern Baptist Theological Seminary (MBTS)?

MBTS is a Baptist seminary formed in 1957. At the time of its founding, MBTS served just over 100 students. Today, more than 3,000 students are enrolled in the seminary's online and on-campus programs.

In fact, with the student population nearly tripling between 2012 and 2017, this Kansas City, Missouri institution is among the fastest growing seminaries in the U.S.

MBTS is great for students who:

Are hoping to find careers in local church and community leadership.

MBTS might not be the best fit for:

Who don't align with the lifestyle and values of the Baptist denomination.

Midwestern Baptist Theological Seminary's Online Degrees

BA in Business Leadership

Required Credits: 120
Completion Time: None Reported
Format: Online

BA in Christian Ministry

Required Credits: 120
Completion Time: None Reported
Format: Online

BA in Interdisciplinary Studies

Required Credits: 120
Completion Time: None Reported
Format: Online

What do we love about Amberton University?

Amberton University was established in 1971 and, until 1982, was actually an extension campus affiliated with Abilene Christian University. It was only when the college received accreditation from the Southern Association of Colleges and Schools in 1981 that it splintered into its own institution.

Based today in Garland, Texas, Amberton University's focus is primarily on adult learners.

Amberton University is great for:

Non-traditional students—those who are 21 or older and seeking a professional campus atmosphere.

Amberton University might not be the best fit for:

Recent high-school graduates.

Amberton University's Online Degrees

BBA in Accounting

Required Credits: 120
Completion Time: None Reported
Format: Online

BBA in Business Administration

Required Credits: 120
Completion Time: None Reported
Format: Online

BS in Human Relations & Business

Required Credits: 120
Completion Time: None Reported
Format: Online

BBA in Management

Required Credits: 120
Completion Time: None Reported
Format: Online

BBA in Management Accounting

Required Credits: 120
Completion Time: None Reported
Format: Online

BBA in MBA Accounting dual degree

Required Credits: 150
Completion Time: None Reported
Format: Online

BA in Professional Development

Degree Concentrations

Human Behavior and Development
Psychology
Religion

Required Credits: 120
Completion Time: None Reported
Format: Online

BBA in Project Management

Required Credits: 120
Completion Time: None Reported
Format: Online

What do we love about Catholic Distance University?

Catholic Distance University is a private Roman Catholic University that was formed in 1983. Though CDU is based in Charles Town, West Virginia, it provides exclusively online degree programs to its roughly 750 students.

CDU's focus on online education makes it a pioneer in its area of education. In fact, the CDU is noted as the first Catholic institution to award fully online Master of Arts Degrees in Theology.

Catholic Distance University is great for students who:

Are seeking a religious education at the associate, bachelor's or master's degree level.

Catholic Distance University might not be the best fit for:

Students who desire a campus community.

Catholic Distance University's Online Degrees

BA in Theology

Required Credits: 120
Completion Time: None Reported
Format: Online

Other Rankings

What do we love about University of the Cumberlands?

University of the Cumberlands is a private Christian University based out of Williamsburg, Kentucky. Formed by Baptist Ministers as Cumberland College in 1888, University of the Cumberlands serves roughly 17,000 students today.

University of the Cumberlands places its primary focus on postgraduate education. The vast majority of its students—more than 13,000—are enrolled in graduate degree programs.

University of the Cumberlands is great for students who:

Are seeking a faith-based advanced degree program.

University of the Cumberlands might not be the best fit for:

Students who are seeking a secular educational experience.

University of the Cumberlands's Online Degrees

BS/BA in Applied Science

Degree Concentrations

Accounting
Allied Health
Business Administration
Coaching
Criminal Justice
General Studies
Human Services
Information Technology
Missions and Ministries
Public Health

Required Credits: 120
Completion Time: None Reported
Format: Online

Bachelor of Science or Bachelor of Applied Science in Coaching

Required Credits: 120
Completion Time: None Reported
Format: Online

BS in Accounting

Required Credits: 120
Completion Time: None Reported
Format: Online

BAS in Human Services

Required Credits: 120
Completion Time: None Reported
Format: Online

BAS in Criminal Justice

Required Credits: 120
Completion Time: None Reported
Format: Online

BA in Elementary Education

Degree Concentrations

English/Communications
Interdisciplinary
Social and Behavioral Studies
Special Education*

Required Credits: 120
Completion Time: None Reported
Format: Online

Bachelor of Science or Bachelor of Applied Science in Business Administration

Degree Concentrations

Business Administration
Finance
Strategic Marketing

Required Credits: 120
Completion Time: None Reported
Format: Online

BAS in General Studies

Required Credits: 27
Completion Time: None Reported
Format: Online

BAS in Missions and Ministry

Required Credits: 122
Completion Time: None Reported
Format: Online

Bachelor of Science or Bachelor of Applied Science in Interdisciplinary Early Childhood Education

Required Credits: 120
Completion Time: None Reported
Format: Online

BS in Nursing

Required Credits: 120
Completion Time: None Reported
Format: None Reported

BAS in Information Technology

Degree Concentrations

Cybersecurity
Infrastructure
Management
Software Engineering

Required Credits: 120
Completion Time: None Reported
Format: Online

BS/BAS in Psychology

Required Credits: 120
Completion Time: None Reported
Format: Online

BS in Information Technology

Degree Concentrations

Cybersecurity
Infrastructure
Management
Software Engineering

Required Credits: 128
Completion Time: None Reported
Format: Online

What do we love about Amridge University?

Amridge University is a private university based in Montgomery, Alabama. Formed in 1967 as the Alabama Christian School of Religion, Amridge primarily awards degrees in theological seminary, Biblical studies, and Christian counseling.

Amridge University is almost evenly split between roughly 350 undergraduate students and 350 graduate students.

Amridge University is great for students who:

Seeking a faith-based education in areas like business and leadership, education and human services, or theology.

Amridge University might not be the best fit for:

Are interested in a large campus experience.

Amridge University's Online Degrees

BS in Business Administration

Required Credits: 128
Completion Time: None Reported
Format: Online

BS in Human Resource Leadership

Required Credits: 128
Completion Time: None Reported
Format: Online

BS in Management

Required Credits: 128
Completion Time: None Reported
Format: Online

BS in Information Systems Management

Required Credits: 128
Completion Time: None Reported
Format: Online

BS in Criminal Justice

Required Credits: 128
Completion Time: None Reported
Format: Online

BS in Human Development

Required Credits: 128
Completion Time: None Reported
Format: Online

What do we love about Holy Apostles College and Seminary?

Holy Apostles College and Seminary is a Catholic seminary based in Cromwell, Connecticut. Founded in 1956 for those with an interest in priesthood, Holy Apostles serves roughly 500 students today.

Holy Apostles College and Seminary places an emphasis on academic areas like philosophy and theology.

Holy Apostles College and Seminary is great for students who:

Are interested in a liberal arts education with a Catholic perspective.

Holy Apostles College and Seminary might not be the best fit for:

Who do not identify as Catholic.

Holy Apostles College and Seminary's Online Degrees

BA in English In The Humanities

Required Credits: 120
Completion Time: None Reported
Format: Online

BA in History In The Social Sciences

Required Credits: 120
Completion Time: None Reported
Format: Online

BA in Liberal Arts

Required Credits: 120
Completion Time: None Reported
Format: Online

BA in Philosophy

Required Credits: 120
Completion Time: None Reported
Format: Online

BA in Sacred Art

Required Credits: 120
Completion Time: None Reported
Format: Online