We rank the 20 fastest online associate degree programs in counseling.
Key Takeaways
While earning an online associate degree in counseling effectively jump starts your counseling career, professional certification and licensure are a must to become a fully credentialed professional counselor, too.
Due to the fast-paced coursework, effective time management and study habits are a must for student success in an accelerated program.
Early planning is vital, too, especially if you're thinking of earning a bachelor's degree. This can involve choosing a concentration or specialization even during your associate degree days, as well as looking into transfer and articulation agreements.
Enrolling in one of the fastest online associate's of counseling degree programs is the quickest way of entering the counseling profession.
But it has its share of challenges, too, from admission to graduation. The challenges encountered along the way are due to the high expectations that come with the profession and the difficulty of accelerated learning.
What is an Accelerated Associate's Program?
Like an accelerated bachelor's or master's program, an accelerated associate's degree program aims to offer students the quickest time-to-graduate after enrollment.
How does a program accomplish this?
By offering a combination of generous credit transfer policies, accelerated curricula, and rigorous academics, these programs speed up the education process. The trade off is that students will be challenged to learn and retain information at a scale and pace far beyond a traditional program format.
In other words an accelerated Associate of Counseling might not be for everyone.
Who Would Benefit from an Online Accelerated Associate Program?
An accelerated online associates program offers the added conveniences of distance education. So for students who appreciate self-directed learning and are self-motivated, the accelerated program format may be ideal.
Specifically, students may benefit most if they:
Are looking to transfer credits from previous work, education, or even life experience.
Are self-motivated and productive students.
Need to complete their education and enter the workforce as fast as possible.
Want to quickly earn a degree for the purpose of enrolling in a Bachelor's program.
Who Might not Benefit from an Online Accelerated Associate Program?
An accelerated online degree program will be challenging, moreso than other degree program formats. This means that students should carefully evaluate their personal strengths and weaknesses to decide if these challenges outweigh the benefits of accelerated education.
Students may not benefit from an accelerated program if they:
Find themselves to be slower learners.
Struggle to retain information at a fast-pace.
Want to explore each subject comprehensively.
Need to balance the degree program with work or other responsibilities.
What Can You Do with an Associate's in Counseling
After earning your Associate's in Counseling and the appropriate licensure, you will be prepared to work as a professional counselor.
As part of their jobs, professional counselors work with individuals, couples, families, and groups with the aim of improvement of mental health. Their work emphasizes the wellness model where strengths in successfully coping with life's challenges are encouraged; in contrast, the illness model emphasizes the client's weaknesses.
With their clients' cooperation, professional counselors examine the mental health issues caused by aging, substance abuse, trauma, and personal and professional relationships, among other concerns.
The counseling sessions also include the counselor providing appropriate guidance for clients to define their goals, actions, and outcomes; formulating therapeutic strategies; and guiding their clients toward effective mental health strategies.
Professional counselors also refer their clients to other healthcare professionals, such as psychologists, psychiatrists, and even physicians, meaning a mind-and-body approach is followed.
The Limitations of an Associate's in Couseling
But we must also emphasize that an associate degree in counseling and related fields of study is only a foot in the door.
Career advancement requires advanced degrees, such as a bachelor's degree and a master's degree, particularly for professional certification and license purposes. An associate degree in counseling, nonetheless, establishes the foundational knowledge and skills that will serve aspiring professional counselors in their careers.
How will you know if you're a suitable candidate for online associate degree programs in counseling?
First, you want to determine if a counseling career is the best fit for your personal and professional goals.
To determine this, you will need to decide whether a counseling degree offers your the academic and professional development that you need. In such a program, you will be exposed to the fundamentals of psychology, human services, and human behavior, among other relevant subjects, while also earning general education credits.
Because Associate Degrees are less stringent in their enrollment requirements, whether or not you are a suitable candidate mostly comes down to whether the program matches your particular interests and goals.
Leveraging an Associate's in Counseling after Graduation
You can then decide whether a bachelor's degree in counseling, human services or psychology is in your future after completion of the associate degree program. Plus, you can save on costs since an associate degree in counseling can be earned in a community college where tuition costs are generally more affordable and federal financial aid is available.
Graduates may also want to find entry-level employment after earning an associate degree in counseling. The best —and fastest—associate degree programs in counseling equip students with the practical knowledge and skills for a wide range of jobs, such as counseling assistants and human services associates.
In the end, what you do with your online associate in counseling degree is your call! Whatever that may be, you can be sure that an associate degree will get you places starting with a higher salary than you can earn with a high school diploma alone.
Accelerated Online Associate in Counseling Degree Formats
Online associate degree programs in counseling offer three types of degrees
Associate of Arts (AA) programs have a strong liberal arts curriculum with more focus on general education courses. Students develop transferable skills, such as communication and critical thinking skills, because of the liberal arts emphasis.
Associate of Science (AS) programs have more emphasis on technical skills resulting in more counseling-specific courses including the theories, methods, and issues in counseling.
Associate of Applied Science (AAS) programs emphasize real-world, workplace-ready practical skills with a balanced importance of hard and soft skills.
Note that associate of arts and an associate of science degrees are designed for transfer into bachelor's degree programs. The associate's of applied science degree programs are a different matter—graduates may or may not be able to transfer some or all of the college credits earned.
If you're planning on earning an associate of applied science in counseling degree, you may want to verify the school's transfer policies and articulation agreements.
Concentrations in Counseling Degree Programs
Most associate degree programs don't have options for a concentration or specialization for its online students. Concentrations are more common in bachelor's degree programs. But there are a few associate in counseling degree programs that offer concentrations, also known as tracks, which can set the stage for your advanced studies and career path.
It may also a good idea to look into the counseling concentrations so you're ready when the time comes. You will have an idea about the possible workplaces where you can put your associate degree to good use, too.
The popular concentrations in counseling programs include:
Mental health counseling or clinical counseling
School and career counseling
Substance abuse counseling
Addictions counseling
Marriage and family counseling
Christian counseling
Even in associate degree programs without concentration options, these specific counseling careers are discussed, usually as part of an introductory course to the counseling profession
Admissions Requirements
Online programs usually have the same admission requirements as on-campus programs, and even the admissions portal is the same. In accelerated online programs, however, there's an emphasis on transfer credits being accepted for evaluation and approval, either before admission or during matriculation.
Generally speaking, online associate degree programs in counseling have the following admissions requirements:
Completed online application form
Standardized test scores (SAT/ACT) with satisfactory scores
Personal statement
Letters of recommendation
High school diploma or GED equivalent, as well as official transcripts
Proof for college credits for transfer (e.g., military service records or work portfolio)
Many an associate degree program in counseling requires prospective students to undergo interviews, which may be in-person or via Zoom, before an admission decision.
Number of Credits
The typical associate degree program in counseling has a 60-credit hours (semester) or 90-credit hours (quarter) curriculum, but it can exceed these numbers slightly. But for the fastest associate degree in counseling programs, the number of credits required for graduation and the number that must be earned in the program differ.
This is due to the transfer of college-level credits. For example, the number of required credits for graduation is 60 but students must complete at least 30 credits (i.e., major courses) in the program. Obviously, the more transfer credits, the faster the time-to-completion.
Accredited colleges and universities accept college credits for transfer to their associate degree programs from the following sources:
Credits from dual enrolment programs
Credit by examination including AP, CLEP, DANTES, TECEP, and UExcel
Credits for prior learning like industry-related license, work portfolio, and life experiences (Check out the ACE Credit College and University Network)
Credits from military training and service
Time-to-completion
Most, if not all, traditional associate degree programs have a two-year completion period for full-time students taking 9-12 credit hours per term. But for accelerated programs, it can be as short as five months although an 18-month time-to-completion is the average. Online programs with a fast-track program of study allow their students to take on more classes and enroll during the summer term, too, resulting in the faster completion time.
Continuing Education
Online students in associate degree in counseling programs should consider pursuing continuing education for career advancement. Depending on your state, an associate degree is the only academic credential necessary to secure a professional certification, particularly if you're not planning on a mental health counseling practice.
In many states, however, a master's degree is a statutory requirement for licensure and certification. This is the case for certified mental health counselors with designations like Clinical Mental Health Counselor, National Certified Counselor, and Master Addictions Counselor.
Program of Study/Curriculum
Every associate degree program in counseling has its specific curriculum, but online students typically tackle general education, core or major, and elective courses. At the associate degree level, students gain an introduction to the fundamentals of the counseling profession with courses like:
Introduction to counseling
General psychology
Abnormal psychology
Developmental psychology
Counseling theories and issues
Counseling methods
Crisis intervention
If you're keen on gaining hands-on learning experiences, look for an associate in counseling program with an on-site internship or practicum component. You will develop soft skills during your internship, too, which are just as important as hard skills in your professional success.
In most schools, online programs have the same curriculum and sequence of courses as on-campus programs, aside from having the same faculty members leading the courses. This means the academic quality in both types of programs are the same—and online students enjoy the benefits of online learning, to boot!
Online Learning Experience
All online programs have a learning management system (LMS) that facilitates online learning among students and aids faculty and staff members in the course delivery, among other aspects. Online students log in using their respective accounts into their school's LMS, and then use its features and functions for synchronous and asynchronous courses, assignment submissions, and group projects.
Prospective online students must beware about committing cheating, plagiarism, and other misdemeanors! Anti-cheating apps are usually embedded in the best LMS, such as Canvas, Moodle, and Blackboard, not to mention that professors are experts at detecting cheating.
Tuition and Financial Assistance
Online students in associate in counseling degree programs pay per-credit tuition ranging from $150 to $400 and above. With a 60-credit program and no transfer credits, it can translate to between $9,000 and $26,000 in tuition for a two-year program. This is true for accelerated degree programs, too, since the number of credits remains the same.
The good news is that students in online associate in counseling degree programs are also eligible for federal financial aid and for state aid. Filing the FAFSA regardless of your current family and individual income situation is the first step.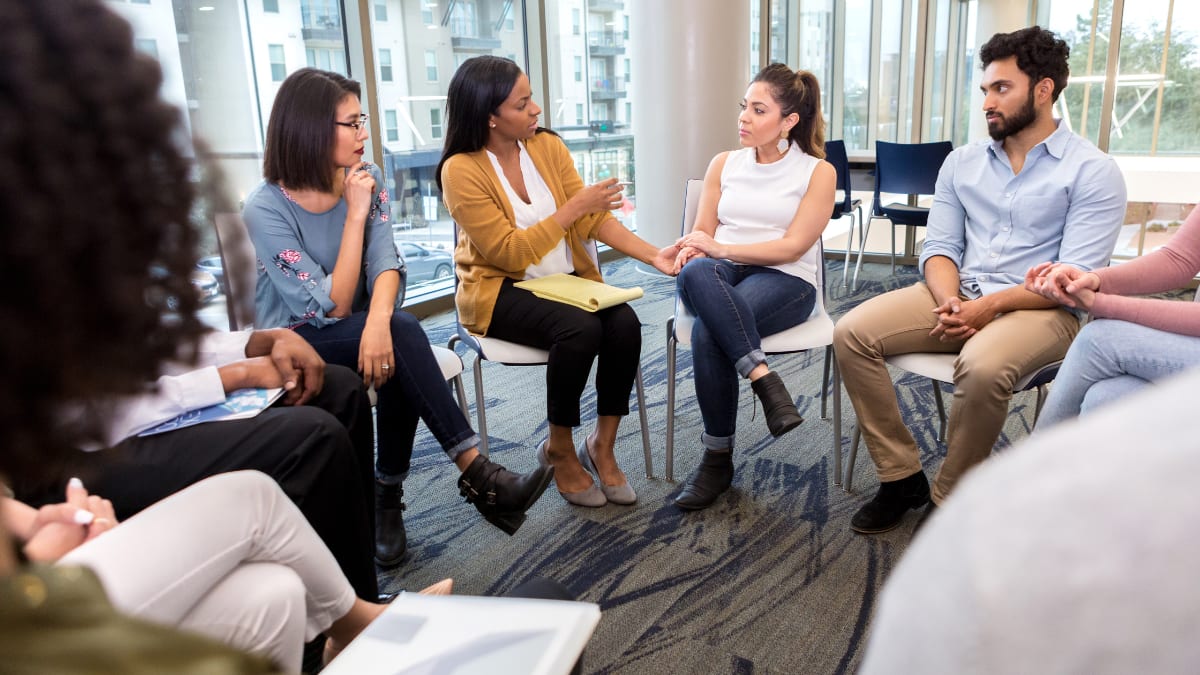 Back to Top
Occupations with an Associate Degree in Counseling
The increase in the demand for professional counselors range from 19% to 22% in the next decade, meaning more than 75,000 new openings every year, on average! This is good news for graduates of associate in counseling degree programs since there's a steady demand for professionals like:
Teacher's aides
Home care aides
Family advocates
Youth counselors
Social services assistants
Counseling technicians
Mental health technicians
On the job, you should strive to develop your counseling knowledge and skills beyond what you learned in an associate degree program. You can also apply the workplace-acquired skills in your pursuit of an advanced degree and licensure.
With that said, we chose the following 20 online associate degree in counseling programs based on the following criteria:
Each school must have current national or regional accreditation
Having programmatic accreditation was a bonus
Above-par academic quality based on the faculty members' credentials and experience, the program of study, and the student outcomes
Good student support services
Back to Top
Fastest Online Associate Degree in Counseling Programs
Liberty University
Liberty University may be among the United States' largest private nonprofit universities and it's continuing to expand! Its campus has ongoing construction projects that increase the number of facilities and amenities for its students, faculty, and staff members. These include a residence hall, a dining hall, and a parking garage.
Students of the AA in Psychology — Christian Counseling program can benefit from on-campus facilities, too, since all students are welcome. The 100% online associate degree program features accelerated 8-week courses covering introduction to Christian counseling and research, issues in Christian counseling, and developmental psychology. Graduates who earn the psychology degree gain fundamental knowledge of psychology with a robust Christian perspective.
Required Credits: 60 (Transfer up to 75% of the degree total)
Completion time: 1.5 years
Format: Online
Northcentral Technical College
With its mission of changing lives, Northcentral Technical College continues to inspire its students and alumni to reach for greater heights and to support local businesses. The college is home to several centers of excellence including public safety, wood technology, and agriculture.
The Associate in Substance Use Disorder Counseling is a program that prepares students for success in the licensure exam for Substance Abuse Counselors-In Training. Students learn counseling theory and tactics, crisis intervention, stress management, and psychopharmacology.
Required Credits: 61
Completion time: Less than two years with approved prior credits
Format: Online
University of St. Thomas Houston
Catholic higher education traditions are the driving force behind the enduring success of University of St. Thomas Houston! With its 75-year—and counting—track record of academic excellence, many of Texas' most successful professionals trained here, from doctors and teachers to businessmen and public administration experts. And we love the diversity of the student body, too, which reflects Houston's diversity, too.
The AAS in Drug and Alcohol Counseling program prepares students to become Licensed Chemical Dependency Counselor Interns (LCDC-Interns), a designation approved by the Texas Health and Human Services Commission. Both theory and hands-on experience via internships in partner sites are emphasized. Students may also pursue dual credit opportunities in electronic technology, cybersecurity, or networking technology.
Required Credits: 60 (Up to 12 credits of general education courses allowed for transfer)
Completion time: Less than 2 years with college credits transferred
Format: Online
Monroe Community College
Students of online associate degree programs at Monroe Community College have the opportunity to transfer to four-year institutions after graduation, thanks to its "2+2" transfer program. Popular institutions for transferring into bachelor's degree programs include Rochester Institute of Technology, University of Rochester, and Eastman School of Music.
Students in its AS in Addictions Counseling program develop their knowledge and skills in the counseling process, from intake screening and treatment planning to case management and crisis interventions. There's a 300-hour internship component, too. The associate degree meets the Credentialed Alcohol & Substance Abuse Counselor (CASAC) license requirements, and its credits can be transferred into a bachelor's degree program in counseling and other related fields.
Required Credits: 62
Completion time: Less than 2 years with transfer credits
Format: 75% online
Genesee Community College
The two-year Genesee Community College has housing accommodations for its out-of-area students, but students also have the option of attending the online associate degree programs. There are more than 60 certificate and associate degree programs offered, and many students pursue their bachelor's degree soon after graduation.
The AS in Alcohol and Substance Abuse Studies program is for students who want to gain foundational knowledge and skills in human services, social work, and substance abuse counseling. Students gain a world-class liberal arts foundation and practical knowledge in chemical dependency and substance abuse among individuals, as well as its impact on families and societies.
Required Credits: 62
Completion time: Less than 2 years with transfer credits
Format: 75% online
Finger Lakes Community College
With more than 60 certificate and associate degree programs, Finger Lakes Community College has something for every interested student. Both its on-campus and online associate degree programs prepare students for entry-level employment and for transfer to bachelor's degree programs.
The AAS in Chemical Dependency Counseling program features live classes and field experiences on a wide range of counseling-related subjects, from psychology to human services. Students are also prepared for the New York State trainee credential and its subsequent credentialing exam. On-campus faculty also teaches the online classes and prior knowledge can be translated into college credits.
Required Credits: 64
Completion time: Less than 2 years with transfer credits
Format: 50% online
Hudson Valley Community College
Don't dismiss Hudson Valley Community College as being "just a community college"! Its main campus has numerous contemporary facilities that even a large university would envy, from its New York State trainee credential with its modern classrooms and fully-equipped laboratory to its Gene F. Haas Center for Advanced Manufacturing Skills facility.
The AAS in Chemical Dependency Counseling program equips students with the academic credentials for the Credential in Alcoholism and Substance Abuse Counseling (CASAC). Aside from the didactic coursework of the online associate degree program, students also complete an on-site internship. Courses include an introduction to chemical dependency, pharmacology and physiology of addiction, and chemical dependency treatment and counseling.
Required Credits: 61
Completion time: Less than 2 years with transfer credits
Format: 50% online
Tompkins Cortland Community College
The CollegeNow program at Tompkins Cortland Community College enables high school students to obtain college credits that can be transferred to its online associate degree programs. Both domestic and international students can apply for admission into the CollegeNow program. Students can also apply for the study abroad program to Spain, Ireland, and Cambodia.
The AAS in Chemical Dependency Counseling program features a balanced curriculum of liberal arts and counseling-specific courses. Students who are already counseling practitioners also receive clock hours and continuing education for various credentials including Credentialed Alcoholism and Substance Counselors (CASAC), Credentialed Prevention Specialists (CPS), and Credentialed Prevention Professionals (CPP). Students also complete a semester of field work.
Required Credits: 62
Completion time: Less than 2 years with transfer credits
Format: 75% online
Hilbert College
With its origins as a teacher training school, Hilbert College continues to move with the times! Aside from offering undergraduate and graduate programs for traditional and non-traditional students, it has also expanded its athletics programs as recently as 2021, the same year it offered online programs.
The AA in Alcohol and Substance Abuse Counseling program enables students to develop their technical skills in alcohol and substance abuse counseling while also strengthening their soft skills including an empathetic mindset. Students learn about substance abuse theory, prevention strategies, and recovery methods, among other profession-specific topics, in the asynchronous 8-week courses. Graduates earn 1,000 internship hours that can be applied toward the 6,000-hour requirement to become a certified alcohol and substance abuse counselor.
Required Credits: 60
Completion time: Less than two years with transfer credits
Format: Online courses with in-person internship
NHTI — Concord's Community College
With its 240-acre landscaped campus, NHTI — Concord's Community College has the best of both worlds. Within the campus are notable facilities, such as the McAuliffe-Shepard Discovery Center, while the scenic White Mountains and metropolitan Boston are nearby.
The AS in Addiction Counseling program prepares students for the challenging yet rewarding work of alcohol and drug counseling. Students gain a multidisciplinary education that deepens their understanding of addictions counseling and their empathy for clients. There are two 15-week onsite internships in substance abuse treatment facilities.
Required Credits: 60
Completion time: Less than 2 years with transfer credits
Format: Online courses with in-person internship
Spokane Falls Community College
Part of the Community Colleges of Spokane, Spokane Falls Community College prides itself on being an educational leader with a wide range of academic programs. Student success is at the heart of its existence, and faculty and staff members work hard to support students.
The AAS in Addiction Studies program features courses like Survey of Addictions, Addiction Counseling Techniques, and Family Systems and Adolescent Treatment in Addictions. Students can demonstrate professional-level skills in counseling, from initial assessment to client education.
Required Credits: 90 quarter credits
Completion time: Less than 6 quarters with transfer credits
Format: Online
Community College of Baltimore County
Freshmen students at Community College of Baltimore County agree that their student experience became more fun, thanks to the First Year Experience (FYE) Mentors program. Mentors provide useful information about the college and its campuses, as well as provide guidance on adjusting to college life.
This can also be said for online students in the AAS in Human Services Counseling program albeit in a virtual format. Students learn the fundamentals of human services counseling, from its counseling techniques to the pharmacology of substance abuse disorders. The National Addiction Studies Accreditation Commission (NASAC)-accredited program requires an internship, and allows students to choose from one of two concentrations—Human Services Generalist or Behavioral Health Counseling.
Required Credits: 60
Completion time: Less than two years with prior college credits transferred
Format: Online courses with an internship experience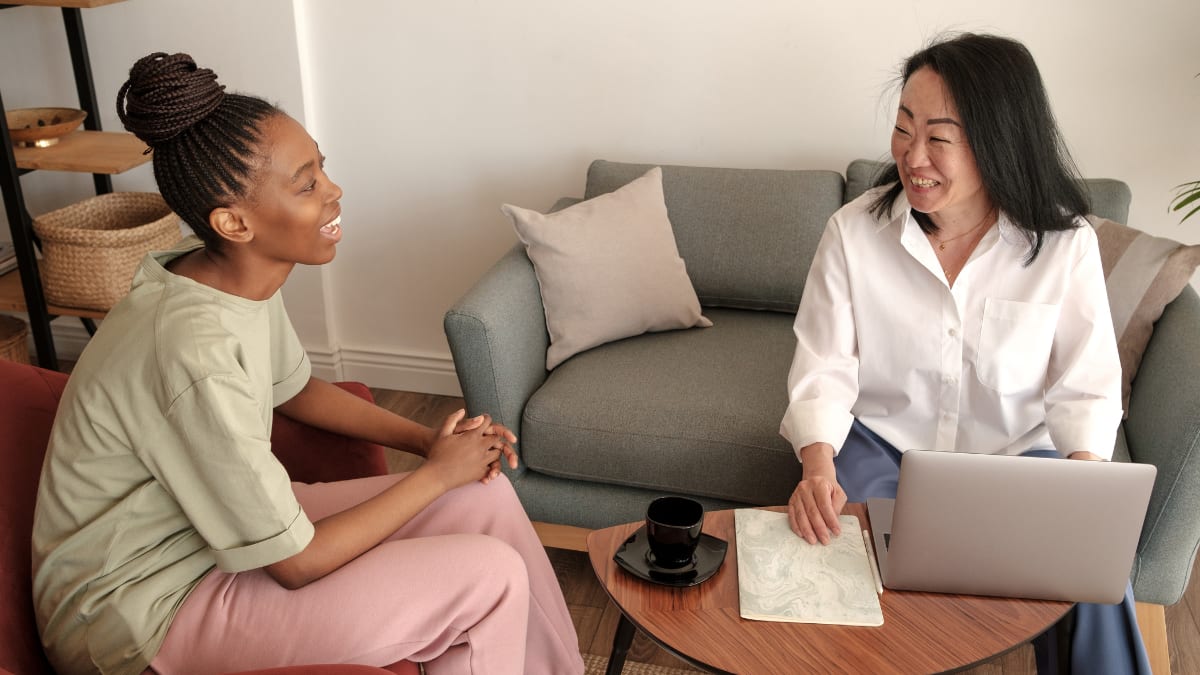 Waukesha County Technical College
With more than 150 fields of study, Waukesha County Technical College has plenty to offer every traditional and non-traditional learner! Plus, the student experience here is among the best in Wisconsin with student clubs, study abroad opportunities, and access to the Multicultural Engagement Center ready for students.
The AAS in Human Services program attracts aspiring counselors due to its academic quality and its convenient online learning format. Students choose from two tracks—the Mental Health track with a choice in speciality and the Addiction Studies track. Both tracks meet the 360-hour specialized education requirement for the Substance Abuse Counselor Certification. The onsite practicum experience strengthens real-world skills.
Required Credits: 60
Completion time: Less than 2 years with prior credits transferred
Format: Online with onsite practicum
Jamestown Community College
A member of the SUNY system, Jamestown Community College has expanded both its campus and program offerings since its establishment in 1950. Today, there are numerous campuses that offer certificate and associate degree programs for talented students.
The AS in Addictions Counseling program features courses in human services, studies in alcohol chemical dependency, and its prevention and treatment methods. Students also learn the skills for intake evaluation, treatment planning, case management, and addiction counseling. Students also earn the 350-hour requirement to qualify for the CASAC-TR status.
Required Credits: 60
Completion time: Less than 2 years with prior credits transferred
Format: 75% online
Iowa Lakes Community College
With a 15:1 student-to-faculty ratio, Iowa Lakes Community College ensures that its students get the personalized attention they deserve. There are 16 areas of study to choose from including business management, general studies and humanities, and liberal arts and sciences. Life experiences are recognized for college credit purposes.
The AAS in Substance Abuse Counseling program qualifies graduates for the certification exam, so they can be certified alcohol and drug counselor (CADC) with additional hours of hands-on experience. There's an internship/practicum component.
Required Credits: 68
Completion time: 5 semesters
Format: 75% online
Nicolet College
With Lake Julia as a backdrop, it isn't surprising that Nicolet College has one of the most beautiful campuses in Wisconsin! But its on-campus and online programs' exceptional academic quality really make it shine. World-class liberal arts education combined with up-to-date occupational training makes Nicolet College the center for college education in the Northwoods area.
The Associate in Substance Use Disorder Counselor program combines online classes with minimal field experiences and on-campus sessions. Students learn the counseling skills necessary for individuals, families and groups, as well as the soft skills for the job. Courses include Advanced Counseling Theory, Behavior Assessment, and Assessment, Diagnosis, and Treatment of Addictive Disorders.
Required Credits: 64
Completion time: Less than 2 years with prior credits
Format: Hybrid (Online and on-campus courses)
Bryant & Stratton College
With a 168-year history, Bryant & Stratton College has reinvented itself in accordance with the changing needs of its community of learners. What started as an institute for practical workplace education has evolved to become a well-known small college with a wide range of programs, from diploma to associate and bachelor's degree programs. Fields of study include business administration, criminal justice, and human services.
The AAS in Human and Social Services program enables students to develop their professional knowledge, skills, and ethics in human and social services settings. Their skill sets are applicable in counseling settings, too, thanks to courses like family theory and services. Students can fast-track their associate degree program completion through the transfer credit policy of Bryant & Stratton College including military experience, AP credits, and proficiency evaluation.
Required Credits: 33 credits for major courses
Completion time: Less than 2 years with prior credits (General education courses)
Format: Online
Stautzenberger College
Prospective students of Stautzenberger College can choose from 20+ fully online programs. Students can also choose between two types of format—first, 10-month diploma programs with core classes; and second, 21-month associate degree programs. In case of diploma programs, students can continue taking online courses to earn an associate degree
The accelerated online AAS in Addiction Counseling program welcomes students who have completed the diploma program first and then decided to pursue an associate degree. Students complete their general education courses and then tackle courses relevant to addictions counseling. Graduates are qualified to become addiction counseling technicians.
Required Credits: Not stated
Completion time: 5 months with completion of a diploma program
Format: Online
Beal University
With its 130-year history, Beal University has established a well-deserved reputation for academic quality in its occupation-focused programs. Offering new programs is among its mission, too, with the newest program being the accelerated associate degree in nursing at its Wilton campus. Here, aspiring nurses learn to use cutting-edge technology including virtual reality.
The AAS in Addiction Counseling program features counseling-related courses that prepare students for the real-world challenges of addiction counseling. Courses include Crisis Identification and Resolution, Addiction and the Family, and Motivational Interviewing. Students can transfer college credits from accredited universities, too.
Required Credits: Not stated
Completion time: 20 months
Format: Online
City Vision University
Established in 1998, City Vision University is associated with Tech Mission, a Christian nonprofit. The guiding philosophy for its programs is the transformation of lives through Jesus, justice, and technology,
The Associate in Addiction Counseling program is an approved NAADAC provider, meaning its courses meet the credit requirements for Certified Addiction Counselor credential. Students learn the professional skills in clinical evaluation, treatment planning, referral and service coordination, counseling and client education. Professional ethics are emphasized, too.
Required Credits: 60 (Up to 75% of credits can be transferred or up to 25% come from prior learning assessment)
Completion time: Less than 2 years with transfer credits
Format: Online