The online bachelor's in cybersecurity is an increasingly valuable degree that can lead to an excellent career with competitive pay in Maryland. Check out the top-ranked cybersecurity degree programs for 2022 and learn more about the cost of tuition, admission requirements, cybersecurity courses, jobs in cybersecurity, and more.
Maryland's Best Online Bachelor's in Cybersecurity Programs
Key Takeaways
Maryland offers both a thriving job market for cybersecurity professionals and three of the country's top online undergraduate programs for earning your Bachelor's of Cybersecurity.
In-state Maryland students will benefit from a more affordable tuition, and will build a professional network within the state to leverage after graduation.
Country-wide growth in the cybersecurity job market, makes an online bachelor's of cybersecurity an excellent option–even if you wish to pursue opportunities outside of Maryland.
Featured Programs
Why Earn a Cybersecurity Degree in Maryland?
When you pursue an online bachelor's in cybersecurity in Maryland, you're getting your foot in the door of its thriving cybersecurity industry! The State of Maryland calls itself the cyber capital of America because of its army of state-trained cybersecurity workforce - and it's the world's largest, too.
Maryland also has Centers of Academic Excellence designated by the Department of Homeland Security (DHS) and National Security Agency (NSA), among others.
The Old Line State is one of the nation's leading cybersecurity hubs, thanks to the ease of business for cybersecurity-related companies. Many cybersecurity companies started in Maryland, too, such as Gemalto, Tenable and ForcePoint!
Maryland's government agencies are among the best sources for cyber security job postings, too, thanks to the state government's initiatives. The Maryland Department of Information Technology and Maryland Department of Emergency Management are a few examples.
There's also the Maryland Personal Information Protection Act that contributes to the steady employment of cybersecurity professionals in the state. With the ever-expanding demanding demands of the profession, the standards of cyber defense education must keep pace.
Earning an Online Cybersecurity Degree in Maryland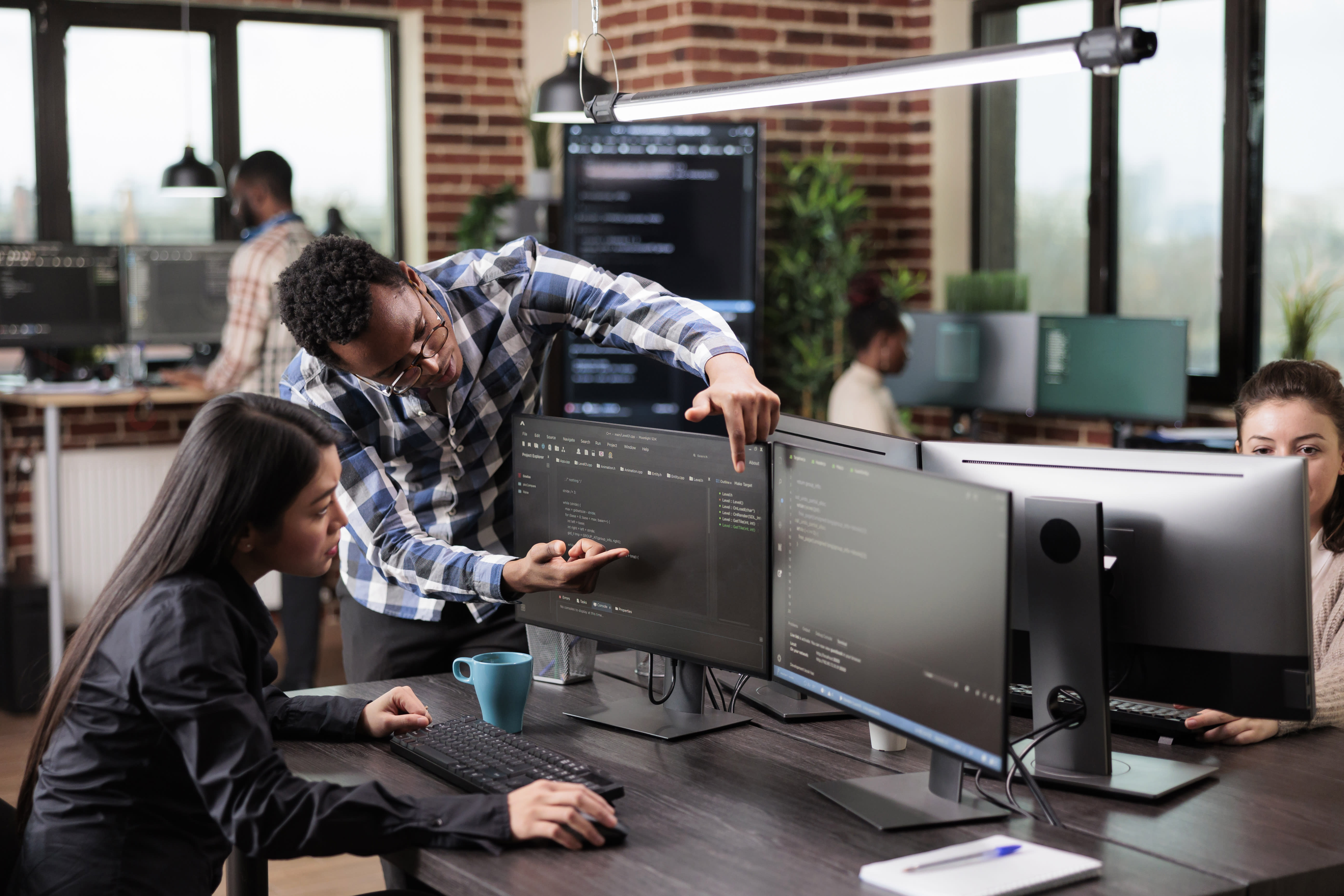 The best online programs offering cyber security degrees in Maryland are designed with academic excellence and experiential learning in mind.
Guidance and feedback on these programs were gathered from cyber security and information technology experts during curriculum development. And curricula and courses act in accordance with NSA and DHS guidelines.
So students can enjoy the confidence that they're earning one of the best degrees available
The typical bachelor's in cyber security degree program features a 120-credit curriculum or its equivalent. As such, full-time freshman students typically complete the program requirements in four years. Transfer students can complete it in less time while part-time students usually have a longer time-to-completion.
Some programs however, offer credits for real-world professional experience or previous academic experience. So be sure to read the program's credit policy carefully.
Curriculum and Courses
Every cybersecurity degree program has its unique curriculum and courses. But the most common courses cover topics in:
Principles of Cybersecurity, a course that equips students with the skills in the implementation and evaluation of cybersecurity operations.
Introduction to Programming, an introductory course on algorithms and programming languages with an emphasis on problem-solving skills.
Virtualization and Cloud Security, a course that covers visualization technologies from their planning to implementation.
Digital Forensics, a course that focuses on the principles and practices related to the collection and analysis of electronic evidence. Specific discussions will also focus on their use in criminal and civil lawsuits.
Skills Built in Undegraduate Cybersecurity Programs
Cybersecurity students build technical skills to leverage in their education, profesional training, and work experience.
The most sought-after hard skills include:
Networking and system administration skills
Virtual machines and operating systems skills
Network security skills
Coding skills (e.g., C and C++, JavaScript, SQL and HTML)
Cloud security skills (e.g., Google Cloud Platform, AWS and Microsoft Azure)
But hard skills are best complemented by the development of soft skills, too. Transferable soft skills allow cybersecurity professionals to work in diverse settings and with other professionals.
The most valuable soft skills are:
Analytical skills are crucial when designing, implementing and evaluating computer systems, networks and programs for security risks.
Communication skills are a must since information security analysts and other cybersecurity professionals must communicate with diverse populations. Both verbal and written communication skills are essential in getting messages across to non-technical and technical audiences, too.
Problem-solving skills are required because cybersecurity threats and attacks can be complicated in nature. Finding solutions is part of the job.
Certifications
If you want to get a leg up on your cybersecurity career, you should look for programs with built-in professional certifications. You will not only earn a bachelor's degree but industry certifications that demonstrate your edge. Examples include A+, Network+ and CySA+ certifications.
Admissions
Admission to the best online bachelor's in cybersecurity programs is usually selective due to the STEM-heavy curriculum. Aside from a high school diploma, letters of recommendation, a current resume and personal statements are required. Interviews and placement tests are common.
Cybersecurity: A Top Degree for the Next Decade
Cybersecurity is definitely growing in demand in Maryland, just as it is around the world. Information security jobs are expected to grow by 33% over the next 10 years, according to the Bureau of Labor Statistics. That's much faster than average career growth. With current median salaries around $100,000 a year, it's a good time to prepare yourself to compete in the cybersecurity job market in Maryland. That's why we've ranked cybersecurity degrees as the best degree for jobs over the next decade.
Cybersecurity is also new and its need is very widespread. In our interview with world-leading cyber security expert Isaac Ben-Israel, Ben-Israel says Because we understand that nowadays everyone is dependent on computers, not only military organizations, defense organizations. and therefore, the citizen, the simple citizen, needs a protection as well as the big organization. and we decided to make it legitimate for education and industry. ...At that time, 2011, it's hard to believe but this is true, there was not even one university in the world, neither in Israel nor in the States, in which you could go and study cybersecurity. Only 10 years ago. It's hard to believe but this was the situation 10 years ago. Today ... you can learn cyber security in every university.
If you are still wondering if a cybersecurity bachelor's degree is worth it, we answer that, and we can give you the playbook for how to become a cybersecurity analyst.
Back to Top
Maryland Colleges Answering the Demand for Cybersecurity Degrees Online
We've identified 2 colleges with online cybersecurity bachelor's degrees in Maryland. Online degrees offer students in Maryland maximum flexibility and convenience so they can study while working. And you don't have to sacrifice quality. These programs are offered by some of Maryland's top ranked colleges like Stevenson University and Capitol Technology University. For more about Maryland colleges visit The Best Colleges in Maryland.
Frequently Asked Questions About Online Bachelor's in Cybersecurity
If you need more answers to frequently asked questions about online degrees, we can help.
For detailed information on accreditation, financial aid, college applications and more, check out our Complete Guide to Applying for College.
Back to Top
Best Online Bachelor's in Cybersecurity Programs in Maryland
Online Cybersecurity Degrees

BS in Cybersecurity and Digital Forensics

Required Credits: 120
Completion time: 4 years
Format: Online

Online Cybersecurity Degrees

BS in Cybersecurity

Required Credits: 120
Completion time: 4-6 years
Format: Online

BS in Construction Information Technology and Cybersecurity

Required Credits: 120
Completion time: 4-6 years
Format: Online