Are you interested in a career in the healthcare field? The field of surgical technologist is growing and in-demand. Find out more about this exciting career opportunity.
Key Takeaways
A surgical technologist or surgical technician is a healthcare professional who provides direct support to surgeons.


Surgical technologist is a good job because job opportunities are growing slightly faster than average and earning are comparatively higher than for a medical support role.


Pay for a certified surgical technologist can depend on factors like industry, geography, and medical specialization.
Surgical technologists are part of a growing healthcare field. Surgical technologists, sometimes also called surgical technicians, serve in an important medical support role with good pay and steady growth in employment opportunities.
In fact, U.S. News & World Report ranks surgical technologist as one of the best paying jobs you can get without a degree. That said, you may still wish to pursue a degree, which can lead to higher pay and in-demand specializations.
But whichever path you choose, becoming a surgical technologist gives you a chance to become an essential part of an operating room team. Surgical techs work in a variety of settings including hospitals, outpatient facilities, and private physician offices.
Surgical technology is an excellent path for those seeking an affordable education and a accessible pathway into a healthcare career.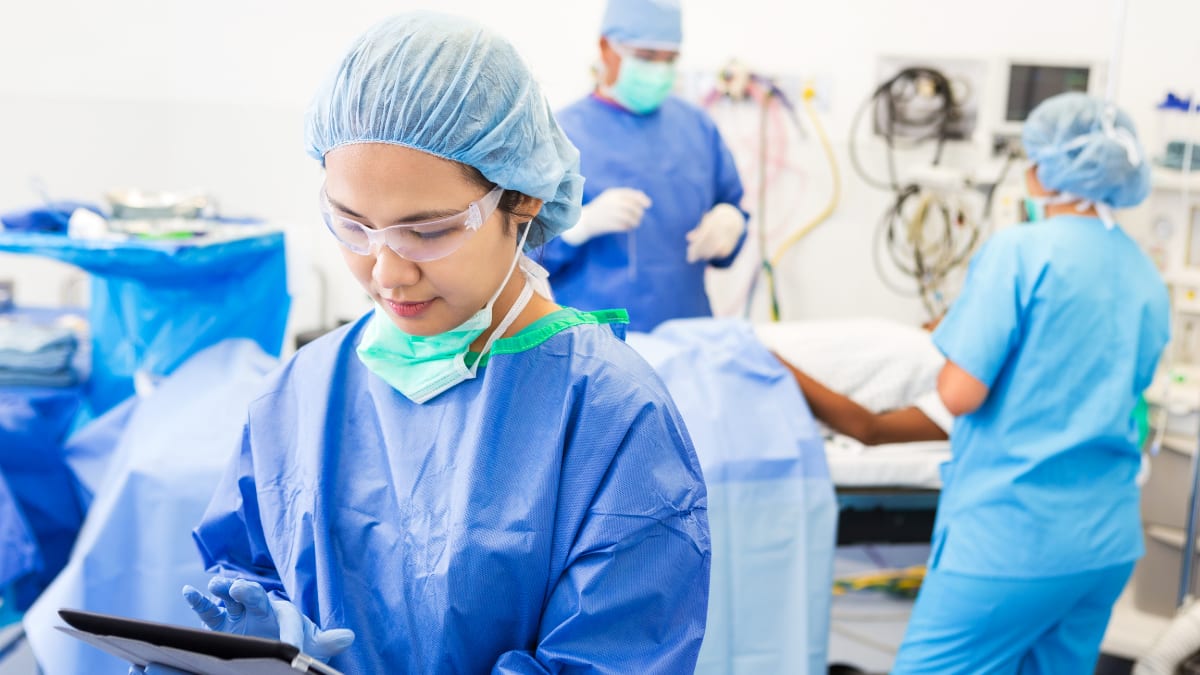 Read on to see why surgical tech could be an excellent career choice for you.
Surgical Tech and the Fast-Growing Medical Sector
The healthcare field is growing rapidly. Labor experts predict the healthcare sector will add more than 2 million jobs between now and 2031. The demand is high for qualified and compassionate professionals in areas of specialization like surgical tech.
While surgical technologist positions are not growing at this same aggressive pace, the BLS still projects the field to outpace growth in the overall labor market. While labor experts predict that the overall job market will grow at roughly 5% between 2021 and 2031, surgical technologist roles will grow at a rate of 7% during that time.
The BLS predicts that the market will add roughly 9,600 jobs for technologists and other closely related surgical assistants each year over the next decade. This means there are plenty of great opportunities out there for aspiring surgical techs but the competition is fierce in some settings.
Job competition is high for a number of reasons:
Surgical technologists get a chance to help others, which can result in high job satisfaction.
In many cases, it is possible to become a surgical technologist with just an accredited certificate or associate degree, which makes the required education affordable compared to other medical careers.
Surgical technologists will see slightly higher than average employment growth during the next decade.
Surgical technologists will earn a high return on their educational investment. This is because surgical tech is ranked as one of the best paying jobs not requiring a college degree.
Not only that, but you can improve your career prospects and earning potential by considering factors like geography, industry, medical specialization and more.
We'll consider all of these factors. But first, an overview of the field.
Back to Top
Overview of Careers in Surgical Tech
What is a surgical technologist?
Surgical technologists are surgical assistants who provide direct support to surgeons in the operating room. As the surgical equipment and technology used in operating rooms have become more advanced and specialized, surgical technology experts have come to play an increasingly important role as part of the operating room team.
Surgical technicians typically work in hospitals, but they may also work in clinics, ambulatory surgery centers, outpatient centers, or other healthcare settings. They typically work full-time hours, and they may be required to work overtime, nights, and weekends.
Responsibilities may include:
Preparing the operating room;
Setting up and sterilizing surgical equipment;
Operating surgical technology during procedures;
Providing operating surgeons with materials, instruments, and equipment during procedures;
Creating and maintaining a sterile operating room environment; and
Monitoring patient vital signs prior to, during, and after procedures.
Bottom Line: Patients undergoing surgical procedures run a higher risk of infection and other adverse medical outcomes. As a surgical technologist, you are in the extremely important position of contributing directly to patient safety, health and well-being.
The jobs of maintaining equipment, cleaning patient treatment sites, and sterilizing the operating room itself are all essential to ensuring that patients have their best chance at making a full recovery. As a surgical tech, you will play a central part in achieving positive patient outcomes.
Back to Top
A Quick Look at Surgical Tech Certification
The vast majority of employers will be seeking certified surgical techs. There are several different forms of national certification that you may be able to pursue in order to become a certified surgical technologist.
Keep in mind though that certification rules are different in every state. Before determining which is the best certification for you, make sure you understand your state's licensing requirements.
Examples of widely accepted certifications include:
Certified Surgical Technologist (CST):

Generally designed for those who have completed an accredited certificate or associate degree program.
Granted by the National Board of Surgical Technology and Surgical Assisting (NBSTSA)
Tech in SurgeryCertified TS-C (NCCT):

Generally designed for those who have earned a high school diploma/GED and gained 3 years of professional experience.
Granted by the The National Center for Competency Testing
Is certification required?
Certification rules vary from state to state. Some states may mandate a specific type of certification while others may allow you to choose from several types of certification. In many states, national certification is entirely optional.
However, the vast majority of employers will expect or even require that you are nationally certified. Even in cases where certification is not specified, you will likely be competing with candidates who are certified.
In other words, regardless of the state that you live in, you are strongly advised to pursue certification. This will significantly improve your job prospects and salary potential.
Many community colleges, vocational schools, and technical institutes offer both certificate programs and associate degrees where you'll learn essential procedures and relevant medical terminology. You'll also gain instruction on how to prepare patients for the operating room, how to sanitize and handle surgical tools, how to support the surgical procedure, and more.
Most of these programs will combine both classroom instruction and hands-on clinical experience. There are numerous different programs that you can complete to earn certification as long as any option you choose has proper accreditation.
How can I qualify for the certification exam?
Requirements for eligibility may vary, but generally, there are three ways to qualify for certification:
High school diploma/GED and 3 years of experience;
An accredited post-secondary non-degree certificate; or
An accredited associate degree.
Key Points: Accreditation is an important consideration when choosing a certificate or associate degree program. The two leading accreditation agencies for surgical tech programs are the Commission on Accreditation of Allied Health Education Programs (CAAHEP) or the Accrediting Bureau of Health Education Schools (ABHES).
Earning a degree or certificate from a program without recognition from one of these accrediting agencies may prevent you from being eligible for certification.
To learn more, check out our step by step guide on how to become a surgical technologist or surgical technician. Otherwise, continue reading to find out exactly what makes this such a good job for aspiring healthcare professionals.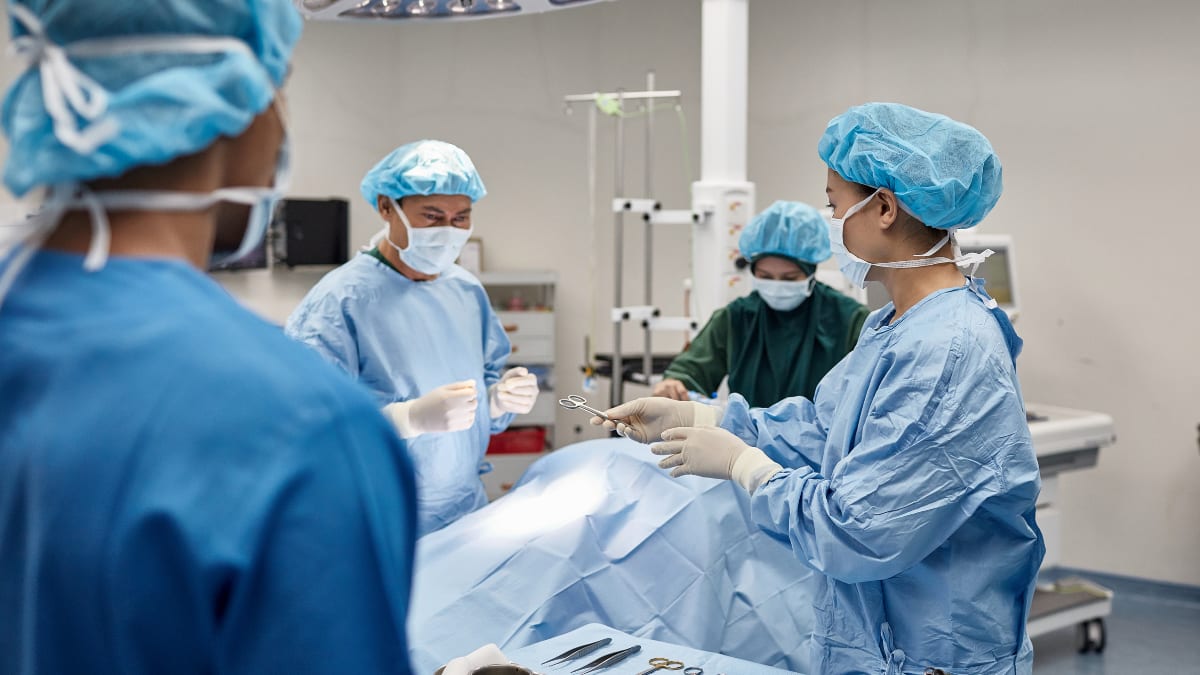 Back to Top
What are the pros and cons For surgical technologists?
Surgical technologists experience a rewarding but challenging career. Most surgical techs work in high-paced settings. Surgeries require strict adherence to proper procedures regarding sanitation, operation of equipment, and patient care.
Pros of Becoming a Surgical Tech
Surgical technology is a strong career path for several reasons:
The demand for qualified surgical tech professionals remains high, and promises to grow along with the continued advancement of the equipment used in the operating room, recovery room, and beyond.
Surgical techs enjoy an above-average salary relative to other working professionals whose highest level of education is a professional certificate or two-year degree.
Surgical techs often help prepare patients for surgery, which includes providing positive bedside manner and a comforting presence.
Surgical techs provide support for surgeries and procedures that can enhance quality of life for patients. This means you have a chance to make a real difference in the lives of others.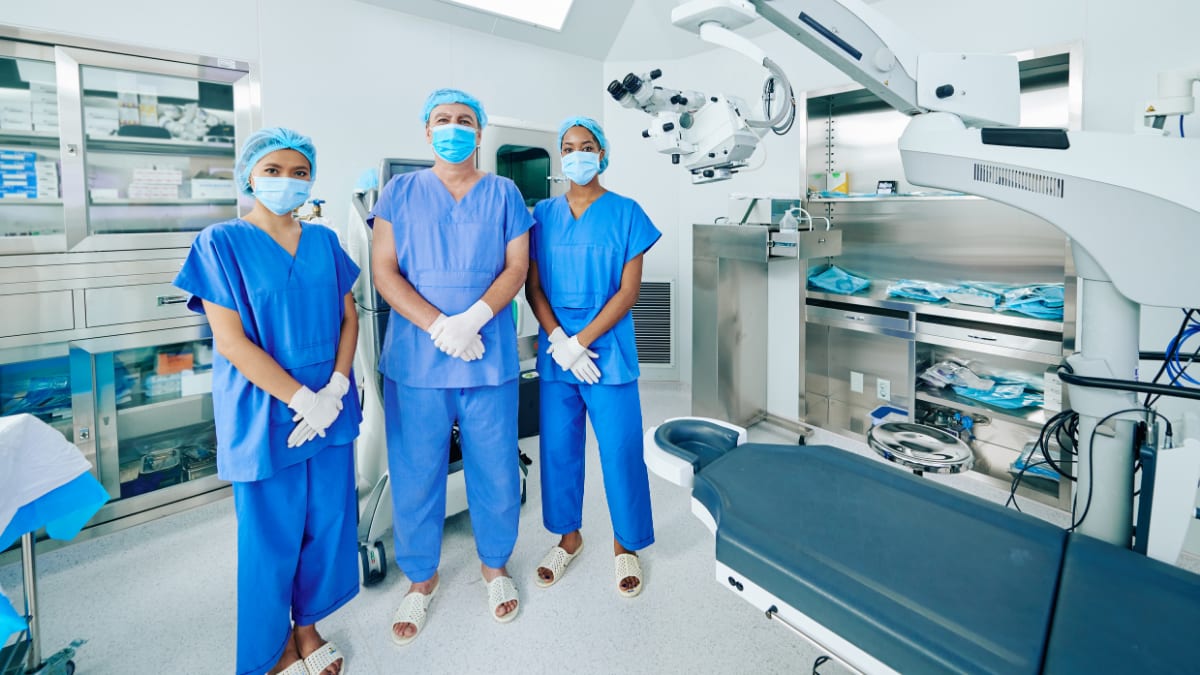 Cons of Becoming a Surgical Tech
Like many careers in the healthcare field, surgical technicians experience many unique challenges.
Surgical procedures can vary in length, as can shifts for healthcare workers. As someone in surgical technology, you may work long hours, and even nights and weekends.
Surgery is physically demanding work which requires focus and stamina. This means you must be alert and awake at all times.
As a front-line healthcare worker, you are vulnerable to various safety risks through the use of sharp tools, potential exposure to illness, and the handling of potentially hazardous medical waste. As a surgical tech, you play a critical role in maintaining a safe and sanitary environment.
Bottom Line: While the demand for surgical techs is high and they enjoy a higher than average salary compared to others with an associate degree, this career can require long hours and be physically demanding. Before you make the decision to become a part of a surgical team, make sure you are prepared for a rigorous career. As long as you believe you have the compassion, patience, and stamina for this type of work, you will have an excellent opportunity to help people, and even save lives.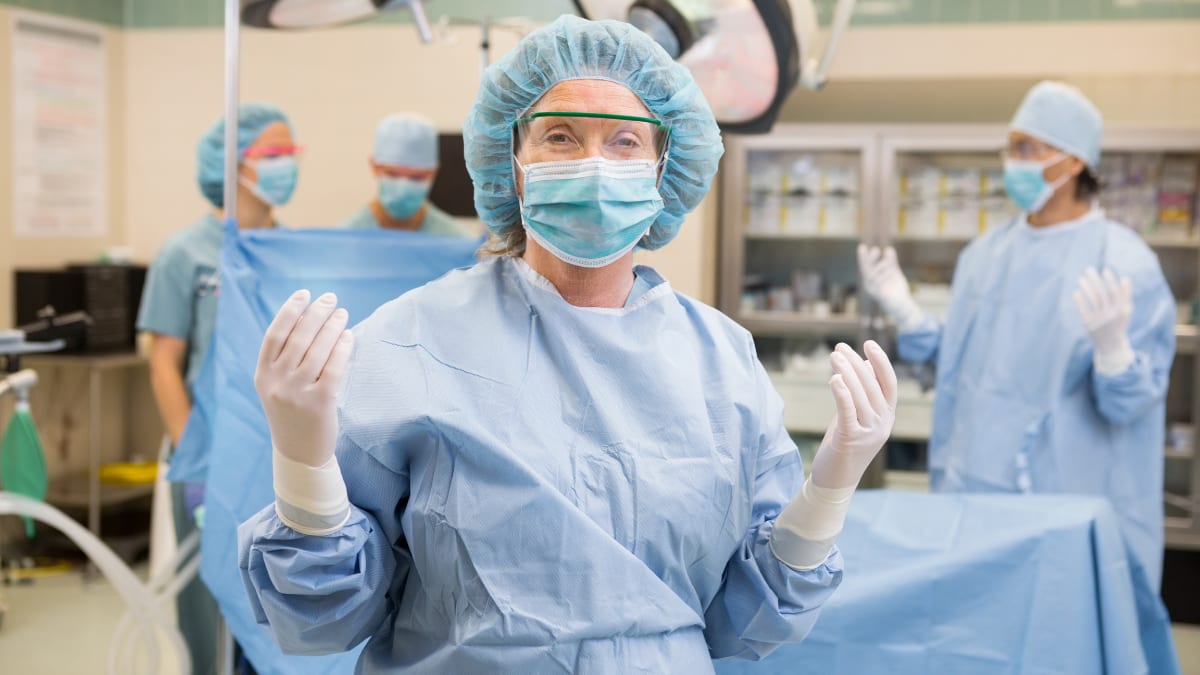 Back to Top
Is surgical technologist a good job?
Surgical tech is a very good job. Surgical tech and related surgical assistance roles offer higher-than-average job growth relative to the broader job market and higher than average salary relative to others with non-degree certificates.
You'll also have the unique opportunity to make a difference in the lives of others while enjoying an accelerated professional development path. Indeed, most surgical techs can enter a career in the medical field in as little as two years. Together, these factors make surgical technology an excellent career path for aspiring medical professionals.
Let's explore these job benefits with a little more depth.
Surgical Technologists Have A Chance to Help Others
As a surgical technologist, you will perform a number of critical functions in the operating room. You will prepare a sterile environment, maintaining equipment, and handling essential surgical materials. This is all very important when it comes to protecting the safety and health of patients as well as your colleagues and yourself.
But just as importantly, surgical technologists will come into direct contact with patients before, during, and after surgery. Patients may be anxious, under the influence of powerful anesthesia and generally in a highly vulnerable state.
You will play an important role as a calming and comforting presence. In other words, exercising good "bedside manner" will be a central part of what you do.
Your role in patient care may also involve helping to prepare surgical sites on patients as well as treating incision sites or assisting in the treatment of wounds. Surgical technologists who work in emergency care settings may be required to perform all of these functions in an urgent and fast paced environment.
In each of these capacities, you have the opportunity to help ease patient suffering, reduce pain, and even contribute directly to life-saving procedures. Even at the end of a long, emotionally draining day, you will be able to go home knowing that you make a positive difference in the lives of others.
Surgical Technologist Education is Affordable
Not only will you make a difference in the lives of others, but the path to this medical career is fast and affordable as compared to other medical careers. For instance, to become registered nurse, you would need to earn a bachelor's degree, which can take four years and cost dramatically more than any of the pathways which lead to surgical tech certification.
As noted previously, you can choose from the following options:
A High-School Diploma/GED
The minimum educational requirement for certification is a high-school diploma or GED. This option is, of course, free. However, in most cases, you would be required to log at least three years of professional experience before reaching certification eligibility.
An Accredited Non-degree Certificate in Surgical Technology or Assistance
The vocational certificate is, according to the BLS, the most popular pathway to certification eligibility. Certificate programs can vary in length from fast-paced programs lasting several months to those lasting 1 to 2 years.
Programs can vary in pacing and cost but will typically range between $500 and $2500. It is critical that your certificate have accreditation from a leading accreditation agency such as the Commission on Accreditation of Allied Health Education Programs (CAAHEP) or the Accrediting Bureau of Health Education Schools (ABHES).
An Accredited Associate Degree
It is also possible to qualify for the certification exam by earning an associate degree in a relevant program such as Nursing, Health Science or Biology. Most associate degree programs require roughly two years for completion, and cost an average of $10,000 per year.
While an associate degree will take more time and cost more than a certificate program, there are a few good arguments in favor of this option:
Earning an associate degree may help you stand out in a competitive marketplace.
An associate degree gives you a chance to add valuable skills in areas like communication, organizational leadership, psychology, and more. These skills may help you advance to specialized roles.
Some clinical healthcare settings may require you to have a minimum of a two-year degree. An associate degree may expand your employment opportunities.

An associate degree program may be preferable if you're seeking a well-rounded educational experience in addition to practical training. In fact, this can be a great way to pursue a medical specialization, which could enhance your appeal to certain employers and improve your salary potential.

You'll have a head-start if you decide to complete a four-year degree program and pursue a role as a registered nurse.
If you decide to pursue an associate degree, look for a program with a concentration in surgical technology. If your associate degree does not include this concentration, you will likely be required to complete a certification training program—which typically takes 4 to 6 weeks—before taking your certification exam.
Bottom Line: An associate degree may cost more than a certificate program, at an average of just over $10,000 per year over two years. However, this is a much more affordable option than healthcare careers that require a four-year degree such as registered nursing. Average annual tuition for a four-year degree is higher than $19,000.
You can get started on your search for an accredited degree with a look at the best community colleges in your region.
Surgical Technology Jobs Are Growing at an Above-Average Rate
According to the Bureau of Labor Statistics (BLS) Occupational Outlook Handbook, employment opportunities for surgical technicians will grow 7% from 2021 to 2031. This projected job growth is a little faster than the 5% average for all occupations.
The number of entry level positions is expected to grow for a number of reasons, including the demand for surgical technicians with up to date knowledge of:
innovative technologies and emergent medical equipment;
best practices for life saving surgeries; and
the ability to adapt to a wide range of work environments.
Regardless of the educational path you take, becoming a surgical technologist can lead to a career with strong projected job growth. Generally speaking, the healthcare industry is among the fastest growing labor sectors in the U.S., expanding at a rate of 13% over the next decade. Those in surgical support roles will play a direct role in this growth.
With more Americans living longer, the demand is only growing for healthcare professionals like surgical technologists. And as surgical technology helps to make surgeries more affordable, more effective, and less invasive, more Americans than ever before are seeking elective surgeries that can improve quality of life.
Bottom Line: Growth forecast suggests that the conditions above will continue to drive high demand for surgical technologists over the next decade. However, it will be a competitive employment field. You may consider combining practical training with an associate degree in a specialized area of treatment such as cardiology, organ transplantation, plastic surgery, or countless other areas of focus.
Surgical Technologists Earn Higher Than Average Pay Among Medical Support Personnel
According to the Bureau of Labor Statistics, surgical technologists in the United States earned a median salary of $48,530 in 2021. This is significantly higher than the average pay for all medical support personnel, which was $28,990 in 2021.
It is also a particularly high-ranking field among those jobs that you can earn with a non-degree certification.
The median annual wage for surgical technicians was $48,530 in May 2021. The lowest 10% earned less than $36,930, and the highest 10% earned more than $75,940, which denotes an above average earning potential for those whose highest level of education is an associate degree program.
In fact, in 2021:
The lowest 10% of earners among surgical technologists earned an average salary of $36,930 or less. This means even those earning the least among surgical technologists earned more than the average medical support worker.
The highest 10% earned an average salary of $75,940, which was not only higher than the median pay for all workers of $45,760, but was actually higher than the median salary for all workers in any category with at least a bachelor's degree!
In other words, surgical technologists not only earn a higher than average salary as compared to other medical professionals with equivalent education and certification. They also have exceptionally high earning power among those with a non-degree certificate or associate degree.
That said, there are several factors that can play a major role in your earning power, including:
Industry
Specialization
Experience
Geography
Below, we'll take a deeper dive into the factors that can impact salary for surgical technologists.
Bottom Line: Those studying to become a surgical tech can expect a strong job growth outlook and a higher than average salary as compared to other fields that require an associate degree.
Back to Top
Salary Factors for Surgical Techns
What factors will most likely impact your earning potential as a surgical technologist? Let's take a closer look…
Some Industries Pay Surgical Techs Better Than Others
As a surgical tech, your skills and knowledge can apply in an extremely wide variety of healthcare, laboratory, and research settings. But where you work can also impact your earnings. According to the Bureau of Labor Statistics, the following industries offer the highest paying jobs for surgical technologists:
Specialty Hospitals: Annual Mean Wage–$59,180
Colleges, Universities and Professional schools: Annual Mean Wage–$59,130
Ambulatory Health Care Services: Annual Mean Wage–$57,040
Offices of Other Health Practitioners: Annual Mean Wage–$56,660
Outpatient Care Centers: Annual Mean Wage–$59,680
So what does that mean? Some of the highest paying opportunities in the field are held by surgical techs who have both practical skills and formal education in areas of specialization.
The highest earners in the field are generally those who have the skills and knowledge to work in specialized settings. As a surgical technician, there are many different environments where you could apply your skills. However, combining this practical education with a medical specialty could place you among the top earners in your field.
Bottom Line: This may be the strongest argument in favor of earning an associate degree. While a certificate may allow you to enter the field, a more advanced education may allow you to focus in cardiology, neurology, joint replacement, plastic surgery, arthroscopic surgery, sports medicine surgery or countless other areas where both growth and pay may be higher.
How Geography Impacts Earnings
Your state of residence is another major factor in determining your likely earning potential as a surgical technologist. According to the Bureau of Labor Statistics, earnings for techs can vary significantly from one state to another. But of course, so can the cost of living.
By State
Let's take a deeper look at what that means for surgical techs. According to the BLS, the following states offered the highest average pay for surgical techs in 2021:
California: Annual Mean Wage–$68,410; Hourly Mean Wage–$32.89
Alaska: Annual Mean Wage–$65,690; Hourly Mean Wage–$31.58
District of Columbia: Annual Mean Wage–$65,250; Hourly Mean Wage–$31.37
Connecticut: Annual Mean Wage–$65,190; Hourly Mean Wage–$31.34
Nevada: Annual Mean Wage–$65,180; Hourly Mean Wage–$31.34
Note that the pay in California is exceptionally high, coming in at a full $20,000 over the national median pay for surgical techs. On the surface, that seems like a great deal. And it is true that, in California, as with the rest of the U.S., surgical techs are among the best paid medical support personnel.
But it is important to factor cost of living into the equation. Indeed, the Bureau of Economic Analysis says you need an average salary of more than $53,000 a year just to get by in California.
By Region
This is also something to consider if you're seeking employment in a major metropolitan area. According to a recent survey from Smart Asset, it costs more than $68,000 a year to live in America's 25 largest metropolitan areas.
Contrast this with the average annual salary ranges for those working as surgical techs in the metro areas with the highest employment level for this career path. Employment level is defined by the number of people working in each of the following metro areas.
New York-Newark-Jersey City, NY-NJ-PA: Employment–5,830; Annual Mean Wage–$62,540
Los Angeles-Long Beach-Anaheim, CA : Employment–4510; Annual Mean Wage–$67,020
Dallas-Fort Worth-Arlington, TX 3,190: Employment–100; Annual Mean Wage–$54,760
Houston-The Woodlands-Sugar Land, TX: Employment–2,920<; Annual Mean Wage–$57,340
Chicago-Naperville-Elgin, IL-IN-WI: Employment–2,650; Annual Mean Wage–$53,490
As the data shows, the average pay for surgical techs in the top five metropolitan employment centers falls slightly below the salary required to live comfortably in a major American city.
There are few major considerations to take away from this discussion:
First and foremost, the salary for surgical techs varies significantly from state to state, as well as from region to region.
Second, you must take cost of living into consideration when determining whether to become a surgical technician and, if so, where to work and live.
Third, the salaries listed above are the median earnings for surgical techs in each of the states and cities in question. This means it is entirely possible to earn significantly more. As we note in our discussion on industry, numerous specializations can improve your earning potential no matter where you live.
Bottom Line: If you plan to become a surgical tech in a major metropolitan area or an expensive state like California, you should consider taking additional steps to raise your earning potential. As noted above, earning an associate degree with a unique specialization like cardiology, plastic surgery, or neurosurgery could help make you a top earner in your profession.
Why it Matters Where You Get Your Surgical Tech Training
It's important to consider where you might want to work after earning your certificate or degree. In many cases, earning a degree from the state where you plan to work can allow for a smoother transition from education to occupation. This is true for a few reasons:
Employers may recognize schools and programs in their home state.
Degree programs may include state-specific certification components.
You can begin to build important connections with professors, local experts, and regional employers.
Your school may have partnerships with local practices, internship opportunities, and prospective employers.
It's possible to locate the best associate degree in your field by state. This can be a great way to narrow your school search.
Back to Top
Is a career in surgical technology right for You?
A career as a surgical technologist, surgical technician, or surgical assistant could be a great way to advance a career in the healthcare field. However, surgical tech roles should only be pursued by those who are prepared for the fast-paced realities of the operating room.
Your primary objective as a surgical tech is to make surgery safer and more effective. This means you have a real opportunity to make a difference, but you must be prepared for a uniquely challenging career. If you are, you may have a chance to be among the top earning medical support personnel in the field today.
For more valuable tips and practical advice on your professional journey, visit our home for career guidance.
Or find study tips, learning tools, tips for campus life, and much more with a look at our Student Resources Headquarters.