Environmental Science is a fast-growing field. Future generations face serious environmental challenges. Environmental science will play an important part in helping us manage those challenges. Environmental science jobs are competitive. But there is also a need for smart and creative solutions to serious environmental issues like water pollution and global climate change. This means that there is a demand for qualified environmental science professionals.
Because of the serious environmental challenges that present and future generations face, the field of environmental science is growing quickly. Environmental science will play an important part in helping us develop solutions for these environmental concerns and lessen the environmental impact of our current activities.
Environmental science jobs are competitive and their demands are challenging, but the rewards are fulfilling because of the immense opportunities for positive changes in the way we live and impact our planet. Numerous industries employ environmental scientists, including federal and local government agencies, nonprofit organizations, and think tanks.
Employers seek professionals with strong critical thinking, problem-solving, and communication skills. The technical skills gained from a degree in environmental science can be crucial to their success.
Indeed, there is a need for smart and creative solutions to serious environmental issues like water pollution, global climate change, resource depletion, and scarcity! Environmental science professionals are front and center in groundbreaking research and development initiatives, as well as in policy development and community outreach projects. With the increasing intensity of the environmental challenges we face as a society, theirs is a profession with impact far into the future.
If you are interested in learning more about some top-notch environmental science programs and professors, check out our article The Best Environmental Science Programs and Professors.
In fact, the Bureau of Labor Statistics (BLS) says the jobs for Environmental Scientists and Specialists will grow at a rate of 8% by 2030, which is faster than the average growth for all jobs. The BLS also says that environmental scientists earned a median salary of $73,230 in 2020. Getting a job in environmental science can lead to a good starting salary and the chance to help in the fight against global climate change.
If you want to be a part of this fight, get started with a look at the Best Liberal Arts Colleges for Earth Sciences Degree.
Featured Programs
What is environmental science?
Environmental science is the study the natural world and the human impacts on this world, according to Duke University's top-ranked program.
Environmental science degree programs are usually multidisciplinary, which means they combine several disciplines including biology, ecology, chemistry, geology, climatology, and other disciplines. An environmental science degree is sometimes offered as a concentration in the Earth sciences discipline.
Unlike Earth sciences though, environmental science will sometimes include historical, political, and legal perspectives in the curriculum. Students will explore how these overlapping perspectives can shape environmental policy and can be implemented on both the community and individual levels.
At their core, environmental science professionals perform scientific studies of the environment and the interactions between living organisms, including their biological processes and physical environment.
By understanding the symbiotic relationship between human health and environmental health, environmental science professionals seek answers to both the philosophical and practical questions of our existence on Earth. These professionals may focus on studying topics such as soil science, environmental chemistry, or waste disposal in environmental studies.
With the global climate crisis, there's also an intensifying demand for innovative, perhaps even unorthodox, solutions in combating its effects and decreasing its causes (e.g., greenhouse gas emissions).
Back to Top
What is the main focus of environmental science?
The main focus of environmental science is the way that living organisms interact with their environment. The environment refers to the water, air, and earth that give us life, as well as the ecological, meteorological, geological, hydrological, and chemical phenomena that surround us.
Environmental science focuses on the relationships between life, the environment, and these phenomena. This also include a focus on the impact of human behavior on the environment. As an environmental science student, you will study global climate change, ecological disruption, conservation, sustainability, wildlife preservation, and more.
Environmental Science students are exposed to the following key elements:
Ecosystems
An understanding of the function, structure and dynamics of ecosystems, such as the interactions between living organisms, including humans, with their physical environment.
Biodiversity
An analysis of the conservation and protection of ecosystems and species on Earth, as well as the protection of genetic diversity among living organisms.
Natural Resources
Knowledge about sustainable use and responsible management of natural resources including water, air, and soil with sufficient availability for future generations in mind.
Human-environment Interactions
An examination of the ways that human activities affect the environment and the ways that humans can minimize their negative environmental impact while also meeting their needs.
Pollution
An investigation into the causes and effects of water, air, and soil pollution as well as finding effective and efficient solutions in mitigating its effects and controlling its spread.
Climate Change
An exploration into the causes, effects, and solutions to global warming or climate change.
Environmental policy
An understanding of the factors that influence and shape policies related to sustainable development and environmental protection.
The specific courses and their description, sequence and learning outcomes vary between environmental science degree programs. In a broad sense, it's common to see courses like introduction to environmental science, environmental chemistry, geographic information systems, and environmental health and toxicology, among other related courses. Students also undertake field experiences that enable them to understand environmental problems with a new perspective as they collect data and analyze environmental hazards.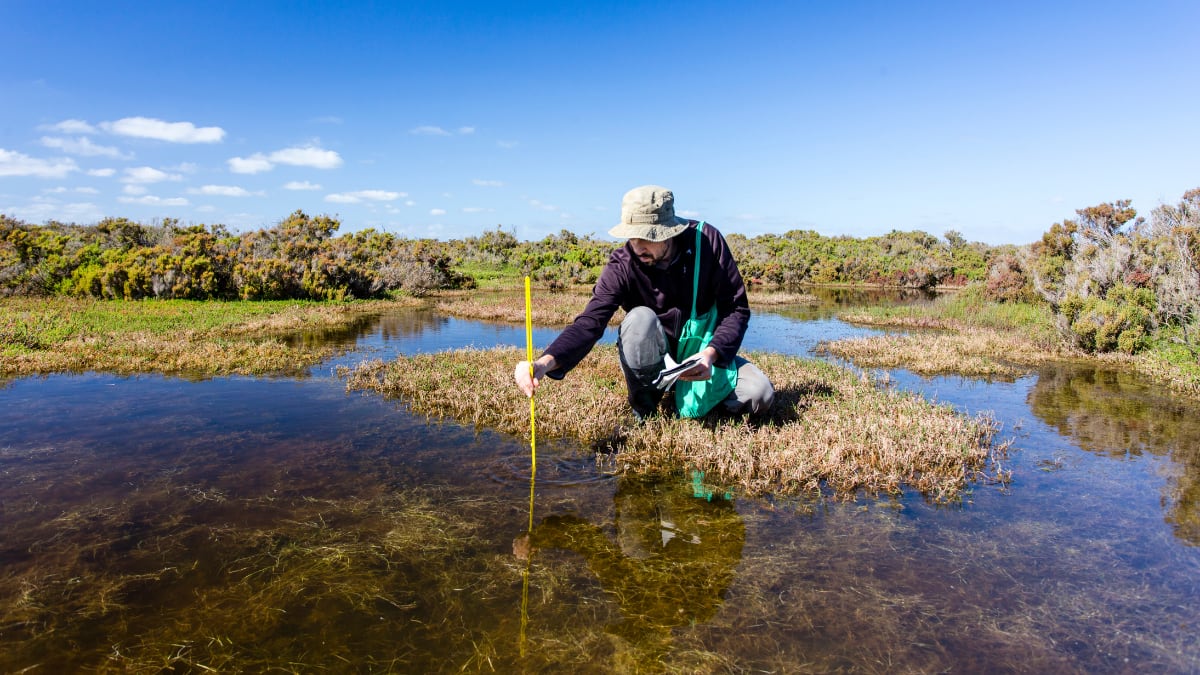 Back to Top
Why is environmental science important?
Environmental science is important because we are facing several global environmental crises, and we need qualified professionals to help solve these problems.
Most environmental scientists agree that global climate change is real and that we are already experiencing its impact. There is evidence that global climate change will impact every part of our lives from working and living to transportation and public health.
We are already seeing drought, flooding, wildfires, food shortages, and increasingly severe and frequent weather events. We need qualified environmental scientists if we are to have any hope of reversing these trends.
Some other reasons why environmental science and its study are of crucial importance for humanity include:
Understanding our planet and the environment we live is vital in informed decision-making about our sustainable use of natural resources and environmental conservation.
Implementing biodiversity conservation programs that promote the resilience, stability, and sustainability of ecosystems and its biodiversity for the benefit of present and future generations.
Adopting best practices in sustainable resource management, a must considering the increase in human population and the demands placed on natural resources. These include responsible and sustainable use of water, energy sources, and other resources in meeting humanity's needs (e.g., agriculture).
Mitigating the effects of air, water, and soil pollution, which requires an in-depth understanding of the sources, impact, and solutions to these issues. The development of effective and efficient solutions against pollution has a positive impact on human health, too.
Addressing global warming and climate change, among the most significant contemporary environmental challenges that can cause extreme consequences for every life form on Earth if these aren't addressed properly and promptly.
Promoting human health and well-being, thanks to the fact that environmental science professionals study the relationships between human health and environmental factors.
Balancing environmental protection and economic development, a significant challenge for every country and for which environmental studies can provide the knowledge, tools, and technologies to achieve balance.
Promoting international cooperation among countries and organizations concerned with and impacted by the issues we face today with the environment.
Ultimately, the value of environmental science lies in its immense potential and opportunity for ensuring humanity's long-term survival on the planet we call home!
Back to Top
How do you become an environmental scientist?
You can become an environmental scientist with a basic undergraduate degree in a natural sciences discipline. You can get a bachelor's degree in Earth Sciences or you could focus on a concentration like geology, ecology or climatology.
Many, if not most, degree programs in earth sciences and environmental science provide students with opportunities for hands-on learning, too. These include participation in faculty-led research projects in addition to their independent research projects, internships or practicum, and even volunteer opportunities (e.g., community immersions).
Some Earth sciences degree programs will offer an environmental science concentration that is designed to prepare students to work in the field.
The typical learning outcomes in environmental science degree programs include:
Knowledge of environmental science and its related disciplines, as well as its fundamental principles and practices.
Ability to identify, evaluate, analyze, and propose solutions to environmental issues on a local, national, and international scale.
Proficiency in the design, performance, and evaluation of environmental research, specifically skills related to environmental data collection, data analysis, and interpretation of research findings.
Familiarity with environmental policies, laws, rules, and regulations as well as the development, implementation, and evaluation of these policies.
Understanding of sustainable practices across different sectors like agriculture, energy, and urban planning, as well as in environmental monitoring and impact assessment.
Knowledge of the causes, effects, and solutions related to climate change including adaptation and mitigation.
Ability to communicate and collaborate with others in finding, implementing, and evaluating environmental solutions and improving environmental conditions.
Students in environmental sciences degree programs learn through coursework, field experiences, and research projects.
If you're interested in becoming a leader in environmental science, or you'd like to take a deeper dive into a specific area of concentration, check out an advanced degree in an area such as Sustainability or Green Technologies. These advanced degrees are master's and doctoral environmental science degrees, both of which require a bachelor's degree and relevant work experience for admission purposes.
Note that a doctoral degree is considered the highest academic degree. It can open career advancement opportunities in academia, government agencies, nonprofit organizations and private companies.
Even with a doctoral degree in environmental science, continuing education and professional development are a must! Because environmental science is a fast-changing field thanks to technological advancements and changing environmental issues, staying abreast of the latest advancements in the field is highly recommended.