Best Colleges and Universities for Earth Sciences Degrees
The best earth sciences degree programs are those with rich histories of influence, proven through the work produced by the program's faculty and alumni. Beyond demonstrating scholarly impact in the field, the best earth sciences degree programs maximize your opportunities to interact with outstanding earth sciences faculty.
Key Takeaways
In an Earth sciences program, professionals learn about the Earth's structure, stratigraphy, and chemical composition and their significance to society.
Earth sciences graduates from the best Earth sciences schools develop analytical, interpretive, and mapping skills and transferable soft skills to become even more attractive to employers.
A four-year degree in Earth sciences schools typically qualifies graduates for work in the field, but to pursue a research career, students must pursue a master's or doctoral degree.
A bachelor's degree in earth sciences is an excellent starting point for a career in meteorology, environmental conservation, renewable energy, and many other innovative fields. As an Earth sciences major, you'll study the Earth, its atmosphere, the materials and substances that compose them, and the processes that produce weather patterns, climate shifts, geological events, and more.
Your Earth sciences degree will incorporate four primary sub-disciplines—geology, meteorology, oceanography, and astronomy, as well as foundational courses in subjects such as mineralogy, climatology, hydrology, paleontology, agriculture, conservation, and preservation. The best schools for earth sciences are those which are regionally accredited, which offer a full array of earth sciences concentrations, and which give you the chance to work with the best and most influential professors and classmates.
Featured Programs
Earth sciences studies is an academic discipline that focuses on solving the mysteries surrounding Earth's history and the science behind it. If you're a science buff passionate about such topics, an Earth sciences degree exposes students to the basics of planetary science, and our natural resources. Natural disasters, like hurricanes and volcanic eruptions, can be predicted and prepared for through the study of Earth science, which is highly relevant to the welfare of humanity.
Earth science's four primary areas are astronomy, geology, meteorology, and oceanography.
Federal data indicate that the number of geoscientist jobs in demand will increase by 5% between 2021 and 2031.
Frequently Asked Questions About Earth Science Bachelor's Degrees
Related: How to Major in Earth Sciences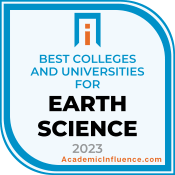 The Best Colleges and Universities for Earth Sciences Degrees
Harvard University
MIT – Massachusetts Institute of Technology
Stanford Universityy
Columbia University
University of Chicago
Pomona College
Middlebury College
Swarthmore College
Amherst College
Williams College
The Best Earth Sciences Schools in Your State
Back to Top
Learn More About Earth Sciences
If you want to know more about Earth sciences, then check out our related content: