Best Colleges and Universities for Philosophy Degrees
The best philosophy degree programs are those with rich histories of influence, proven through the work produced by the program's faculty and alumni. Beyond demonstrating scholarly impact in the field, the best philosophy degree programs maximize your opportunities to interact with outstanding philosophy faculty.
A bachelor's degree in philosophy is an excellent starting point for a career in public service, corporate governance, education, and a host of other intellectually stimulating fields. As a philosophy major, you'll study ethics, epistemology, and rhetorical debate. Your philosophy degree will incorporate classic works by great thinkers alongside a critical analysis of relevant literature, history, and social order. The best schools for philosophy are those which are regionally accredited, which offer a full array of philosophy concentrations, and which give you the chance to work with the best and most influential professors and classmates.
Featured Programs
Frequently Asked Questions About Philosophy Bachelor's Degrees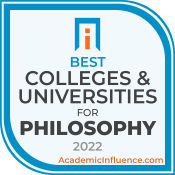 The Best Colleges and Universities for Philosophy Degrees
Harvard University
Yale University
Princeton University
Columbia University
University of Chicago
Wesleyan University
Swarthmore College
Wellesley College
Amherst College
Williams College
University of Arizona
University of Memphis
Portland State University
University of Southern Mississippi
University of North Carolina at Greensboro
The Best Philosophy Schools in Your State
Back to Top
Learn More About Philosophy
If you want to know more about philosophy, then check out our related content: