Best Liberal Arts Colleges for Philosophy Degrees
The best philosophy liberal arts colleges are those with rich histories of influence, proven through the work produced by the program's faculty and alumni. Beyond demonstrating scholarly impact in the field, the best philosophy degree programs maximize your opportunities to interact with outstanding philosophy faculty.
Featured Programs
Key Takeaways
A philosophy degree allows students to explore abstract and real phenomena, including arguments and investigations about their logical structures.
Get ready to study diverse core subjects like logic, ethics, aesthetics, symbolism, epistemology, metaphysics, and the history of philosophy.
Most philosophy graduates can find jobs in management, education, social service, the legal sector, and the business world.
Top 10 Liberal Arts Colleges Philosophy Programs
Do you sometimes pause and think about why things are the way they are? If your curiosity gets the best of you, it may be a nudge to pave a career path with a degree in philosophy.
In a nutshell, philosophy is best defined as a way of thinking. Studying philosophy as an antecedent of science enhances your ability to evaluate and resolve problems. Analyzing concepts, definitions, arguments, and problems will become easier once you enroll in a philosophy degree.
In a philosophy degree program, students are taught to comprehend complex texts, solve problems, formulate logical arguments, and analyze complex situations with exceptional skills. Some of the promising professions waiting for you are professors, researchers, ministers, consultants, counselors, and journalists. It's time to start researching the best liberal arts college to enroll in a philosophy program.
Frequently Asked Questions About Philosophy Bachelor's Degrees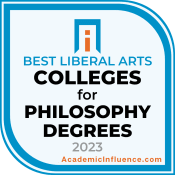 If you think a research university may be a better fit for you, see our ranking of the best research universities for a bachelor's in philosophy.
Best Liberal Arts Colleges for Philosophy Degrees
Other Rankings

What is University of Richmond known for?

University of Richmond's faculty and alumni have been influential in:

Most Influential Alumni

University of Richmond Philosophy Majors:

Philosophy
Philosophy, Politics, Economics and Law

Source

Other Rankings

What is Grinnell College known for?

Grinnell College's faculty and alumni have been influential in:

Most Influential Alumni

Grinnell College Philosophy Major:

Source
The Best Philosophy Schools in Your State
Back to Top
Learn More About Philosophy
If you want to know more about philosophy, then check out our related content: