Best Online Six Sigma Certification
The best online Six Sigma certification programs will help you advance your career and sharpen your business acumen by teaching you how to solve business problems, eliminate waste, and run more efficiently.
Top 10 Online Six Sigma Certificate Programs
Featured Programs
Frequently Asked Questions About Six Sigma Certification
Business professionals can raise their profile by earning a Six Sigma certification. Six Sigma is a methodology of using statistics and data to identify and solve problems in businesses. Lean Six Sigma aims to maintain value by applying the traditional methods of defect prevention as well as the elimination of waste.
Back to Top
Certification for Six Sigma can be acquired online, and while some programs combine the approaches, many distinguish the two. Six Sigma certification demonstrates to employers that the holder has achieved specific levels of expertise in business-related problem-solving. If you're interested in pursuing Six Sigma certification, be sure you do so through a fully accredited college or university.
Back to Top
Mastery of the Six Sigma methodology is denoted by belt colors, a structure similar to the belt system in martial arts.
Yellow belt holders have fundamental knowledge of Six Sigma.
Green belt certification holders are qualified to apply Six Sigma procedures, such as DMAIC (define, measure, analyze, improve, and control), as team members and managers of larger projects often led by Six Sigma black belts.
Those projects are often led by Six Sigma black belts. Black belts have a complete understanding of Six Sigma and Lean Six Sigma, and can deploy advanced strategies to help green belts complete projects.
Back to Top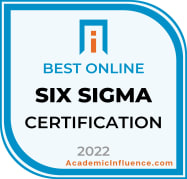 Project Management Specialists Salaries by Percentile in the U.S.
The following graph depicts the average salaries of Project Management Specialists for each percentile in the U.S.
Source: U.S. BUREAU OF LABOR STATISTICS
SVG Attribution: Wikipedia
49750
64250
94500
125430
159140
10th Percentile
25th Percentile
75th Percentile
90th Percentile
Best Online Six Sigma Certificates
Other Rankings

Online Degrees

Certificate in Lean Six Sigma

Required Credits: 8-10
Completion time: 1 year or less
Format: Online

Other Rankings

Online Degrees

Certificate in Lean Six Sigma

Required Credits: 12
Completion time: 1 year or less
Format: Online

Online Degrees

Certificate in Lean Six Sigma Program

Yellow Belt
Green Belt
Black Belt

Completion time: 1 year or less, each
Format: Online

Other Rankings

Online Degrees

Certificate in Professional Development

Lean Six Sigma Green Belt
Lean Six Sigma Black Belt

Required Credits: None Reported
Completion time: 9-12 months
Format: Online

Online Degrees

Certificate in Engineering Technology

Lean Six Sigma Green Belt

Required Credits: 12
Completion time: Less than 1 year
Format: Online

Online Degrees

Six Sigma Certificates in Technology

Lean Six Sigma Yellow Belt – 10 credits, 3 months
Six Sigma Yellow Belt – 25 credits, 6 months
Lean Six Sigma Yellow Belt And Green Belt – 60 credits, 9 months
Certified Six Sigma Yellow Belt And Green Belt – 145 credits, 12 months
Lean Six Sigma Green Belt – 50 credits, 6 months
Certified Six Sigma Green Belt – 120 credits, 6 months
Certified Six Sigma Green Belt And Black Belt – 240 credits, 12 months
Lean Six Sigma Green Belt And Black Belt – 125 credits, 12 months
Lean Six Sigma Green Belt With Black Belt With 1-On-1 Project Coaching – 125 credits, 12 onths
Lean Six Sigma Black Belt – 75 credits, 6 months
Certified Six Sigma Black Belt – 120 credits, 6 months
Lean Six Sigma Champion – 20 credits, 6 months

Required Credits: 10, 25, 145, 120 240
Completion time: 3, 6, 12, 6, 12 months
Format: Online

Online Degrees

Certificate in Six Sigma Yellow Belt

Required Credits: None Reported
Completion time: 4-6 months
Format: Online

Certificate in Six Sigma Green Belt

Required Credits: 120
Completion time: 6 months
Format: Online

Certificate in Six Sigma Yellow Belt And Green Belt

Required Credits: 145
Completion time: 12 months
Format: Online

Certificate in Six Sigma Black Belt

Required Credits: 120
Completion time: 6 months
Format: Online

Certificate in Six Sigma Green Belt And Black Belt

Required Credits: 240
Completion time: 12 months
Format: Online