The online bachelor's in cybersecurity is an increasingly valuable degree that can lead to an excellent career with competitive pay in Louisiana. Check out the top-ranked cybersecurity degree programs for 2022 and learn more about the cost of tuition, admission requirements, cybersecurity courses, jobs in cybersecurity, and more.
Louisiana's Best Online Bachelor's in Cybersecurity Programs
Louisiana Tech University

23 to 1

Louisiana State University

22 to 1

Loyola University New Orleans

13 to 1
Loyola University New Orleans

$43,498

Louisiana State University

$8,038

Louisiana Tech University

$6,401
Loyola University New Orleans

$17,249

Louisiana State University

$9,132

Louisiana Tech University

$5,416
Loyola University New Orleans

13 to 1

Louisiana State University

22 to 1

Louisiana Tech University

23 to 1
Louisiana Tech University

$6,401

Louisiana State University

$8,038

Loyola University New Orleans

$43,498
Louisiana Tech University

$5,416

Louisiana State University

$9,132

Loyola University New Orleans

$17,249
Earning an online bachelor's in cybersecurity in Louisiana opens doors to opportunities of gainful employment in and out of the Pelican State. The State of Louisiana is among the few early adopters of cyber security laws in the United States. As such, its public and private sectors offer a steady supply of cyber security jobs.
Students in cyber security programs will gain an understanding of HB 614, a law based on the National Association of Insurance Commissioners Insurance Data Security Model Law. The statute requires Louisiana-based insurers and other large organizations to implement cyber security management programs, among other measures.
Louisiana also has its Governor's Office of Homeland Security and Emergency Preparedness (GOHSEP) that provides state assistance in case of cyber threats. Cybersecurity professionals in the public and private sectors also contribute to the office's initiatives.
What does this mean for you?
It means that ndividuals with an online bachelor's in cybersecurity in Louisiana will find a challenging and rewarding cybersecurity job market. The state's adoption of pro cyber security policies ensures that the job market is both stable and growing.
But it must also be said that getting a cyber defense education is a challenging endeavor. The best online cyber security programs emphasize science and math-heavy subjects in computer science and information technology–subjects which many students find difficult.
Featured Programs
What is a Bachelor's of Cybersecurity?
To better understand the academic demands of pursuing an online bachelor's in cybersecurity in Louisiana, we must first define cybersecurity.
The currently accepted definition is that cybersecurity is a collection of technologies, processes, and procedures meant to protect the integrity, availability, and confidentiality of computer systems, networks and programs.
The defense of sensitive information against unauthorized access and cyber attacks is the primary aim of cyber security professionals. To this end, cybersecurity professionals must possess interdisciplinary knowledge and skills in digital forensics, information security, and computer science subjects.
The Bottom Line: Students in cyber security degree programs also gain a deeper appreciation for the complementary roles of people, processes and technology in an effective defense. The unified approach integrates the three key operations in cyber security - detection, investigation and remediation.
Undergraduate Coursework in an Online Bachelor's of Cybersecurity
The typical curriculum of the best online cyber security bachelor's degree programs include courses in:
Foundations in Network Security, an introductory course in computer networks including their communication and security protocols. Students learn about the various types of networks, such as LAN, PAN and VPN, and their security policies and procedures.
Introduction to Cryptography, a course on cryptographic algorithms and protocols including their protection from cyber threats.
Penetration Testing and Vulnerability Analysis, a course that covers the tools and techniques in penetration testing and reporting.
Hands-on Experience and Practicum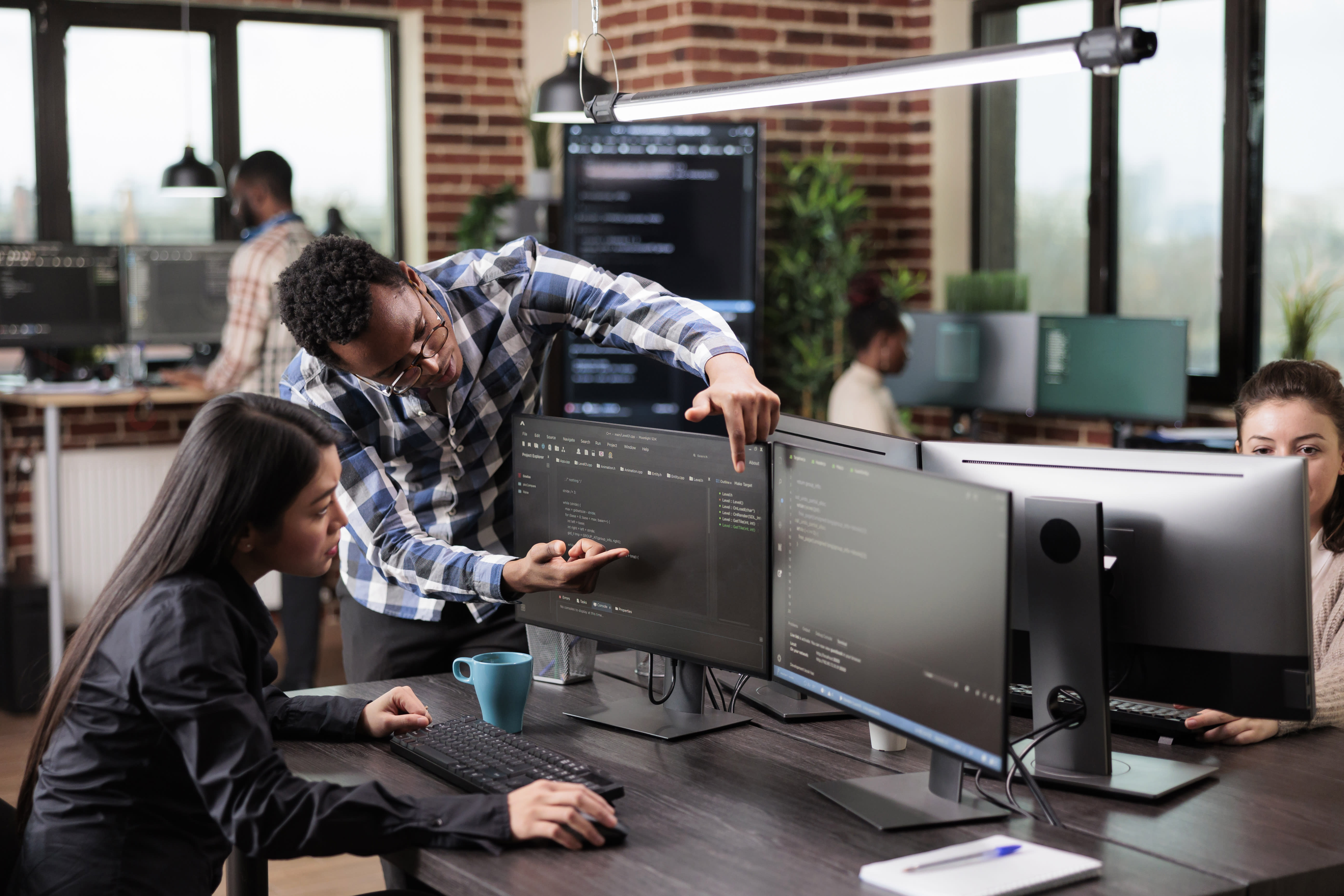 Students also gain hands-on experiences that strengthen their knowledge and skills learned through didactic instruction.
Students in a cybersecurity program will also have the opportunity to build career-focused skills through other avenues:
First, students undergo internships in public agencies and private organizations. The National Security Agency and its Centers of Academic Excellence in Cyber Operations is a popular site; interns are usually paid.

Second, students may also complete a practicum experience under the guidance of an experienced faculty member. Participation in a research project is a typical experience.

Many students pursuing cyber security degrees must also meet capstone requirements. This can consist of a technical work proposal that demonstrates the student's career-specific knowledge of cyber security.
Cybersecurity Certifications and Credit Requirements
The minimum number of credits in a bachelor's degree in cyber security program is 120 credit hours or its equivalent. The average time-to-completion is four years with full-time studies. Part-time enrollment will lengthen time-to-completion while transfer credits and accelerated format will shorten your stay.
Many online programs also allow students to earn professional certifications that will boost their chances at landing the best cyber security jobs. These industry certifications include CompTIA Security+, Certified Cloud Security Professional (CCSP), and CompTIA Project+.
With the shortage of cybersecurity professionals across the country, starting your journey with the best online programs in cybersecurity in Louisiana makes perfect sense!
Read on and find out how.
Cybersecurity: A Top Degree for the Next Decade
Cybersecurity is definitely growing in demand in Louisiana, just as it is around the world. Information security jobs are expected to grow by 33% over the next 10 years, according to the Bureau of Labor Statistics.
That's much faster than average career growth. With current median salaries around $100,000 a year, it's a good time to prepare yourself to compete in the cybersecurity job market in Louisiana. That's why we've ranked cybersecurity degrees as the best degree for jobs over the next decade.
Cybersecurity is also new and its need is very widespread. In our interview with world-leading cyber security expert Isaac Ben-Israel, Ben-Israel says Because we understand that nowadays everyone is dependent on computers, not only military organizations, defense organizations. and therefore, the citizen, the simple citizen, needs a protection as well as the big organization. and we decided to make it legitimate for education and industry. ...At that time, 2011, it's hard to believe but this is true, there was not even one university in the world, neither in Israel nor in the States, in which you could go and study cybersecurity. Only 10 years ago. It's hard to believe but this was the situation 10 years ago. Today ... you can learn cyber security in every university.
If you are still wondering if a cybersecurity bachelor's degree is worth it, we answer that, and we can give you the playbook for how to become a cybersecurity analyst.
Back to Top
Louisiana Colleges Answering the Demand for Cybersecurity Degrees Online
We've identified 3 colleges with online bachelor's degrees related to cybersecurity in Louisiana. Online degrees offer students in Louisiana maximum flexibility and convenience so they can study while working. And you don't have to sacrifice quality. These programs are offered by some of Louisiana's top ranked colleges like Louisiana State University and Loyola University New Orleans. For more about Louisiana colleges visit The Best Colleges in Louisiana.
Frequently Asked Questions About Online Bachelor's in Cybersecurity
If you need more answers to frequently asked questions about online degrees, we can help.
For detailed information on accreditation, financial aid, college applications and more, check out our Complete Guide to Applying for College.
Factors of Ranking the Best Programs
Now more than ever, Cybersecurity is a relevant discipline with professionals continuously on the lookout for the most advanced strategies in the interest of state and national security. As such, we ranked the best online cybersecurity degree programs based on the following factors.
Academic rigor matters, particularly in cyber security programs that shape future security professionals who can be counted on for their knowledge and aptitude in defending the state from all types of security breaches.
Understanding the tremendous importance of Cybersecurity in Louisiana, we recommend the best schools and programs to attend based primarily on academic quality and reputation.
The influence of the professors and the quality of instruction they provide as cyber security specialists significantly impact student learning. As such, the expertise, experience and credentials of the online instructors were taken into account, as well.
Our recommended Louisiana cyber security degrees and colleges are all recognized by accrediting organizations. Expectedly, these online cybersecurity programs are delivered in full compliance with the ruling academic standards.
Back to Top
Best Online Bachelor's in Cybersecurity Programs in Louisiana
Other Rankings

Career Outlook for Cybersecurity degree at Louisiana State University

Salary after 4 years:

$98,345

Cost Recoup Time:

8 years

Paid back at 15% of annual salary

Online Cybersecurity Degrees

Bachelor of General Business

Information Technology Management

Required Credits: 120-128
Completion time: 4-6 years
Format: Online

Other Rankings

Career Outlook for Cybersecurity degree at Louisiana Tech University

Salary after 4 years:

$80,509

Cost Recoup Time:

7 years

Paid back at 15% of annual salary

Online Cybersecurity Degrees

BS Health Informatics and Information Management

Required Credits: 120-128
Completion time: 4-6 years
Format: Online

Other Rankings

Career Outlook for Cybersecurity degree at Loyola University New Orleans

Salary after 4 years:

$70,426

Cost Recoup Time:

15 years

Paid back at 15% of annual salary

Online Cybersecurity Degrees

BS in Computer Information Systems

Required Credits: 120-128
Completion time: 4-6 years
Format: Online
Career Outlook for Students with Cybersecurity Degree
Go to Degree Finder tool
Computer And Information Systems Security/Auditing/Information Assurance
Degree Level: Bachelor's
Career Salaries
| Career | Job Growth | Avg. Salary |
| --- | --- | --- |
| Computer and Information Systems Managers | 16.19% | $119,620 |
| Computer Network Architects | 4.29% | $83,250 |
| Information Security Analysts | 34.66% | $83,100 |
| Managers, All Other | 6.01% | $80,720 |
| Project Management Specialists | 7.19% | $76,820 |
Average Career Salaries
| Bottom 10% | Median | Top 10% |
| --- | --- | --- |
| $47,449 | $78,170 | $123,247 |
Promising Job Markets
| State | Cost of Living | Avg. Salary |
| --- | --- | --- |
| #39 Louisiana | 9% higher than average | $78,170 |
| #2 Virginia | 5% higher than average | $112,646 |
| #3 Georgia | 13% higher than average | $99,493 |
| #4 North Carolina | 11% higher than average | $99,977 |
| #5 New York | 5% higher than average | $117,545 |
| #6 Washington | 7% higher than average | $119,384 |