What are the most influential universities in the US? Which schools have had the most profound impact on the academic landscape, and on the world at large? And what exactly makes a university so influential?
True influence is created by innovative professors and elite students, by the individuals who have made lasting contributions to their universities, their professions, and to civilization. The most influential universities throughout history are those whose students, alumni and educators have achieved the greatest degree of influence across the widest range of disciplines and time periods.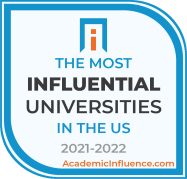 AcademicInfluence.com quantifies this influence, using machine learning and human quality control to provide an objective and dynamic ranking of the world's universities. Our Influence Ranking algorithm ranks universities and colleges based on the influence of the individuals who have taught and learned at each institution. Our ranking engine identifies influential faculty and alumni associated with schools as well as with specific degree programs, departments, and disciplines. Methodology
What are the best universities in the US?
Generally, the best universities are those that demonstrate a history of impacting various fields of study. Hosting a faculty strong in research and academic activities, and producing alumni who positively impact society, are two central aspects of being a top university or college. This doesn't necessarily mean that any of these are the best for you. For that, you may need to condsider a host of other factors. Location remains on the top of students' selection criteria, likely for the cost savings and familiarity with the school. We can help you with more college selection questions.
For a look at the most influential universities in a given discipline, visit our Custom College Ranking tool.