10 Best Higher Education Websites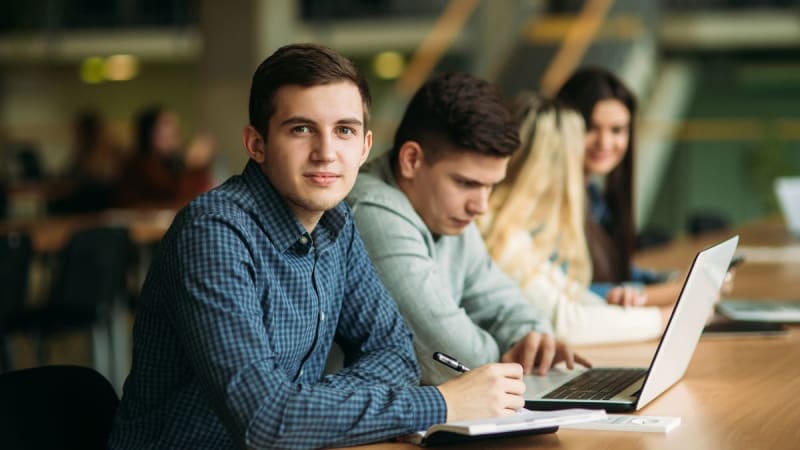 College is filled with new experiences, unforeseen challenges, and exciting opportunities. So how can you make the most of these experiences, overcome these challenges and seize these opportunities? Lucky for you, the internet is packed with excellent websites, blogs, and resources for college students.
But of course, there is a lot of information out there, so we have done the hard work for you. We have identified the top 10 websites that students can use to navigate college life successfully. Explore and bookmark these valuable online resources so you can spend less time worrying about the unexpected and more time soaking in the college experience.
You can start with a look at our comprehensive resources for college students including features on college life, our index of the most controversial topics today, and our constantly growing library of study guides and study starters.
Or you can read on and check out the 10 higher education websites that every college student should know about...
The 10 Best Higher Education Websites
Don't let the clunky interface fool you. College Navigator is sponsored by the National Center for Education Statistics and is home to a wealth of information about almost every college and university in the country. Students can pinpoint the criteria that matter most to them and generate a tailored list of potential schools based on factors like geography, size, or program availability.

The Online Writing Lab is home to all of the formatting guidance you will ever need. Whether it is MLA, APA, or Chicago Style, the OWL provides easy-to-follow instructions about in-text citations, annotated bibliographies, and works cited pages. This is an essential resource for all of your research and writing projects in college and beyond.

75% of colleges have adopted at least one of Blackboard's educational tools. The Blackboard Blog gives students a chance to learn and utilize the technology. This level of technical proficiency is increasingly important in higher education, especially for students pursuing online education. In a more general sense, the Blackboard Blog focuses on how technology can be used to empower students by emphasizing leadership, accessibility, and inclusivity.

Paying for college is expensive, but Intern Queen helps students find opportunities to supplement their earnings while building resumes. This blog features an up-to-date list of internship and student job opportunities. Intern Queen also provides valuable resources to help you strengthen your resume and prepare for interviews.

College students looking to broaden their skill set or dive deeper into their discipline can access over 2,000 courses taught by professors from the vaunted Massachusetts Institute of Technology. Courses range widely, from Water Diplomacy to Introduction to Algorithms. The video-based courses let students learn at their own pace.

This blog, published by USA Today, is geared toward both teachers and students of all ages. Their lesson library is home to resources for college students and tackles subjects like cybersecurity and journalism. The library also contains a wealth of resources for ELL students.

Get the latest news about what is happening in technology for education from this detailed EdTech site. Find new resources, see what professors and experts are saying about technology use, and remain up-to-date with the latest in software, hardware, cybersecurity, college online, and digital devices of all kinds for higher education.

The college selection process may be behind you, but College Board is still a valuable tool for college students. Check out graduate school programs, find scholarships that you may be eligible for, and utilize their Big Future tool to start planning a career path for life after college.

ETS may be one of the most important organizations you have never heard of. The majority of the standardized tests taken post-high school are administered by ETS. Whether you are looking for info on the GRE to get into grad school, the Praxis to begin your career in education, or the TOEFL to demonstrate your mastery of English, this organization runs them all. The ETS website has lots of helpful resources, practice tests, and study tips to help you master your standardized tests.

As you begin work on college assignments, you will likely find that the standards for scholarly research and citation are more rigorous than what you experienced in high school. If this rigor is new to you, you might need a little help nailing down credible scholarly resources. Google Scholar lets you search peer-reviewed articles, academic papers, and scholarly journal entries that would be considered credible and appropriate on any works cited page.
If you prefer listening to a great podcast rather than combing through a website, check out the Top Higher Education Podcasts.
If you are looking for a great way to kickstart your next college research paper, check out our Dynamic People Search. This is an awesome tool with unlimited potential. Identify leaders in your chosen discipline, research top professors in your area of study, or maybe even reach out to the top influencers in your field!
See all kinds of tips, tricks and hacks for surviving your college experience with a look at our Blog.
Visit our Study Guide Headquarters for tips, tools, and much more.
See our Resources Guide for much more on studying, starting your job search, and more.