The best computer science degree programs are those with rich histories of influence, proven through the work produced by the program's faculty and alumni. Beyond demonstrating scholarly impact in the field, the best computer science degree programs maximize your opportunities to interact with outstanding computer science faculty.
Key Takeaways
There is a huge projected growth for the computer and information research science jobs, which means that graduates will have an easier time landing a job in this industry.
A computer science degree essentially teaches students how to design computer hardware or software or specialize in areas such as computer programming.
Earning their degree from the best computer science schools, professionals analyze, develop, and design software and hardware for solving problems in various business, scientific, and social settings.
A bachelor's in computer science degree is an excellent starting point for a career in programming, video game design, cybersecurity, and a host of other rapidly growing fields. As a student majoring in computer science, you'll study algorithms, data structure, operating systems, networking, and much more. With a bachelor's in computer science, you'll qualify for well-paying roles such as network architect, information security analyst, or computer systems administrator.
The best schools for computer science are those which are regionally accredited, which offer a full array of computer science concentrations, and which give you the chance to work with the best and most influential professors and classmates.
Degree popularity: Computer science bachelor's degrees are the 14th most popular undergraduate degrees across all student demographics. It is much more popular among men, ranking 6th across men of all demographics. For women, it doesn't rank among the top 25 degrees. It is the 3rd most popular degree for Asian men, and 11th for Asian women, according to the number of degree earners reported by the National Center for Educational Statistics.
Featured Programs
Our lives depend on computers and computer science programs in our tech-savvy culture. Numerous industries operate their businesses with computers, tech tools, software, and devices. And because of this, computer scientists play a crucial role worldwide. The work that computer scientists do is becoming indispensable!
If you're planning to enter the field of computer science, it's best to earn an educational qualification through a computer science program. Whether you're looking at an associate's program, bachelor's or master's degree, or certificate from top computer science schools, it pays to know the best colleges and universities for a degree in computer science. Among the fastest-growing academic disciplines today, a computer science program offers a rewarding career path.
Experts who completed computer science programs are in high demand nationwide in the public sector, corporations of all sizes, and colleges and universities. The Bureau of Labor Statistics says computer and information research scientist opportunities may grow by a staggering 21%in the next decade.
Frequently Asked Questions About Computer Science Bachelor's Degrees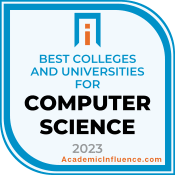 The Best Colleges and Universities for Computer Science Degrees
MIT – Massachusetts Institute of Technology
Stanford University
Harvard University
University of California, Berkeley
Carnegie Mellon University
Swarthmore College
Harvey Mudd College
Amherst College
Pomona College
Wesleyan University
University of Alabama at Birmingham
Saint Louis University
Southern New Hampshire University
Golden Gate University
Maryville University
The Best Computer Science Schools in Your State
Back to Top
Learn More About Computer Science
If you want to know more about computer science, then check out our related content: