Best Online Bachelor's of Cybersecurity Degree Programs in Minnesota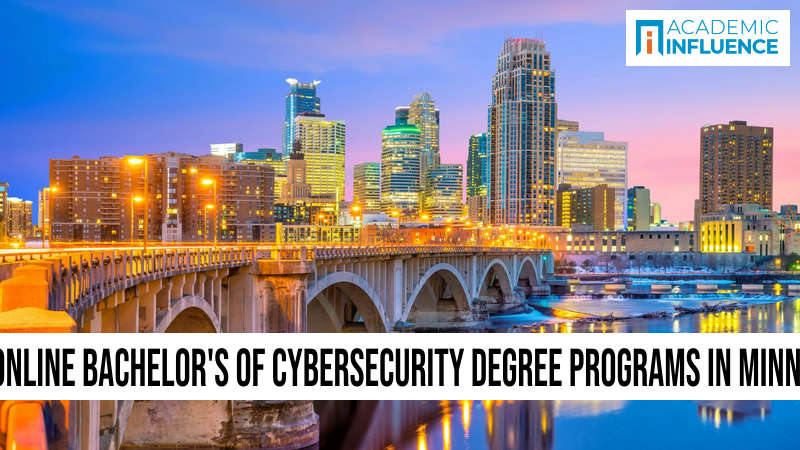 The online bachelor's in cybersecurity is an increasingly valuable degree that can lead to an excellent career with competitive pay in Minnesota. Check out the top-ranked cybersecurity degree programs for 2022 and learn more about the cost of tuition, admission requirements, cybersecurity courses, jobs in cybersecurity, and more.
Minnesota's Best Online Bachelor's in Cybersecurity Programs
Key Takeaways
Minnesota's thriving cybersecurity job market has spurred the state's best academic programs to now offer cybersecurity degrees.
Many of these programs can be completed entirely online and are fully accredited.
Completing one of the best online bachelor's of cybersecurity in Minnesota will set you up to build professional connections both in-state and out-of-state.
Featured Programs
Cybersecurity: A Top Degree for the Next Decade
Cybersecurity is definitely growing in demand in Minnesota, just as it is around the world. Information security jobs are expected to grow by 33% over the next 10 years, according to the Bureau of Labor Statistics. That's much faster than average career growth. With current median salaries around $100,000 a year, it's a good time to prepare yourself to compete in the cybersecurity job market in Minnesota. That's why we've ranked cybersecurity degrees as the best degree for jobs over the next decade.
Cybersecurity is also new and its need is very widespread. In our interview with world-leading cyber security expert Isaac Ben-Israel, Ben-Israel says Because we understand that nowadays everyone is dependent on computers, not only military organizations, defense organizations. and therefore, the citizen, the simple citizen, needs a protection as well as the big organization. and we decided to make it legitimate for education and industry. ...At that time, 2011, it's hard to believe but this is true, there was not even one university in the world, neither in Israel nor in the States, in which you could go and study cybersecurity. Only 10 years ago. It's hard to believe but this was the situation 10 years ago. Today ... you can learn cyber security in every university.
If you are still wondering if a cybersecurity bachelor's degree is worth it, we answer that, and we can give you the playbook for how to become a cybersecurity analyst.
Back to Top
Minnesota Colleges Answering the Demand for Cybersecurity Degrees Online
We've identified 3 colleges with online bachelor's degrees related to cybersecurity in Minnesota. Online cybersecurity degrees offer students in Minnesota maximum flexibility and convenience so they can study while working. And you don't have to sacrifice quality. These programs are offered by some of Minnesota's top ranked colleges like University of Minnesota and University of Minnesota Duluth. For more about Minnesota colleges visit The Best Colleges in Minnesota.
Frequently Asked Questions About Online Bachelor's in Cybersecurity
If you need more answers to frequently asked questions about online degrees, we can help.
For detailed information on accreditation, financial aid, college applications and more, check out our Complete Guide to Applying for College.
Median Salaries of Similar Careers in Minnesota
The following graph depicts the average salaries of similar occupations to Information Security Analysts in Minnesota.
Source: U.S. BUREAU OF LABOR STATISTICS
106280
Information Security Analysts
111400
Software Developers
121210
Computer Network Architects
125270
Database Architects
127850
Computer and Information Research Scientists
Back to Top
Best Online Bachelor's in Cybersecurity Programs in Minnesota
Other Rankings

Online Cybersecurity Degrees

BS in Information Technology Management

Required Credits: 120-128
Completion time: 4-6 years
Format: Online

Other Rankings

Online Cybersecurity Degrees

BS in Information Technology Management

Required Credits: 120-128
Completion time: 4-6 years
Format: Online

Online Cybersecurity Degrees

BS in Information Technology Management

Required Credits: 120-128
Completion time: 4-6 years
Format: Online