Influential Women in Economics From the Last 10 Years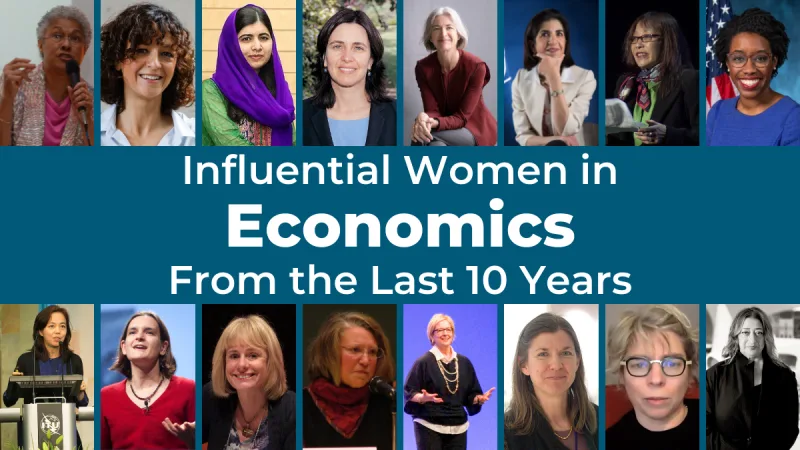 Our list of influential women in economics is as broad and impressive as the field itself. These female professionals have worked to alleviate poverty, researched global trade imbalances, studied employment patterns in developing countries, and more. This list features famous women economists who have been highly cited and searched online over the last 10 years.
Top 10 Women in Economics From the Last 10 Years
According to Wikipedia, Economics is the social science that studies the production, distribution, and consumption of goods and services. Microeconomics analyzes the interaction of individual agents and markets. Macroeconomics analyzes the economy as a system.
Current women scholars in the field research in areas such as poverty alleviation (Duflo), fair wages (Yellen), modern monetary theory (Kelton), the gender gap in earnings and income inequality (Goldin).
22% of tenured and tenure-track faculty in economics are women.
Pioneering Women Economists in History
Key Associations for Women in Economics
American Economic Association: The AEA is a non-profit non-partisan, scholarly association dedicated to the discussion and publication of economics research.
Academic Female Finance Committee: AFFECT is a committee of the American Finance Association (AFA), designed to promote the advancement of women academics in the field of finance.
The Women in Economics Initiative: The Initiative is a non-profit established to advance gender equality in the field of economics.
Influential Women in Economics From the Last 10 Years
Esther Duflo is Professor of Poverty Alleviation and Development Economics at the Massachusetts Institute of Technology. She earned a B.A. from École normale supérieure in Paris, an M.A.S. from the School of Advanced Studies in the Social Sciences, and a Ph.D from the Massachusetts Institute of Technology.

In 2019, Duflo, along with collaborators Abhijit Banerjee and Michael Kremer, were awarded the Nobel Memorial Prize in Economics for their work conducting trial experiments to alleviate poverty. She is a co-founder of the Abdul Latif Jameel Poverty Action Lab which, with offices across the world including Paris and India, trains researchers to develop and conduct experiments to better understand the most effective development strategies.

Her particular interest and work in India have yielded important insights into the causes and solutions of poverty. She is the director for the development economics program at the Center for Economic and Policy Research. Duflo is widely respected for her contributions to economics and her work to improve the economic status of women, and was named as one of 2012′s Top 100 Global Thinkers by Foreign Policy magazine. In 2015, she received the prestigious A.SK Social Sciences Award of $200,000 from the WZB Berlin Social Sciences Center.

Stephanie A Kelton is an American heterodox economist and academic, and a leading proponent of Modern Monetary Theory. She is a professor at Stony Brook University and a Senior Fellow at the Schwartz Center for Economic Policy Analysis at the New School for Social Research. She was formerly a professor at the University of Missouri–Kansas City. She also served as an advisor to Bernie Sanders' 2016 presidential campaign and worked for the Senate Budget Committee under his chairmanship.

1946 - Present (77 years)

Janet Louise Yellen is an American economist serving as the 78th United States secretary of the treasury since January 26, 2021. She previously served as the 15th chair of the Federal Reserve from 2014 to 2018. She is the first person to hold those positions having also led the White House Council of Economic Advisers and the first woman to hold either post.

1956 - Present (67 years)

Christine Madeleine Odette Lagarde is a French politician and lawyer who has served as President of the European Central Bank since 2019. She previously served as the 11th Managing Director of the International Monetary Fund from 2011 to 2019. Lagarde had also served in the Government of France, most prominently as Minister of the Economy, Finance and Industry from 2007 until 2011. She was the first woman to hold each of those posts.

Anne Catherine Case, Lady Deaton, is an American economist who is currently the Alexander Stewart 1886 Professor of Economics and Public Affairs, Emeritus, at Princeton University. Early life and career She graduated from University at Albany, SUNY in 1980 and obtained a Master of Public Affairs from Princeton University in 1983, followed by a Ph.D from the university in 1988. After working as an assistant professor at Department of Economics at Harvard University 1988-1991, she has worked at Department of Economics, Princeton University and Woodrow Wilson School of Public and International A...

Gita Gopinath is an Indian-American economist who has served as the first deputy managing director of the International Monetary Fund , since 21 January 2022. She had previously served as chief economist of the IMF between 2019 and 2022.

Carmen M. Reinhart is a Cuban-American economist and the Minos A. Zombanakis Professor of the International Financial System at Harvard Kennedy School. Previously, she was the Dennis Weatherstone Senior Fellow at the Peterson Institute for International Economics and Professor of Economics and Director of the Center for International Economics at the University of Maryland. She is a research associate at the National Bureau of Economic Research, a Research Fellow at the Centre for Economic Policy Research, Founding Contributor of VoxEU, and a member of Council on Foreign Relations. She is als...

Jin Keyu is a Chinese economist, associate professor of economics at the London School of Economics and a World Economic Forum Young Global Leader, specialising in international macroeconomics and the Chinese economy. Her research focuses on global trade imbalances, global asset prices and China's economic growth model.

1953 - Present (70 years)

Kristalina Ivanova Georgieva-Kinova is a Bulgarian economist serving as the 12th managing director of the International Monetary Fund since 2019. She was the Chief Executive of the World Bank Group from 2017 to 2019 and served as Acting President of the World Bank Group from 1 February to 8 April 2019 following the resignation of Jim Yong Kim. She previously served as Vice-President of the European Commission under Jean-Claude Juncker from 2014 to 2016.

Isabel Schnabel is a German economist who has been serving as a member of the Executive Board of the European Central Bank since 2020. She became professor of financial economics at the University of Bonn in 2015 and a member of the German Council of Economic Experts in 2014. She worked previously at the University of Mainz from 2007 to 2015.

Kate Raworth is an English economist known for "doughnut economics", an economic model that balances between essential human needs and planetary boundaries. She is Senior Associate at Oxford University's Environmental Change Institute and a Professor of Practice at Amsterdam University of Applied Sciences.

Mariana Mazzucato is founder and director of the University College of London's Institute for Innovation and Public Purpose, as well as professor of economics of innovation and public value. She earned a Bachelor of Arts in history and international relations from Tufts University, and a Masters and Ph.D in economics from the New School for Social Research.

An expert in the economics of innovation, she has researched the role of innovation in public and private organizations and examined methods for guiding innovation to further strategic goals. She wrote The Entrepreneurial State: Debunking Public vs. Private Sector Myths, in which she suggests that the marginalization of entrepreneurship and innovation to the private sector is the wrong approach, pointing out that many consumer technologies emerged from government funded research and development efforts.

Laurence Boone is a French economist who has been serving as the Secretary of State for European affairs in the government of Prime Minister Élisabeth Borne since 2022. Boone's fields of interest include macroeconomics, European politics and public finance. She served as an economic advisor to President François Hollande between July 2014 and March 2016.

Linda Yi-Chuang Yueh is a British/American economist, broadcaster, and author, born in Taiwan and of dual British and American citizenship. Yueh is an adjunct professor of economics at London Business School, and a Fellow in Economics at St Edmund Hall, Oxford University. She was also a Visiting Professor at Peking University and associated with both the Centre for Economic Performance and IDEAS research centres at the London School of Economics . She is a TV and radio presenter, including for BBC programmes such as Radio 4 Analysis, Business Daily on BBC World Service, and Radio 4 Today prog...

Claudia Goldin is an American economic historian and labor economist who is currently the Henry Lee Professor of Economics at Harvard University. She is a co-director of the NBER's Gender in the Economy Study Group and was the director of the NBER's Development of the American Economy program from 1989 to 2017. Goldin's research covers a wide range of topics, including the female labor force, the gender gap in earnings, income inequality, technological change, education, and immigration. Most of her research interprets the present through the lens of the past and explores the origins of curre...

1957 - Present (66 years)

Clara Ponsatí i Obiols is a Catalan economist and politician from Spain. She was appointed Minister Education of the Generalitat of Catalonia by President Carles Puigdemont on 14 July 2017, and was dismissed by the Spanish Government in application of Article 155 of the Spanish Constitution on the 27th of October 2017, due to the organisation of the 2017 Catalan Independence Referendum and the subsequent declaration of independence. On the 30th of October 2017, she went into exile in Brussels together with Carles Puigdemont and three other members of his government, Lluís Puig, Antoni Comín a...

Betsey Ayer Stevenson is an economist and Professor of Economics and Public Policy at the University of Michigan Gerald R. Ford School of Public Policy. Additionally, she is a fellow of the Ifo Institute for Economic Research in Munich, a research associate at the National Bureau of Economic Research and servers on the board of the American Economic Association. The Obama Administration announced her appointment as a Member of the Council of Economic Advisers, a post she served from 2013 through 2015. She previously served as Chief Economist of the U.S. Department of Labor under Secretary Hil...

1956 - Present (67 years)

Mari Elka Pangestu , is an Indonesian economist who served as Managing Director of Development Policy and Partnerships in the World Bank from 2020 to 2023. The President of the World Bank, David Malpass, announced her appointment on 9 January 2020 saying that she would be responsible for development policy and partnerships in her role in the bank. Previously she served as Minister of Trade in Indonesia from October 2004 to October 2011.

Julia Cagé is a French economist specializing in development economics, political economy, and economic history. Early life Julia Cagé has a twin sister, Agathe Cagé, who is a technocrat and an advisor to Najat Vallaud-Belkacem.

Jayati Ghosh is an Indian development economist. She is the Chairperson of the Centre for Economic Studies and Planning at the Jawaharlal Nehru University, New Delhi and her core areas of study include international economics, employment patterns in developing countries, macroeconomic policy, and issues related to gender and development.

1986 - Present (37 years)

Stéfanie Stantcheva is a Bulgarian-born French economist who is the Nathaniel Ropes Professor of Political Economy at Harvard University. She is a member of the French Council of Economic Analysis. Her research focuses on public finance—in particular questions of optimal taxation. In 2018, she was selected by The Economist as one of the 8 best young economists of the decade. In 2020, she was awarded the Elaine Bennett Research Prize. In 2021, she received the Prix Maurice Allais.

Dambisa Felicia Moyo, Baroness Moyo is a Zambian-born economist and author, known for her analysis of macroeconomics and global affairs. She has written five books, including four New York Times bestsellers: Dead Aid: Why Aid Is Not Working and How There Is a Better Way for Africa , How the West Was Lost: Fifty Years of Economic Folly – And the Stark Choices that Lie Ahead , Winner Take All: China's Race for Resources and What It Means for the World , Edge of Chaos: Why Democracy Is Failing to Deliver Economic Growth – and How to Fix It , and How Boards Work: And How They Can Work Better in a...

1980 - Present (43 years)

Emi Nakamura is a Canadian-American economist. She is the Chancellor's Professor of Economics at University of California, Berkeley. Nakamura is a research associate and co-director of the Monetary Economics Program of the National Bureau of Economic Research, and a co-editor of the American Economic Review.

Beatrice Weder di Mauro is a Swiss economist who is currently Professor of economics at the Graduate Institute of International and Development Studies in Geneva, Research Professor and Distinguished Fellow-in-residence at the Emerging Markets Institute of INSEAD Singapore, and senior fellow at the Asian Bureau of Finance and Economic Research . Since 2018, she also serves as President of the Centre for Economic Policy Research .

Anne Osborn Krueger is an American economist. She was the World Bank Chief Economist from 1982 to 1986, and the first deputy managing director of the International Monetary Fund from 2001 to 2006. She is currently the senior research professor of international economics at the Johns Hopkins School of Advanced International Studies in Washington, D.C. She also is a senior fellow of Center for International Development and the Herald L. and Caroline Ritch Emeritus Professor of Sciences and Humanities' Economics Department at Stanford University.
Image Credits:
Top row, left to right: Patricia Hill Collins, Emmanuelle Charpentier, Malala Yousafzai, Shafi Goldwasser, Jennifer Doudna, Fabiola Gianotti, Michiko Kakutani, Lauren Underwood.
Bottom row, left to right: Fei-Fei Li, Esther Duflo, Kathy Reichs, Nancy Fraser, Brené Brown, Judith Curry, Jill Lepore, Zaha Hadid.