Best Online Master's in Economics
Find top-ranked online master's in economics degree programs that have rich histories of hiring and producing influential economists. A great online master's in economics can prepare you for a rewarding career and career advancement.
Top 10 Online Master's in Economics Degrees
An online master's in economics is an excellent degree for those who wish to advance a career in banking, financial consulting, brokerage, financial analysis, and a host of other well-paying careers. As a master of economics, you could choose from an array of specializations, including global trade, financial market behavior, retail cost analysis, insurance risk assessment, and countless other areas. The best graduate schools for economics will have regional and programmatic accreditation, offer a full array of economics specializations, and give you the chance to conduct research alongside the most influential professors and classmates.
Featured Programs
Frequently Asked Questions About Online Master's in Economics Programs
Learn more about what you can do with a master's in economics.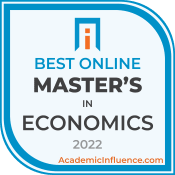 Median Salaries of Similar Careers in the U.S.
The following graph depicts the average salaries of similar occupations to Financial and Investment Analysts in the U.S.
Source: U.S. BUREAU OF LABOR STATISTICS
79940
Insurance Underwriters
103020
Financial and Investment Analysts
110610
Financial Risk Specialists
119960
Personal Financial Advisors
Ranking: Best Online Masters's in Economics Degree Programs
Other Rankings

Online Degrees

MBA with Economics concentration

Economics
Accounting
Advertising & Marketing
Aftermarket Management
Automotive Marketing & Management
Cybersecurity Management
Entertainment
Sport & Promotion Management
Esports Management
Fashion Marketing & Management
Finance
Franchising Management

Required Credits: 36
Completion time: 12-24 months
Format: Online

Other Rankings

Online Degrees

MA in Financial Economics

Required Credits: 30
Completion time: None Reported
Format: Online

Other Rankings

Online Degrees

MS in Economic Development

Required Credits: 30
Completion time: 10-12 months
Format: Online

MBA in Economic Development

Business Analytics
Cybersecurity
Economic Development
Finance
Global Communications
Healthcare Administration
Marketing

Required Credits: 30
Completion time: 12-18 months
Format: Online

MPA in Economic Development

General
Economic Development
Healthcare Administration
Public and Community Health
Public Management

Required Credits: 36
Completion time: 12 months
Format: Online

Other Rankings

Online Degrees

MA in Economics

Required Credits: 30
Completion time: None Reported
Format: Online

MA in Financial Economics

Required Credits: 30
Completion time: None Reported
Format: Online

Online Degrees

MBA in Business Administration

Accounting
Business Analytics
Criminal Justice
Economics
Entrepreneurship
Executive
Finance
Financial Planning
General
Global
Management
Healthcare Management
Hospitality Management
Human Resources
Information Security
Information Systems
Leadership
Marketing
Project Management
Public Administration
Supply Chain Management

Required Credits: 31
Completion time: 18-24 months
Format: Online
Back to Top
Online Degree Frequently Asked Questions
If this is your first time taking an online course, the experience may require some adjustment. While you'll generally learn the same content and take the same exams as your on-campus peers, the medium will likely require you to manage much of this experience independently. You'll be accountable for your own time management, your ability to harness the technology at your fingertips, and your ability to focus on the lectures, lessons, and assignments at hand. This means you'll need to create a suitable workspace for yourself, maintain a realistic schedule, and take it upon yourself to build relationships with your instructors and classmates. With online college, your goal is to find a balance between independence and engagement.
No. The only part of online education that's easier is actually getting there. Taking the commute out of the equation means getting to class should be a lot more manageable. But that's where it ends. In general, your online courses will incorporate the very same materials, concepts, and testing methods as would a traditional classroom.
And in many cases, you'll even have the same instructors as your on-campus counterparts. In fact, if you are adjusting to the experience of independent learning or working with remote learning technology for the first time, online college may even be a little more challenging for you. For a few insights on how to manage this new experience, check out our 10 Tips for Adjusting to School Online.
Accreditation is especially important when it comes to online college. This is because the online education landscape is a mix of highly-reputable institutions and less-than-reputable for-profit schools. Accreditation gives you the power to differentiate between the two. Accreditation is a stamp of approval from an independent accrediting agency which indicates that a college or university is meeting standards of quality, credibility, and currency. School-wide accreditation falls into two major categories: regional and national accreditation. Regional accreditors generally hold jurisdiction only over schools in the states comprising their region, whereas national accreditors hold jurisdiction over schools in all states. Regional accreditation is widely regarded as a more rigorous standard of quality and credibility than national accreditation.
Attending a college or university which is not regionally accredited could limit your opportunities. When seeking an online education, we strongly recommend that students opt for regionally accredited schools. Regional accreditation ensures eligibility for federal loans and grants, ensures your college credits can be transferred between schools, and ensures that your degree credits can be accepted if you wish to earn an advanced degree.
As long as your online college degree is regionally accredited, you should have little difficulty transferring most of your credits or credentials to another regionally accredited undergraduate school. Every school carries its own standards and procedures for granting a transfer. In many cases, you will be required to navigate a bureaucracy in which some of your credits will be transferred and others will be jettisoned. However, provided that you have attended an online school with the proper regional accreditation, you should have plenty of options for transfer.
In most cases, as long you graduate from a well-regarded, regionally-accredited online college, prospective employers won't look sideways at your degree. In fact, unless you attend an exclusively online college or university, there will likely be no specific indicator on your degree, transcript or resume differentiating your school from its brick-and-mortar counterpart. This means that your employer will likely only differentiate between an online and in-person degree if you mention this distinction.
While some employers may express concern about making the adjustment from online education to in-person workplace collaboration, many other employers will view your online degree as evidence of valuable 21st Century professional skills such as independence, self-motivation, time management, and tech savvy.
If you are a student who thrives on the dynamic energy of in-person discussion, who requires the physical surroundings of a classroom to feel engaged, or who considers the social aspects of education to be of equal importance to the actual content of your courses, online education will require some adjustment.
While there is much that can be supplanted or simulated through the online medium, some students may find that there is nothing which can replace the conversation, collaboration, and motivation that occur in an actual classroom setting. As you make the adjustment to online education, one of the biggest challenges you will likely face is overcoming this difference in order to the get the most out of your classes. Fortunately, we've got some great Tips for Online Education Beginners.
The advantages of online classes are many. First and foremost, online courses give you the freedom and flexibility to attend class from anywhere that works for you, whether you're at home, in a coffee shop, or in a quiet conference room at work. In many cases, you'll also enjoy the convenience of asynchronous learning opportunities-educational experiences that you can complete on your own schedule. This may include pre-taped lectures, ongoing chat-board discussions, and 24/7 access to digital materials. And of course, just as there are some learners who prefer the energy of a live classroom, there are those who learn best when working in their own personal space, free from distractions. If this sounds like you, you might find the solitude of online learning to be a major advantage.
Whether you're just getting started on your college search, you're looking for survival tips on your way to a bachelor's degree, or you're preparing for the transition into grad school, we've got guides, how to's and tons of other valuable resources to keep you moving forward in your educational journey.