Influential Women in Education From the Last 10 Years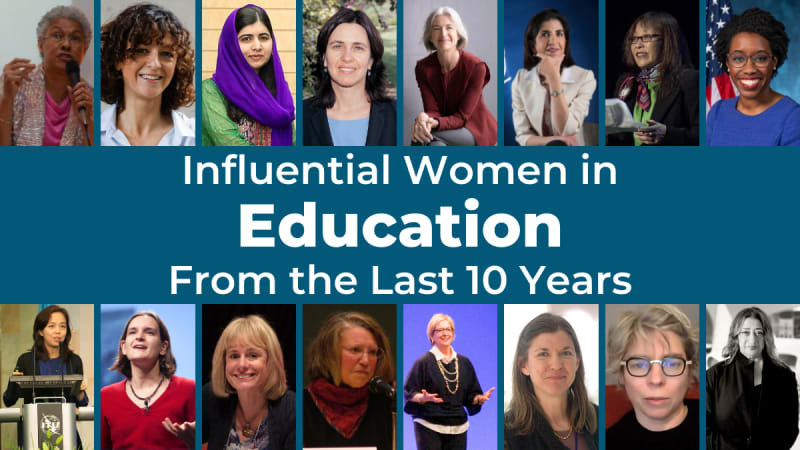 Our list of influential women in education showcases the passion, creativity, and knowledge of those who have shaped, and who continue to shape, the field of learning, instruction, and enrichment. Through bold curriculum, progressive policy development, and transformative innovations in online instruction, these educators are driving the field forward and playing a key role in shaping the minds of students all over the world.
Top 10 Women in Education From the Last 10 Years
While some teaching positions require a four-year degree, many educators, especially at the collegiate level, hold graduate degrees; some even hold degrees or certifications in other fields and, consequently, offer specific expertise in areas like history, literacy, or STEM learning.
For decades, women have made up the majority of educators in the United States, and with job opportunities on an upward trend, we can anticipate that women will continue to play the lead role in bringing innovation and creativity to the field. In fact, the Bureau of Labor Statistics expects a 10% job growth by 2030.
Although female professionals have been at the forefront of education for quite some time, their pay and career opportunities are not always equal to their male counterparts. The AAUW, a professional organization, is working hard to change that. The AAUW fight[s] for fair pay and economic opportunity for women through advocacy, training, funding, and education. To date, they've awarded over $115 million in fellowships and grants to support women in education all over the world.
Along with organizations like the AAUW, women have used their roles as educators to shape the future of learning. Dianna Cowern, a YouTuber once partnered with PBS, has used her skillset to create physics content in an accessible way. Laci Green also took to YouTube to share her knowledge on sex education and at one point partnered with MTV to create an educational series. Gloria Ladson-Billings is another notable educator who is praised for her dedication to furthering African American students' education. Additionally, many know Malala Yousafzai, a Nobel Peace Prize winner, who at a young age fought for young women's right to education.
From virtual classrooms to college campuses to charter schools, these influential women have changed the course of education and continue to provide new and exciting models for what it means to teach.
Influential Women in Education From the Last 10 Years
Malala Yousafzai , is a Pakistani female education activist and the 2014 Nobel Peace Prize laureate. Awarded when she was 17, she is the world's youngest Nobel Prize laureate, and the second Pakistani and the first Pashtun to receive a Nobel Prize. She is known for human rights advocacy, especially the education of women and children in her native homeland, Swat, where the Pakistani Taliban have at times banned girls from attending school. Her advocacy has grown into an international movement, and according to former Prime Minister Shahid Khaqan Abbasi, she has become Pakistan's "most prominen...

Michelle Rhee was born in 1969 in Ann Arbor, Michigan. She received her B.A. in government from Cornell University, before earning a Master of Public Policy from Harvard University's John F. Kennedy School of Government.

After a somewhat disastrous foray into Teach for America, she founded The New Teacher Project, which trained 23,000 career professionals to become classroom teachers in the first ten years—a remarkable achievement that transformed the recruitment of teachers for schools in Washington, D.C. Rhee was then named Chancellor of the District of Columbia Public School System. Under her leadership, D.C. public schools ended the tenure system and instituted a system of teacher bonuses for high student achievement. Over 200 teachers were dismissed for poor performance.

These changes were not without friction. As Rhee, with nearly no checks on her power to make changes, began firing administrators and principals, she began to receive mounting criticism due to the lack of transparency and due process. She published her book, Radical: Fighting to Put Students First, in 2013. She has served on boards for the National Center for Alternative Certification and the National Council on Teacher Quality. In spite of the controversies surrounding her approaches, Rhee continues to be an activist and lobbyist for student initiatives.

Laci Green is an American YouTuber. Her content focuses on sex education; Green also hosted Braless, the first MTV YouTube channel, as part of a 12-week deal with MTV. The first episode aired November 4, 2014. In 2016, Time named her one of the 30 most influential people on the Internet. In 2017, she celebrated her tenth anniversary on YouTube.

1964 - Present (59 years)

Eva Sarah Moskowitz is an American politician and education reform leader, who is the founder and CEO of the Success Academy Charter Schools. A member of the Democratic Party, Moskowitz served on the New York City Council, representing the 4th district on the Upper East Side, from 1999 to 2005. Moskowitz interviewed to be Donald Trump's Secretary of Education, but decided not to pursue the position.

Deborah Meier was born in 1931 in New York City, New York. She earned her master's degree from the University of Chicago. She is credited for the founding of numerous schools throughout New York City, most notably, Central Park East I, an elementary school examined in the documentary, High School II. A champion of community engagement, parental involvement and active, project-based learning, Meier has spent her career helping to create communities of learners that bridge intergenerational divides.

She is the author of many books, including The Power of their Ideas: Lessons for America from a Small School in Harlem, written about her experiences at Central Park East I. She is a cofounder of the Coalition of Essential Schools, and serves on many boards and committees dedicated to promoting inclusive education and working to combat government-directed curriculum mandates. She holds many prestigious board seats, including the Harvard Education Letter editorial board.

1972 - Present (51 years)

Butet Manurung or Saur Marlina Manurung is a pioneer for alternative education for indigenous people in isolated and remote areas in Indonesia. Like other young Batak girls, she was called "Butet". Therefore, she is well known as Butet Manurung.

1986 - Present (37 years)

Adi Altschuler is an educator and a social entrepreneur. She is the founder of the "Krembo Wings" youth movement – Israel's "first movement for youths with and without special needs". She is the founder of "Memories@Home", an alternative gathering on Yom HaShoah . She formerly led "Google for education, Israel" where she would advise teachers on the use of IT. With the goal of transforming Israel's education system, Adi left Google to found "Inclu-Inclusive Schools". Inclu is a nonprofit that promotes inclusive education in Israel through a network of public inclusive schools.

Muzoon Almellehan is a Syrian activist and refugee resettled in the United Kingdom. She is known for her work to keep Syrian girls in school, and has been referred to as the "Malala of Syria". In June 2017, she became the youngest GoodWill Ambassador of UNICEF.

Deborah Bial was born in 1965 in New York City, New York. She graduated from Brandeis University before earning her master's and Ed.D from the Harvard Graduate School of Education.

Bial is best known for her work with her Posse Foundation, an organization which sends students to college with an established peer group, or posse. The purpose of the posse is to create support networks for students, from which they can gain a sense of camaraderie, shared purpose, and emotional support. Her assessment, the Bial-Dale College Adaptability Index, seeks to meet the needs of urban and underserved students by determining college readiness by way of interviews and activities. Her method is also known as "the Lego test" due to the building block play part of the test.

Bial was awarded a MacArthur Fellowship in 2007 and was one of the 2013 recipients of the Harold W. McGraw Prize in Education for her work addressing college access for underserved students. Her posse students have yielded 90% graduation rates and she continues to promote her Bial-Dale College Adaptability Index to public high schools and organizations and the use of nontraditional metrics to evaluate college readiness. She is also a founder of Firefly Education LLC.

1989 - Present (34 years)

Dianna Leilani Cowern is an American science communicator. She is a YouTuber; she uploads videos to her YouTube channel Physics Girl explaining various physical phenomena. She worked in partnership with the PBS Digital Studios from 2015 until 2020, when she discontinued her partnership. She has collaborations with other YouTube personalities, including fellow science communicator Derek Muller of the channel Veritasium, maker Simone Giertz, and mathematics animator Grant Sanderson of 3Blue1Brown.

#11

Gloria Ladson-Billings

1947 - Present (76 years)

Gloria Ladson-Billings was born in 1947. She is best known for her book, The Dreamkeepers: Successful Teachers of African American Children, and her work to reduce the education disparities faced by African American children. She earned her master's in curriculum and instruction from the University of Washington and her Ph.D from Stanford University.

She has devoted her life to addressing culturally relevant pedagogy and the education of African-American children, specifically, but also children of other ethnicities. In recognition of her work in education and race theory, she was elected to the Academy of Arts and Sciences in 2018. She also served as the president of the National Academy of Education, a position from which she was able to promote equality in educational access and opportunities for children of color.

Tam Elizabeth O'Shaughnessy is an American children's science writer and former professional tennis player who co-founded the science education company Sally Ride Science together with her partner, astronaut Sally Ride, the first American woman and third woman in space. The company was relaunched as a nonprofit entity, Sally Ride Science at UC San Diego, on October 1, 2015. O'Shaughnessy serves as executive director.

Lamya Kaddor is a German writer and scholar of Islamic studies of Syrian ancestry who has been serving as a member of the German Bundestag since the 2021 elections. She is the founder and chairwoman of the Liberal-Islamic Association and is known for introducing Islamic education in German in public schools in Germany.

Allyson Mary Julé is a Canadian academic and Professor of Education at the University of the Fraser Valley, in British Columbia, Canada. She has lectured worldwide in her field, and written and edited many academic publications on feminist linguistics and pedagogy.

Jill Green is an American dance educator and scholar who originated the Social Somatic Theory. Green served on the faculty at the University of North Carolina at Greensboro and was co-editor of Dance Research.

1966 - Present (57 years)

Jamileh-Sadat Alamolhoda , commonly known as Jamileh Alamolhoda , is an Iranian writer, scholar and lecturer who is the wife of President of Iran, Ebrahim Raisi. She holds a doctorate in education from Tarbiat Modares University and is an associate professor at the Faculty of Educational Sciences and Psychology of Shahid Beheshti University.

1953 - Present (70 years)

Professor Pamela Gillies is a Scottish academic and educator who was appointed Principal/Vice-Chancellor of Glasgow Caledonian University in March 2006. Education The first in her family to go to university, Gillies attended the University of Aberdeen graduating in 1976 with a BSc in Physiology, a PGCE and a Masters in Education and Philosophy. In 1976 she was awarded a competitive Scottish Home and Health Department Fellowship to train in community health in England and graduated first with an MMedSci and then subsequently with a PhD in Epidemiology from the University of Nottingham.

1974 - Present (49 years)

Khadija Mushtaq is a Pakistani academic administrator and educator. She is the chancellor of Roots Ivy International University and chief executive officer of the Roots School System. Education Mushtaq completed a Master of Economics degree with a specialization in development studies and monetary policy from Quaid-i-Azam University.

Shiza Shahid is a Pakistani social entrepreneur, social activist, investor, and educator. She is the co-founder and former CEO of the non-profit Malala Fund, which promotes education for every girl. In 2013, she was included in Time "30 Under 30" list of world change-makers, and in 2014, she was listed in Forbes "30 Under 30″ list of global social entrepreneurs. She is also well-known as the mentor of Nobel Peace Prize laureate Malala Yousafzai.

1831 - Present (192 years)

Fatima Sheikh was an Indian educator and social reformer, who was a colleague of the social reformers Jyotirao Phule and Savitribai Phule She is widely considered to be India's first Muslim woman teacher.

Michelle Asha Cooper is the Deputy Assistant Secretary for Higher Education Programs and Acting Assistant Secretary for Postsecondary Education in the U.S. Department of Education. She previously served as president of the Institute for Higher Education Policy , a Washington, D.C.-based independent, non-profit organization.

Jo Ann Rooney is an American educator with a background in higher education, law, business, health care, and public service. On May 23, 2016, she was named the 24th president of Loyola University Chicago, a Jesuit, Catholic university in Chicago, Illinois. Rooney is the first lay, non-Jesuit president of the university in its history and began her term as president on August 1, 2016. On August 23, 2021, she announced in a statement that the current school year will be her last as President of the University. Dr. Rooney's tenure at Loyola ended on September 30, 2022.

1956 - Present (67 years)

Jane Fernandes is a Deaf American educator and social justice advocate. As of August 2021, Fernandes is the President of Antioch College in Yellow Springs, Ohio. In 2014, Fernandes became the first Deaf woman to lead an American college or university, serving at Guilford College through July 2021. She succeeded Kent Chabotar becoming the first woman to hold this position. Fernandes was formally inaugurated as the first female and the ninth president of Guilford College. In 1990, Jane Fernandes became the first Deaf woman to lead an American school designed for deaf, hard of hearing, blind, an...

Jean Anyon , was an American critical thinker and researcher in education, a professor in the Doctoral Program in Urban Education at The Graduate Center of The City University of New York, and a civil rights and social activist.

Lois Ann Dickson Fitt Rice was an American corporate executive, scholar, and education policy expert. Known as the ''mother of the Pell Grant" because of her work lobbying for its creation, she was national vice president of the College Board from 1973 until 1981. According to the Wall Street Journal, she was "among the first wave of African-American women serving on boards of major US corporations," and under president Bill Clinton, she was a member of the President's Intelligence Advisory Board. For years, she was an economic studies expert at the Brookings Institution concentrating on edu...
Image Credits:
Top row, left to right: Patricia Hill Collins, Emmanuelle Charpentier, Malala Yousafzai, Shafi Goldwasser, Jennifer Doudna, Fabiola Gianotti, Michiko Kakutani, Lauren Underwood.
Bottom row, left to right: Fei-Fei Li, Esther Duflo, Kathy Reichs, Nancy Fraser, Brené Brown, Judith Curry, Jill Lepore, Zaha Hadid.