Influential Women Historians From the Last 10 Years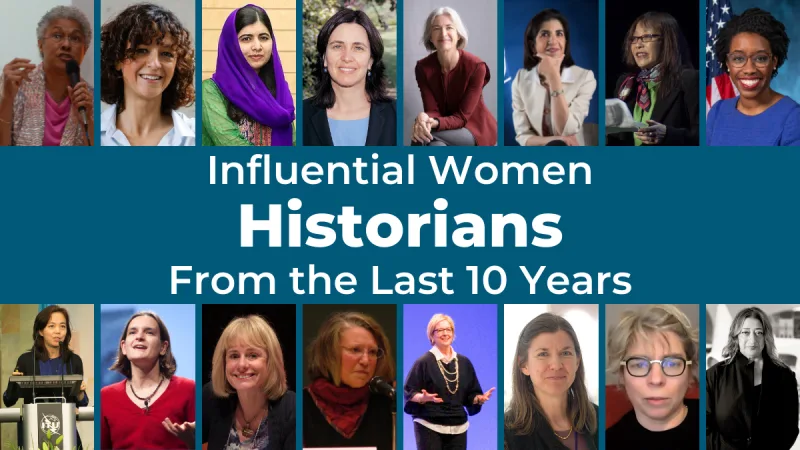 Our list of influential women historians showcases the importance of studying the past to create a better world. From the depths of medieval history to the tragedies of the twentieth century, each time period has valuable lessons, and these historians are teaching and writing about them to share with all of us.
Top 10 Women in Historians From the Last 10 Years
Historians are tasked with researching and analyzing past events and recording their findings. While we may picture historians poring over documents dating back hundreds of years, the field has modernized considerably and is expected to grow 5% by 2030.
Women are currently dominating the field, with 56% of all historians currently identifying as female. Unfortunately the pay gap has not closed in the industry yet, with male historians being paid an average of over $5,000 more per year than their female counterparts.
The Coordinating Council for Women in History aims at supporting women in the historical profession as well as research in women's history. The organization was founded in 1969 with the goal of recruiting women into history and reducing discrimination against women. Bernice Carroll, a founding member, characterized the state of the American Historical Association at the time as a gentlemen's protection society…openly supporting practices of sexism, racism, classism, heterosexism, and antisemitism. Clearly a female-led historical society was needed to combat this attitude, and the CCWH remains strong to this day.
Many historians find career path fields such as law, academia, publishing, or museum curation according to U.S. News & World Report. Our list is filled with women who are breathing new life into history with innovative research and instructional methods. Deborah Lipstadt tackles the topic of Holocaust denial through her published works and her role as Dorot Professor of Modern Jewish History and Holocaust Studies at Emory University. Donna Haraway writes frequently about the intersection of feminism and technology with works like "A Cyborg Manifesto: Science, Technology, and Socialist-Feminism in the Late Twentieth Century." Drew Gilpin Faust was the first female president of Harvard University. These and many more trailblazers are uncovering the mysteries of the past and paving the way for a better future.
25 Influential Women Historians From the Last 10 Years
Jill Lepore is an American historian and journalist. She is the David Woods Kemper '41 Professor of American History at Harvard University and a staff writer at The New Yorker, where she has contributed since 2005. She writes about American history, law, literature, and politics.

Bettany Mary Hughes is an English historian, author and broadcaster, specialising in classical history. Her published books cover classical antiquity and myth, and the history of Istanbul. She is active in efforts to encourage the teaching of the classics in UK state schools. Hughes was appointed OBE in 2019.

Romila Thapar is an emerita professor of history at Jawaharlal Nehru University. She earned a bachelor's degree in English literature at Panjab University, and a bachelor's degree and Ph.D. in Indian history from the School of Oriental and African Studies at the University of London.

Her work has focused on increasing understanding of Indian history. She has written several major works on the topic, including Aśoka and the Decline of the Mauryas, Ancient Indian Social History: Some Interpretations, Recent Perspectives of Early Indian History (for which she was editor), A History of India Volume One, and The Penguin History of Early India: From the Origins to AD 1300.

Deborah Esther Lipstadt is an American historian and diplomat, best known as author of the books Denying the Holocaust , History on Trial: My Day in Court with a Holocaust Denier , The Eichmann Trial , and Antisemitism: Here and Now . She has served as the United States Special Envoy for Monitoring and Combating Anti-Semitism since May 3, 2022. Since 1993 she has been the Dorot Professor of Modern Jewish History and Holocaust Studies at Emory University in Atlanta, Georgia, US.

Tara Westover is an American memoirist, essayist and historian. Her memoir Educated debuted at No. 1 on The New York Times bestseller list and was a finalist for a number of national awards, including the LA Times Book Prize, PEN America's Jean Stein Book Award, and two awards from the National Book Critics Circle Award. The New York Times ranked Educated as one of the 10 Best Books of 2018. Westover was chosen by Time magazine as one of the 100 most influential people of 2019.

Margaret MacMillan was born in Toronto, Ontario, Canada in 1943. She received a B.A. from the University of Toronto's Trinity College, and a B.Phil and D.Phil at Oxford University. Her great grandfather is former British Prime Minister David Lloyd George.

She has spent her career seeking to better understand the British Empire and its international relationships from the 19th-20th centuries. She is most widely known for her book, Peacemakers: The Paris Peace Conference of 1919 and Its Attempt to End War, which won the Duff Cooper Prize, the Hessell Tiltman Prize, the 2003 Governor General's Literary Award for Canada, and the Samuel Johnson Prize for best work of nonfiction.

MacMillan is frequently sought out for her understanding of European history and has authored several notable op-eds for The New York Times, covering topics such as globalization, international relations, and radicalism.

Anne Elizabeth Applebaum is a Polish-American journalist and historian. She has written extensively about the history of Communism and the development of civil society in Central and Eastern Europe.

Dame Averil Millicent Cameron , often cited as A. M. Cameron, is a British historian. She was Professor of Late Antique and Byzantine History at the University of Oxford, and the Warden of Keble College, Oxford, between 1994 and 2010.

Joan Wallach Scott is an American historian of France with contributions in gender history. She is a professor emerita in the School of Social Science in the Institute for Advanced Study in Princeton, New Jersey. Scott is known for her work in feminist history and gender theory, engaging post-structural theory on these topics. Geographically, her work focuses primarily on France, and thematically she deals with how power works, the relation between language and experience, and the role and practice of historians. Her work grapples with theory's application to historical and current events, f...

1979 - Present (44 years)

Victoria N. Bateman is a British feminist economist and academic, specialising in economic history. She is a fellow in economics at Gonville and Caius College, Cambridge. She is Director of Studies for the Economics Tripos at Gonville and Caius College.

Catharine Drew Gilpin Faust is an American historian, and the 28th president of Harvard University, and the first woman in that role. She was Harvard's first president since 1672 without an undergraduate or graduate degree from Harvard and the first to have been raised in the South. Faust is also the founding dean of the Radcliffe Institute for Advanced Study. She has been ranked among the world's most powerful women by Forbes, including as the 33rd most powerful in 2014.

Patricia Crone was a Danish historian specializing in early Islamic history. Crone was a member of the Revisionist school of Islamic studies and questioned the historicity of the Islamic traditions about the beginnings of Islam.

Donna J. Haraway is an American Professor Emerita in the History of Consciousness Department and Feminist Studies Department at the University of California, Santa Cruz, and a prominent scholar in the field of science and technology studies. She has also contributed to the intersection of information technology and feminist theory, and is a leading scholar in contemporary ecofeminism. Her work criticizes anthropocentrism, emphasizes the self-organizing powers of nonhuman processes, and explores dissonant relations between those processes and cultural practices, rethinking sources of ethics.

1972 - Present (51 years)

Marci Shore is an American associate professor of intellectual history at Yale University, where she specializes in the history of literary and political engagement with Marxism and phenomenology. Shore is the author of Caviar and Ashes: A Warsaw Generation's Life and Death in Marxism, 1918–1968, a milieu biography of Polish and Polish-Jewish writers drawn to Marxism in the twentieth century; and of The Taste of Ashes, a study of the presence of the communist and Nazi past in today's Eastern Europe. She translated Michał Głowiński's Holocaust memoir, The Black Seasons. Shore married Timothy D...

Natalie Zemon Davis, is a Canadian and American historian of the early modern period. She is currently an Adjunct Professor of History and Anthropology and Professor of Medieval Studies at the University of Toronto in Canada. Her work originally focused on France, but has since broadened to include other parts of Europe, North America, and the Caribbean. For example, her book, Trickster Travels , views Italy, Spain, Morocco and other parts of North Africa and West Africa through the lens of Leo Africanus's pioneering geography. It has appeared in four translations, with three more on the wa...

1945 - Present (78 years)

Lynn Avery Hunt is the Eugen Weber Professor of Modern European History at the University of California, Los Angeles. Her area of expertise is the French Revolution, but she is also well known for her work in European cultural history on such topics as gender. Her 2007 work, Inventing Human Rights, has been heralded as the most comprehensive analysis of the history of human rights. She served as president of the American Historical Association in 2002.

1951 - Present (72 years)

Alison Weir is a British author and public historian. She primarily writes about the history of English royal women and families, in the form of biographies that explore their historical setting. She has also written numerous works of historical fiction.

Stephanie Coontz is an American author, historian, and faculty member at Evergreen State College. She teaches history and family studies and is Director of Research and Public Education for the Council on Contemporary Families, which she chaired from 2001 to 2004. Coontz has authored and co-edited several books about the history of the family and marriage.

Wendy Lower is an American historian and a widely published author on the Holocaust and World War II. Since 2012, she holds the John K. Roth Chair at Claremont McKenna College in Claremont, California, and in 2014 was named the director of the Mgrublian Center for Human Rights at Claremont. As of 2016, she serves as the interim director of the Jack, Joseph and Morton Mandel Center for Advanced Holocaust Studies at the United States Holocaust Memorial Museum in Washington, DC.

1963 - Present (60 years)

Heather Ann Thompson is an American historian, author, activist, professor, and speaker from Detroit, Michigan. Thompson won the 2017 Pulitzer Prize for History, the 2016 Bancroft Prize, and other awards for her work Blood in the Water: The Attica Prison Uprising of 1971 and Its Legacy.

1967 - Present (56 years)

Annika Mombauer is a historian best known for her work on General Helmuth von Moltke the Younger. She is a Senior Lecturer in Modern European History in the History Department at the Open University in Great Britain, and Associate Dean for the Arts Faculty.

Tithi Bhattacharya is Associate Professor of South Asian history at Purdue University. She is a prominent Marxist feminist and one of the national organizers of the International Women's Strike on March 8, 2017. Bhattacharya is a vocal advocate of Palestinian rights and Boycott, Divestment and Sanctions . She is one of the authors of Feminism for the 99%: A Manifesto, which ties feminism to other modes of struggle, including anti-racism and anti-capitalism. On the topic of gender Bhattacharya has written the book The Sentinels of Culture, which developed from her dissertation on the British-ed...

1943 - Present (80 years)

Mary Beth Norton is an American historian, specializing in American colonial history and well known for her work on women's history and the Salem witch trials. She is the Mary Donlon Alger Professor Emeritus of American History at the Department of History at Cornell University. Norton served as president of the American Historical Association in 2018. She is a recipient of the Ambassador Book Award in American Studies for In the Devil's Snare: The Salem Witchcraft Crisis of 1692. Norton received her Bachelor of Arts at the University of Michigan . The next year she completed a Master of Art...

1977 - Present (46 years)

Yasmin Khan is a historian of British India and Associate Professor of History at Kellogg College, Oxford. Education and career Born in 1977 to Pakistani and Anglo-Irish parents in Kingston-upon-Thames, Khan completed her BA in history at St Peter's College, Oxford. Khan completed her DPhil at St Anthony's College, Oxford in 2005 in Imperial and Commonwealth History.

1950 - Present (73 years)

Rachel Fulton Brown is an Associate Professor of Medieval History, Fundamentals, and the College at the University of Chicago. Fulton Brown has authored a variety of texts on the topic of Christian studies and the Middle Ages, and a 2019 book chronicling her friendship with far-right figure Milo Yiannopoulos through Yiannopoulos's publishing imprint, Dangerous Books. Fulton Brown has also written for Breitbart. In December 2020, United States president Donald Trump announced an intent to appoint Fulton Brown to the Cultural Property Advisory Committee, which the official Whitehouse website de...
Image Credits:
Top row, left to right: Patricia Hill Collins, Emmanuelle Charpentier, Malala Yousafzai, Shafi Goldwasser, Jennifer Doudna, Fabiola Gianotti, Michiko Kakutani, Lauren Underwood.
Bottom row, left to right: Fei-Fei Li, Esther Duflo, Kathy Reichs, Nancy Fraser, Brené Brown, Judith Curry, Jill Lepore, Zaha Hadid.