The Most Influential Colleges in Baseball Today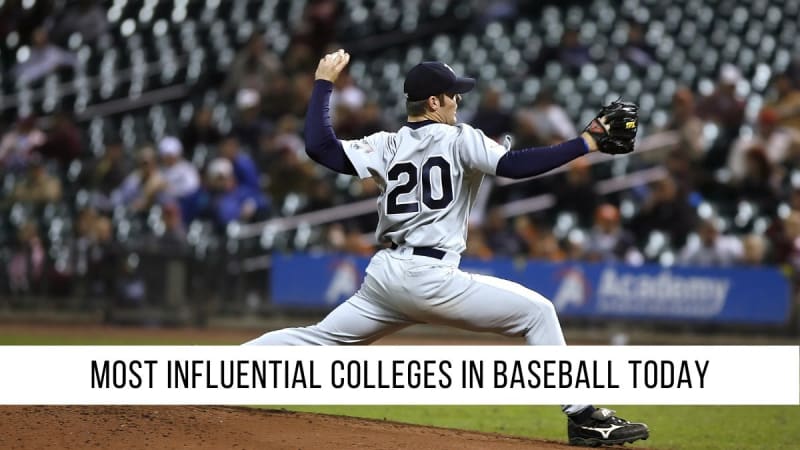 Find the colleges and universities that have the biggest impact in baseball based on the influence of their alumni in baseball. See which schools have proven histories of attracting and cultivating some of the most influential athletes today.
The best colleges and universities for baseball are largely concentrated in the Western United States. The top college athletics programs for baseball can be found at notable warm-weather schools like the University of Southern California, Arizona State University, and UCLA. USC owes its ranking to a trio of MLB legends in slugging first baseman Mark McGwire and flamethrowing Hall of Fame pitchers Randy Johnson and Tom Seaver. Ranking second on the list, Arizona is the alma mater of Hall of Fame postseason legend Reggie Jackson, as well as Red Sox superstar Dustin Pedroia, and all-time home run king, Barry Bonds.
Most Influential Colleges in Baseball
Featured Programs
The Most Influential Colleges in Baseball Today
Other Rankings

Arizona State University's Most Influential Baseball Players

More Influential Baseball Players

Arizona State University's Online Degrees

BA in Applied Science

Degree Concentrations

Project Management
Health Sciences

Required Credits: 111-120
Completion Time: None Reported
Format: Online

BA in Business

Degree Concentrations

Communication
Sustainability

Required Credits: 114-120
Completion Time: None Reported
Format: Online

BA in Educational Studies

Degree Concentrations

Business
Community Health
Family and Human Development
Global Studies
Health Innovations
Personal Health
Political Science
Organizational Leadership

Required Credits: 114-120
Completion Time: None Reported
Format: Online

University of the Pacific's Most Influential Baseball Players

Other Rankings

Florida State University's Most Influential Baseball Players

More Influential Baseball Players

Florida State University's Online Degrees

BA in Computer Science

Required Credits: 120
Completion Time: None Reported
Format: Online

BS in Computer Science

Required Credits: 120
Completion Time: None Reported
Format: Online

BS in Criminology

Required Credits: 60
Completion Time: None Reported
Format: Online

BS in Public Safety and Security

Required Credits: 60
Completion Time: None Reported
Format: Online

San Diego State University's Most Influential Baseball Players

More Influential Baseball Players

San Diego State University's Online Degrees

BS in Business Administration

Required Credits: 49-55
Completion Time: None Reported
Format: Online

BS in Criminal Justice

Required Credits: 51-60
Completion Time: None Reported
Format: Online

Other Rankings

University's Most Influential Baseball Players

More Influential Baseball Players

University of Arizona's Online Degrees

BA in Africana Studies

Required Credits: 120
Completion Time: None Reported
Format: Online

BAS in Administration of Justice

Required Credits: 120
Completion Time: None Reported
Format: Online

BS in Care, Health and Society

Required Credits: 120
Completion Time: None Reported
Format: Online

BS in Emergency Medical Services

Required Credits: 120
Completion Time: None Reported
Format: Online

Bachelor of Science in Business Administration in Accounting

Required Credits: 120
Completion Time: None Reported
Format: Online

BAS in Cyber Operations

Degree Concentrations

Engineering
Defense & Forensics
and Cyber Law & Policy

Required Credits: 120
Completion Time: None Reported
Format: Online

BA in Communication

Required Credits: 120
Completion Time: None Reported
Format: Online

BAS in Early Childhood

Required Credits: 120
Completion Time: None Reported
Format: Online

Bachelor of General Studies in Economy and Industry

Required Credits: 120
Completion Time: None Reported
Format: Online

BS in Environmental Science

Required Credits: 120
Completion Time: None Reported
Format: Online

Bachelor of General Studies, in Arts, Media and Entertainment

Required Credits: 120
Completion Time: None Reported
Format: Online

Bachelor of General Studies in Global and Intercultural Understanding

Required Credits: 120
Completion Time: None Reported
Format: Online

BA in Global Media

Required Credits: 120
Completion Time: None Reported
Format: Online

BA in Government and Public Service

Required Credits: 120
Completion Time: None Reported
Format: Online

BA in Human Rights Practice

Required Credits: None Reported
Completion Time: None Reported
Format: Online

BAS in Human Services

Required Credits: 120
Completion Time: None Reported
Format: Online

BS in Electrical and Computer Engineering

Required Credits: 128
Completion Time: None Reported
Format: Online

BS in Business Administration

Required Credits: 120
Completion Time: None Reported
Format: Online

BS in Geographic Information Systems Technology (GIST)

Required Credits: 120
Completion Time: None Reported
Format: Online

BS in Literacy, Learning and Leadership

Required Credits: 120
Completion Time: None Reported
Format: Online

BA in Information Science and ESociety

Required Credits: 120
Completion Time: None Reported
Format: Online

BAS in Organizational Leadership

Required Credits: 120
Completion Time: None Reported
Format: Online

BA in Psychology

Required Credits: 120
Completion Time: None Reported
Format: Online

BA in Law

Required Credits: 120
Completion Time: None Reported
Format: Online

BA in Political Science

Required Credits: 120
Completion Time: None Reported
Format: Online

BAS in Regional Commerce

Required Credits: 120
Completion Time: None Reported
Format: Online

BAS in Intelligence and Information Operations

Required Credits: 120
Completion Time: None Reported
Format: Online

BA in History

Required Credits: 120
Completion Time: None Reported
Format: Online

BA in Philosophy: Ethics

Required Credits: 120
Completion Time: None Reported
Format: Online

Bachelor of Science in Business Administration in Biology

Required Credits: 120
Completion Time: None Reported
Format: Online

BS in Nutritional Sciences

Required Credits: 120
Completion Time: None Reported
Format: Online

BA in Spanish

Required Credits: 120
Completion Time: None Reported
Format: Online

Bachelor of General Studies in Sports and Society

Required Credits: 120
Completion Time: None Reported
Format: Online

BS in Public Health

Required Credits: 120
Completion Time: None Reported
Format: Online

BS in Sustainable Built Environments

Required Credits: 120
Completion Time: None Reported
Format: Online

Bachelor of General Studies in Social Behavior and Human Understanding

Required Credits: 120
Completion Time: None Reported
Format: Online

Other Rankings

Auburn University's Most Influential Baseball Players

More Influential Baseball Players

Auburn University's Online Degrees

BSBA in Accountancy

Required Credits: None Reported
Completion Time: None Reported
Format: Online

BSBA in None

Required Credits: None Reported
Completion Time: None Reported
Format: Online

Other Rankings

Texas A&M's Most Influential Baseball Players

More Influential Baseball Players

Texas A&M University's Online Degrees

BSN in Nursing: RN to BSN

Required Credits: 32
Completion Time: None Reported
Format: Online