Influential Women in Medicine From the Last 10 Years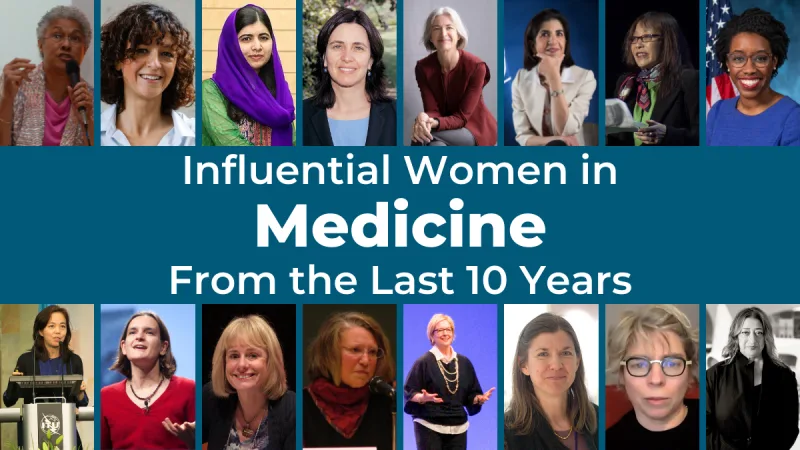 Our list of influential women in medicine from the last 10 years highlights the way that women have led the charge for advancement and creativity in the field. From pioneering new surgical techniques to responding effectively to a pandemic, the women showcased here have changed (and even saved) countless lives.
Top 10 Women in Historians From the Last 10 Years
The history of women in medicine can be traced all the way back to ancient Egypt where there were enough female doctors that a woman named Pesehet was given the title of "Lady Overseer of the Female Physicians." Unfortunately the Middle Ages saw a reversal in the role that women were allowed to play in medicine, and it wasn't until 1849 that Elizabeth Blackwell became the first woman to graduate from medical school. Progress was even slower for African-American women, and it would be nearly twenty more years before Rebecca Lee Crumpler received her degree as a "Doctress of Medicine" from the New England Female Medical College in 1864.
Even today, the playing field is not level. The gender pay gap in the medical field is an astonishing 25%. That adds up to over two million dollars over the course of a medical career. While women now make up 48% of enrollment in medical schools, they represent only 34% of practicing physicians and 16% of medical school deans.
The women on our list have overcome these daunting odds and serve as role models for young women everywhere who are seeking to make a difference in people's lives while also making the medical field more equitable. Aspiring female physicians can learn from the courage of #1 Fe del Mundo, who founded the first pediatric hospital in the Philippines; from the innovation of #6 Patricia Bath, who invented laser cataract surgery; and from the determination of #25 Paula Johnson, who became the first black president of Wellesley College.
Influential Women in Medicine From the Last 10 Years
Fe Villanueva del Mundo, , was a Filipina pediatrician. She founded the first pediatric hospital in the Philippines and is known for shaping the modern child healthcare system in the Philippines. Her pioneering work in pediatrics in the Philippines while in active medical practice spanned eight decades. She gained international recognition, including the Ramon Magsaysay Award for Public Service in 1977. In 1980, she was conferred the rank and title of National Scientist of the Philippines, and in 2010, she was conferred the Order of Lakandula. She was the first female president of the Philipp...

Joy L. Bauer, MS, RD, CDN , is the host of NBC's "Health & Happiness" and the health and nutrition expert on The Today Show. Bauer is the author of 12 bestsellers. Bauer is a monthly columnist for Woman's Day and the official nutritionist for the New York City Ballet. She was formerly the co-host of the RLTV show "Good Food, Good Deeds."

1950 - Present (73 years)

Maria Siemionow is a Polish transplant surgeon and scientist who led a team of eight surgeons through the world's first near-total face transplant at the Cleveland Clinic in 2008. The patient, Connie Culp, a 45-year-old woman from a small town in Ohio, was exceedingly disfigured by a close range shotgun blast in 2004. The procedure took 22 hours.

Jennifer Lee Walden is an American plastic surgeon, author, and entrepreneur. She is one of the first doctors to use laser machines to do a "a high volume of labiaplasties and vaginoplasties." Harper's Bazaar listed Walden as one of the Best Beauty Surgeons in 2014. Walden is a member of Modern Aesthetics' and Plastic Surgery Practice's Editorial Board of Directors, and one of the few women to be elected to serve on the American Society for Aesthetic Plastic Surgery Board of Directors. She became the first female president of The Aesthetic Society in 2022.

Tu Youyou is a Chinese pharmaceutical chemist and malariologist. She discovered artemisinin and dihydroartemisinin, used to treat malaria, a breakthrough in twentieth-century tropical medicine, saving millions of lives in South China, Southeast Asia, Africa, and South America.

Patricia Era Bath was an American ophthalmologist and humanitarian. She became the first female member of the Jules Stein Eye Institute, the first woman to lead a post-graduate training program in ophthalmology, and the first woman elected to the honorary staff of the UCLA Medical Center. Bath was the first African-American to serve as a resident in ophthalmology at New York University. She was also the first African-American woman to serve on staff as a surgeon at the UCLA Medical Center. Bath was the first African-American woman doctor to receive a patent for a medical purpose. A holder of ...

Nancy Lynn Snyderman is an American physician, author, former broadcast journalist. She served as a medical correspondent for ABC News for 15 years, and she was the chief medical editor for NBC News from 2006 to 2015, frequently appearing on the Today show, NBC Nightly News and MSNBC to discuss medical-related issues. Snyderman is also on the staff of the otolaryngology-head and neck surgery department at the University of Pennsylvania, located in Philadelphia, Pennsylvania.

Frances Kathleen Oldham Kelsey was a Canadian-American pharmacologist and physician. As a reviewer for the U.S. Food and Drug Administration , she refused to authorize thalidomide for market because she had concerns about the lack of evidence regarding the drug's safety. Her concerns proved to be justified when it was shown that thalidomide caused serious birth defects. Kelsey's career intersected with the passage of laws strengthening FDA oversight of pharmaceuticals. Kelsey was the second woman to receive the President's Award for Distinguished Federal Civilian Service, awarded to her by J...

Ann McKee is a neuropathologist and expert in neurodegenerative disease at the New England Veterans Affairs Medical Centers and is professor of neurology and pathology at Boston University School of Medicine and director of Boston University CTE Center. She is particularly known for her work studying Alzheimer's disease and the consequences of repetitive traumatic brain injury. In 2017, she was named "Bostonian of the Year" by The Boston Globe for her leading work in this area, and in 2018, Time named McKee one of its 100 most influential people.

1953 - Present (70 years)

2000 - Present (23 years)

Katherine Mayhew Flegal is an American epidemiologist and senior scientist at the Centers for Disease Control and Prevention's National Center for Health Statistics. She is one of the most highly cited scientists in the field of the epidemiology of obesity according to Thomson Reuters and has been called "one of the great epidemiologists" by former FDA Commissioner David A. Kessler.

1961 - Present (62 years)

Masayo Takahashi is a Japanese medical physician, ophthalmologist and stem cell researcher. Takahashi serves as a project research leader at the Riken Center for Developmental Biology in Kobe focusing on the clinical application of iPS Cell technology on macular degeneration. In 2014, Takahashi was named by British science journal Nature as one of "five to watch" global scientists for her groundbreaking work in regenerative medicine.

1942 - Present (81 years)

Dame Parveen June Kumar, is a British doctor who is currently Professor of Medicine and Education at Barts and The London School of Medicine and Dentistry. She worked in the NHS for over 40 years as a consultant gastroenterologist and physician at Barts and the London Hospitals and the Homerton University Hospital. She was the President of the British Medical Association in 2006, of the Royal Society of Medicine from 2010-2012, of the Medical Women's Federation from 2016-2018 and of the Royal Medical Benevolent Fund from 2013-2020. She was also Vice President of the Royal College of Physicia...

Dr. Hayat Al Sindi is a Saudi Arabian medical scientist and one of the first female members of the Consultative Assembly of Saudi Arabia. She is famous for making major contributions to point-of-care medical testing and biotechnology. She was ranked by Arabian Business as the 19th most influential Arab in the world and the ninth most influential Arab woman. In 2018, she was listed as one of BBC's 100 Women.

Rita Ng from Tracy, California is an American beauty pageant titleholder who was crowned Miss California 2000 and is currently a practicing cardiologist. Ng was the first person of Asian descent to be crowned Miss California.

1987 - Present (36 years)

Angela Funovits is an American magician, mentalist, and dermatologist. She has made television appearances in the United States and elsewhere. Biography Funovits was born and raised in Avon Lake, Ohio. She became interested in magic at the age of 10 after watching Breaking the Magician's Code: Magic's Biggest Secrets Finally Revealed, a Fox Network TV program that revealed the secrets of magicians. Funovits began modeling at age 11 after being scouted by an agent from Elite Model Management and at age 16 she won the Miss Teen Cleveland pageant.

Kate Elizabeth Pickett is a British epidemiologist and political activist who is Professor of Epidemiology in the Department of Health Sciences at the University of York, and was a National Institute for Health and Care Research Career Scientist from 2007–2012. She co-authored The Spirit Level: Why More Equal Societies Almost Always Do Better and is a co-founder of The Equality Trust. Pickett was awarded a 2013 Silver Rose Award from Solidar for championing equality and the 2014 Charles Cully Memorial Medal by the Irish Cancer Society.

Joanne Liu, M.D., O.Q., M.S.C, is a Canadian pediatric emergency medicine physician, Associate Professor of Medicine at the University of Montreal, Professor of Clinical Medicine at McGill University, and the previous International President of Médecins sans Frontières . She was elected president during MSF's International General Assembly in June 2013.

Brenda Fitzgerald is an American obstetrician-gynecologist who served as Director of the Centers for Disease Control and Prevention in the Donald Trump administration from July 2017 to January 2018. Her tenure was one of the shortest in the office's history, excluding interim appointments. Previously, she was the Commissioner of the Georgia Department of Public Health from 2011 to 2017.

Yvonne S. Thornton is an American obstetrician-gynecologist, musician and author, best known for her memoir, The Ditchdigger's Daughters. Background, education and career Dr. Thornton was born in New York City and raised in Long Branch, New Jersey as the third of five children to Donald and Itasker Thornton , where she graduated from Long Branch High School. Her father, a ditchdigger, and a veteran of World War II, had a dream for each of his six children, all African-American girls, to become doctors. The struggle and story of this journey in spite of economic, racial and gender-based bound...

Emma Maria Frans is a postdoctoral researcher in medical epidemiology at Karolinska Institutet in Stockholm and well-known science communicator in Sweden. She is also known for writing the column "Vetenskapskollen" in the newspaper Svenska Dagbladet, where she examines the correctness and scientific accuracy of sensational news and popular science articles.

Fiona Melanie Wood is an English-born Australian plastic surgeon working in Perth, Western Australia. She is the director of the Royal Perth Hospital burns unit and the Western Australia Burns Service. In addition, Wood is also a clinical professor with the School of Paediatrics and Child Health at the University of Western Australia and director of the Fiona Wood Foundation .

is a Japanese physician and JAXA astronaut. She was the first Japanese woman in space, the first Japanese citizen to have two spaceflights, and the first Asian woman in space. Both were Space Shuttle missions; her first was STS-65 aboard Space Shuttle Columbia in July 1994, which was a Spacelab mission. Her second spaceflight was STS-95 aboard Space Shuttle Discovery in 1998. In total she has spent 23 days in space.

1959 - Present (64 years)

Paula Adina Johnson is a cardiologist and the current president of Wellesley College. She is the first Black woman to serve in this role. The first Black graduate of Wellesley College came in the year 1887, and 129 years later President Johnson became the first Black leader. Prior to her role as president of Wellesley, Johnson founded and served as the inaugural executive director of the Mary Horrigan Connors Center for Women's Health & Gender Biology, as well as Chief of the Division of Women's Health at Brigham and Women's Hospital. Dr. Johnson's background in working for the betterment of ...

1942 - Present (81 years)

Hanna Damasio is a scientist in the field of cognitive neuroscience. Using computerized tomography and magnetic resonance imaging, she has developed methods of investigating human brain structure and studied functions such as language, memory, and emotion, using both the lesion method and functional neuroimaging. She is currently a Dana Dornsife Professor of Neuroscience and Director of the Dana and David Dornsife Cognitive Neuroscience Imaging Center at the University of Southern California.
Image Credits:
Top row, left to right: Patricia Hill Collins, Emmanuelle Charpentier, Malala Yousafzai, Shafi Goldwasser, Jennifer Doudna, Fabiola Gianotti, Michiko Kakutani, Lauren Underwood.
Bottom row, left to right: Fei-Fei Li, Esther Duflo, Kathy Reichs, Nancy Fraser, Brené Brown, Judith Curry, Jill Lepore, Zaha Hadid.
Ask A Question
Are you a student who has questions about this topic? Submit your question below to have one of our expert team members answer it for you! (Questions will be posted with their answers directly to this article, and we'll notify you when yours is answered!)