Colleges and Universities in Washington
Of the 40 public options, the University of Washington in Seattle is the largest. Roughly 40,000 students attend classes in fields like nursing, education, biology, and computer science. This public research institution is also affordable, charging about $11,000 for tuition. In fact, none of the public schools in Washington exceed $12,000 in price. This includes community colleges, technical colleges, and four-year universities, making Washington a uniquely affordable place to earn your associate, bachelor's, master's, or doctoral degree.
Find college admissions consultants in your state.
Washington also has 24 private institutions. Of those, nine are religious. The most widely known of these, Catholic university Gonzaga enrolls roughly 7,000 students, at a cost of $40,000, in areas such as religious studies, engineering, and law. Central Washington University (CWU) is a smaller public school, serving just over 12,000 students, and has a tuition of $8,000. With 15% of its population being Hispanic, CWU is now recognized as an emerging Hispanic-Serving Institution. Washington health professions also have the opportunity to receive funding for loan repayment through Washington's Health Professional Loan Repayment Program.
Set in the Pacific Northwest, Washington offers ocean beaches and lush forests. In fact, over half the state is covered in forests, earning Washington its nickname as The Evergreen State. Viewers atop the Space Needle in Seattle can take in the sights of Puget Sound, Mount Rainier, and both the Cascades and Olympic mountain ranges. In addition, prospective students can choose from over 60 higher education institutions in the state.
Check out the top higher education programs and find an affordable degree in Washington.
What are Washington's Colleges & Universities?
Why Washington's Colleges Are Excellent Options
The best community colleges in Washington are part of the 34-strong Washington Community and Technical Colleges system. In general, the system specializes in vocational and technical education as well as in university transfer and worker retraining programs. Most of these community and technical colleges offer associate degree and certificate programs, but some also offer bachelor's degree programs.
History of the Washington Community and Technical Colleges System
The Community College Act of 1967, enacted into law on 3 April 1967, established the Washington State Community College system. The Act opened doors of opportunity for high school students who wanted to pursue a college education but wouldn't have been able to access it in four-year colleges and universities.
But Centralia Junior College preceded the Act when it was established as the first state community college in Washington in 1925. By 1945, there were 12 community colleges in Washington, all of which were component units of their respective K-12 school districts.
The Act changed the structure of these community colleges by transferring authority to the Washington State Board for Community and Technical Colleges over their overall administration. The State Board provides the 34 member community colleges with a wide range of services, from leadership programs to information technology services.
Current Status of the Washington Community and Technical Colleges System
Nowadays, many of the community colleges in the Washington system are recognized as among the best community colleges by national education experts! Pierce College was awarded the Leah Meyer Austin Award for its education reforms while Walla Walla Community College was recognized with the Aspen Institute Prize for Excellence.
Of the 34 community colleges, Bellevue College is the largest college in the system. Overall, the Washington Community and Technical Colleges system has served millions of students—and counting.
Every year, around 262,000 students are enrolled in the educational and workforce training programs in the community and technical colleges.
A few of these 34 Washington community colleges include:
Bellevue College
Cascadia College
While each community college has its specific mission and vision, the overall mission of the Washington Community and Technical Colleges system is to provide all kinds of students with affordable and accessible education and workforce training. With its robust partnerships with educational institutions, local businesses, and communities, it provides learners with viable career and job pathways.
Higher Education Where and When You Want It
Many of the 34 community colleges and their branch campuses offer on-campus and online classes and programs. All offer associate degree programs in a wide range of disciplines, from liberal arts to health sciences.
Bachelor's degree programs are also offered in some of the community colleges, particularly at Bellevue College, in disciplines like applied accounting, computer science, and molecular biosciences.
Full-time students pay about $4,300 in tution, the most affordable in Washington, but can access financial aid to make education even more accessible. Financial aid opportunities include federal and state financial aid, Early Achievers Grant, and Opportunity Grant.
Prospective students must check the official website of the community college they are interested in since admissions and programs requirements vary. Community college students have full access to the student support services including:
Academic advising and tutoring
Bookstores and libraries
Career planning and job search assistance including internships
Disability resources
eLearning for distance education students
Indeed, now is the best time to check out the programs and opportunities that the best community colleges in Washington have to offer—and there are plenty!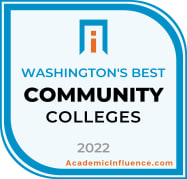 We've identified 33 community colleges in Washington. The following list shows the best community colleges and primarily associate degree granting colleges in Washington.