Best Colleges and Universities for Math Degrees
The best math degree programs are those with rich histories of influence, proven through the work produced by the program's faculty and alumni. Beyond demonstrating scholarly impact in the field, the best math degree programs maximize your opportunities to interact with outstanding math faculty.
A bachelor's degree in mathematics is an excellent starting point for a career in engineering, public health, economics, and much more. As a mathematics major, you'll learn statistical analysis, linear algebra, differential equations, and a host of other foundational math subjects. Your mathematics degree will incorporate both theoretical concepts and practical applications in the full array of math sciences, including calculus, geometry, algorithms, and more. The best schools for mathematics are those which are regionally accredited, which offer a full array of mathematics concentrations, and which give you the chance to work with the best and most influential professors and classmates.
Degree popularity: Mathematics bachelor's degrees are the 41st most popular undergraduate degrees across all student demographics, ranking much higher for men at 27th versus 48th for women. For white and Hispanic male students, these math degrees ranks 28th. Bachelor's in mathematics degrees are the 16th most popular among Asian Americans and Pacific Islanders men according to the number of degree earners reported by the National Center for Educational Statistics
Featured Programs
Frequently Asked Questions About Math Bachelor's Degrees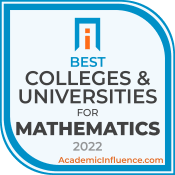 The Best Colleges and Universities for Mathematics Degrees
Harvard University
Princeton University
MIT – Massachusetts Institute of Technology
Stanford University
University of California, Berkeley
Williams College
Harvey Mudd College
Swarthmore College
Pomona College
Amherst College
Liberty University
Ottawa University
Chadron State College
Midway University
Southern New Hampshire University
The Best Mathematics Schools in Your State
Back to Top
Learn More About Mathematics
If you want to know more about mathematics, then check out our related content: