The best mathematics liberal arts colleges are those with rich histories of influence, proven through the work produced by the program's faculty and alumni. Beyond demonstrating scholarly impact in the field, the best math degree programs maximize your opportunities to interact with outstanding math faculty.
Top 10 Liberal Arts Colleges Math Programs
Key Takeaways
Students pursuing a mathematics degree at a liberal arts college benefit from personalized attention that will allow them to get to know their professors, which will eventually help them apply for a graduate program.
The college admission process at liberal arts colleges is more manageable than at larger four-year universities. However, students at liberal arts colleges shouldn't expect their math departments to have cutting-edge facilities and resources.
While liberal arts colleges have only limited resources, there are several schools with a 3-2 mathematics education program.
A bachelor's degree in mathematics is an excellent starting point for a career in engineering, public health, economics, and much more. As a mathematics major, you'll learn statistical analysis, linear algebra, differential equations, and a host of other foundational math subjects. Your mathematics degree will incorporate both theoretical concepts and practical applications in the full array of math sciences, including calculus, geometry, algorithms, and more. The best schools for mathematics are those which are regionally accredited, which offer a full array of mathematics concentrations, and which give you the chance to work with the best and most influential professors and classmates.
Degree popularity: Mathematics bachelor's degrees are the 41st most popular undergraduate degrees across all student demographics, ranking much higher for men at 27th versus 48th for women. For white and Hispanic men it ranks 28th, but for black people, the degree doesn't enter the top 50 for neither men nor women. It's most popular among Asian Americans and Pacific Islanders, for whom it ranks the 16th most sought after degree, according to the number of degree earners reported by the National Center for Educational Statistics
Featured Programs
Math and Liberal Arts
If you're looking for schools that allow you to explore mathematics through various lenses and provide individualized mentorship for research, a liberal arts college might be the right fit for you. A liberal arts college, while some may not expect it, can be an excellent choice for math majors to obtain a bachelor's degree.
Benefits of Studying Mathematics in a Liberal Arts College
If you're interested in exploring the best liberal arts colleges for math degrees, you're most likely also considering the benefits of earning an undergraduate degree at a liberal arts college.
Liberal arts colleges have their own merits in education, and often they offer better advantages than more prominent universities. For one, students will be exposed to some liberal arts core courses instead of only focusing on pure mathematics, which will give them an advantage in the workplace.
Liberal arts colleges, because of their smaller student population, have a lower student-to-teacher ratio. This allows students to have more one-on-one time with their teachers. Therefore, you should expect to receive more specialized help from your professors at schools like Harvey Mudd or Williams College compared to other major universities such as Harvard University and the Massachusetts Institute of Technology.
You'll get to know your teachers well and eventually have these professors write personalized letters of recommendation on your behalf to enroll in graduate degree or doctoral programs at research universities or grad schools.
Students pursuing college math programs at liberal arts schools are encouraged to enroll in at least one humanities course to add to their math program. Interested students can develop novel ways to integrate their hobbies or comprehend their math curricula.
3-2 Programs
While it's true that taking math at a smaller school means your school's math department has less access to cutting-edge resources and facilities, cross-registration can help you make up for that. Many liberal arts colleges, like Harvey Mudd College, Amherst College, and Pomona College, are part of more prominent consortiums that let students from one school take classes at another.
Therefore, using the 3-2 and cross-registration methods, you can still pursue your interest in mathematical sciences if you think liberal arts universities are the perfect fit.
Prospects After Graduation
Enrolling in a liberal arts college won't hinder you from applying for a graduate degree. In reality, you'll be able to spend a significant amount of time obtaining hands-on research experience because liberal arts universities have many more specialized possibilities available only to undergraduates.
Graduates of smaller universities are twice as likely to obtain a math doctorate than graduates of more prominent universities. Liberal arts colleges prioritize assisting undergraduates as they navigate the internship and job search landscape through career services.
Some of the faculty members at Harvey Mudd College and Williams College have won national teaching awards. This means that students in these liberal arts colleges are sure to receive high-quality undergraduate education in mathematics.
Frequently Asked Questions About Math Bachelor's Degrees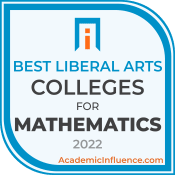 If you think a research university may be a better fit for you, see our ranking of the best research universities for a bachelor's in mathematics.
Best Liberal Arts Colleges for Math Degrees
Other Rankings

What is Harvey Mudd College known for?

Harvey Mudd College's faculty and alumni have been influential in:

Most Influential Alumni

HMC Mathematics Majors:

Mathematics
Joint Major in Computer Science and Mathematics
Joint Major in Mathematics and Physics
Mathematical and Computational Biology Major

Source

Other Rankings

What is United States Air Force Academy known for?

United States Air Force Academy's faculty and alumni have been influential in:

Most Influential Alumni

USAFA Mathematics Majors:

Mathematics
Applied Mathematics

Source

Other Rankings

What is California Polytechnic State University, San Luis Obispo known for?

California Polytechnic State University, San Luis Obispo's faculty and alumni have been influential in:

Most Influential Alumni

Cal Poly Mathematics Major:

Source

Other Rankings

What is Pitzer College known for?

Pitzer College's faculty and alumni have been influential in:

Most Influential Alumni

Pitzer College Mathematics Major:

Source
The Best Mathematics Schools in Your State
Back to Top
Learn More About Mathematics
If you want to know more about mathematics, then check out our related content: