Your most affordable online MBA options will usually be those offered in your home state. Find the online MBA program in New Jersey at a school you and employers will trust.
New Jersey's Best Online MBA Programs
With a population of over 9 million, or 1,260.15 people per square mile, New Jersey has been ranked the second most densely populated state in the United States. Major businesses like Johnson and Johnson and Quest Diagnostics are based in the major metro regions of New Brunswick, Newark, and Madison. A sizable shipping and transportation sector is based in New Jersey as well.
In addition to its vast business industry, New Jersey offers some of the best business schools in the nation for prospective students searching for online MBA programs.
Featured Programs
Job Outlook for Business School Graduates in New Jersey
With over 16 Fortune 500 firms, New Jersey is one of the best cities for MBA graduates to earn and use an their MBA degree. Management occupations are New Jersey's top-paying positions.
According to the Bureau of Labor Statistics, the average annual salary of professionals in this field is $170,260. Over 4.9 million professionals were working in the business and management sector in New Jersey in 2022.
Additionally, throughout the past 20 years, the economy of New Jersey has generally followed that of the rest of the country. At 3.9%, the state's overall unemployment rate is still relatively low and only slightly higher than the national average.
The top employers of grads from an online MBA program in New Jersey are:
Johnson & Johnson
Johnson & Johnson, headquartered in New Brunswick, New Jersey, is one of the world's biggest healthcare companies. The business offers goods worldwide, including skin and hair products, over-the-counter goods, prescription medications, and surgical implants.
In addition to hiring MBA graduates, J&J offers several experiential learning opportunities to MBA students.
Prudential Financial Inc.
Prudential Financial is a market leader in financial wellness and a top global asset manager based in Newark, New Jersey. The company operates across the US, Asia, Europe, and Latin America and manages nearly $1.3 trillion in assets. Prudential offers financial services and products through its subsidiaries and affiliates, such as investment management, mutual funds, annuities, life insurance, and annuity-related goods and services.
Graduates with an online MBA with a concentration in Finance, Investments, Risk Management, Financial Planning and Analysis, and Corporate Strategy and Development have high employment opportunities in Prudential Financial Inc.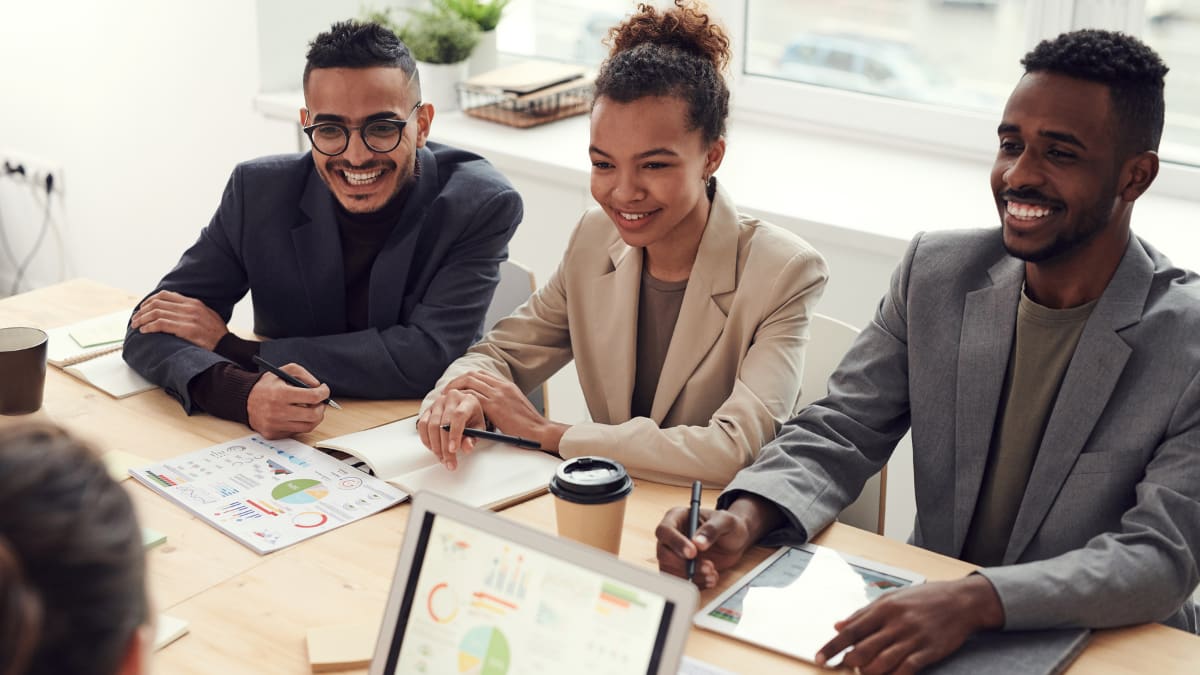 Back to Top
Best Career Options for Online MBA Graduates in New Jersey
Financial Manager
New Jersey's population and proximity to other central business hubs in the United States is the primary reason for its booming finance industry. Companies in the finance sector include a variety of career options, including accountancy, banking, and investing in commodities and securities.
Financial managers monitor an organization's financial situation, design and implement financial strategy, manage investments, and produce financial reports. Work environments for financial managers range from businesses to nonprofits to governmental institutions.
New Jersey has a very competitive market, with its average annual salary for financial managers higher than the national average. Although a bachelor's degree and work experience in business/finance positions are the basic requirements for this role, an online MBA will help you stand out from a pool of applicants.
New Jersey Median Annual Salary: $204,150
National Median Annual Salary: $139,790
Human Resources Manager
According to the Bureau of Labor Statistics, human resource managers in New Jersey make more than their counterparts nationwide. Job growth in a particular industry has historically been a significant predictor of where there is the greatest need for human resources specialists.
Ensuring company hiring and training goals are met is a critical component of management positions in human resources. They oversee the company's compliance with legal requirements and the budget for HR-related activities.
New Jersey Median Annual Salary: $183,060
National Median Annual Salary: $130,000
General Operations Manager
Advanced Manufacturing and Transportation and Logistics are two top contributors to New Jersey's billion-dollar GDP. These industries require the service of qualified and experienced operations managers to manage the daily processes of companies. General operations managers are responsible for operating budgets and the hiring procedures for specific departments.
Top-paying companies in New Jersey generally hire applicants with an advanced degree, such as an MBA.
New Jersey Median Annual Salary: $179,190
National Median Annual Salary: $122,860
Back to Top
Colleges and Universities in New Jersey
Nearly half of the colleges and universities in New Jersey are private, and tuition rates range from $6,000 to $52,000.
With a graduation rate of 97% and a student population of just over 7,000, Princeton University is the most esteemed institution in New Jersey. Narrowing in on the sciences and arts, this Ivy League school offers unique areas of study, including robotics, intelligent systems, and public life. The remaining 31 public colleges and universities in New Jersey range in tuition from $4,000 to $17,000.
Find college admissions consultants in New Jersey.
The largest and top-ranked public research institution in New Jersey is Rutgers University. With campuses in New Brunswick, Newark, and Camden as well as smaller locations across the state, Rutgers awards degrees in physics, economics, criminal justice, and psychology.
New Jersey also has 11 religiously affiliated colleges and universities, including the oldest diocesan university in the United States, Seton Hall University. This Roman Catholic university has a tuition rate of $42,000 and a student population of over 8,000.
With 50 higher learning institutions to choose from, students can find a school in New Jersey that suits their career path and budget. Learn more about earning your degree from one of the highly regarded colleges and universities in New Jersey.
The Best Colleges & Universities in New Jersey
What's the Difference between an Online MBA and Traditional MBA?
Learn more about what you can do with an online MBA in New Jersey.
Median Salaries of Similar Careers in New Jersey
The following graph depicts the average salaries of similar occupations to Project Management Specialists in New Jersey.
Source: U.S. BUREAU OF LABOR STATISTICS
83740
Human Resources Specialists
91690
Labor Relations Specialists
111460
Project Management Specialists
116780
Management Analysts
Frequently Asked Questions About Online MBA Programs in New Jersey
Back to Top
Online Degree Frequently Asked Questions
If this is your first time taking an online course, the experience may require some adjustment. While you'll generally learn the same content and take the same exams as your on-campus peers, the medium will likely require you to manage much of this experience independently. You'll be accountable for your own time management, your ability to harness the technology at your fingertips, and your ability to focus on the lectures, lessons, and assignments at hand. This means you'll need to create a suitable workspace for yourself, maintain a realistic schedule, and take it upon yourself to build relationships with your instructors and classmates. With online college, your goal is to find a balance between independence and engagement.
No. The only part of online education that's easier is actually getting there. Taking the commute out of the equation means getting to class should be a lot more manageable. But that's where it ends. In general, your online courses will incorporate the very same materials, concepts, and testing methods as would a traditional classroom.
And in many cases, you'll even have the same instructors as your on-campus counterparts. In fact, if you are adjusting to the experience of independent learning or working with remote learning technology for the first time, online college may even be a little more challenging for you. For a few insights on how to manage this new experience, check out our 10 Tips for Adjusting to School Online.
Accreditation is especially important when it comes to online college. This is because the online education landscape is a mix of highly-reputable institutions and less-than-reputable for-profit schools. Accreditation gives you the power to differentiate between the two. Accreditation is a stamp of approval from an independent accrediting agency which indicates that a college or university is meeting standards of quality, credibility, and currency. School-wide accreditation falls into two major categories: regional and national accreditation. Regional accreditors generally hold jurisdiction only over schools in the states comprising their region, whereas national accreditors hold jurisdiction over schools in all states. Regional accreditation is widely regarded as a more rigorous standard of quality and credibility than national accreditation.
Attending a college or university which is not regionally accredited could limit your opportunities. When seeking an online education, we strongly recommend that students opt for regionally accredited schools. Regional accreditation ensures eligibility for federal loans and grants, ensures your college credits can be transferred between schools, and ensures that your degree credits can be accepted if you wish to earn an advanced degree.
As long as your online college degree is regionally accredited, you should have little difficulty transferring most of your credits or credentials to another regionally accredited undergraduate school. Every school carries its own standards and procedures for granting a transfer. In many cases, you will be required to navigate a bureaucracy in which some of your credits will be transferred and others will be jettisoned. However, provided that you have attended an online school with the proper regional accreditation, you should have plenty of options for transfer.
In most cases, as long you graduate from a well-regarded, regionally-accredited online college, prospective employers won't look sideways at your degree. In fact, unless you attend an exclusively online college or university, there will likely be no specific indicator on your degree, transcript or resume differentiating your school from its brick-and-mortar counterpart. This means that your employer will likely only differentiate between an online and in-person degree if you mention this distinction.
While some employers may express concern about making the adjustment from online education to in-person workplace collaboration, many other employers will view your online degree as evidence of valuable 21st Century professional skills such as independence, self-motivation, time management, and tech savvy.
If you are a student who thrives on the dynamic energy of in-person discussion, who requires the physical surroundings of a classroom to feel engaged, or who considers the social aspects of education to be of equal importance to the actual content of your courses, online education will require some adjustment.
While there is much that can be supplanted or simulated through the online medium, some students may find that there is nothing which can replace the conversation, collaboration, and motivation that occur in an actual classroom setting. As you make the adjustment to online education, one of the biggest challenges you will likely face is overcoming this difference in order to the get the most out of your classes. Fortunately, we've got some great Tips for Online Education Beginners.
The advantages of online classes are many. First and foremost, online courses give you the freedom and flexibility to attend class from anywhere that works for you, whether you're at home, in a coffee shop, or in a quiet conference room at work. In many cases, you'll also enjoy the convenience of asynchronous learning opportunities-educational experiences that you can complete on your own schedule. This may include pre-taped lectures, ongoing chat-board discussions, and 24/7 access to digital materials. And of course, just as there are some learners who prefer the energy of a live classroom, there are those who learn best when working in their own personal space, free from distractions. If this sounds like you, you might find the solitude of online learning to be a major advantage.
Whether you're just getting started on your college search, you're looking for survival tips on your way to a bachelor's degree, or you're preparing for the transition into grad school, we've got guides, how to's and tons of other valuable resources to keep you moving forward in your educational journey.