College Planning Resource Guide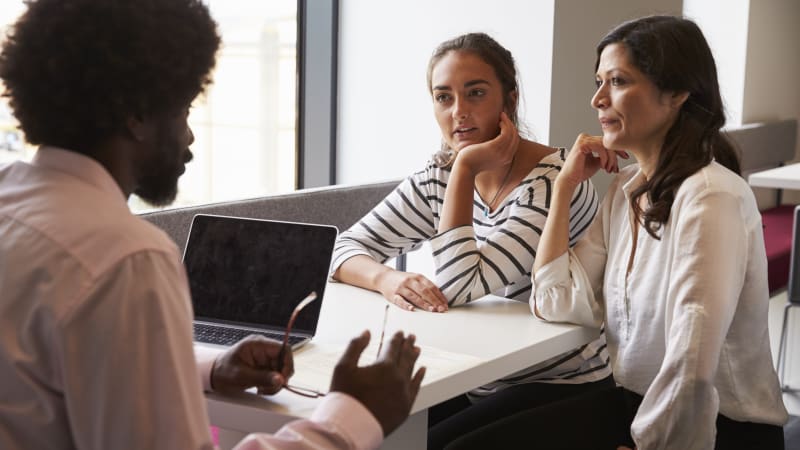 Planning for college can be stressful, but it beats the stress you would have if no plans were made. Here are some resources to help you with some of the bigger decisions points you'll cross.
Many students and families find the process of college planning overwhelming. Families in which no one has ever gone to college can find it especially challenging: College planning is a process with lots of interconnected pieces, so it can seem like an absolute maze. Another stumbling block can be the fact that although many people think the process begins during a student's senior year in college, college planning actually needs to start much earlier. For instance, the ACT and SAT exams, the two most popular college admission tests, should be taken during junior year, though they can also be taken in 12th grade. The PSAT, which helps students acclimate to the format of the SAT, is often taken even earlier, during sophomore year.
The first step of the college planning process is having conversations with the potential student. What are their thoughts about going to college, and what sort of college experience do they picture for themselves? Of course, going to college isn't the end goal: It's a stepping stone to a financially and personally rewarding career. That's why one important piece of the college planning puzzle is helping the student determine what careers interest them and how college will help them achieve their goals. Once a student has an idea about which majors interest them, it will be easier for families to begin searching for a college that will fit the student's needs and their budget. Once a list of schools is made, start researching them. The emergence of virtual tours has made it much easier to get a good idea of a campus and a school's culture from home. Once a final list is made, start planning out in-person visits.
Paying for college is a big source of anxiety for many families. Every family should complete the FAFSA, the federal student aid form. The data from the form is sent to each college or university where the student has applied. Completing the FAFSA makes a student eligible to be given federal aid along with institutional aid from their chosen college. However, other forms of aid also exist, such as scholarships. There are multiple searchable databases of scholarships. These typically require the student to do individualized applications for each, but considering the potential financial benefit, spending the time applying is a great investment.
Testing
Back to Top
Career Interest
Back to Top
College Information
Back to Top
College Searches
Back to Top
Campus Tours
Back to Top
Financial Aid
Back to Top
Online Scholarship Searches
Get tips for adjusting to campus life, making the transition to online education, and so much more with a look at our Student Blog.