15 Most Influential Books in Social Work
Read on for a look at The 15 Most Influential Books in Social Work.
By: Molefi Kete Asante , 2002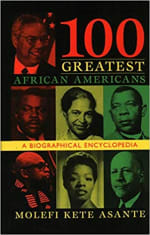 Asante (born Arthur Lee Smith, Jr., in 1942) is currently professor of Africology at Temple University in Philadelphia.
Asante is one of the founders and leading thinkers of the Afrocentricity movement. He also founded the Journal of Black Studies in 1970. He is also a prolific author, with some 66 books to his credit.
Asante selected the individuals for this alphabetically organized encyclopedia according to the following criteria:
Significant contribution to the progress of African Americans
Self-sacrifice and willingness to take personal risks
Will, courage, and determination in the face of opposition
Consistency
Personal achievement and potential as a role model
Asante has stated that he excluded many famous contemporary entertainers and other celebrities who do not qualify according to these criteria.
The resulting list still runs the gamut from such well-known and highly distinguished persons as Frederick Douglass (1817–1895), W.E.B. Du Bois (1868–1963), Rosa Parks (1913–2005), and Martin Luther King, Jr. (1929–1968), to such relatively little-known but highly significant figures as the almanac author, Benjamin Banneker (1731–1806), the wealthy manufacturer and abolitionist, James Forten (1766–1842), the US Air Force brigadier general and commander of the Tuskegee Airmen, Benjamin O. Davis, Jr. (1912–2002), and the aerospace engineer, Guion Bluford (b. 1942).
By: Theodore Roosevelt , 1910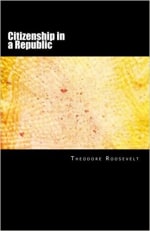 Roosevelt (1858–1919) was the 26th President of the US (1901–1909).
He was also a prolific author of more than 40 nonfiction works on diverse subjects from military history, to politics, to exploration, to big game hunting, to wildlife conservation, to memoirs and autobiography.
"Citizenship in a Republic" is the title of a speech that Roosevelt delivered at the Sorbonne in Paris in 1910.
The speech is famous for the following passage:
It is not the critic who counts; not the man who points out how the strong man stumbles, or where the doer of deeds could have done them better. The credit belongs to the man who is actually in the arena, whose face is marred by dust and sweat and blood; who strives valiantly; who errs, who comes short again and again, because there is no effort without error and shortcoming; but who does actually strive to do the deeds; who knows great enthusiasms, the great devotions; who spends himself in a worthy cause; who at the best knows in the end the triumph of high achievement, and who at the worst, if he fails, at least fails while daring greatly, so that his place shall never be with those cold and timid souls who neither know victory nor defeat.
The phrase "the man in the arena"—meaning roughly what we might call today an "activist" or a "community organizer"—became widely known among the American public during the first half of the twentieth century, and is still occasionally remembered today.
In recent decades, it has been quoted by the 37th US President, Richard Nixon (1913–1994), the freedom fighter and first post-apartheid president of South Africa, Nelson Mandela (1918–2013), and the 44th US President, Barack Obama (b. 1961). The celebrated social worker and bestselling author, Brené Brown (b. 1965), has also used the phrase in a television documentary, a TED talk, and her 2012 book, Daring Greatly.
"Citizenship in a Republic" has been reprinted numerous times.
By: Laxman Mane , 1980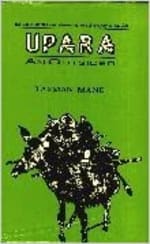 Mane (b. 1949) was born in a small village approximately 100 km southeast of Pune in the state of Maharashtra, in India. The author's first name is also spelled "Lakshmana."
Mane was principally employed as a social activist and author. He also served for a time as a member of the State Legislative Council of Maharashtra.
Mane's family belonged to a small nomadic tribe who were classified as dalits ("untouchables") within the Hindu caste system—whence the title of his autobiography, Upara, published in 1980. The word "upara" means "outsider" in the author's native Marathi language.
Upara is a remarkable account of what it is like to belong to an Indian nomadic tribe. It recounts the author's struggles to overcome the obstacles placed in the path of such tribals—and of untouchables more generally—in Indian society. The book was met with acclaim by Indian critics, who called it "pathbreaking" and "a landmark." It is widely considered to be a classic of dalit literature.
By: George Gissing , 1889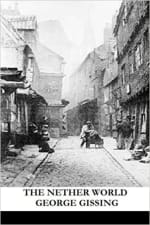 Gissing (1857–1903) was an English novelist who specialized in depicting the struggles of the lower classes in Victorian society. In all, he published 23 novels.
In his youth, Gissing worked at various odd jobs while honing his skills as a writer by placing articles and short stories with various newspapers and magazines. These experiences form the background to the action in his best-known novel, New Grub Street, which he published in 1891.
The plot of The Nether World, published two years earlier in 1889, is painted against a similar social background but with broader brush strokes, encompassing the lives of aspiring actors and artists as well as poor people attempting to earn a hardscrabble living by any means at hand. Both books—and many of Gissing's other novels—place a strong emphasis on the realistic depiction of various means of employment, as well as of wages, the cost of living, and money matters in general, in a way that was pioneering for the times (and, indeed, remains exceptional to this day).
Gissing continues to excite considerable interest among critics. The Gissing Journal, a quarterly journal dedicated to academic studies of Gissing's work, was founded in 1965.
By: E. R. Braithwaite , 1959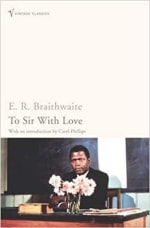 Eustace Edward Ricardo Braithwaite (1912–2016) was born in Georgetown, the capital of what was then British Guiana and is now the nation of Guyana. He was a combat pilot, physicist, schoolteacher, social worker, diplomat, and author, who published under the name "E.R. Braithwaite."
Both of Braithwaite's parents were well-educated, and the young Ricky, as he was known, was an excellent student. He was able to attend the best schools that the colony of British Guiana had to offer.
In 1940, he left home to study at the City College of New York (CUNY). However, when the Battle of Britain occurred, he went to England to join the Royal Air Force, where he received training as a fighter pilot. After the war, Braithwaite attended Cambridge University, graduating with a PhD in physics. However, he was unable to find a position commensurate with his experience.
Instead, he accepted a teaching job at a school in the poor East End of London. It was this experience which formed the basis for his first book, the autobiographical novel, To Sir, with Love. The book sold well and was also critically well received, with one reviewer writing that it "give[s] a remarkable insight into the politics of race and a class in postwar London."
The book was made into a well-regarded 1967 film of the same name starring Sidney Poitier (b. 1927). However, Braithwaite has stated that he "loathed" the film, which he found too sentimental. Braithwaite went on to write six more books, including novels, memoirs, and a children's book.
After his experience teaching school, Braithwaite turned to social work and was tasked by the London County Council with finding foster homes for non-white children. He recounted his experiences in this line of work in his 1962 memoir, Paid Servant.
By: Toni Cade Bambara , 1980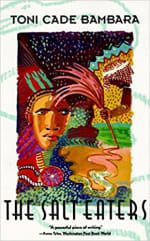 Bambara (1939–1995) was born Miltona Mirkin Cade in Harlem in New York City. She changed her name in 1970.
The author graduated from Queens College, City University of New York (CUNY), in 1959 with a bachelor's degree in theater arts and English literature. She later studied mime at the École Internationale de Mime Corporel Dramatique Étienne Decroux [Étienne Decroux International School of Dramatic Corporal Mime] in Paris and took a master's degree in dance in 1964 at City College of New York (CCNY).
During this time, Bambara worked at various jobs which would later prove to be relevant to her career as an academic and an author, including serving as program director for Brooklyn's Colony Settlement House and as recreation director for the psychiatric ward at East Harlem's Metropolitan Hospital.
In 1969, she accepted her first academic position, teaching English at Rutgers University's new Livingston College in Piscataway, New Jersey. She later taught at various institutions of higher learning around the country, including, notably, a stint in the School of Social Work at Atlanta University.
Bambara has been a prolific author, having written or co-edited 15 volumes of fiction and non-fiction. She has also produced ten fiction and documentary film screenplays for public television and other venues.
Bambara's breakout publication was the widely read 1970 collection of essays, poems, and stories by black women writers called The Black Woman: An Anthology, featuring such luminaries as Paule Marshall (1929–2019), Audre Lorde (1934–1992), Nikki Giovanni (b. 1943), and Alice Walker (b. 1944). She both edited the volume and contributed to it.
In 1980, Bambara published what is probably her best-known work—her first novel, The Salt Eaters. Set in the fictional small town in Georgia, The Salt Eaters follows a cast of vivid characters many of whom are veterans of the social movements of the 1960s and 1970s, including an assortment of community and civil rights activists, feminists, and former anti-war protestors.
The plot of The Salt Eaters centers around the healing of a suicidal former community activist by an eccentric local woman who draws on her spiritual guide (or "haint") to tap into the powers of traditional Southern Black and African divinities.
Written in an "experimental" style in which the point of view frequently shifts from one character's consciousness to another's, Bambara's masterpiece is—in the words of one reviewer—"a unifying epiphany of creation and community."
By: Alain LeRoy Locke , editor, 1925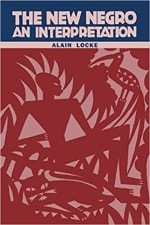 Locke (1885–1954) was a philosopher closely associated with the Harlem Renaissance movement of the 1920s. Born Arthur Leroy Locke, the future philosopher adopted the first name "Alain" as a teenager.
Locke was born into a prominent family in Philadelphia's long-established Black middle class. His father was a US Postal Service employee, while his mother was a schoolteacher. Locke's outstanding intellectual abilities were evident from an early age. He was salutatorian of his senior class at Philadelphia's Central High School, which consisted of more than 100 students. He then went on to attend Harvard University as an undergraduate, where he majored in English and philosophy. At Harvard, Locke received the prestigious Bowdoin Prize.
In 1907, Locke graduated from Harvard and traveled to England to attend Oxford University as a Rhodes Scholar—the first African American ever to receive that honor. For the next three years, he studied Greek, Latin, literature, and philosophy at Oxford's Hertford College. In 1910, he transferred to the Humboldt University of Berlin, where he continued his study of philosophy.
Back home in 1912, Locke was hired as an English professor by Howard University in Washington, DC—the most prestigious of America's Historically Black Colleges and Universities (HBCUs). While at Howard, he was inducted into the Phi Beta Kappa academic honor society. In 1916, Locke returned to Harvard University, where he wrote his dissertation on value theory, receiving his PhD in philosophy in 1918.
He then returned to Howard University, where he served as Chairman of the philosophy department until 1925, when he was dismissed as a result of a politically inspired scandal caused by his push to raise the salaries of Howard's Black professors to parity with white professors' salaries. He was reinstated three years later and spent the rest of his career teaching philosophy at Howard, retiring in 1953.
The phrase "new Negro" began to circulate among Black intellectuals in the aftermath of World War I. It pointed to the reality of a new refusal among African Americans to accept the old status quo of legal and informal social inequality and anti-black violence.
In 1925, Locke published an essay entitled "Enter the New Negro" analyzing this phenomenon. Among other observations, he compared the New Negro movement to the aspirations for national self-determination among the ethnic minorities of the old Austro-Hungarian Empire, as well various colonized peoples around the world from Ireland and Egypt to India and China.
The principal themes of the anthology are the Black Renaissance, renewal, and self-expression. Among its contributors, we may mention the names of W. E. B. Du Bois (1868–1963), James Weldon Johnson (1871–1938), Walter Francis White (1893–1955), E. Franklin Frazier (1894–1962), and Melvin J. Herskovits (1895–1963).
The highly prolific Locke authored more than a dozen monographs and edited several other volumes of essays, poems, plays, and stories in addition to the work under consideration here. He also published dozens of academic essays and journalistic pieces.
Compilations of his work began to appear already during Locke's lifetime and have continued to do so until the present day. Recent years have seen an uptick in the number of critical works dealing with him, as well as a major intellectual biography published as recently as 2020.
By: John Hope Bryant , 2014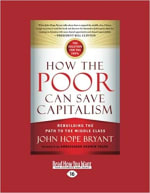 Bryant (b. 1966) is Chairman and CEO of Bryant Group Ventures and founder of Operation HOPE. He is also a prolific author. Bryant has also served on several high-level, international commissions under the administrations of US presidents George W. Bush (2001–2009) and Barack Obama (2009–2017).
Operation HOPE provides financial literacy empowerment and economic education to underserved individuals in 4,000 inner city schools and 500 poor communities throughout the US. It also has programs in Morocco, South Africa, Saudi Arabia, and the United Arab Emirates (UAE).
The book under consideration here is essentially an exposition of the philosophy and methodology of Operation HOPE. It exposes the historical root causes of poverty, explains why the governmental, top-down solutions attempted so far have failed, and lays out the HOPE Plan in the form of a series of simple, easy-to-carry-out steps aimed at building financial literacy and expanding opportunity. In addition, Operation HOPE encourages strategic partnerships between corporations and community organizations and individuals.
Bryant has authored some 15 books altogether, including this one.
By: Jack Herer , 1985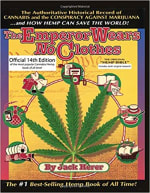 Herer (1939–2010) was a marijuana legalization activist and author. He was the founder and director of the advocacy group, Help End Marijuana Prohibition (H.E.M.P.) (not to be confused with the similarly named Australian political party).
Part personal memoir, part objective history, and part textbook on Cannabis sativa–related science (medicine, chemistry, and botany), this book was intended as an all-purpose encyclopedia to which advocates of marijuana legalization could turn for reliable information. The title, of course, alludes to the famous 1837 fairy tale, "The Emperor's New Clothes," by Danish author Hans Christian Andersen (1805–1875).
Among other things, the book makes the case for the health benefits of marijuana use (as compared to the use of tobacco and alcohol) and for the ecological benefits of the industrial cultivation of the hemp plant (as a source of fibers for paper and textiles). The book has been widely cited by activists, journalists, legislators, and other advocates for the decriminalization of the use, possession, sale, and cultivation of marijuana.
Originally published in 1985, The Emperor Wears No Clothes has been continuously in print for more than 35 years, having gone through numerous editions.
By: George Carrano, Chelsea Davis, Jonathan Fisher, 2015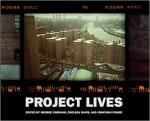 This book records a stunning project in "participatory photography." As such, it is most unusual.
In the first place, it is a book of photographs, with little text. In the second place, the photos are all of New York City housing projects and their inhabitants. Finally, the photos were taken by the projects' residents themselves.
The people behind this project, who also edited the book—Carrano, Davis, and Fisher—are all natives of New York City. In 2010, they approached the New York City Housing Authority about setting up a participatory photography project called "Seeing for Ourselves."
Over the next three years, the trio trained hundreds of residents from 16 different housing projects in the finer points of photography. Photographs shot by 42 of the training-program graduates—84 in full color—were eventually selected for publication in this work. The project ended in 2013.
The result, as recorded in this book, has been praised as the largest participatory photography project ever attempted. The book has great value as a social document of the daily lives of the residents of New York City's public housing projects.
By: Paulo Freire , 1968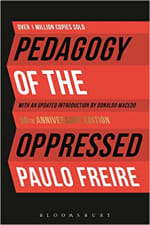 Freire (1921–1987) was a Brazilian educator and philosopher. His immensely influential book, Pedagogy of the Oppressed, is a founding document in the field of "critical pedagogy." It has been called the "third most cited book in the social sciences."
Coming from a middle-class background (like many other leftist leaders), Freire graduated with a law degree in 1943 from the University of Recife, his native town. In 1946, he was appointed director of the Department of Education and Culture of the state of Pernambuco (of which Recife is the capital).
From that position, Freire began to push for literacy programs among the illiterate masses of Pernambuco—an act with profound political implications in a country with a literacy requirement for voting. His first opportunity for large-scale implementation of his ideas came in 1962, when he organized a highly successful literacy campaign among sugarcane harvesters who were taught to read and write in just 45 days of intensive instruction.
Freire's efforts ground to a sudden halt in 1964 in the wake of a military coup. He was briefly jailed by the right-wing junta, then went into exile, first in Bolivia, and later in Chile, the US (where he was a visiting professor at Harvard University), and Switzerland (where he worked for the World Council for Churches as an advisor for education reform in the Portuguese colonies in Africa, especially Mozambique and Guinea-Bissau). Freire was finally able to return home in 1980.
The central message of Pedagogy of the Oppressed is that public education should take the political empowerment of the poor as its primary goal, and to that end ought to be based on cooperation with them, and not presented as something imposed on them. Freire also taught that "neutral education" is a myth. Educators are faced with a choice: either they will shore up existing social and political structures by teaching the poor to conform to them, or else they will help to change those structures by teaching the poor to question them.
Originally published as Pedagogia do Oprimido and translated into English in 1970 by Myra Ramos, the book could not be published in Freire's native Brazil until 1974. The translation has been reprinted numerous times. It is difficult to exaggerate the extent of the influence of this book on the institutions of education, social work, and social activism around the world.
By: Bel Kaufman , 1964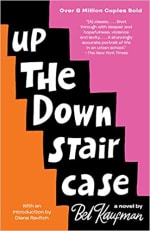 Kaufman (1911–2014) was an American teacher and author. Her parents were Russian Jews who were living in Berlin, where her father was studying medicine, when baby Bella (her given name) was born. The family soon returned to Russia, where Kaufman's father practiced medicine, first in Odessa, and later in Kiev.
When Bella was 12, she and her parents emigrated to the US. The family settled in Newark, New Jersey, where her father practiced medicine until his death in 1938. The author's mother—who was a daughter of the great Yiddish writer, Sholem Aleichem (Solomon Rabinovich) (1859–1916)—published poems in the Jewish Daily Forward, a New York–based, Yiddish-language newspaper.
Initially, the 12-year-old Bella, who spoke no English, had to enter first grade. However, she soon learned the language and caught up academically, graduating magna cum laude from New York's Hunter College in 1934. Two years later she received a master's degree in English literature from Columbia University.
Kaufman taught in the New York City public school system for many years, while also attempting to break into print as a writer. She published articles and short stories for various literary magazines of the day under a shortened form of her first name, "Bel." She did this in order to make her gender less obvious, due to the lingering prejudice against female writers in the publishing world at that time.
The outstanding success, with critics and the public alike, of her 1964 novel, Up the Down Staircase—which was based closely on her personal experiences teaching in New York schools—was unexpected and transformed Kaufman's life. Her fame and fortune were augmented by the success of a 1967 film of the same name starring Sandy Dennis (1937–1992). The book was also turned into a long-running Broadway play. For many years, the play was also performed regularly by high school and college drama programs all around the country.
In 1979, Kaufman published her second novel, Love, etc., but it did not meet with the same critical or popular success as her first book. Kaufman remained professionally active to an advanced age, teaching a course in Jewish humor at her old alma mater, Hunter College, at the age of 100.
Up the Down Staircase has been reprinted in numerous editions over the years.
By: Michael Harrington , 1962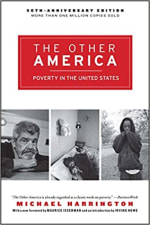 Harrington (1928–1989) was a professor of political science, a prolific author, and a political activist, who was closely identified with the cause of democratic socialism.
Harrington was raised in an observant Catholic family in St. Louis. After taking a law degree, he joined the left-wing Catholic Worker Movement founded by Dorothy Day (1897–1980). Harrington edited the movement's newspaper, The Catholic Worker, for a few years during the early 1950s.
In later years, Harrington called himself an atheist. In a provocative and widely noticed article published in 1983 in the Wilson Quarterly and entitled "The Politics at God's Funeral," he suggested that democratic socialism should take the place of Christianity as the moral basis for inspiring virtue and defining common values in post-Christian Western societies.
Though Harrington taught political science for a while at Queens College in New York during the early 1970s, for most of his life he earned his living as a freelance writer. All in all, he wrote 16 books and innumerable magazine articles and newspaper columns.
Throughout his life, however, political organizing was the activity closest to Harrington's heart. After leaving the Catholic Worker Movement, he joined a small, independent socialist group that was later absorbed by the Socialist Party of America—the largest democratic socialist group in the US and the party of Eugene V. Debs (1855–1926) and Norman Thomas (1884–1968).
Harrington was also not averse to working within the mainstream Democratic Party, in a strategic way, if circumstances dictated that as the most prudent course of action. He once wrote that he personally identified with "the left wing of the possible within the Democratic Party."
In 1962—the same year he published his most-famous book, The Other America—Harrington was involved with the founding of the Students for a Democratic Society. However, he broke with his colleague Tom Hayden (1939–2016) and the other principal authors of the famous Port Huron Statement for not explicitly repudiating the Communist Party.
Harrington has stated that his goal in writing The Other America was to make poor people visible to their fellow Americans. It basically translates the statistics of poverty as it existed in 1962 into vivid and memorable personal portraits, highlighting the overwhelming difficulties the poor encounter in merely leading their daily lives. The book has been hailed as a "seminal work of sociology." It obtained a very wide readership and exerted considerable political influence. Indeed, it appears to have directly impacted the thinking of US President John F. Kennedy (1917–1963) during the last days of his life. It certainly influenced his successor, Lyndon B. Johnson (1908–1973).
Indeed, it was Harrington who suggested the phrase "war on poverty" to describe Johnson's proposed package of social and economic programs, which soon became law. Thus, Harrington and his book had a direct impact on social legislation and the lives of ordinary people—something of which very few authors can boast.
The book was reprinted in 1997.
By: Cherríe Moraga and Gloria E. Anzaldúa , editors, 1981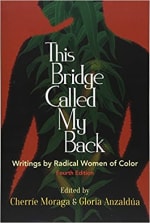 Moraga (b. 1952), a California native, is a playwright, poet, essayist, professor of literature, and cultural activist. Anzaldúa (1942–2004), a Texas native, was a poet, author, critical theorist, and professor of Chicana/o studies.
Moraga authored or co-edited nine books (including the one under consideration here) and a baker's dozen of plays. Anzaldúa authored, edited, or co-edited seven books for adults and authored three children's books. Both editors identify(ied) as Chicana, feminist, and lesbian.
This Bridge Called My Back contains contributions by 31 authors, including Toni Cade Bambara (see #6 above), Audre Lorde (1934–1992), the Combahee River Collective, and the editors. The volume is also illustrated with the work of eight different artists.
The overarching theme of the volume is intersectionality, and the failures of white feminism to address racial and sexual/gender issues. More specifically, one reviewer declares that the volume repudiates the "now antiquated white feminists' utopian ideal of universal sisterhood."
This Bridge Called My Back was republished in three subsequent editions, most recently (the fourth edition) in 2015.
By: Ann Fessler , 2006
Fessler (b. 1949) is a filmmaker, video-installation artist, author, and professor emerita at the Rhode Island School of Design (RISD). She received her Master of Fine Arts (MFA) in photography from the University of Arizona.
Fessler's artistic work is feminist in character, with an emphasis on the subjects of abortion and adoption. She is undoubtedly best known for the book under consideration here.
This book is a historical study of the former social practice of pressuring single mothers—for whom abortion was not an option at the time—to give up their babies for adoption. It stresses the often-tragic consequences of this practice.
The historical boundaries of the study extend from 1950 until 1973, the year of the Roe v. Wade Supreme Court decision overturning all state laws prohibiting abortion.
The book was a very personal project for Fessler, because she herself was given up for adoption at birth. She first met her birth mother when she was 56 years old.
Interested in diving deeper on this subject? Consider pursuing your bachelor's degree in social work!