Influential Women Literary Scholars From the Last 10 Years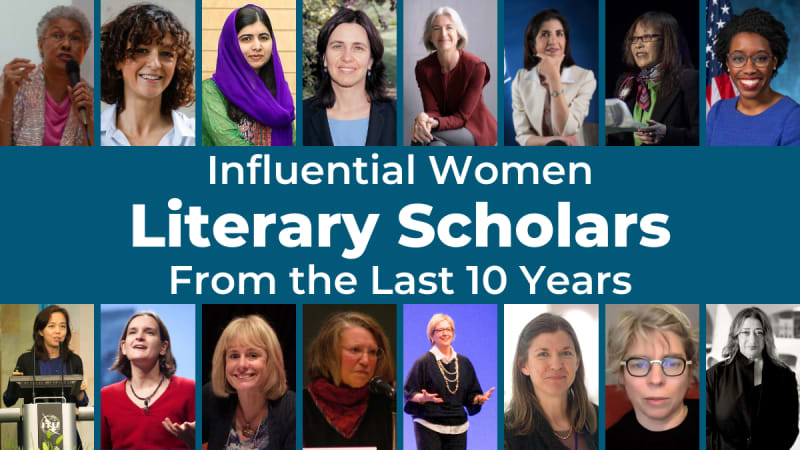 Our list of influential women literary scholars is a who's who of the publishing world. These women have risen to fame due to their exceptional talent as writers, critics, and academics. Their work has been devoured by adoring fans who long to escape from reality and enter the worlds they have created through prose and poetry.
Top 10 Women Literary Scholars From the Last 10 Years
There will probably be many names on this list that are familiar to you, as women now make up the majority of best-selling authors. According to The Guardian, of the 1,000 top-selling fiction titles in 2020, 627 were written by women. This progress is a far cry from when #4 on our list, J.K. Rowling, was encouraged by Bloomsbury Publishing to publish using only her initials so as to not seem too feminine.
Organizations like the Women's Fiction Writers Association are committed to ensuring that women continue the progress that has been made. Their belief is that "women's fiction heightens human connection, engenders empathy, and illuminates new perspectives."
This belief is certainly true of the authors on our list, many of whom have drawn attention to perspectives not usually seen in mainstream publishing. The African-American experience was brought to the forefront of public attention by pioneering authors such as Toni Morrison, Maya Angelou , and Alice Walker . Hopefully this list inspires you to add another book to your to-be-read list, or even better to write one yourself.
Influential Women Literary Scholars From the Last 10 Years
Michiko Kakutani is an American writer and retired literary critic, best known for reviewing books for The New York Times from 1983 to 2017. In that role, she won the Pulitzer Prize for Criticism in 1998.

Margaret Eleanor Atwood is a Canadian poet, novelist, literary critic, essayist, teacher, environmental activist, and inventor. Since 1961, she has published eighteen books of poetry, eighteen novels, eleven books of non-fiction, nine collections of short fiction, eight children's books, two graphic novels, and a number of small press editions of both poetry and fiction. Atwood has won numerous awards and honors for her writing, including two Booker Prizes, the Arthur C. Clarke Award, the Governor General's Award, the Franz Kafka Prize, Princess of Asturias Awards, and the National Book Crit...

Joanne Rowling , best known by her pen name J. K. Rowling, is a British author and philanthropist. She wrote Harry Potter, a seven-volume children's fantasy series published from 1997 to 2007. The series has sold over 600 million copies, been translated into 84 languages, and spawned a global media franchise including films and video games. The Casual Vacancy was her first novel for adults. She writes Cormoran Strike, an ongoing crime fiction series, under the alias Robert Galbraith.

Margaret Yvonne Busby, , Hon. FRSL , also known as Nana Akua Ackon, is a Ghanaian-born publisher, editor, writer and broadcaster, resident in the UK. She was Britain's youngest and first black female book publisher when she and Clive Allison co-founded the London-based publishing house Allison and Busby in the 1960s. She edited the anthology Daughters of Africa , and its 2019 follow-up New Daughters of Africa. She is a recipient of the Benson Medal from the Royal Society of Literature. In 2020 she was voted one of the "100 Great Black Britons". In 2021, she was honoured with the London Book ...

Roxane Gay is an American writer, professor, editor, and social commentator. Gay is the author of The New York Times best-selling essay collection Bad Feminist , as well as the short story collection Ayiti , the novel An Untamed State , the short story collection Difficult Women , and the memoir Hunger .

Chloe Anthony Wofford Morrison , known as Toni Morrison, was an American novelist. Her first novel, The Bluest Eye, was published in 1970. The critically acclaimed Song of Solomon brought her national attention and won the National Book Critics Circle Award. In 1988, Morrison won the Pulitzer Prize for Beloved ; she was awarded the Nobel Prize in Literature in 1993.

Judith Lewis , better known by her pen name Cassandra Clare, is an American author of young adult fiction, best known for her bestselling series The Mortal Instruments. Personal life Clare was born Judith Rumelt to American parents in Tehran, Iran. She is the daughter of Richard Rumelt, a business school professor and author. Her maternal grandfather was film producer Max Rosenberg. Clare is Jewish and has described her family as "not religious".

Julia Kristeva is a Bulgarian-French philosopher, literary critic, semiotician, psychoanalyst, feminist, and, most recently, novelist, who has lived in France since the mid-1960s. She has taught at Columbia University, and is now a professor emerita at Université Paris Cité. The author of more than 30 books, including Powers of Horror, Tales of Love, Black Sun: Depression and Melancholia, Proust and the Sense of Time, and the trilogy Female Genius, she has been awarded Commander of the Legion of Honor, Commander of the Order of Merit, the Holberg International Memorial Prize, the Hannah Arend...

Stephenie Meyer is an American novelist and film producer. She is best known for writing the vampire romance series Twilight, which has sold over 160 million copies, with translations into 37 different languages. Meyer was the bestselling author of 2008 and 2009 in the U.S., having sold over 29 million books in 2008 and 26.5 million in 2009. Meyer received the 2009 Children's Book of the Year award from the British Book Awards for Breaking Dawn, the Twilight series finale.

Anne Rice was an American author of gothic fiction, erotic literature, and Christian literature. She was best known for her series of novels The Vampire Chronicles. The first book became the subject of a film adaptation—Interview with the Vampire .

Rebecca Solnit is an American writer. She has written on a variety of subjects, including feminism, the environment, politics, place, and art. Early life and education Solnit was born in 1961 in Bridgeport, Connecticut, to a Jewish father and Irish Catholic mother. In 1966, her family moved to Novato, California, where she grew up. "I was a battered little kid. I grew up in a really violent house where everything feminine and female and my gender was hated," she has said of her childhood. She skipped high school altogether, enrolling in an alternative junior high in the public school system t...

Ali Smith CBE FRSL is a Scottish author, playwright, academic and journalist. Sebastian Barry described her in 2016 as "Scotland's Nobel laureate-in-waiting". Early life and education Smith was born in Inverness on 24 August 1962 to Ann and Donald Smith. Her parents were working-class and she was raised in a council house in Inverness. From 1967 to 1974 she attended St. Joseph's RC Primary school, then went on to Inverness High School, leaving in 1980.

1949 - Present (74 years)

Janet R. Maslin is an American journalist, best known as a film and literary critic for The New York Times. She served as a Times film critic from 1977 to 1999 and as a book critic from 2000 to 2015. In 2000, Maslin helped found the Jacob Burns Film Center in Pleasantville, New York. She is president of its board of directors.

Alice Ann Munro is a Canadian short story writer who won the Nobel Prize in Literature in 2013. Munro's work has been described as revolutionizing the architecture of short stories, especially in its tendency to move forward and backward in time. Her stories have been said to "embed more than announce, reveal more than parade."

Sarah Ann Waters is a Welsh novelist. She is best known for her novels set in Victorian society and featuring lesbian protagonists, such as Tipping the Velvet and Fingersmith. Life and education Early life Sarah Waters was born in Neyland, Pembrokeshire, Wales in 1966. She later moved to Middlesbrough when she was eight years old.

1988 - Present (35 years)

Jia Angeli Carla Tolentino is an American writer and editor. A staff writer for The New Yorker, she previously worked as deputy editor of Jezebel and a contributing editor at The Hairpin. Her writing has also appeared in The New York Times Magazine and Pitchfork. In 2019, her collected essays were published as Trick Mirror: Reflections on Self-Delusion.

Allyson Braithwaite Condie is an author of young adult and middle grade fiction. Her novel Matched was a #1 New York Times and international bestseller, and spent over a year on the New York Times Bestseller List. The sequels are also New York Times bestsellers. Matched was chosen as one of YALSA's 2011 Teens' Top Ten and named as one of Publishers Weekly's Best Children's Books of 2010. All three books are available in 30+ languages.

Zadie Smith FRSL is an English novelist, essayist, and short-story writer. Her debut novel, White Teeth , immediately became a best-seller and won a number of awards. She has been a tenured professor in the Creative Writing faculty of New York University since September 2010.

Erika Mitchell , known by her pen name E. L. James, is a British author. She wrote the best-selling erotic romance trilogy Fifty Shades of Grey, Fifty Shades Darker, and Fifty Shades Freed, along with the companion novels Grey: Fifty Shades of Grey as Told by Christian, Darker: Fifty Shades Darker as Told by Christian, and Freed: Fifty Shades Freed as Told by Christian. Prior to this, she wrote the Twilight fan fiction "Master of the Universe" that served as the basis for the Fifty Shades trilogy under the web name Snowqueens Icedragon. In 2019 she published her first book unconnected with the...

Malala Yousafzai is a Pakistani female education activist and the 2014 Nobel Peace Prize laureate. Awarded when she was 17, she is the world's youngest Nobel Prize laureate, and the second Pakistani and the first Pashtun to receive a Nobel Prize. She is known for human rights advocacy, especially the education of women and children in her native homeland, Swat, where the Pakistani Taliban had at times banned girls from attending school. Her advocacy has grown into an international movement, and according to former Prime Minister Shahid Khaqan Abbasi, she has become Pakistan's "most prominent ...

Rainbow Rowell is an American author known for young adult and adult contemporary novels. Her young adult novels Eleanor & Park , Fangirl and Carry On have been subjects of critical acclaim. She was the writer of the 2017 revival of Marvel Comics' Runaways and is currently the writer for She-Hulk.

Sara Maria Danius was a Swedish literary critic and philosopher, and a scholar of literature and aesthetics. Danius was professor of aesthetics at Södertörn University, docent of literature at Uppsala University and professor in literary science at Stockholm University.

Dame Carol Ann Duffy [] is a Scottish poet and playwright. She is a professor of contemporary poetry at Manchester Metropolitan University, and was appointed Poet Laureate in May 2009, resigning in 2019. She was the first female poet, the first Scottish-born poet and the first openly gay poet to hold the Poet Laureate position.

Joyce Carol Oates is an American writer. Oates published her first book in 1963, and has since published 58 novels, a number of plays and novellas, and many volumes of short stories, poetry, and non-fiction. Her novels Black Water , What I Lived For , and Blonde , and her short story collections The Wheel of Love and Lovely, Dark, Deep: Stories were each finalists for the Pulitzer Prize. She has won many awards for her writing, including the National Book Award, for her novel them , two O. Henry Awards, the National Humanities Medal, and the Jerusalem Prize .

Germaine Greer is an Australian writer and public intellectual, regarded as one of the major voices of the radical feminist movement in the latter half of the 20th century. Specializing in English and women's literature, she has held academic positions in England at the University of Warwick and Newnham College, Cambridge, and in the United States at the University of Tulsa. Based in the United Kingdom since 1964, she has divided her time since the 1990s between Queensland, Australia, and her home in Essex, England.
Image Credits:
Top row, left to right: Patricia Hill Collins, Emmanuelle Charpentier, Malala Yousafzai, Shafi Goldwasser, Jennifer Doudna, Fabiola Gianotti, Michiko Kakutani, Lauren Underwood.
Bottom row, left to right: Fei-Fei Li, Esther Duflo, Kathy Reichs, Nancy Fraser, Brené Brown, Judith Curry, Jill Lepore, Zaha Hadid.