Best Private Colleges in Oklahoma 2022
Private colleges, unlike large public institutions, can be a great option for students wanting a more intimate campus experience, more personal attention from excellent professors, and more immediate access to support services. Here is our list of the best private colleges in Oklahoma.
10 Best Private Colleges in Oklahoma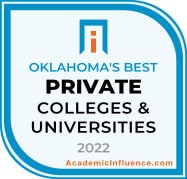 This list is composed entirely of private colleges and universities that offer bachelor's degrees. We've identified 11 private universities in Oklahoma. To be included in the list below of the best private universities in Oklahoma, schools must be fully accredited, private, non-profit institution, and must offer a broad range of bachelor's degrees.
Back to Top
Oklahoma's Best Private Colleges in Your Area Interest
2021 Ranking Archive

Many of our 2022 undergraduate focused rankings look considerably different than 2021. That's because we took a fundamentally different apporach. For 2021 we utiulized our Concentrated Influence algorithm, designed to take away the size advantage larger schools have when we rank their faculty and alumni's academic influence. Concentrated influence highlights smaller schools that are proportionally as successful as larger universities at cultivating influential alumni and faculty.