Our list of influential Black educators is composed of leaders in the field who are paving the way for future educators. These scholars are doing groundbreaking work to remove educational disparities and increase awareness in areas such as Black feminism. Among this group of influencers are educators, writers, poets, activists, and politicians.
Top 10 Black Educators from the Last 30 Years
Find out which colleges and universities have played an instrumental role in the advancement of Black leaders with a look at The Colleges with the Most Influential Black Graduates.
These 30 influential Black scholars hold positions of leadership in universities, primary and secondary education schools, and other learning institutions. As prominent scholars within academia, they bring about concrete change in educational practices through their researching, teaching, and publishing in areas such as:
educational theory and curriculum design,
pedagogical practices of teachers who are successful with African American students (see Gloria Ladson-Billings)
culturally relevant practices for teaching students of color,
anti-oppressive and anti-racist teaching practices, and
empowering students of color with the skills to transform the power structures of society (see Lisa Delpit)
Apart from pedagogy, one ongoing area of critical focus for many Black educators is increasing the number of Black students entering the field of education. With research showing the importance of educator role models within a child's own community, The need has never been more pressing. Despite a Black population comprising 13.4% of the total U.S. population, only 7.3% of bachelor's degrees conferred in the field of education were earned by Black students in 2019.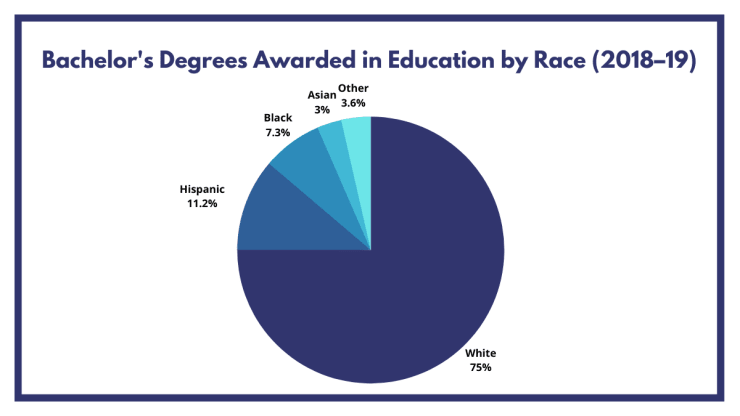 Pioneering Black Educators in History
To inspire students in the Black community to a greater commitment to the teaching profession, these exceptional role models from history are often cited for their ongoing influence:
Back to Top
30 Influential Black Educators
The Black scholars in our list were identified as highly cited and searched people using our machine-powered Influence Ranking algorithm, which produces a numerical score of academic achievements, merits, and citations across Wikipedia, wikidata, Crossref, Semantic Scholar and an ever-growing body of data.
Find out more about our Methodology.
Influence is dynamic, therefore some of the educators listed are contemporary scholars while others may be more historical figures. In either case, according to our AI, these are the most cited and searched Black educators over the past 30 years.
This list is arranged alphabetically
T. J. Anderson

1928 - Present (95 years)

Thomas Jefferson "T.J." Anderson, Jr. is an American composer, conductor, orchestrator and educator. Early life Born in Coatesville, Pennsylvania, Anderson has written over 80 works ranging from operas and symphonies to choral pieces, chamber music, and band music. He has composed commissioned works for the Bill T. Jones/Arnie Zane Dance Company and cellist Yo Yo Ma.

Calvin B. Ball III is an American Democratic politician who serves as the county executive of Howard County, Maryland. He is the first African-American to hold this office. On Thursday, November 9, 2017, Ball announced his candidacy for County Executive for the 2018 Election. On November 7, 2018, Ball defeated incumbent Republican Allan Kittleman. He was sworn in as the new County Executive on December 3, 2018.

Lou Bellamy

1944 - Present (79 years)

Lou Bellamy is an American stage director, actor, producer, entrepreneur, and educator. He is the founder and artistic director, Emeritus of Penumbra Theatre Company in St. Paul, Minnesota. He taught at the University of Minnesota from 1979 until his retirement as an associate professor in 2011.

Gloria Ladson-Billings

1947 - Present (76 years)

Gloria Ladson-Billings was born in 1947. She is best known for her book, The Dreamkeepers: Successful Teachers of African American Children, and her work to reduce the education disparities faced by African American children. She earned her master's in curriculum and instruction from the University of Washington and her Ph.D from Stanford University.

She has devoted her life to addressing culturally relevant pedagogy and the education of African-American children, specifically, but also children of other ethnicities. In recognition of her work in education and race theory, she was elected to the Academy of Arts and Sciences in 2018. She also served as the president of the National Academy of Education, a position from which she was able to promote equality in educational access and opportunities for children of color.

Candy Dawson Boyd

1946 - Present (77 years)

Candy Dawson Boyd is an American writer, activist, and educator. She is an author of more than six children's books focused on African-American youth. Early life and education Boyd was born in 1946 in Chicago, Illinois. Her birth name is Marguerite Cecille Dawson. Her parents were Mary Ruth Ridley and Julian Dawson. Boyd had two siblings and she was the oldest of the three. Her mother and father divorced. Boyd was raised by her mother. They lived in South Chicago. Boyd attended racially segregated elementary and middle schools. The library she used was also segregated. The library books were ...

Gloria Bromell Tinubu

1953 - Present (70 years)

Gloria Bromell Tinubu is an applied economist, educator, and political figure. She served on the Atlanta City Council and as a member of the Georgia State Assembly, as well as running as a candidate for Mayor of Atlanta.

Lorene Cary is an American author, educator and social activist. Biography Cary grew up in a working-class neighborhood in Philadelphia, Pennsylvania. In 1972, she was invited to the elite St. Paul's boarding school in New Hampshire, on scholarship, entering in St. Paul's second year of co-education as one of the fewer than ten African-American female students. She spent two years at St. Paul's, graduating in 1974. She earned an undergraduate degree and her MA from the University of Pennsylvania in 1978.

Cheryl Clarke

1947 - Present (76 years)

Cheryl L. Clarke is an American lesbian poet, essayist, educator and a Black feminist community activist who continues to dedicate her life to the recognition and advancement of Black and Queer people. Her scholarship focuses on African-American women's literature, black lesbian feminism, and the Black Arts Movement in the United States. For over 40 years, Cheryl Clarke worked at Rutgers, the State University of New Jersey, and maintains a teaching affiliation with the Graduate Faculty of the Department of Women and Gender Studies, though retired. In addition, Clarke serves on the board of th...

Monica Farmer Cox is a professor of engineering education at Ohio State University. Cox was the first African-American woman to earn tenure in engineering at Purdue University. She won the 2008 Presidential Early Career Award for Scientists and Engineers.

Lisa D. Delpit is an American educationalist, researcher, and author. She is the former executive director and Eminent Scholar at the Center for Urban Educational Excellence at Florida International University in Miami, Florida, Benjamin E. Mays Chair of Urban Educational Leadership at Georgia State University, and the first Felton G. Clark Distinguished Professor of Education at Southern University and A&M College in Baton Rouge, Louisiana. She earned the MacArthur "Genius" Fellowship for her research on school-community relations and cross-cultural communication.

Ashley C. Ford is an American writer, podcaster and educator who discusses topics including race, sexuality, and body image. She is the author of the New York Times best-selling memoir, Somebody's Daughter. She has been the host of five podcasts and has written or guest-edited for publications including The Guardian, Elle, BuzzFeed, and New York. In 2017, Forbes named her one of their "30 Under 30 in Media".

Trudier Harris

1948 - Present (75 years)

Trudier Harris is an American literary scholar, author, and Professor Emerita at the University of Alabama. She was the J. Carlyle Sitterson Distinguished Professor at University of North Carolina at Chapel Hill.

Dorothy Hollingsworth

1920 - Present (103 years)

Dorothy L. Hollingsworth was an American educator based in Seattle. Hollingsworth was born on October 29, 1920, in Bishopville, South Carolina. Her family moved to North Carolina when she was young. She graduated from Paine College in 1941. In 1946 she moved to Seattle with her husband. She worked as a social worker in Seattle's Central District in the 1950s and 1960s.

Walidah Imarisha is an American writer, activist, educator and spoken word artist. Career Writing Imarisha is co-editor, with adrienne maree brown, of Octavia's Brood: Science Fiction Stories From Social Justice Movements, named after the legendary science fiction writer Octavia Butler. She also co-edited Another World Is Possible, the first anthology out in response to the 9/11 attacks.

Charles Lee Isbell Jr. is an American computationalist, researcher, and educator. He has been a professor in the Georgia Institute of Technology College of Computing since 2002, and since July 2019 is the John P. Imlay, Jr. Dean of the College. His research interests focus on machine learning and artificial intelligence, particularly interactive and human-centered AI. He has published over 100 scientific papers. In addition to his research work, Isbell has been an advocate for increasing access to and diversity in higher education.

Jean Lacy

1932 - Present (91 years)

Jean Lacy was an American museum education specialist and visual artist who works primarily in mixed media and collage. She was of African American heritage, and believes her family is descended from indentured Africans at Jamestown Colony. Her work is inspired by creation myths and religious stories, the Civil Rights Movement, and African American culture. From 1975-77 she held the position of Curator of Education and Exhibitions at the Museum of African-American Life and Culture in Dallas, Texas. From 1977-88 she served as the Director of the African American Cultural Heritage Center of the...

Mamie Evelyn Locke is an American politician and educator. A Democrat, she was a member of the Hampton, Virginia city council 1996–2004, and mayor 2000–2004. Education Locke received a B.A. degree in history and political science from Tougaloo College in 1976. She then attended Atlanta University for advanced political science studies, receiving an M.A. in 1978 and a Ph.D. in 1984. She also completed a program in Middle Eastern studies at the American University in Cairo in 1986.

Ruth Burnett Love , also known as Ruth B. Love-Holloway was an American educator, education administrator, author and former schools superintendent. Love was formerly a professor of education at her college alma mater San Francisco State University. Love served as superintendent of the Oakland Unified School District from November 1975 until February 1981 and the Chicago Public Schools from March 1981 until March 1985. Love was the first African-American to serve as superintendent for the Chicago Public Schools district. In 1983, Love received the Horatio Alger Award and a Candace Award for Ed...

Haki R. Madhubuti is an African-American author, educator, and poet, as well as a publisher and operator of black-themed bookstore. He is particularly recognized in connection with the founding in 1967 of Third World Press, considered the oldest independent black publishing house in the U.S.

Jimmy Owens is an American jazz trumpeter, composer, arranger, lecturer, and educator. He has played with Lionel Hampton, Charles Mingus, Hank Crawford, Dizzy Gillespie, Count Basie, Herbie Mann, among many others. Since 1969, he has led his own group, Jimmy Owens Plus.

Alice Palmer

1939 - 2023 (84 years)

Alice J. Palmer is an American educator and politician who served as a member of the Illinois Senate. Known as a longtime progressive activist, Palmer represented the state's 13th Senate District from June 6, 1991, until January 8, 1997. At the time, the district spanned an economically diverse area and included the Chicago communities of Hyde Park, South Shore and Englewood.

Jennie Patrick

1949 - Present (74 years)

Jennie Patrick is an American chemical engineer and educator. As a high school student, she participated in the integration of Alabama's public schools. At Massachusetts Institute of Technology in 1979, she became one of the first African American women in the United States to earn a doctorate in traditional chemical engineering. Note that Lilia Abron gained her PhD in 1972. In industry, she did pioneering work on supercritical fluid extraction. Her educational work has focused on the mentoring of African American and female students.

Mary Perry Smith was an American mathematics educator who cofounded the Mathematics, Engineering, Science Achievement program and the Black Filmmakers Hall of Fame. Early life and education Perry Smith was born on May 29, 1926, and was originally from Evansville, Indiana, one of six children of a minister in the African Methodist Episcopal Church; her maternal grandfather, Henry Allen Perry had been a chaplain and mathematics teacher at the Tuskegee Institute, where her parents met. As a child she moved frequently, to Kokomo, Logansport, Anderson, Crawfordsville, and Frankfort, all in Indiana...

Glory Van Scott

1947 - Present (76 years)

Glory Van Scott is an educator, writer, actress and dancer. She is a former principal dancer with the Katherine Dunham, Agnes de Mille and Talley Beatty dance companies and has performed in the United States and around the world.

Belle Wheelan

1951 - Present (72 years)

Belle Smith Wheelan is an American educator who served as Virginia Secretary of Education under Governor Mark Warner. She is currently the President and Chief Executive Officer of the Southern Association of Colleges and Schools' Commission on Colleges.

Rodney Whitaker is an American jazz double bass player and educator. Biography Born in Detroit, Whitaker attended Wayne State University, and studied with Robert Gladstone, principal bass with the Detroit Symphony Orchestra, and trumpeter Marcus Belgrave.

Crystal E. Wilkinson is an African-American feminist writer from Kentucky, and proponent of the Affrilachian Poet movement. She is the winner of a 2022 NAACP Image Award, a 2020 winner of the USA Fellow of Creative Writing, and a 2021 O. Henry Prize winner. She teaches at the University of Kentucky. Her work has primarily been in involving the stories of Black women and communities in the Appalachian and rural Southern canon. She was appointed Poet Laureate of Kentucky 2021.

Yolanda Wisher is an American poet, educator and spoken word artist who focuses on the experience of being African-American. She is a graduate of Temple University and was selected as the third Poet Laureate of Philadelphia in 2016.
This list is far from exhaustive; if you have a suggestion for someone to add, please contact us.
Back to Top
Key Associations for Black Educators
These organizations make it their mission to encourage current Black educators while raising up the next generation of teachers, professors, and school leaders:
For more the most famous Black scholars of the last 30 years, visit our Influential Black Scholars page. If you want more in education, visit our education page to find more influential educators, top colleges and universities for education, and more.
Other Influential Black Scholars by Academic Discipline
Featured Image Credits Include: