Our list of influential Black psychologists is as diverse as the field of study. These leaders in the field of psychology write about and research topics such as Black juveniles, crime, racial diversity, social inequality, and more. These innovators are paving the way for the next generation of psychologists.
Top 10 Black Psychologists from the Last 30 Years
You can also see where the most influential Black scholars and leaders across all disciplines earned their degree with a look at The Colleges with the Most Influential Black Graduates.
According to the American Psychological Association (APA), Psychology is the study of the mind and behavior, a discipline that has emerged from within the field of philosophy. Psychology is an extremely complex and diverse field of study, affording the practitioner the opportunity to specialize in numerous areas of research including experimental, cognitive, developmental, and social psychology, among others.
Psychologists can pursue careers in a wide range of fields also, including school counseling, substance abuse treatment, special education, or clinical practice, for those with an advanced degree.
The APA reports that as of 2015, roughly four percent of psychologists in the U.S. Workforce were Black. However, by 2016, roughly 10% of the psychology doctorates awarded were to Black graduates. The APA also says that Black scholars in the field are making an impact particularly in the area of social psychology.
Social Psychology is the study of how individuals affect and are affected by other people and by their social and physical environments. Social psychologists focus their research, teaching, and activism on areas such as the perceived connections between race and crime, the relationship between black people/communities and policing, how people manage being the targets of discrimination, how stereotyping affects academic performance, and issues arising from the Drug War.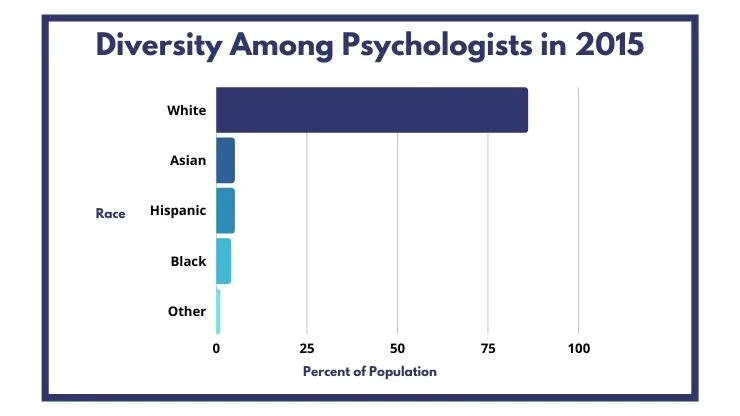 Black Psychologists Making Important Contributions to the Field
Phillip Atiba Goff and Jennifer L. Eberhardt are studying how our minds learn to associate race (Blackness) with crime. Goff's research led him to co-found the Center for Policing Equity, which is now the largest research and action think tank on race and policing.Eberhardt's reseach has shown that black perpetrators of violent crimes against white people are sentenced more harshly, and more likely to be sentenced to death, if their features appear more stereotypically black. Her research has also shown that Black juveniles are thought of and treated as adults (unlike white juveniles), leading to harsher punishments.
Jennifer Richeson of Harvard University researches topics such as how people experience racial diversity in society, how people manage the threats arising from being the targets of discrimination, and how they reason about societal inequality and injustice.
Claude M. Steele of Stanford University researched the effects of stereotyping on minority academic performance.
Carl Hart of Columbia University is another prominent psychologist whose research, publishing, and activism advocate for drug laws based on scientific data. The effect of psychoactive drugs on humans can lead to insights on self-administration behaviors, and also to the development of more effective treatments. In addition, however, this study is also leading the way in calls for changes in drug policy.
Back to Top
25 Influential Black Psychologists From the Last 30 Years
The Black scholars in our list were identified as highly cited and searched people using our machine-powered Influence Ranking algorithm, which produces a numerical score of academic achievements, merits, and citations across Wikipedia/data, Crossref, Semantic Scholar and an ever-growing body of data.
Find out more about our Methodology.
List is arranged alphabetically
Na'im Akbar

1944 - Present (79 years)

Na'im Akbar is a clinical psychologist well known for his Afrocentric approach to psychology. He is a distinguished scholar, public speaker, and author. Akbar entered the world of Black psychology in the 1960s, as the Black Power Movement was gaining momentum. In the 1970s, Akbar published his first critiques of the Eurocentric psychological tradition, asserting that this model maintained the intellectual oppression of African Americans. Akbar criticized the pathology perspectives that had taken over as the dominant literature on African Americans. Many of his major works involved mental healt...

Nancy Boyd-Franklin

1950 - Present (73 years)

Nancy Boyd-Franklin is an American psychologist and writer. She is the author of five books and numerous articles on ethnicity and family therapy, and was invited by President Bill Clinton to speak at the first White House Conference on AIDS.

Joy Harden Bradford

1979 - Present (44 years)

Joy Harden Bradford is an African American clinical psychologist based in Atlanta, Georgia. She is best known as the founder of a mental health platform called Therapy for Black Girls, which includes a podcast of the same name, that specializes in mental health issues relevant to Black women. As of 2019, the podcast's episodes have been downloaded over two million times.

Jennifer Eberhardt

1965 - Present (58 years)

Jennifer Lynn Eberhardt is an American social psychologist who is currently a professor in the Department of Psychology at Stanford University. Eberhardt has been responsible for major contributions on investigating the consequences of the psychological association between race and crime through methods such as field studies and laboratory studies. She has also contributed to research on unconscious bias, including demonstrating how racial imagery and judgment affect culture and society within the domain of social justice. The results from her work have contributed to training law enforcement...

Halford Fairchild

1949 - Present (74 years)

Halford Hosoi Fairchild is a Professor Emeritus of Psychology and Black Studies at Pitzer College in Claremont, California. He was the editor of Psych Discourse: The Monthly Newsjournal of The Association of Black Psychologists from 1991 until 2014. He is a former president of the Association of Black Psychologists and Chairman of the Intercollegiate Department of Africana Studies at the Claremont Colleges. He received his Ph.D. in Psychology from the University of Michigan in 1977. Among many accomplishments, Professor Fairchild published a series of papers that challenged the practice of s...

Lenora Branch Fulani is an American psychologist, psychotherapist, and political activist. She is best known for her presidential campaigns and development of youth programs serving minority communities in the New York City area. In the 1988 United States presidential election heading the New Alliance Party ticket, she became the first woman and the first African American to achieve ballot access in all fifty states. She received more votes for president in a U.S. general election than any other woman until Jill Stein of the Green Party of the United States in 2012. Fulani's political concern...

Phillip Atiba Goff is an American psychologist known for researching the relationship between race and policing in the United States. He was appointed the inaugural Franklin A. Thomas Professor in Policing Equity at the John Jay College of Criminal Justice in 2016, the college's first endowed professorship. In 2020, he became a Professor of African-American Studies and Psychology at Yale University.

Robert V. Guthrie

1930 - 2005 (75 years)

Robert Val Guthrie was an American psychologist and educator described by the American Psychological Association as "one of the most influential and multifaceted African-American scholars of the century." Guthrie is most well known for his influential book Even the Rat was White: A Historical View of Psychology, which refuted prior academic work that drew racially biased and inaccurate conclusions about Black people, and profiled often overlooked Black psychologists who made significant contributions to the field of psychology.

Carl L. Hart is an American psychologist and neuroscientist, working as the Mamie Phipps Clark Professor of Psychology at Columbia University. Hart is known for his research on drug abuse and drug addiction, his advocacy for the decriminalization of recreational drugs, and his recreational use of drugs. Hart is one of the first tenured African American professors of sciences at Columbia University.

Olivia Juliette Hooker was an American psychologist and professor. She was one of the last known survivors of the Tulsa race massacre of 1921, and the first African-American woman to enter the U.S. Coast Guard, in February 1945. She became a SPAR , a member of the United States Coast Guard Women's Reserve, during World War II, earning the rank of Yeoman, Second Class during her service. She served in the Coast Guard until her unit was disbanded in mid-1946; she went on to become a psychologist intern at a women's correctional facility and a clinical professor at Fordham University.

Monica S. Webb Hooper is an American behavioral scientist and clinical psychologist serving as deputy director of the National Institute on Minority Health and Health Disparities. She was a professor at Case Western Reserve University and associate director for cancer disparities research and director of the Office of Cancer Disparities Research in the Case Comprehensive Cancer Center.

Reginald L. Jones

1931 - 2005 (74 years)

Reginald Lanier Jones was a clinical psychologist, college professor, and a founding member and past president of the Association of Black Psychologists. He is best known for his work in special education and the psychology of African Americans.

Kobi Kambon

1943 - 2018 (75 years)

Kobi Kazembe Kambon was an educator and psychologist whose theory and research has been particularly influential in areas relating to African Psychology, cultural survival in the face of cultural oppression, and mental health. A former National President of the Association of Black Psychologists , Kambon has published well over 60 scholarly articles, and has written five books, including two textbooks that are frequently used in Psychology and Black Studies courses across the country.

Carolyn R. Payton

1925 - 2001 (76 years)

Carolyn Robertson Payton was appointed Director of the United States Peace Corps in 1977 by President Jimmy Carter. She was the first female and the first African American to be Peace Corps Director. Payton was a pioneer in black women's leadership within the American Psychological Association and psychology.

Pamela Trotman Reid is an American developmental psychologist, former professor, and president emerita of the University of Saint Joseph. Biography Pamela Trotman Reid grew up in Brooklyn and Queens, New York. She has said what she loved most when she was a child was reading and science. She is married to her college boyfriend, Irvin Reid, whom she met at Howard University when they were taking psychology classes together during her freshman year and his first year of graduate school. The couple later set up an endowment for the school's psychology department.

Jennifer A. Richeson is an American social psychologist who studies racial identity and interracial interactions. She is currently the Philip R. Allen Professor of Psychology at Yale University where she heads the Social Perception and Communication Lab. Prior to her appointment to the Yale faculty, Richeson was Professor of Psychology and African-American studies at Northwestern University. In 2015, she was elected to the United States National Academy of Sciences. Richeson was elected to the American Philosophical Society in 2022. Since 2021, she has been a member of the President's Counc...

John D. Robinson

1946 - Present (77 years)

Dr. John D. Robinson was a psychologist and Professor Emeritus of Psychiatry and Surgery at Howard University College of Medicine. In 1973, Robinson became the first African-American psychologist in the U.S. Air Force, and, in 1975, the first African-American psychologist in the U.S. Navy. He also served as the first African-American administrator at the University of Texas at Austin.

Margaret Beale Spencer

2000 - Present (23 years)

Margaret Beale Spencer is an American psychologist whose work centers on the effects of ethnicity, gender, and race on youth and adolescent development. She currently serves as the Marshall Field IV Professor of Urban Education in the Department of Comparative Human Development at the University of Chicago. Dr. Spencer's career spans more than 30 years and consists of over 115 published articles and chapters, stemming from work funded by over two-dozen foundations and federal agencies.

Claude Mason Steele is a social psychologist and emeritus professor at Stanford University, where he is the I. James Quillen Endowed Dean, Emeritus at the Stanford Graduate School of Education, and Lucie Stern Professor in the Social Sciences, Emeritus.

Beverly Daniel Tatum

1954 - Present (69 years)

Beverly Christine Daniel Tatum is a psychologist, administrator, and educator who has conducted research and written books on the topic of racism. Focusing specifically on race in education, racial identity development in teenagers, and assimilation of black families and youth in white neighborhoods. Tatum uses works from her students, personal experience, and psychology learning. Tatum served from 2002 to 2015 as the ninth president of Spelman College, the oldest historically black women's college in the United States.

Joseph White

1932 - 2017 (85 years)

Joseph L. White was Professor of Psychology and Psychiatry at the University of California, Irvine and "godfather" of the field of Black Psychology. Early and personal life Joseph White was born on December 19, 1932 in Lincoln, Nebraska to Dorothy Lee and Joseph L. White. At a very young age, his family moved to Minneapolis where they remained until White's mother sent him to San Francisco to live with his aunt after completing high school. White only intended to work as a waiter; however, his aunt, Reverend Margaret Brown suggested that he go to college.

Robert Williams

1930 - 2020 (90 years)

Robert Lee Williams II was a professor emeritus of psychology and African and Afro-American studies at the Washington University in St. Louis and a prominent figure in the history of African-American Psychology. He founded the department of Black Studies at Washington University and served as its first director, developing a curriculum that would serve as a model throughout the country. Williams was well known as a stalwart critic of racial and cultural biases in IQ testing, coining the word "Ebonics" in 1973 and developing the Black Intelligence Test of Cultural Homogeneity. He published mor...

Amos Nelson Wilson was an African-American theoretical psychologist, social theorist, Pan-African thinker, scholar, author and a professor of psychology at the City University of New York. Early life and education Born in Hattiesburg, Mississippi, in 1940 or 1941, Wilson completed his undergraduate degree at the Morehouse College in Atlanta, Georgia, master degree at The New School of Social Research, and attained a PhD degree from Fordham University in New York. Wilson worked as a psychologist, social caseworker, supervising probation officer and as a training administrator in the New York C...

Ruth Winifred Howard was an American psychologist. She is best known for her psychological work concerning students with special needs at Children's Provident Hospital School. She is one of the first African American women to earn a Ph.D. in Psychology. Howard was an active participant in the American Psychological Association, the International Council of Women Psychologists, the American Association of University Women, the National Association of College Women , and the Women's International League for Peace and Freedom. She also received instruction from Florence Goodenough.
This list is far from exhaustive; if you have a suggestion for someone to add, please contact us.
Back to Top
Key Associations for Black Psychologists
The Association of Black Psychologists, whose purpose is to advance the profession of Black Psychology and to develop programs whereby psychologists Black Psychologists can assist in solving problems of Black communities and other ethnic groups.
The Association of Women in Psychology is committed to a just and inclusive world without sexism and oppression, one that supports the psychological development and well-being of all people.
The American Psychological Association, whose mission is to promote the advancement, communication, and application of psychological science and knowledge to benefit society and improve lives.
For more the most famous Black scholars of the last 30 years, visit our Influential Black Scholars page. If you want more on Psychology, visit our Psychology page to find more influential Psychologists, top colleges and universities for Psychology, and more.
Other Influential Black Scholars by Academic Discipline
Featured Image Credits Include: