Our list of influential Black mathematicians is as diverse as the field of study. These leaders in the field of mathematics are paving the way for the next generation of mathematicians, working in areas such as robotics, academia, national security, astronomy, and more.
Top 10 Black Mathematicians from the Last 30 Years
See where the overall most influential Black scholars and leaders earned their degree with a look at The Colleges with the Most Influential Black Graduates.
Mathematicians use their skills in specialties such as algorithms, calculus, computational analysis, logic, mathematical modeling, geometry, and set theory—and they use those skills in a wider array of professions than most people realize. You'll find mathematicians working in academia, animated films, astronomy, biology, business, climate study, cryptography, engineering, insurance, medicine, national security, physics, and robotics. Mathematics is needed everywhere, and where there is a need for number-crunching, you'll find dedicated mathematicians.
However, despite this breadth of roles available to mathematicians, the field continues to experience a dearth of incoming Black mathematicians, with fewer than 5% of all bachelor's degrees in mathematics and statistics in 2019 going to Black students in the United States.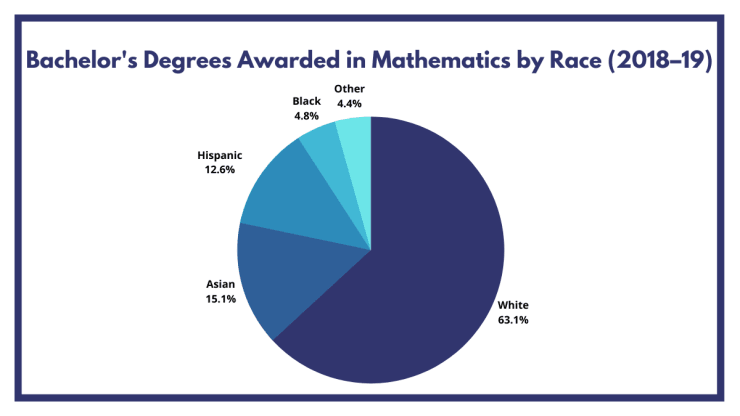 This challenge has not proven an insurmountable obstacle, however, and a number of Black mathematicians today are on the cutting edge of research and problem-solving in homeland security and counterterrorism ( Jonathan Farley), the collapse of bee colonies (Farley), DNA topology ( Candace Price), and tumor growth (Trachette Jackson). In government, Carla Cotwright-Williams has worked as a senior data analyst for the U.S. Department of Defense and also with the National Science Foundation (NSF) to promote STEM to minority students. Edray Goins conducts advanced research in arithmetic geometry, with a specialty in Selmer groups and Galois groups, served as the president of the National Association of Mathematicians (2015–20), continues the work of Mathematicians of the African Diaspora, and runs a NSF-funded research experience for undergraduates.
Pioneering Black Mathematicians in History
To inspire students in the Black community to a greater commitment to field of mathematics, these exceptional role models from history are often cited for their ongoing influence:
Benjamin Banneker — A polymath who was self-taught in astronomy, natural history, surveying, farming, clock-making, and mathematics, Banneker advised President Thomas Jefferson on equality issues and the plight of Africans living in the United States. Banneker's popular almanacs contained precise calculations of tides, planetary orbits and astronomical events, and population estimations, as well as math puzzles and a variety of other mathematical calculations, earning him respect in the new nation and in Europe as the leading Black mathematician in America.
Elbert Frank Cox — In 1925, Cox earned notoriety as the first Black person anywhere to earn a Ph.D. in mathematics (Cornell University). Cox later taught at Howard University, where he was noted for his work in Euler polynomials. The National Association of Mathematicians' Cox–Talbot Address, delivered at its national meetings, is presented in his honor. The Elbert F. Cox Scholarship Fund to assist the education of Black student recipients is named for him.
Dudley Weldon Woodard — Following closely behind Cox with his Ph.D. (University of Pennsylvania) was Woodard in 1928, though he was the first Black mathematician to have his studies published by an accredited mathematics journal. He also joined the Howard University mathematics program, founded its master's degree program, and later founded and served as its department chair.
Back to Top
40 Influential Black Mathematicians From the Last 30 Years
The Black scholars in our list were identified as highly cited and searched people using our machine-powered Influence Ranking algorithm, which produces a numerical score of academic achievements, merits, and citations across Wikipedia, wikidata, Crossref, Semantic Scholar and an ever-growing body of data.
What's the value of influence in the modern world? Learn why influence matters.
Find out more about our Methodology.
Influence is dynamic, therefore some of the mathematicians listed are contemporary scholars while others may be more historical figures. In either case, according to our AI, these are the most cited and searched Black mathematicians over the past 30 years.
List is arranged alphabetically
Idris Assani is a Beninese mathematician, who works as a professor of mathematics at the University of North Carolina at Chapel Hill. Although born in Niger, Assani is Beninese. He was educated in France, earning a bachelor's degree in commerce from Paris Dauphine University in 1981, a doctorate of the third cycle in mathematics from Pierre and Marie Curie University in 1981, and a doctor of science from Pierre and Marie Curie University in 1986, under the supervision of Antoine Brunel. He joined the UNC mathematics department in 1988 but, allegedly for racist reasons, was turned down for tenu...

Joseph Battle

1930 - Present (93 years)

Dr. Joseph Battle is an American mathematician. He earned his BS in Mathematics and Physics at North Carolina Central University and MS in Mathematics at University of Michigan. Thereafter, Battle joined the workforce teaching mathematics in North Carolina's public schools and at Morgan State University. After three years of service, Battle returned to the University of Michigan to complete his PhD in Mathematics. Upon graduation Battle worked as a Senior Analysist in Operations Research for the then four-year-old company Research Triangle Institute (RTI) in Durham, NC. RTI is now a global nonprofit research and technical services company. Battle was called to teach. In 1964 he took the position of Chairman of the Department of Mathematics at University of Lagos in Nigeria. In 1970 he moved to Duke University where he served as a professor in the graduate school of business administration.

David Harold Blackwell was an American statistician and mathematician who made significant contributions to game theory, probability theory, information theory, and statistics. He is one of the eponyms of the Rao–Blackwell theorem. He was the first African American inducted into the National Academy of Sciences, the first African American tenured faculty member at the University of California, Berkeley, and the seventh African American to receive a Ph.D. in mathematics. In 2012, President Obama posthumously awarded Blackwell the National Medal of Science.

Sylvia Bozeman

1947 - Present (76 years)

Sylvia D. Trimble Bozeman is an American mathematician and mathematics educator. Early life and education Sylvia Bozeman was born in Camp Hill, Alabama on 1 August 1947. She was the third of five children to Horace T., Sr. and Robbie Jones. Although her father worked with numbers daily in his profession as an insurance agent, it was her mother, a housewife, who first cultivated Bozeman's love for mathematics. Bozeman attended segregated primary and secondary schools in Camp Hill, and was encouraged by her teachers and parents to continue her education. Her high school mathematics teacher, Mr....

Lillian K. Bradley

1921 - 1995 (74 years)

Lillian Katie Bradley was an American mathematician and mathematics educator who in 1960 became the first African-American woman to earn a doctorate in any subject at the University of Texas at Austin. She accomplished this ten years after African-Americans were first admitted to the school, and despite the dominance of the mathematics department at Austin by R. L. Moore, known for his segregationist views and for his snubs of African-American students.

Ron Buckmire

1968 - Present (55 years)

Ron Buckmire is a Grenadian-born mathematician, former chess champion of Grenada and LGBT activist. He is the past chair of the Occidental College Department of Mathematics. Starting in August 2018, he served as the Associate Dean for Curricular Affairs and Director of the Core Program at Occidental College for four years.

Geraldine Claudette Darden

1936 - Present (87 years)

Geraldine Claudette Darden is an American mathematician. She was the fourteenth African American woman to earn a Ph.D. in mathematics. Early life and education Darden was born in Nansemond County, Virginia. Darden earned a bachelor's degrees in mathematics in 1957 from the Hampton Institute, a historically black institute, and took a teaching position at S.H. Clarke Junior High School in Portsmouth, Virginia. In the summer of 1958, Darden saw an opportunity for aspiring mathematicians created by the launch of Russian satellite Sputnik and ensuing US interest in mathematics and science a yea...

Nathaniel Dean

1956 - 2021 (65 years)

Nathaniel Dean was an African-American mathematician and educator who made contributions to abstract and algorithmic graph theory, as well as data visualization and parallel computing. Education Dean received his B.S. in Mathematics and Physics from Mississippi State University in 1978. He then received his M.S. in Applied Mathematics from Northeastern University in 1983. He received his Ph.D. in Mathematics from Vanderbilt University in 1987, with a doctoral thesis titled "Contractible Edges and Conjectures and Path and Cycle Numbers".

Mary Deconge

1933 - Present (90 years)

Mary Lovenia DeConge-Watson is an American mathematician and former nun as part of the Order of the Sisters of the Holy Family. She was the 15th African-American woman to earn her Ph.D. in mathematics.

Lloyd A. Demetrius is an American mathematician and theoretical biologist at the Department of Organismic and Evolutionary biology, Harvard University. He is best known for the discovery of the concept evolutionary entropy, a statistical parameter that characterizes Darwinian fitness in models of evolutionary processes at various levels of biological organization – molecular, organismic and social. Evolutionary entropy, a generalization of the Gibbs-Boltzmann entropy in statistical thermodynamics, is the cornerstone of directionality theory, an analytical study of evolution by variation and s...

James A. Donaldson

1941 - 2019 (78 years)

James Ashley Donaldson was an American mathematician. He was a professor at Howard University, where he was instrumental in establishing a PhD program in mathematics. He also helped found the National Association of Mathematicians.

Annie Jean Easley was an American computer scientist, mathematician, and rocket scientist. She worked for the Lewis Research Center of the National Aeronautics and Space Administration and its predecessor, the National Advisory Committee for Aeronautics . She was a leading member of the team which developed software for the Centaur rocket stage, and was one of the first African-Americans to work at NASA. Easley was posthumously inducted into the Glenn Research Hall of Fame in 2015. On February 1, 2021, a crater on the moon was named after Easley by the IAU.

Wade Ellis

1909 - 1989 (80 years)

Wade Ellis was an American mathematician and educator. He taught at Fort Valley State University in Georgia and Fisk University in Nashville, Tennessee and earned his Ph.D. in mathematics from the University of Michigan in 1944. He carried out classified research on radar antennas at the MIT Lincoln Laboratory and taught at Boston University and Oberlin College, where he became Full Professor in 1953. The same year, he was elected to the Board of Governors of the Mathematical Association of America.

Etta Zuber Falconer

1933 - 2002 (69 years)

Etta Zuber Falconer was an educator and mathematician the bulk of whose career was spent at Spelman College, where she eventually served as department head and associate provost. She was one of the earlier African-American women to receive a Ph.D. in mathematics.

Dr. Jonathan Farley is Associate Professor of Mathematics at Morgan State University. He holds a bachelor's in mathematics from Harvard University and a PhD in mathematics from University of Oxford. Farley interest are in Combinatorics, Lattice Theory, and the Theory of Ordered Sets, which he has applied to homeland security and counterterrorism efforts. A prize-winning mathematician earning Oxford's highest mathemtics awards, Farley has interesting side projects as well. He's written for a number of popular magazines on a variety of topics, and he runs a company that consults with television and movie producers working on films that involve mathematics, such as NUMB3RS, Good Will Hunting, and Beautiful Mind.

Annie Marie Watkins Garraway

1940 - Present (83 years)

Annie Marie Watkins Garraway is an American mathematician who worked in telecommunications and electronic data transmission. She is also a philanthropist. Biography Garraway was born Annie Marie Watkins in Parsons, Kansas, the oldest daughter of Levi Watkins and Lillian Bernice Varnado who met when they were both high school teachers.

Edray Herber Goins

1972 - Present (51 years)

Edray Herber Goins is an American mathematician. He specializes in number theory and algebraic geometry. His interests include Selmer groups for elliptic curves using class groups of number fields, Belyi mapss and Dessin d'enfants.

Dr. Milton A. Gordon joined California State University, Fullerton in 1986 as the Vice President of the university. In 1990 he be became the president of CSU Fullerton. He retired in 2011. Gordon led CSUF into prominence as one of largest and most inclusive institutions of higher learning in the united states. Gordon, a Ph.D. in mathematics from the Illinois Institute of Technology, led CSU Fullerton for nearly two decades. Under his leadership, recruitment and retention rates rose, and the student body grew from ~25,000 students to over 36,000. Gordon's impact extended beyond CSU Fullerton as his accolades demonstrate: 2011 Illinois Institute of Technology Professional Achievement Award, the 2010 President's Award of Excellence from the Hispanic Association of Colleges & Universities, the 2010 Alfredo G. de los Santos Jr. Distinguished Leadership in Higher Education Award from the American Association of Hispanics in Higher Education, and the 2010 Man of the Year Award from Christ Our Redeemer AME Church, the Black Chamber of Orange County, 100 Black Men of Orange County and the Orange County Ministerial Alliance.

Martha Euphemia Lofton Haynes was an American mathematician and educator. She was the first African American woman to earn a PhD in mathematics, which she earned from the Catholic University of America in 1943.

Gloria Conyers Hewitt

1935 - Present (88 years)

Gloria Conyers Hewitt is an American mathematician. She was the fourth African-American woman to receive a PhD in Mathematics. Her main research interests were in group theory and abstract algebra. She is the first African American woman to chair a math department in the United States.

Freeman Alphonsa Hrabowski III is an American educator, advocate, and mathematician. In May 1992, he began his term as president of the University of Maryland, Baltimore County , one of the twelve public universities composing the University System of Maryland. Hrabowski has been credited with transforming UMBC into an institution noted for research and innovation. Under his leadership, UMBC was ranked the #1 Up and Coming University in the U.S. for six consecutive years by the U.S. News & World Report magazine. When that designation was retired, U.S. News & World Report began including UMBC...

Fern Yvette Hunt is an American mathematician known for her work in applied mathematics and mathematical biology. She currently works as a researcher at the National Institute of Standards and Technology, where she conducts research on the ergodic theory of dynamical systems.

Mary Jackson was an American mathematician and aerospace engineer at the National Advisory Committee for Aeronautics , which in 1958 was succeeded by the National Aeronautics and Space Administration . She worked at Langley Research Center in Hampton, Virginia, for most of her career. She started as a computer at the segregated West Area Computing division in 1951. In 1958, after taking engineering classes, she became NASA's first black female engineer.

Trachette Jackson

1972 - Present (51 years)

Trachette Levon Jackson is an American mathematician who is a professor of mathematics at the University of Michigan and is known for work in mathematical oncology. She uses many different approaches, including continuous and discrete mathematical models, numerical simulations, and experiments to study tumor growth and treatment. Specifically, her lab is interested in "molecular pathways associated with intratumoral angiogenesis," "cell-tissue interactions associated with tumor-induced angiogenesis," and "tumor heterogeneity and cancer stem cells."

Katherine Johnson was an American mathematician whose calculations of orbital mechanics as a NASA employee were critical to the success of the first and subsequent U.S. crewed spaceflights. During her 33-year career at NASA and its predecessor, she earned a reputation for mastering complex manual calculations and helped pioneer the use of computers to perform the tasks. The space agency noted her "historical role as one of the first African-American women to work as a NASA scientist".

Raymond Lewis Johnson is an American mathematician, currently a professor emeritus at the University of Maryland, College Park and an adjunct professor of mathematics at Rice University. He was the first African-American student at Rice University, and the first African-American mathematics professor at the University of Maryland. His research concerns non-well-posed problems and harmonic analysis.

Carolyn Mahoney

1946 - Present (77 years)

Carolyn Ray Boone Mahoney is an American mathematician who served as President of Lincoln University of Missouri. Her research interests include combinatorics, graph theory, and matroids. Early life and education Carolyn Mahoney was born the sixth of thirteen children in 1946 in Memphis, Tennessee to Stephen and Myrtle Boone. Her grandmother cared for the children while her mother worked. Mahoney attended Catholic schools, where she was encouraged in her interest in mathematics by the nuns. As a teenager, Mahoney's parents separated due to her father's drinking and gambling and the family was...

Arlie Oswald Petters, MBE is a Belizean-American mathematical physicist, who is the Benjamin Powell Professor of Mathematics and a Professor of Physics and Economics at Duke University. Petters became the Provost at New York University Abu Dhabi effective September 1, 2020. Petters is a founder of mathematical astronomy, focusing on problems connected to the interplay of gravity and light and employing tools from astrophysics, cosmology, general relativity, high energy physics, differential geometry, singularities, and probability theory. His monograph "Singularity Theory and Gravitational Le...

Candice Renee Price is an African-American mathematician and is an Associate professor at Smith College. She, along with Erica Graham, Raegan Higgins, and Shelby Wilson created the website Mathematically Gifted and Black which features the contributions of modern-day black mathematicians. She is an advocate for greater representation of females and people of color in the STEM fields. Price's area of mathematical research is DNA topology.

Abdulalim Abdullah Shabazz was an African American Professor of Mathematics. He received the National Association of Mathematicians Distinguished Service Award for his years of mentoring and teaching excellence. President of the United States Bill Clinton awarded Shabazz a National Mentor award in September 2000.

Mary Perry Smith was an American mathematics educator who cofounded the Mathematics, Engineering, Science Achievement program and the Black Filmmakers Hall of Fame. Early life and education Perry Smith was born on May 29, 1926, and was originally from Evansville, Indiana, one of six children of a minister in the African Methodist Episcopal Church; her maternal grandfather, Henry Allen Perry had been a chaplain and mathematics teacher at the Tuskegee Institute, where her parents met. As a child she moved frequently, to Kokomo, Logansport, Anderson, Crawfordsville, and Frankfort, all in Indiana...

Dolores Richard Spikes

1936 - 2015 (79 years)

Dolores Margaret Richard Spikes was an American mathematician and university administrator. Born in Baton Rouge, Dolores Richard attended public and parochial schools in that city and, still in her home city, went on to Southern University from which she earned her B.S. degree in mathematics in 1957. Also at Southern she met her future husband, Hermon Spikes

Clarence F. Stephens

1917 - 2018 (101 years)

Clarence Francis Stephens was the ninth African American to receive a Ph.D. in mathematics. He is credited with inspiring students and faculty at SUNY Potsdam to form the most successful United States undergraduate mathematics degree programs in the past century. Stephens was recognized by Mathematically Gifted & Black as a Black History Month 2018 Honoree.

Lee Stiff

1941 - 2021 (80 years)

Lee Vernon Stiff was an American mathematics education researcher; a professor in the Department of Science, Technology, Engineering, and Mathematics Education and the Associate Dean for Faculty and Academic Affairs in the College of Education at North Carolina State University; and the author of several mathematics textbooks. In his 72 years of living he wrote many books.

Thyrsa Anne Frazier Svager was an American academic who was one of the first African-American woman to gain a PhD in mathematics. Born in Ohio, she graduated from high school at the age of 16, going to Antioch College in Ohio and then doing her postgraduate degrees at Ohio State University. Frazier Svager was the head of the Department of Mathematics at Central State University in Ohio for decades, ending her academic career as provost and dean for academic affairs. She and her husband, physics professor Aleksandar Svager, invested one of their salaries during their careers to build a legacy...

Chelsea Walton is a mathematician whose research interests include noncommutative algebra, noncommutative algebraic geometry, symmetry in quantum mechanics, Hopf algebras, and quantum groups. She is an associate professor at Rice University and a Sloan Research Fellow.

Gladys Mae West is an American mathematician known for her contributions to the mathematical modeling of the shape of the Earth, and her work on the development of the satellite geodesy models that were eventually incorporated into the Global Positioning System . West was inducted into the United States Air Force Hall of Fame in 2018. West was awarded the Webby Lifetime Achievement Award at 25th Annual Webby Awards for the development of the satellite geodesy models.

Jesse Ernest Wilkins Jr. was an African American nuclear scientist, mechanical engineer and mathematician. A child prodigy, he attended the University of Chicago at the age of 13, becoming its youngest ever student. His graduation at a young age resulted in him being hailed as "the Negro Genius" in the national media.

Carla Denise Cotwright-Williams is an American mathematician who works as a Technical Director and Data Scientist for the United States Department of Defense. She was the second African-American woman to earn a doctorate in mathematics at the University of Mississippi.

Scott W. Williams

1943 - Present (80 years)

Scott Williams is a Professor of Mathematics at the University at Buffalo, SUNY. He was recognized by Mathematically Gifted & Black as a Black History Month 2017 Honoree. Education Raised in Baltimore, Maryland, Williams attended Morgan State University and earned his bachelor degree of Science in Mathematics.
This list is far from exhaustive; if you have a suggestion for someone to add, please contact us.
Back to Top
Key Associations for Black Mathematicians
These organizations make it their mission to encourage current Black mathematicians while raising up the next generation of statisticians, data scientists, actuaries, quantum physicists, and math teachers:
For more famous Black scholars in other fields of study, visit our Influential Black Scholars page. If you want more in mathematics, visit our Math page to find more influentiual mathematicians, top colleges and universities for mathematics, and more. And check out these free math resources online, with an emphasis on BIPOC student needs.
Other Influential Black Scholars by Academic Discipline
Featured Image Credits Include: