Influential Black Engineers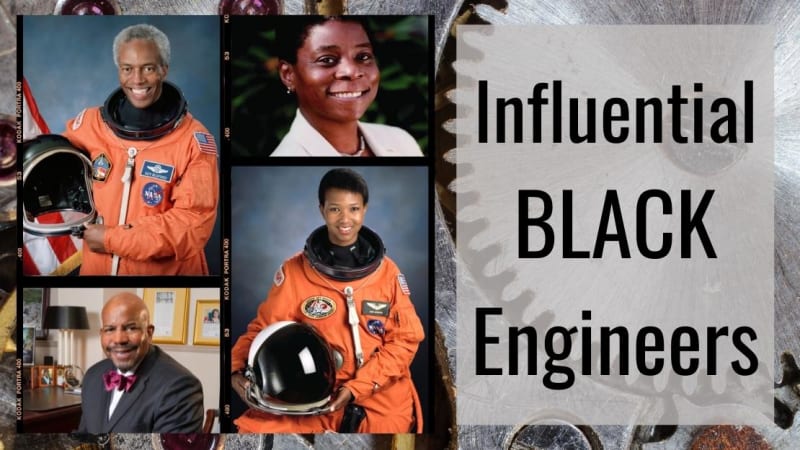 Our list of influential Black engineers is as diverse as the field of study. These leaders in the field of engineering include biomedical, aerospace, civil, environmental, mechanical, and electrical engineers, among others. They are doing groundbreaking work and advancing the field, helping to pave the way for the next generation of engineers.
Top 10 Engineers from the Last 30 Years
Check out The Colleges with the Most Influential Black Graduates to see where some of the top Black scholars have earned their degrees, regardless of their field.
Livescience describes engineering as the application of science and math to solve problems. Engineers figure out how things work and find practical uses for scientific discoveries. Engineers design, evaluate, develop, test, modify, install, inspect and maintain a wide variety of products and systems. Engineering has a large variety of specialty areas including mechanical, electrical, civil, aerospace, nuclear, biomedical, chemical, and environmental engineering. The National Society of Black Engineers exists to increase the number of culturally responsible Black Engineers who excel academically, succeed professionally, and positively impact the community.
According to the National Science Foundation (NSF), [Black people] are underrepresented in all science and engineering occupations. That is, a smaller proportion of [black people] are in S&E occupations than are in the U.S. workforce as a whole (5% versus 12%). Among S&E occupations, [black people] constitute a large share of social scientists and computer system analysts.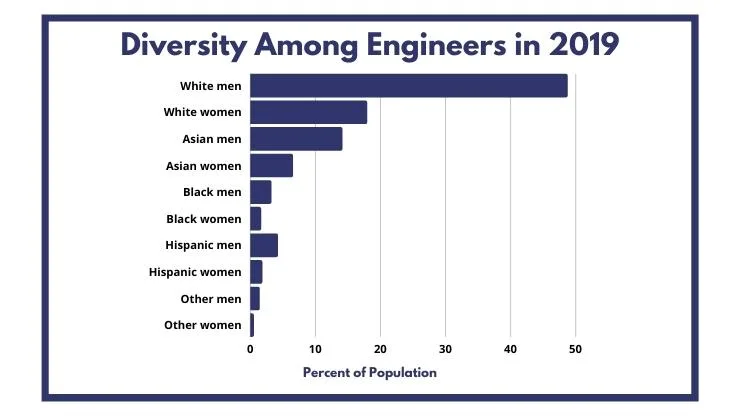 Black Engineers Making Important Contributions to the Field
Engineering scholars in academia are doing research, publishing, and teaching in areas such as chemical and biomolecular engineering, materials science, and biomedical engineering. Influential Black engineers are making incredibly important contributions to the field as well, including:
Back to Top
40 Influential Black Engineers From the Last 30 Years
The Black scholars in our list were identified as highly cited and searched people using our machine-powered Influence Ranking algorithm, which produces a numerical score of academic achievements, merits, and citations across Wikipedia/data, Crossref, Semantic Scholar and an ever-growing body of data.
Find out more about our Methodology.
Akintunde Akinwande

1953 - Present (70 years)

Akintunde Ibitayo Akinwande is a Nigerian American engineering professor at the Electrical Engineering and Computer Science Department of Massachusetts Institute of Technology. He was appointment as chairman of Nigerian Electricity Regulatory Commission, NERC, and he said he will honour his appointment once he secure permission from his employers.

George Edward Alcorn Jr. is an American physicist, engineer, inventor, and professor. He taught at Howard University and the University of the District of Columbia, and worked primarily for IBM and NASA. He has over 30 inventions and 8 patents resulting in his induction into the National Inventors Hall of Fame in 2015.

Treena Livingston Arinzeh

1970 - Present (53 years)

Treena Livingston Arinzeh is Professor of Biomedical Engineering at Columbia University in New York, New York, joining in 2022. She was formerly a Distinguished Professor in Biomedical Engineering at the New Jersey Institute of Technology in Newark, New Jersey. She is known for her research on adult stem-cell therapy. Arinzeh takes part in the American Chemical Society's Project Seeds program, opening up her lab for high school students from economically disadvantaged backgrounds for summer internships.

Guion Stewart Bluford Jr. is an American aerospace engineer, retired United States Air Force officer and fighter pilot, and former NASA astronaut, in which capacity he became the first African American to go to space. While assigned to NASA, he remained a USAF officer rising to the rank of colonel. He participated in four Space Shuttle flights between 1983 and 1992. In 1983, as a member of the crew of the Orbiter Challenger on the mission STS-8, he became the first African American in space as well as the second person of African descent in space, after Cuban cosmonaut Arnaldo Tamayo Méndez...

Kimberly Bryant is an American electrical engineer who worked in the biotechnology field at Genentech, Novartis Vaccines, Diagnostics, and Merck. In 2011, Bryant founded Black Girls Code, a nonprofit organization that focuses on providing technology and computer programming education to African-American girls. After founding Black Girls Code, Bryant was listed as one of the "25 Most Influential African-Americans In Technology" by Business Insider.

Kobie Boykins is a senior mechanical engineer at NASA's Jet Propulsion Laboratory in Pasadena, California. In 2013, he was awarded the NASA Exceptional Achievement Medal. He designed the solar array systems for the Mars exploration rovers Spirit and Opportunity, and designed the actuators on the Mars rover Curiosity. He is currently the supervisor of the mobility and remote sensing teams for Curiosity. In 2003, he was part of NASA's M-Team, which lectured nationally to students regarding careers in science, technology, engineering, and mathematics. He lectures internationally for National ...

Georgia Louise Harris Brown , is considered to be the second African American woman to become a licensed architect in the United States. She was also the first black woman to earn a degree in architecture from the University of Kansas. She was also the only black member of the Chicago chapter of Alpha Alpha Gamma .

Ursula M. Burns is an American businesswoman. Burns is mostly known for being the CEO of Xerox from 2009 to 2016, the first black woman to be a CEO of a Fortune 500 company, and the first woman to succeed another as head of a Fortune 500 company. She additionally was Xerox's chairman from 2010 to 2017.

Alma Carlisle

1927 - Present (96 years)

Alma Fairfax Carlisle , is an American architect and architectural historian who worked in Los Angeles. Her work led to the preservation of many historic districts and sites in the city of Los Angeles.

George Robert Carruthers was an African American inventor, physicist, engineer and space scientist. Carruthers perfected a compact and very powerful ultraviolet camera/spectrograph for NASA to use when it launched Apollo 16 in 1972. He designed it so astronauts could use it on the lunar surface, making all adjustments inside their bulky space suits. Upon instructions from Carruthers, they used the camera to record the Earth's outermost atmosphere, noting its variations, and also mapped portions of the far-ultraviolet sky recording stars and galaxies, and the gaseous media between them. In 197...

Yvonne Y. Clark was a pioneer for African-American and women engineers. She was the first woman to get a Bachelor of Science degree in mechanical engineering at Howard University, the first woman to earn a master's degree in Engineering Management from Vanderbilt University, and the first woman to serve as a faculty member in the College of Engineering and Technology at Tennessee State University, afterward becoming a professor emeritus.

Robert T. Coles

1929 - 2020 (91 years)

Robert Traynham Coles, FAIA, was an architect, educator, and social justice activist. Coles was the first African American to win the Rotch Traveling Scholarship awarded by the Boston Society of Architects, the first African American Chancellor of the American Institute of Architects , the first AIA Vice-President for Minority Affairs, and a founding member of the National Organization of Minority Architects .

Mark Dean

1957 - Present (66 years)

Mark E. Dean is an American inventor and computer engineer. He developed the ISA bus, and he led a design team for making a one-gigahertz computer processor chip. He holds three of nine PC patents for being the co-creator of the IBM personal computer released in 1981. In 1995, Dean was named the first ever African-American IBM Fellow.

Paul S. Devrouax

1942 - 2010 (68 years)

Paul S. Devrouax , was an American architect. He founded the architectural design firm of Devrouax+Purnell, in Washington, D.C.. He helped design the Verizon Center, Nationals Park, the Walter E. Washington Convention Center, and the D.C. headquarters of Freddie Mac and Pepco. He co-designed the African-American Civil War Memorial, and provided design adjustments to the Martin Luther King, Jr. Memorial.

Annie Jean Easley was an American computer scientist, mathematician, and rocket scientist. She worked for the Lewis Research Center of the National Aeronautics and Space Administration and its predecessor, the National Advisory Committee for Aeronautics . She was a leading member of the team which developed software for the Centaur rocket stage, and was one of the first African-Americans to work at NASA. Easley was posthumously inducted into the Glenn Research Hall of Fame in 2015. On February 1, 2021, a crater on the moon was named after Easley by the IAU.

Jeanette Jo Epps is an American aerospace engineer and NASA astronaut. Epps received both her M. S. and Ph.D degrees in aerospace engineering from the University of Maryland, where she was part of the rotor-craft research group and was a NASA GSRP Fellow. She was chosen for the 20th class of NASA astronauts in 2009, graduating in 2011. Epps currently serves as a member of the ISS Operations Branch and has completed analog astronaut missions, including NEEMO 18 and CAVES 19. She is the second woman and first African-American woman to have participated in CAVES.

Phil Freelon

1952 - 2019 (67 years)

Philip Goodwin Freelon was an American architect. He was best known for leading the design team of the Smithsonian Institution's National Museum of African American History and Culture. Some of his other projects include the Center for Civil & Human Rights, the Reginald F. Lewis Museum of Maryland African American History & Culture and the Museum of the African Diaspora. Freelon was a Fellow of the American Institute of Architects , and a LEED Accredited Professional. In 2012, President Barack Obama appointed Freelon to the U.S. Commission of Fine Arts. Freelon was married to six-time Gram...

Harvey Bernard Gantt is an American architect and Democratic politician active in North Carolina. The first African-American student admitted to Clemson University after attending Iowa State University, Gantt graduated with honors in architecture, earned a master's at MIT, and established an architectural practice in Charlotte with a partner.

Garlin Gilchrist II is an American politician and activist serving as the 64th lieutenant governor of Michigan since 2019. He is a member of the Democratic Party. Early life and education Gilchrist was born in Detroit. In 1982, his family moved to Farmington, Michigan. His mother worked at General Motors for 32 years and his father worked in defense contract management for the United States Department of Defense.

Walter Lincoln Hawkins

1911 - 1992 (81 years)

Walter Lincoln Hawkins was an American chemist and engineer widely regarded as a pioneer of polymer chemistry. For thirty-four years he worked at Bell Laboratories, where he was instrumental in designing a long-lasting plastic to sheath telephone cables, enabling the introduction of telephone services to thousands of Americans, especially those in rural communities. In addition to his pioneering research, Hawkins is also known for his advocacy efforts for minority students. He also served as the chairman of Montclair State University in 1973. Amongst his many awards, Hawkins was the first Afr...

Karmella Ann Haynes is a biomedical engineer and associate professor at the Wallace H. Coulter Department of Biomedical Engineering, Georgia Institute of Technology and Emory University. She researches how chromatin is used to control cell development in biological tissue.

Joan Elizabeth Higginbotham is an electrical engineer and a former NASA astronaut. She flew aboard Space Shuttle Discovery mission STS-116 as a mission specialist and is the third African American woman to go into space, after Mae Jemison and Stephanie Wilson.

Kerrie Lamont Holley is an American software architect, author, researcher, consultant, and inventor. He recently joined Industry Solutions, Google Cloud. Previously he was with UnitedHealth Group / Optum, their first Technical Fellow, where he focused on ideating healthcare assets and solutions using IoT, AI, graph database and more. His main focus centered on advancing AI in healthcare with an emphasis on deep learning and natural language processing. Holley is a retired IBM Fellow. Holley served as vice president and CTO at Cisco responsible for their analytics and automation platform. Ho...

Philip G. Hubbard

1921 - 2002 (81 years)

Philip Gamaliel Hubbard was a university professor and administrator who was the first African-American faculty member at the University of Iowa, the first African-American administrator at any of Iowa's state universities and the first African-American vice president at a Big 10 university. In August 2012 Hubbard was inducted into the Iowa African American Hall of Fame.

Lisa Perez Jackson is an American chemical engineer who served as the administrator of the United States Environmental Protection Agency from 2009 to 2013. She was the first African American to hold that position.

Mae Carol Jemison is an American engineer, physician, and former NASA astronaut. She became the first African-American woman to travel into space when she served as a mission specialist aboard the Space Shuttle Endeavour in 1992. Jemison joined NASA's astronaut corps in 1987 and was selected to serve for the STS-47 mission, during which the Endeavour orbited the Earth for nearly eight days on September 12–20, 1992.

Cato T. Laurencin, M.D., Ph.D., FREng SLMH, is an American engineer, physician, scientist, innovator and a University Professor of the University of Connecticut . He is currently the Chief Executive Officer of The Connecticut Convergence Institute for Translation in Regenerative Engineering.

Gerald Anderson Lawson was an American electronic engineer. He is known for his work in designing the Fairchild Channel F video game console as well as leading the team that pioneered the commercial video game cartridge. He was thus dubbed the "father of the videogame cartridge" according to Black Enterprise magazine in 1982. He eventually left Fairchild and founded the game company Video-Soft.

Ivenue Love-Stanley

1951 - Present (72 years)

Ivenue Love-Stanley, , , is an American architect. She co-founded Stanley, Love-Stanley P.C., an Atlanta-based architecture and design firm. She was the first African-American woman to graduate from Georgia Institute of Technology's College of Architecture, and in 1983 she became the first African-American woman licensed architect in the Southeast. Love-Stanley's projects include the Aquatic Center for the 1996 Centennial Olympic Games, the Lyke House Catholic Student Center at the Atlanta University Center, the Southwest YMCA and St. Paul's Episcopal Church , the Auburn Market in Sweet Aubur...

Harold L. Martin Sr. Ph.D. is an American engineer, educator, former chancellor of Winston-Salem State and current chancellor of North Carolina Agricultural and Technical State University. He is the first alumnus in the history of North Carolina A&T to hold the position of Chancellor. Under his leadership, N.C. A&T has become the nation's largest historically black university , its top-ranked public HBCU and North Carolina's third most productive public research university. It has also increased its standing as a land-grant institution and doctoral research university.

Harry G. Robinson III

1942 - Present (81 years)

Harry G. Robinson III is an American architect, and professor of architecture and Dean Emeritus of the School of Architecture and Design at Howard University in Washington, D.C. He was a member of the U.S. Commission of Fine Arts from 1994 to 2003, and served as its chairman from 2002 to 2003. He is also the first African American to be elected president of the National Architectural Accrediting Board, and the first African American elected president of the National Council of Architectural Registration Boards.

Jesse Russell

1948 - Present (75 years)

Jesse Eugene Russell is an American inventor. He was trained as an electrical engineer at Tennessee State University and Stanford University, and worked in the field of wireless communication for over 20 years. He holds patents and continues to invent and innovate in the emerging area of next generation broadband wireless networks, technologies and services, often referred to as 4G. Russell was inducted into the US National Academy of Engineering for his contributions to the field of wireless communication. He pioneered the field of digital cellular communication in the 1980s through the use ...

Norma Merrick Sklarek was an American architect. Sklarek was the first African American woman to become a licensed architect in the states of New York and California . Her notable works include the United States Embassy in Tokyo, Japan and the Terminal One station at the Los Angeles International Airport .

John Brooks Slaughter is an American electrical engineer and former college president who served as the first African-American director of the National Science Foundation . His work focuses on development of computer algorithms for system optimization and discrete signal processing.

Donald Thompson is an American engineer and business executive who was the president and chief executive of McDonald's Corporation from 2012 until 2015. He announced on January 28, 2015, that he would retire from the company and leave his position on March 1, 2015, and was succeeded by Steve Easterbrook, the senior executive vice president and chief brand officer. He is currently the CEO of Cleveland Avenue, an investment group and accelerator that focuses on building new food, beverage, and restaurant concepts, which he founded in 2015. Cleveland Avenue has invested in Beyond Meat and Taste ...

Renetta Garrison Tull is an American electrical engineer, global policy strategist, and works to advance diversity and inclusion in science, technology, engineering, and mathematics . Tull is the inaugural Vice Chancellor of Diversity, Equity, and Inclusion at University of California, Davis and a founding Director of the National Science Foundation funded program PROMISE: Alliances for Graduate Education and Professoriate, which aims to increase the number of underrepresented students in STEM. Tull previously served as Vice Provost for Strategic Initiatives at the University of Maryland, Balt...

James Edward Maceo West is an American inventor and acoustician. He holds over 250 foreign and U.S. patents for the production and design of microphones and techniques for creating polymer foil electretss.

Jesse Ernest Wilkins Jr. was an African American nuclear scientist, mechanical engineer and mathematician. A child prodigy, he attended the University of Chicago at the age of 13, becoming its youngest ever student. His graduation at a young age resulted in him being hailed as "the Negro Genius" in the national media.

Stephanie Diana Wilson is an American engineer and a NASA astronaut. She flew to space onboard three Space Shuttle missions, and is the second African American woman to go into space, after Mae Jemison. her 42 days in space are the second most of any female African American astronaut, having been surpassed by Jessica Watkins in 2022.

This list is far from exhaustive; if you have a suggestion for someone to add, please contact us.
For more the most famous Black scholars of the last 30 years, visit our Influential Black Scholars page. If you want more on Engineering, visit our Engineering page to find more influential Engineers, top colleges and universities for Engineering, and more.
Other Influential Black Scholars by Academic Discipline
Featured Image Credits Include: