Best Colleges and Universities for Communications Degrees
The best communications degree programs are those with rich histories of influence, proven through the work produced by the program's faculty and alumni. Beyond demonstrating scholarly impact in the field, the best anthropology degree programs maximize your opportunities to interact with outstanding anthropology faculty.
A bachelor's degree in communications is an excellent starting point for a career in journalism, broadcasting, public relations, and a host of other exciting fields. As a communications major, you'll study language, group dynamics, non-verbal interaction, and more. Majoring in communication can qualify you for a wide range of professional opportunities in business, education, mass media, and more.
A degree in communication may also prepare you for work as a technician in broadcast, film editing, and a host of other media-related technical roles. Exceptional communication skills could also qualify you for a leadership role in a variety of organizational settings. The best schools for communications are those which are regionally accredited, which offer a full array of communications concentrations, and which give you the chance to work with the best and most influential professors and classmates.
Degree popularity: Communication bachelor's degrees are the 21th most popular undergraduate degrees across all student demographics. It's slightly more popular among women, according to the number of degree earners reported by the National Center for Educational Statistics.
Featured Programs
Frequently Asked Questions About Communications Bachelor's Degrees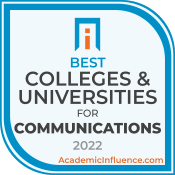 The Best Colleges and Universities for Communications Degrees
Stanford University
University of Pennsylvania
University of California, Berkeley
Northwestern University
MIT – Massachusetts Institute of Technology
Pomona College
Vassar College
Claremont McKenna College
Washington and Lee University
San Francisco State University
University of Missouri
University of Iowa
University of Arizona
Arizona State University
Texas Tech University
The Best Communications Schools in Your State