Texas: Home to World-leading Research Universities
Choosing the best university and graduate programs is a tough decision. Like many other states, Texas has a college system consisting of top private universities and prestigious schools like the University of Texas at Austin and Rice University. Texas is also home to several research universities. As of January 2021, roughly 1.6 million college students are enrolled across many Texas schools.
When researching the many institutions in Texas, maybe you have come across a university that refers to itself as "research-intensive." But what exactly is a research university? And what benefits do you get from studying at one of these institutions?
A research university is a school in which research is vital to its mission. In program content, research is an important component.
Active researchers, being experts in their fields, create and teach the curricula. Many employers value on-campus and online degree programs completed in research universities because, through research projects, students are taught one of the most crucial skills useful to any field—critical thinking skills.
Reasons Why You Should Enroll in a Research University
You will be on top of the latest developments and the newest discoveries. Studying in a research-intensive university will teach you more about world-leading research. You get to know the most updated knowledge and thinking in your subject.
And the best part of it all? Your teachers are likely active researchers in the field that will bring their interests and work into the class. You will learn about the crucial academic fundamentals of your subjects, too.
Community
Enrolling in a research university also means you will become a part of an active community that shares the same passion as you—a community of similarly ambitious world-leading researchers and peers.
You get to learn from others while building your professional network as you study. And if you intend to pursue your studies after you graduate, your degree will give you the perfect connections and foundation for a master's or Ph.D. program.
Skills for Success
The skills you develop during your studies will set you apart from other graduates as you compete in the job market. A research university will equip you with curiosity and critical thinking skills.
Attending a research university can help you to become an independent learner. You will develop a keen ability to develop and take ownership of your research project.
This skill will serve you well whether you plan to further your education in graduate school or enter the job market.
State-of-the-art Facilities
You will have access to cutting-edge equipment and state-of-the-art facilities in the top research universities. Most of the research universities in Texas have open-plan learning spaces as part of their STEM (science, technology, engineering, and mathematics) facilities.
More Specialized Majors
Most research universities have a large student and faculty population. This means more majors to choose from.
As an example, a smaller college may offer General Biology, but a research university will offer Biophysics, Biochemistry, or Biotechnology.
Networking Opportunities
Researchers are encouraged to develop connections and often collaborate across college campuses with other experts in their field.
Student organizations at large research universities often invite experts and leaders in their fields to visit the campus and interact with students. These types of interactions can lead to mentorships, internships, and careers upon graduation.
Enthusiastic and Experienced Professors
People who dedicate most of their waking hours to researching a particular subject are passionate about it. Professors often take this enthusiasm with them into class as they teach and perform research with their students.
No more monotonous, boring lectures, instead professors in research universities are enthusiastic and passionate.
Colleges and Universities in Texas
Texas offers more than 30 colleges and universities that serve communities of 10,000 students or more. The largest school in the bunch (and in the nation), Texas A&M University in College Station serves more than 65,000 students. The University of Texas at Austin is the next largest, serving about 45,000 students - but it too has a big claim to fame, as the wealthiest public university in the United States. Texas's private colleges and universities, including Baylor University and Southern Methodist University, are also impressive in size and scope. The majority of these schools have religious affiliations and offer degrees in a variety fields, such as nursing, religious studies, criminal justice, business, and education.
Find college admissions consultants in your state.
For students who prefer a more intimate educational environment, Texas offers a long list of smaller public and private colleges and universities, such as Abilene Christian University and University of Texas of the Permian Basin. Additionally, Texas has generous loan forgiveness programs for qualifying nurses, physicians, teachers, legal aid attorneys, and lawyers who work in the Texas Attorney General's office.
Texas is known for doing things big. Big cities, big open spaces and, of course, big fun. Whether you're hitting up the live music scene in Austin, catching a Cowboys game in Dallas, or strolling down the River Walk in San Antonio, you're sure to have a good time. And, with more than 150 higher education institutes, it's safe to say The Lone Star State is big on education too.
If you're looking to earn your degree in the state of Texas, you'll have plenty of higher learning institutes to choose from.
What are Texas's Colleges & Universities?
Related: Differences between research universities and teaching colleges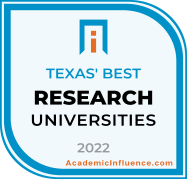 A research university is a great option for students interested in obtaining STEM degrees. Research universities invest heavily in research, which consequently provides meaningful and extensive opportunities for its students and faculty to participate in research. We've identified 28 research universities in Texas. To be included in our ranking, schools must be a fully accredited universities and must must offer doctoral degrees across the range of STEM subjects (Science, Technology, Engineering, Math).