Texas's Best Colleges & Universities of 2021
Here are the best colleges and universities in Texas. Our list will help you find the right kind of school for you.
Related: Differences between research universities and teaching colleges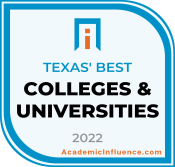 How do we determine Texas's best colleges and universities?
The best colleges pound for pound!
The people affiliated with a school are ultimately what make it great. This is why, at the undergraduate level, we rank the best colleges and universities based on what we call Concentrated Influence. Concentrated Influence takes the combined influence score of a college or university's top academic influencers (including faculty and alums) and divides it by the school's total number of undergraduates.
Using concentrated influence gives small and mid-sized schools an opportunity to shine by taking away the size advantage of larger universities. A small school with proportionately more influential faculty than a large school, whose influence in absolute terms may be bigger, will nonetheless score higher in a concentrated influence ranking. Our approach highlights undergraduate schools that truly rank for excellence, regardless of size.
More
We've identified a total of 74 colleges and universities in Texas; 46 meet our criteria; and the top 25 are shown below. This list focuses on schools that offer four-year undergraduate degrees, and includes both public and private colleges and universities. In order to be included in this list of best colleges in Texas, a school needs to satisfy the following two conditions:
It must be fully accredited.
40% graduate rate requirement
25 Best Colleges and Universities in Texas
#1

Rice University

#90 institution's overall influence

#15 overall school desirability

What is Rice University known for?

Rice University's faculty and alumni have been influential in:

Physics
Earth Sciences
Chemistry
Mathematics
Computer Science
Engineering
Biology
Economics
Religious Studies
Philosophy

Most Influential Alumni

#2

University of Texas at Austin

#43 institution's overall influence

#43 overall school desirability

What is University of Texas at Austin known for?

University of Texas at Austin's faculty and alumni have been influential in:

Physics
Earth Sciences
Computer Science
Mathematics
Communications
Chemistry
Engineering
History
Psychology
Sociology

Most Influential Alumni

#3

Southern Methodist University

#303 institution's overall influence

#1324 overall school desirability

What is Southern Methodist University known for?

Southern Methodist University's faculty and alumni have been influential in:

Law
Religious Studies
Anthropology
Earth Sciences
Business
Engineering
Communications
History
Education
Computer Science

Most Influential Alumni

#4

University of Dallas

#1301 institution's overall influence

#1419 overall school desirability

What is University of Dallas known for?

University of Dallas's faculty and alumni have been influential in:

Philosophy
Psychology
Economics
Political Science
Physics
Literature
Mathematics
Education
Computer Science
Business

Most Influential Alumni

#5

Houston Baptist University

#1383 institution's overall influence

#270 overall school desirability

What is Houston Baptist University known for?

Houston Baptist University's faculty and alumni have been influential in:

Religious Studies
Philosophy
Physics
Literature
Biology
Business
Chemistry
History
Medical
Communications

Most Influential Alumni

#6

St. Mary's University, Texas

#1468 institution's overall influence

#282 overall school desirability

What is St. Mary's University, Texas known for?

St. Mary's University, Texas's faculty and alumni have been influential in:

Economics
Law
Communications
Criminal Justice
Political Science
Literature
Business
Sociology
Education
Social Work

Most Influential Alumni

#7

Trinity University

#1110 institution's overall influence

#236 overall school desirability

What is Trinity University known for?

Trinity University's faculty and alumni have been influential in:

Anthropology
Economics
Chemistry
Medical
Engineering
Psychology
Political Science
Religious Studies
Communications
Literature

Most Influential Alumni

#8

University of Houston

#253 institution's overall influence

#1064 overall school desirability

What is University of Houston known for?

University of Houston's faculty and alumni have been influential in:

Business
Social Work
Engineering
Literature
Chemistry
Physics
Computer Science
History
Nursing
Communications

Most Influential Alumni

#9

University of Texas at Dallas

#520 institution's overall influence

#222 overall school desirability

What is University of Texas at Dallas known for?

University of Texas at Dallas's faculty and alumni have been influential in:

Computer Science
Physics
Criminal Justice
Earth Sciences
Chemistry
Engineering
Mathematics
Biology
Economics
Business

Most Influential Alumni

#10

Baylor University

#397 institution's overall influence

#96 overall school desirability

What is Baylor University known for?

Baylor University's faculty and alumni have been influential in:

Religious Studies
Nursing
Medical
Business
Sociology
History
Education
Law
Communications
Chemistry

Most Influential Alumni

#11

Texas A&M University

#183 institution's overall influence

#91 overall school desirability

What is Texas A&M University known for?

Texas A&M University's faculty and alumni have been influential in:

Engineering
Sociology
Chemistry
Computer Science
Business
Political Science
Mathematics
Earth Sciences
Criminal Justice
Physics

Most Influential Alumni

#12

University of St. Thomas

#2153 institution's overall influence

What is University of St. Thomas known for?

University of St. Thomas's faculty and alumni have been influential in:

Philosophy
Political Science
Communications
Medical
Religious Studies
Psychology
Chemistry
Education
Business
Literature

Most Influential Alumni

#13

Southwestern University

#1306 institution's overall influence

#1188 overall school desirability

What is Southwestern University known for?

Southwestern University's faculty and alumni have been influential in:

Economics
Mathematics
Philosophy
Computer Science
Religious Studies
Literature
Education
Psychology
Physics
Business

Most Influential Alumni

#14

Hardin–Simmons University

#1216 institution's overall influence

#1182 overall school desirability

What is Hardin–Simmons University known for?

Hardin–Simmons University's faculty and alumni have been influential in:

Religious Studies
Literature
History
Earth Sciences
Medical
Communications
Business
Psychology
Sociology
Nursing

Most Influential Alumni

#15

LeTourneau University

#2759 institution's overall influence

#202 overall school desirability

What is LeTourneau University known for?

LeTourneau University's faculty and alumni have been influential in:

Engineering
Computer Science
Social Work
Literature
Business
Communications
History
Medical
Education
Nursing

Most Influential Alumni

#16

Howard Payne University

#1317 institution's overall influence

#939 overall school desirability

What is Howard Payne University known for?

Howard Payne University's faculty and alumni have been influential in:

Literature
Philosophy
History
Anthropology
Criminal Justice
Biology
Religious Studies
Chemistry
Business
Psychology

Most Influential Alumni

#17

Texas Tech University

#385 institution's overall influence

#1458 overall school desirability

What is Texas Tech University known for?

Texas Tech University's faculty and alumni have been influential in:

Engineering
Criminal Justice
Communications
Business
Mathematics
Earth Sciences
Computer Science
History
Economics
Education

Most Influential Alumni

#18

Abilene Christian University

#1463 institution's overall influence

#771 overall school desirability

What is Abilene Christian University known for?

Abilene Christian University's faculty and alumni have been influential in:

Religious Studies
Chemistry
Criminal Justice
History
Social Work
Literature
Communications
Education
Psychology
Nursing

Most Influential Alumni

#19

Texas Christian University

#764 institution's overall influence

#208 overall school desirability

What is Texas Christian University known for?

Texas Christian University's faculty and alumni have been influential in:

Chemistry
Psychology
Religious Studies
History
Business
Communications
Political Science
Criminal Justice
Biology
Medical

Most Influential Alumni

#20

St. Edward's University

#1852 institution's overall influence

#364 overall school desirability

What is St. Edward's University known for?

St. Edward's University's faculty and alumni have been influential in:

Chemistry
Computer Science
Philosophy
Communications
Religious Studies
Literature
Criminal Justice
Political Science
Business
Education

Most Influential Alumni

#21

Austin College

#2305 institution's overall influence

#1129 overall school desirability

What is Austin College known for?

Austin College's faculty and alumni have been influential in:

Political Science
Computer Science
Economics
Biology
Business
Mathematics
History
Education
Psychology
Medical

Most Influential Alumni

#22

University of North Texas

#455 institution's overall influence

#1391 overall school desirability

What is University of North Texas known for?

University of North Texas's faculty and alumni have been influential in:

Business
Political Science
Social Work
Chemistry
Communications
Criminal Justice
Engineering
Literature
Computer Science
Mathematics

Most Influential Alumni

#23

Sam Houston State University

#782 institution's overall influence

#1048 overall school desirability

What is Sam Houston State University known for?

Sam Houston State University's faculty and alumni have been influential in:

Criminal Justice
Communications
Nursing
Business
Education
Biology
Literature
Medical
Computer Science
Political Science

Most Influential Alumni

#24

University of Texas at Arlington

#607 institution's overall influence

#1113 overall school desirability

What is University of Texas at Arlington known for?

University of Texas at Arlington's faculty and alumni have been influential in:

Social Work
Engineering
Computer Science
Criminal Justice
Communications
Biology
Physics
Chemistry
Economics
Mathematics

Most Influential Alumni

#25

Texas A&M International University

#2160 institution's overall influence

#896 overall school desirability

What is Texas A&M International University known for?

Texas A&M International University's faculty and alumni have been influential in:

Sociology
Criminal Justice
Medical
Communications
Business
Psychology
Engineering
Political Science
Nursing
Biology

Most Influential Alumni
Find the Best Schools in Texas for your Major
Photo By:
By Daderot - Own work, Public Domain