We rank the best online MBA in data analytics degree programs.
Key Takeaways
The online MBA in data analytics degree is a great degree for students with an interest in data analysis and strategic management.


Getting the online MBA in data analytics degree can lead to well paying careers in business analytics, business intelligence, financial management, and more.


A growing number of business schools offer an online MBA with a data analytics or business analytics concentration.
See our complete guide to MBAs for more information.
Featured Programs
Online MBA programs in data analytics can lead to a variety of excellent careers in data analysis, financial planning, business forecasting, and much more.
Business professionals and business leaders are increasingly expected to bring technical knowledge to roles in areas like operations management, marketing management, and global supply chain management. This makes the MBA business analytics degree an especially valuable graduate degree.
Data analytics is a great career for people who like strategic planning, data science, and financial and economic analysis.
Most students who earn an online MBA with a data analytics concentration pursue careers in data management and business intelligence. However, there are numerous related career paths that you could take with this specialized business education, including digital marketing, project management, human resource management, and more.
See a complete List of Online Programs. Or read on.
About Online MBA in Data Analytics Degree Programs
Students in the online MBA in data analytics degree program will take foundational business courses alongside specialized topics such as predictive analysis, database management, marketing analytics, and more.
These technical and leadership skills can easily be transferred to careers in other business contexts including finance, marketing, and personnel recruitment.
In most cases, however, the online MBA in data analytics is designed to prepare you for a career in business analytics or business intelligence.
This online master's, also sometimes referred to as the MBA in business analytics, can provide excellent leadership opportunities in the field. Data scientists are capable of earning a median salary of $110,910 a year, according to the Bureau of Labor Statistics.
Admission Requirements for the Online MBA in Data Analytics
Schools that offer an online MBA in data analytics, or MBA programs with a business analytics focus, have different admission requirements.
These are the admission requirements common to schools offering the online MBA in data analytics:
A completed online application
An accredited four-year undergraduate degree
Official college transcripts
A cumulative college GPA of 3.0 - 3.5
Graduate Management Admissions Test (GMAT) Score or Graduate Record Examination (GRE) Score
Personal statement or essay
Reference Letters
Professional Resume or CV
Key Point: Some programs might also require an interview process.
Learn more about online MBA admission requirements.
Curriculum and Courses
Each college of business offering the online MBA in data analytics or business analytics program has different course requirements, although there are similarities in programs. There are typically core courses, individualized research projects, and practicum, laboratory, or residency requirements.
The typical courses offered in MBA online degree programs with a data analytics or business analytics specialization include:
Data Visualization
Big Data Analytics
Financial Management
Business Forecasting
Data Mining
Predictive Analytics
Managerial Economics
Management Science
Database Management
Key Point: Online data analytics programs will cover topics such as data visualization, financial forecasting, and data mining.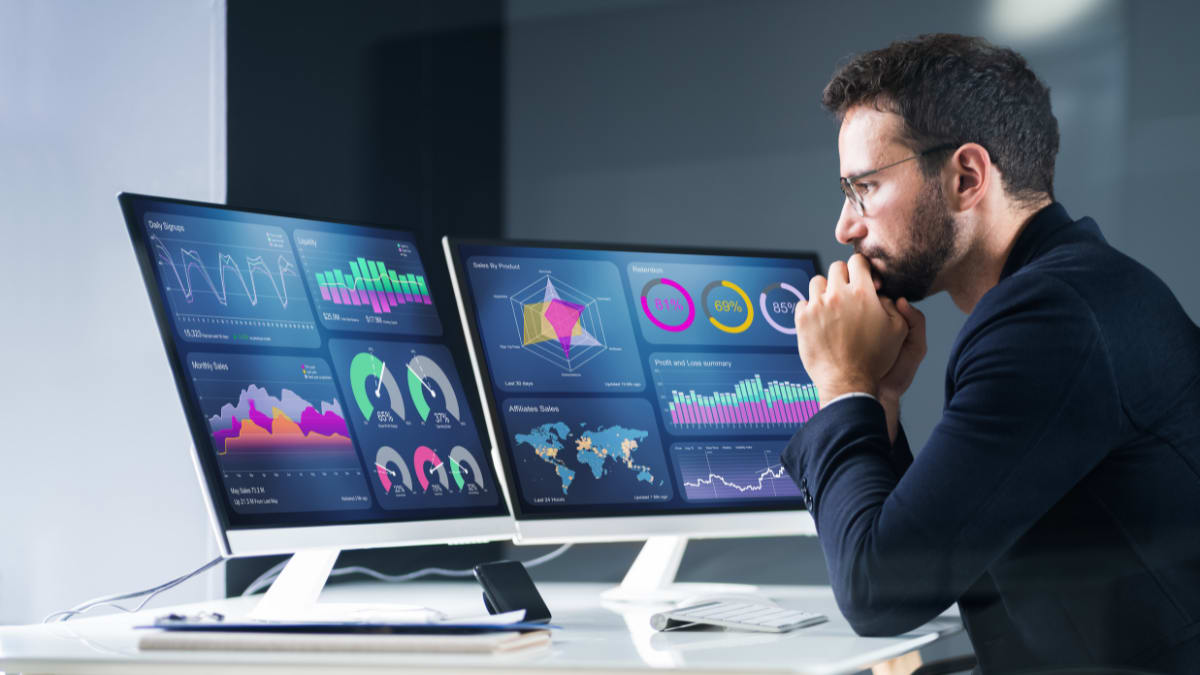 Back to Top
Careers for Online MBA in Data Analytics Degree Holders
Graduates with the online business analytics MBA have the credentials to qualify for several careers, including:
Business Analysts
Marketing Analysts
Financial Consultants
Cybersecurity Officers
Data Scientists
Computer and Information Research Scientists
Key Points: According to the Bureau of Labor Statistics, job openings for computer and information research scientists are projected to grow by 21% from 2021 to 2031.
The picture is even brighter for those who use their graduate degree to pursue careers as data scientists. Jobs for these positions are expected to grow by 36% from 2021 to 2031.
Back to Top
Factors for Choosing MBA in Data Analytics Online Programs
Graduate students aspiring to a career in data analytics or business analytics must be prepared to tackle the challenges of an accredited online MBA in data analytics program.
Choosing a top-notch online degree program will help to make your professional journey easier by allowing you to balance your pursuit of an advanced degree with any existing professional demands.
Furthermore, an online degree program in a reputable college or university should have the integrity, reputation, and track record to convince employers that their graduates deserve a place in the employer's organization.
Here are the factors that you need to consider when choosing a school that offers the online MBA in data analytics degree:
Accreditation: Accreditation is vital. It signifies that the school's education is in compliance with the standards of the Department of Education and the accrediting body. A school must also be accredited in order to offer federal financial aid to its students.

In addition to institutional accreditation, be sure your degree in online MBA in data analytics is accredited by the Association to Advance Collegiate Schools of Business (AACSB). This national board provides programmatic accreditation, which is an important mark of credibility for the master's of business administration degree.

Cost: Cost is an inherent element of every educational pursuit. But since cost differs from one school to another, you must ensure that the online school you choose is affordable while still providing a quality education.
Financing Options: Accredited colleges and universities will offer financial aid options including grants, scholarships, and loans for students who qualify. Some will also offer work-study programs.
Course Delivery: Online education courses are delivered in three different ways: synchronous (live online classes), asynchronous (classes that can be attended anytime), and blended or hybrid (a mix of both synchronous and asynchronous). Choose a school that offers the type that suits your schedule.
Academic Support: Academic support is a valuable element of distance learning. Give due credit to schools that provide students with online resources such as references and tutorials. You will need these to gain a deeper understanding of your lessons.
Median Salaries of Similar Careers in the U.S.
The following graph depicts the average salaries of similar occupations to Financial and Investment Analysts in the U.S.
Source: U.S. BUREAU OF LABOR STATISTICS
79940
Insurance Underwriters
103020
Financial and Investment Analysts
110610
Financial Risk Specialists
119960
Personal Financial Advisors