Who Has the Best College Basketball Mascots?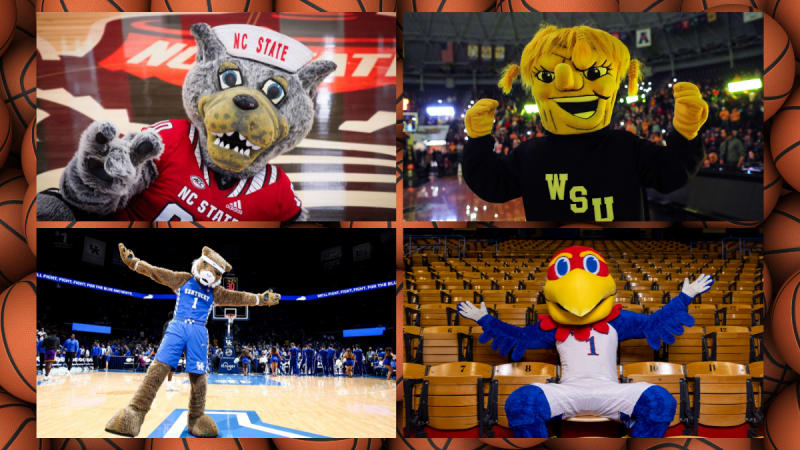 A few months ago, we marked college football's Bowl season with a look at the of all time. Naturally, the very best of them—Otto the Orange, Brutus the Buckeye, and the Stanford Tree—show up at most of the basketball games too. So in lieu of either restating much of the previous list, and in lieu of producing an altogether new list that is inferior due to the exclusion of these living legends, we're going to do something a little different this time around.
For a look back at the Bowl season, check out Best College Football Mascots.
What follows is a list that includes some of the best mascots in college basketball alongside some of the mascots that we found it easiest to score one-liners off of. We'll give you two guesses about where UNC Charlotte's Norm the Niner falls on that divide. Now without any further delay-mostly because March Madness is almost here and at that point we expect you'll either be in the stands, glued to your television, or compulsively refreshing your browser for bracket updates-let's get right to the mascots:
The Best Mascots in College Basketball
WuShock is the scourge of gluten-sensitive spectators everywhere, a freshly harvested bundle of wheat, towering over opposing spectators at an imposing 7-feet tall and flashing a menacing open-mouthed perma-smile. Putting aside the cannibalistic implications of a giant stalk of wheat seen constantly chewing on...a piece of wheat, WuShock is an exceedingly innovative mascot. Indeed, the sheer Midwestern absurdity of WuShock belies his advanced age. Don't let his jacked up physique fool you. WuShock is almost 75 years old!

And his origin story begins more than a century ago. In its first days as an institution, Wichita State was called Fairmount College, and its earliest enrollees were known to earn money on the side by "shocking" or harvesting wheat in the nearby fields. It was thus that the school's athletes earned the informal nickname of Wheatshockers in 1904. By 1926, Fairmount had become Municipal University of Wichita, and the team was officially dubbed the Shockers (which not only sounded cooler but fit much better in the newsprint).

WuShock made his first appearance in 1948 and closely resembled an Easter Island head with legs and dreadlocks. WuShock has undergone countless redesigns since that time, the most recent being in 2006. For a wheat-based mascot, evidence suggests dedication to a high-protein diet. Indeed, each update adds a few more pounds of muscle mass to this intimidating bale of bread wheat.

Image of WuShock used with the permission of the Wichita State Athletics Department.

This may be the hardest working bird in the business. The players at Saint Joseph's University in Philadelphia fly under the motto, "The Hawk Will Never Die." To prove the point, their mascot can be seen flapping his wings ceaselessly at every single basketball game since 1956. The perpetual-motion-mascot was the brainchild of ex-marine and SJU cheerleader Jim Brennan, who inhabited the costume for its first three seasons of action. And if you think the current hawk is intimidating, get a load of the horror-shop creature that graced games in the '50s. For sheer stamina alone, The Hawk has been widely recognized across college sports, earning honors from ESPN, Sports Illustrated, and the Sporting News as a legend among mascots. Indeed, during a recent broadcast, ESPN employed what we assume was a NASA-engineered diagnostic device called the "flap-o-meter," which determined that The Hawk flaps its wings in excess of 3,500 times during every regulation basketball game. The person inside that suit gets a free ride to St. Joe's by the way, and clearly, they're out there earning every dollar of that scholarship.

Image: St. Joseph's Hawk, By Jonathan Schilling - Own work, CC BY-SA 4.0.

University of California, Santa Cruz

Did you know that the Banana Slug is actually one of the deadliest creatures in North America? Just kidding. You could kill one of these things with a salt shaker. But why would you? They're so darn cute, even if they are basically crawling tubes of slime. The point is, the Banana Slag is an obvious choice for an athletics mascot, especially if your campus is ensconced in the California redwoods where these bright, yellow gastropods make their home. Roughly since the school's founding in 1965, its student body has naturally identified with the gentle slug, embracing it as something of a countercultural statement relative to the more cantankerous creatures repping other schools. But by 1980, with the school seeking to raise its profile just slightly, university brass polled student players before rebranding the team the Sea Lions. That's when school administrators learned that even banana slugs can be pushed only so far. The student body revolted. Though a Sea Lion adorned center court at UCSC home games, "Go Slugs!" could still be heard from the bleachers. Finally, the university relented and held a full student body poll pitting the two mascots against one another. In 1986, gentle Sammy trounced the sea lion in voting, and by 1992, had achieved fame as the year's top mascot in the National Directory of College Athletics.

Image of Sammy the Slug used with the permission of University Communications Department, UC Santa Cruz.

As a rule, we usually don't give points to Wildcats because, c'mon, everybody's a wildcat. But we'll give it to this guy for style points alone. Those patchwork, baggie pants put him solidly on tour with a Spin Doctors cover band circa 1993. I'm right there with you, buddy.

The Kentucky Wildcat, whose official name is The Wildcat, began his tenure with Kentucky in 1976. This was, of course, a time when wildcats still roamed free through the downtown streets of Lexington. Fortunately, The Kentucky Wildcat's distinctive basketball attire generally protected him from poachers. It is thus that he became a permanent fixture for March Madness fans, serving as the furry face of a UK men's basketball juggernaut that has stamped no fewer than 17 trips to the Sweet Sixteen since 1985.

In the 2000s (we believe-the historical record is a bit spotty), The Wildcat was joined by a plush-faced young sidekick named Scratch. In a description straight out of a casting call for a hip adult capable of marketing soft drinks to youngsters, Wikipedia says that Scratch "wears his hat backwards, drinks Coca-Cola, and loves to have fun." And who doesn't love fun?

Image of Kentucky Wildcat used with the permission of the Public Relations and Strategic Communications Department, University of Kentucky.

University of Maryland, College Park

Testudo is inspired by the broader Maryland State mascot-The Near-Sighted Driving Instructor. Just kidding. We love you, Maryland. It doesn't matter to us that you can't drive. You have so many other awesome qualities. Tops among them is your mascot.

In reality, Testudo is a diamondback terrapin, and the costumed version has been a dynamic presence at College Park basketball games since the 1970s. But like most giant tortoises, Testudo is much older than he looks. Long before one student each year secretly donned the bicycle helmet sutured to his headpiece, Testudo emerged from his shell to rep the Terps. As the story goes, in 1933, Curley Byrd-who in addition to having an amazing name served simultaneously as the school's president, athletic director, baseball manager, and football coach-proposed the official adoption of the terrapin. The Class of 1933 responded by installing a 300-pound bronze turtle in front of Ritchie Coliseum. Thus began a long history of vandalism and theft.

Most notable among such incidents was a 1947 heist by students from the rival Johns Hopkins University. When word spread of the theft, a mob of Maryland students laid siege to the Johns Hopkins building where the Testudo was held hostage. Depending on who you believe, the disturbance (which required the dispatch of 200 local police officers) was either a violent riot or an awesome party. In the time since that incident, the original Testudo was filled with 700 pounds of cement, and numerous other bronze incarnations have been stationed around campus. And of course, the fighting spirit of Testudo is embodied today by the furry costumed caperer you see before you at Terps games today.

Image of Testudo used with the permission of the University of Maryland Athletics Department.

At first glance, Big Jay may seem kind of basic. But don't be fooled. Even if big bird-costumed creatures are a dime-a-dozen in college sports, very few have ever procreated. This is where Big Jay distinguishes himself. In addition to representing his team in 15 Sweet 16 appearances since 1985, this dude is a dad.

But before we get to Baby Jay, here's a capsule history on Big Jay. Did you know that the Jayhawk isn't a real bird? This is actually a fictional hybrid between the bluejay and the sparrow hawk, and was used to describe the heroic efforts of early Kansas settlers in establishing the territory as a free state upon its entry in the Union.

A cartoonist named Henry Maloy first illustrated the Jayhawk for the University Daily Kansan in 1912, establishing the Jayhawk's permanent status in university lore. Big Jay debuted in the 1960s and his appearance has been relatively unchanged since that time. School rules dictate that the individual donning the beak must be male, and greater than six feet tall. Of course, these specifications give some air of mystery to the 1971 birth of Baby Jay, who was literally hatched from an egg during halftime of the homecoming game against Kansas State. The single father and his son have been inseparable since. As they say, life finds a way.

Image of Big Jay used with the permission of the News and Media Relations Department, University of Kansas.

The institution known today as Duke University began the 20th Century as Trinity College. It also began that century with a ban on football, which its Methodist administrators considered dangerous and immoral. Though local fans and the student body passionately fought for the return of gridiron action, the school would endure a quarter-century without a single snap. It was only in 1920 that football was officially reinstated.

That led to efforts to anoint a new identity for Duke's athletic heroes. Among the names ventured in the first round of pitches were the Grizzlies, Catamounts and Dreadnaughts. It saddens us that Dreadnaughts was overloooked-and with it, the opportunity for us to celebrate an anthropomorphic battleship in the present list. In fact, the first round yielded no decisive victor, and it was ultimately the inspiration of two student newspapers to dub the players Blue Devils after a heroic WWI-era French Military unit.

The name was not particularly popular at first, but did win the support of the substantial number of recently returned World War I veterans composing the student body. Its originators were certain that some eventual pushback from university press would result in the names dismissal. But it never happened, and eventually, the Blue Devil simply gained acceptance. Though the mascot does look suspiciously like an athlete in satan's dominion, the name isn't technically sacrilegious. And more importantly, because the Duke basketball program is among the most successful of all time, with the team making 16 appearances in the Sweet Sixteen since 1985, this goateed scamp is a March Madness fixture.

Image of Big Blue used with the permission of the Utah State University Athletics Department.

Chip is a buffalo who has evaded hunters for years by camouflaging as a beanbag chair with horns. Serving as the mascot for the University of Colorado since the 1980s, Chip will make upwards of 400 appearances over the course of given school year, which means that his duties are typically divided amongst six to eight students every year.

All students selected to don the foam-steel-and-hockey-helmet head must participate in a summer training camp where practice drills include walking and turning. Evidence suggests the training program has generally been a success because Chip placed first in back to back University Cheerleaders Association National Championships in 2009 and 2010. A decade later, he once again gored the competition, taking the title in 2020.

Image of Chip used with the permission of the Strategic Relations and Communications Department, University of Colorado.

University of Texas at El Paso

Perhaps more than any other mascot on this list, Paydirt Pete looks like a guy that was hired off of the school's janitorial staff. This is not to suggest he isn't pulling off the look. With his trusty pickaxe and friendly mustache, the mascot for the University of Texas at El Paso Miners does have a certain Burt Reynolds-type swagger.

Still, Paydirt Pete has actually had something of an on-again, off-again relationship with his university. Back in the '60s, a man dressed as a prospector would regularly take to the football field, but he was always second-fiddle to Clyde the burro, whom a college president once described as "sad" and "pot-bellied." Though Clyde was upgraded into a more spritely donkey in the early '70s, he still wasn't very cool.

Thus, in 1974, Paydirt Pete was selected out of 500 entries as the name for a new mascot, only to be replaced in 1980 with an affable little gent nicknamed Sweet Pete. Unfortunately, they don't give out prizes for congeniality in mascotry. Sweet Pete was pretty unpopular, so the school retooled Paydirt Pete a few years later, creating that fresh-out-of-a-1970s-cologne-advert machismo that we all know and love today.

Image: Paydirt Pete, By Stanton49 - Own work, CC BY-SA 4.0.

I'll be honest, Bruiser is only here because he's repping the national champs as we enter this year's tournament. I mean, no offense to the guy. He seems like a swell bear. He's just not particularly funny. I'm at a loss for punchlines here so I'll just give it to you straight.

The athletes at this Waco, Texas University have been rocking the bear as their spirit animal since 1914, but it was only in 1981 that they started dressing a guy in a suit. That original get-up was sponsored by fast-food chain Wendy's, and the first Bruiser did bear a passing resemblance (see what I did there?) to Wendy's founder, Dave Thomas. But as the school's relationship with Wendy's dissolved, the bear remained, going through several costume upgrades including an ill-advised stretch in the mid-90s when Bruiser tinted his fur green. The hair-metal inspired look didn't last though.

By the 2000s, Bruiser had gone back to brown. He also hit the gym, buffed up, and began riding a Harley. In 2017, ee was rewarded for his bad-boy makeover with a ride-or-die girlfriend. Now Marigold joins him for most home and away games.

Please, control your disappointment when you realize that Morehead State's mascot is not the guy from the Muppets. It's just a dude in an Eagle costume. And no...it's not Sam Eagle from the Muppets either. It's not a Mupppet at all!

Beaker was unveiled to students at the public Kentucky university in 1993. According to the school's own website, Beaker had a "classic mascot look" until 2009, which we assume means that he was constructed from paper mâché and had terrifying, lifeless eyes. Thanks to a millennial redesign, today Beaker strikes the perfect balance between aquiline nobility and predatory determination.

Damien is the top dog for the Great Danes of State University at Albany, SUNY. We feel like this big fella doesn't get a lot of love, so we want to shine a spotlight on him.

Ever wonder what Scooby Doo might look like if deprived of Scooby Snacks? Behold, a large dog midway through the transition from munchies to hangry. It's not that he's mad. He just seems moody.

Perhaps it's because he was 41 years into his tenure when the Great Danes finally made their first appearance in the NCAA Men's Division I Basketball Tournament. More recent successes for the school's program may have softened Damien's demeanor a bit, as has the addition of his cuddly sidekick, Lil' D.

Starting in 1978, The Florida State University Seminoles have played behind a mascot named Osceola and his trusty horse Renegade. As a caricature of an historical leader of the Seminole nation, Osceola is actually one of the few Native American school mascots that hasn't been retired due to the threat of sanctions. This is owed in part to the school's ongoing relationship with some members of the Seminole tribe.

However, in light of the sensitivity of the issue, FSU maintains that Osceola's appearances are limited only to those occasions commensurate with his dignity. While football games fall under this umbrella, basketball games do not.

Enter Cimarron, a bipedal equine who has appeared at FSU basketball games and community events since 2012. Cimarron was crafted by the same creative studios that build creatures for Nickelodeon, which is why they had the good sense to offset the potential horror of seeing a horse walk upright by giving it the big, glassy eyes of a Disney Princess.

Image of Cimarron used with the permission of the Athletic Department, Florida State University.

North Carolina State University

Let's get some confusion out of the way right up front. The wolf that has been featured in the NC State logo for the last 70+ years is actually named Tuffy. By contrast, Mr. Wuf can be distinguished by his sailor's cap and a downcast expression, which together suggest he's recently eaten a spicy naval officer and is suffering from acid reflux. Here's a little history of both.

Tuffy was inspired by a 1921 article in which an alumnus referred to the rowdy members of the football team as a being "wild as a pack of wolves." From this utterance came the team's identification as the Wolfpack. This struck fans as a major improvement over the Techs, the Aggies, and the Red Terrors, the latter of which would certainly not have survived the coming Cold War.

Following the official 1947 adoption of the Wolfpack nickname, the school made several attempts at introducing real live timberwolves to thousands of screaming spectators. This did not go well.

Live mascotry was scuttled for the next several years. It was thus that the 1950s saw the introduction of various wolf-costumed cheerleaders. The original wolf was nameless and lonely, but with the introduction of a women's basketball team in 1975, he was given a partner. Five years later, they were dubbed Mr. and Ms. Wuf, and in 1981, the two were joined in holy matrimony during halftime of a Wake Forest game. The ceremony was, of course, performed by the Demon Deacon.

In 2010, NC State also managed to revive Tuffy's career, identifying a stand-in doggie from the lupine adjacent breed, Tamaskan. The current Tuffy looks like a wolf but has the social skills of a pampered canine.

Image of Mr. Wuf used with the permission of the NC State University Communications and Marketing Department.

In 1909, following the football team's fifth straight victory, coach Hugo Bezdek was heard to exclaim to a group fans at a train station that his team played "like a wild band of razorback hogs." He chose the simile in tribute to the wild hogs that were commonly seen in rural Arkansas at the time. Since they're not so common anymore, live mascots serving the position since the 1960s have actually been Russian boars.

It may surprise you to learn that Big Red-who made his sideline debut in the early 1973-is also not a real razorback hog. It's just a guy in a suit. And don't let his angry expression frighten you. He's actually just straining under the weight of what must be the most gargantuan noggin in college sports. In spite of his seemingly surly disposition, Big Red has a ton of friends, including women's sports sow named Sue E. Pig, a kid-friendly porcine named Pork Chop, a 9-foot-inflatable named Boss Hog, and a baseball specific pig named Ribby.

Image: Big Red, By Cardsplayer4life (talk) (Uploads) - Own work, Public Domain.

Originally founded as a "normal school" in 1885, the institution moved through several mascots in its first few decades including an owl and a bulldog. Neither was very popular.

Then, in 1946, the student body voted overwhelmingly to rename the team the Sun Devils. Two years later, ASU alumnus and Disney illustrator Bert Anthony offered a design for Sparky, who, rumor has it, was inspired by the facial features of Anthony's boss. In spite of the fact that Sparky kind of stole Walt Disney's face, ASU had no problem threatening to sue Orange Julius in the 1980s for featuring a pitchfork wielding devil on signs for their omnipresent mall food court stands.

In direct collaboration with Disney, the university attempted a redesign in 2013 but the resulting devil was considered too cartoonish, and was roundly rejected by the student body. A more mischievous redesign followed later that year. Evidence suggests Sparky has more than lived up to his reputation. The Sun Devil cost his school more than $76,000 in damages in 2016 when he playfully leapt upon Tempe city councilman David Schapira's recently-operated-upon back. While Schapira currently holds no office in the state of Arizona, Sparky remains firmly entrenched in his position.

Image: Sparky the Sun Devil, By Russy11 - Own work, CC BY-SA 4.0.

Named in tribute to their school's origin as a farm-focused land grant university, athletes for Utah State University compete under the Aggies moniker. That offers some latitude in choosing a spirit animal. The Bull is the preferred icon for most Aggies, as embodied by Big Blue.

By most accounts, Big Blue first became a fixture at Utah State University in the mid-80s. Appearances suggest that Big Blue is a bull with respiratory problems due to an infected septum piercing. He is, however, quite mobile, muscular, and beloved. Still, it took USU a while to find the right bull for the job. Back in the '70s, the university actually had a live bull acronymically named GUS (as in, Go Utah State). We're not sure GUS particularly loved being painted blue. More consequentially, his hooves inflicted some wicked damage to the football field.

After retiring GUS, the school was essentially without a mascot. Local radio station KVNU was kind enough to occasionally dispatch their KVNU Chicken to games. But the tenure of this San Diego Chicken knockoff was short-lived. Only through the efforts of several prominent USU Spirit Squad members would Big Blue come to fruition. This first version actually incorporated real buffalo horns and was prone to falling off rather easily. Several updates have delivered us to the current version, a Paul Bunyan-inspired ox who was once suspended for ripping the mustache right off of New Mexico State mascot Pistol Pete's face.

Image of Big Blue used with the permission of the Utah State University Athletics Department.

Like the sitcom Friends, Knightro made his official debut in 1994. Unlike Friends, Knightro is hilarious. But where was Knightro for the first several decades of UCF's history? We assume working as a greeter for Medieval Times. In his stead, the institution originally known as Florida Technological University (FTU) launched with a mascot known as the Citronaut.

Citronaut was a nod to the first orange ever launched into space, Buzz Mandarin. Sorry. That should've come with a Terrible Dad Joke Trigger Warning. Anyway, FTU began its history as an institution designed to support NASA's growing presence in Central Florida. Also, oranges...because Florida. Starting in 1968, FTU was repped by a costumed orange. The Cirtronaut lasted about as long as the paragraph you just read.

Students petitioned passionately for a new mascot and in 1970, their pleas were heard. Citronaut was replaced by the Knights of the Pegasus. Still, it took almost 25 years for the school to transform this mascot into the lite-beer pitchman you see before you today.

Image: Knightro, By breezy421 from Orlando, CC BY 2.0

University of North Carolina at Charlotte

History tells us that the first documented gold find in the continental United States took place in 1799 at the Reed Gold Mine in Concord, North Carolina. This fact mattered not in the least when the Charlotte Center of the University of North Carolina set up shop in 1946. In reference to its beginnings as a night school, CCUNC referred to its student athletes as Owls.

But those first years were financially shaky, and the institution was only saved by the heroic efforts of its first director, Bonnie Ethel Cone, as well as a 1949 rebranding as Charlotte College. Under this new banner, students chose to celebrate both the school's proximity to the Reed Mine and the year of their rebirth by taking on the 49ers nickname.

In 1962, the 49 Miner-a man who, we presume, was recently fired by a Foot Locker for sniffing desiccant-made his debut. Though he was rebranded as Norm the Niner in the early 1990s, he's not less creepy.

Image: Norm the Niner, By Stanton49 - Own work, CC BY-SA 4.0.

Is Mario a Dragon? A J.R.R. Tolkien superfan? A Comic-Con attendee who got the last cosplay get-up on the rack? Well, the answer has probably been all three over the years. The Drexel Dragon has undergone more makeovers in his 90 years of existence than perhaps any other college mascot.

The obvious reason for this is the difficulty of corralling a live dragon for actual games. Early efforts routinely ran afoul of local fire safety ordinances. It was thus that a student-engineered beast made its debut at a pep rally in 1929. From this point forward, nearly every year saw the decay and replacement of a Drexel Dragon. Sometimes it was made from draped cloth. Other times, it was a paper-mâché confabulation.

Finally, by the late '70s, tradition hewed toward the costumed performer. Still, near-annual costume changes make prior Drexel Dragons almost unrecognizable next to Mario the Magnificent, who was introduced in 1997 and named in honor of Drexel alumnus and Dragons basketball superfan Mario V. Mascioli.

Image of Mario the Magnificent used with the permission of the Department of Athletics, Drexel University.
If you love basketball, check out our look at the Most Influential Colleges in Basketball Today.
And for even more colleges with strong athletics programs, take a look at the Most Influential Colleges in Sports Today.
If a top college athletics program is a big priority for you, check out our Custom College Ranking tool, where you get to choose the features that matter most to you in your college search.
For all kinds of interesting articles and helpful tips, check out our Blog for students at every stage of the educational journey.
Or find study tips, learning tools, tips for campus life and much more with a look at our Student Resources Headquarters.