Most Influential Colleges in Basketball Today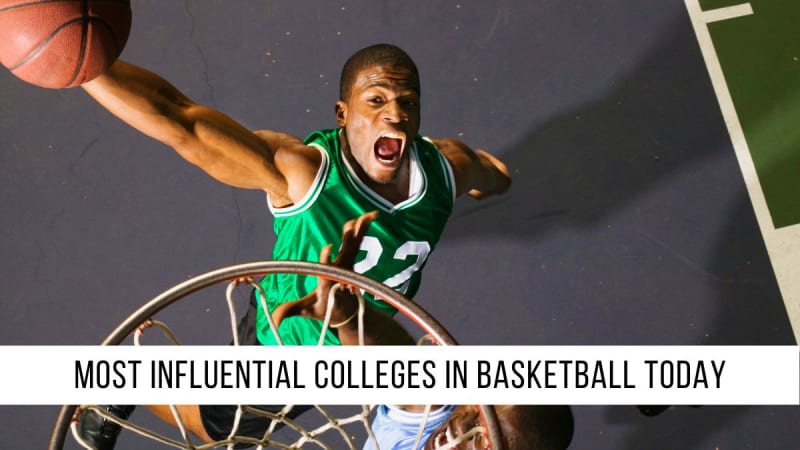 Find the colleges and universities that have the biggest impact in basketball based on the influence of their alumni in basketball. See which schools have proven histories of attracting and cultivating some of the most influential athletes today.
The best colleges and universities for basketball are exactly the schools you'd expect to see on this list—a who's who of storied college athletics programs, legendary coaches, and Hall of Fame players. Our list of the best basketball colleges includes programs famous for winning national titles and sending superstar players to the NBA. Therefore, it should come as no surprise that the University of North Carolina at Chapel Hill boasts not just the most influential basketball program in the world, but the most influential college athletics program in any sport. Credit this title to the massive influence of Michael Jordan, whose global visibility, fame and commercial impact as an NBA player both expanded the international reach of basketball and transcended the sport itself. UNC can also credit future Hall of Fame player Vince Carter and long-time college and professional coach Larry Brown for their landmark contributions to the NBA and the game as a whole. Other programs rounding out the top 10 include March Madness perennials such as Duke, University of Kentucky, and UCLA.
Most Influential Colleges in Basketball
Featured Programs
The Most Influential Colleges in Basketball Today
Other Rankings

University of Kentucky's Most Influential Basketball Players

More Influential Basketball Players

University of Kentucky's Online Degrees

Bachelor of Science or a Bachelor of Arts in Communication

Required Credits: 120
Completion Time: None Reported
Format: Online

BA in Health Science

Degree Concentrations

Medical Laboratory Science

Required Credits: 120
Completion Time: None Reported
Format: Online

BA in Liberal Studies

Required Credits: 120
Completion Time: None Reported
Format: Online

Bachelor of Science or a Bachelor of Arts in Information Communication Technology

Required Credits: 120
Completion Time: None Reported
Format: Online

BS in Nursing

Required Credits: 120
Completion Time: None Reported
Format: None Reported

BA in Social Work

Required Credits: 120
Completion Time: None Reported
Format: Online

Other Rankings

University of Arizona's Most Influential Basketball Players

More Influential Basketball Players

University of Arizona's Online Degrees

BA in Africana Studies

Required Credits: 120
Completion Time: None Reported
Format: Online

BAS in Administration of Justice

Required Credits: 120
Completion Time: None Reported
Format: Online

BS in Care, Health and Society

Required Credits: 120
Completion Time: None Reported
Format: Online

BS in Emergency Medical Services

Required Credits: 120
Completion Time: None Reported
Format: Online

Bachelor of Science in Business Administration in Accounting

Required Credits: 120
Completion Time: None Reported
Format: Online

BAS in Cyber Operations

Degree Concentrations

Engineering
Defense & Forensics
and Cyber Law & Policy

Required Credits: 120
Completion Time: None Reported
Format: Online

BA in Communication

Required Credits: 120
Completion Time: None Reported
Format: Online

BAS in Early Childhood

Required Credits: 120
Completion Time: None Reported
Format: Online

Bachelor of General Studies in Economy and Industry

Required Credits: 120
Completion Time: None Reported
Format: Online

BS in Environmental Science

Required Credits: 120
Completion Time: None Reported
Format: Online

Bachelor of General Studies, in Arts, Media and Entertainment

Required Credits: 120
Completion Time: None Reported
Format: Online

Bachelor of General Studies in Global and Intercultural Understanding

Required Credits: 120
Completion Time: None Reported
Format: Online

BA in Global Media

Required Credits: 120
Completion Time: None Reported
Format: Online

BA in Government and Public Service

Required Credits: 120
Completion Time: None Reported
Format: Online

BA in Human Rights Practice

Required Credits: None Reported
Completion Time: None Reported
Format: Online

BAS in Human Services

Required Credits: 120
Completion Time: None Reported
Format: Online

BS in Electrical and Computer Engineering

Required Credits: 128
Completion Time: None Reported
Format: Online

BS in Business Administration

Required Credits: 120
Completion Time: None Reported
Format: Online

BS in Geographic Information Systems Technology (GIST)

Required Credits: 120
Completion Time: None Reported
Format: Online

BS in Literacy, Learning and Leadership

Required Credits: 120
Completion Time: None Reported
Format: Online

BA in Information Science and ESociety

Required Credits: 120
Completion Time: None Reported
Format: Online

BAS in Organizational Leadership

Required Credits: 120
Completion Time: None Reported
Format: Online

BA in Psychology

Required Credits: 120
Completion Time: None Reported
Format: Online

BA in Law

Required Credits: 120
Completion Time: None Reported
Format: Online

BA in Political Science

Required Credits: 120
Completion Time: None Reported
Format: Online

BAS in Regional Commerce

Required Credits: 120
Completion Time: None Reported
Format: Online

BAS in Intelligence and Information Operations

Required Credits: 120
Completion Time: None Reported
Format: Online

BA in History

Required Credits: 120
Completion Time: None Reported
Format: Online

BA in Philosophy: Ethics

Required Credits: 120
Completion Time: None Reported
Format: Online

Bachelor of Science in Business Administration in Biology

Required Credits: 120
Completion Time: None Reported
Format: Online

BS in Nutritional Sciences

Required Credits: 120
Completion Time: None Reported
Format: Online

BA in Spanish

Required Credits: 120
Completion Time: None Reported
Format: Online

Bachelor of General Studies in Sports and Society

Required Credits: 120
Completion Time: None Reported
Format: Online

BS in Public Health

Required Credits: 120
Completion Time: None Reported
Format: Online

BS in Sustainable Built Environments

Required Credits: 120
Completion Time: None Reported
Format: Online

Bachelor of General Studies in Social Behavior and Human Understanding

Required Credits: 120
Completion Time: None Reported
Format: Online

Other Rankings

Syracuse University's Most Influential Basketball Players

More Influential Basketball Players

Syracuse University's Online Degrees

BPS in Creative Leadership

Required Credits: 120
Completion Time: None Reported
Format: Online

BPS in Knowledge Management

Required Credits: 120
Completion Time: None Reported
Format: Online

BPS in Cybersecurity Administration

Required Credits: 120
Completion Time: None Reported
Format: Online

Other Rankings

University of Iowa's Most Influential Basketball Players

More Influential Basketball Players

University of Iowa's Online Degrees

BA in Applied Studies

Degree Concentrations

Creative Writing
Human Relations
Justice Studies
Political Science

Required Credits: 60
Completion Time: None Reported
Format: Online

BA in Enterprise Leadership

Required Credits: 120-136
Completion Time: None Reported
Format: Online

BA in Liberal Studies

Degree Concentrations

Expression in Writing and Arts
Global Studies
Family
Community
and Social Support
Health and Human Studies
Justice and Ethics
Organizational Studies

Required Credits: 120
Completion Time: None Reported
Format: Online

BS in Nursing

Required Credits: 32
Completion Time: None Reported
Format: Online

BS in Radiation Sciences

Required Credits: 60
Completion Time: None Reported
Format: Online

BA in Social Work

Required Credits: 121-132
Completion Time: None Reported
Format: Online

Other Rankings

University of Cincinnati's Most Influential Basketball Players

More Influential Basketball Players

University of Cincinnati's Online Degrees

BBS in Criminal Justice

Required Credits: 120
Completion Time: None Reported
Format: Online

BS in Public Health

Required Credits: 120
Completion Time: None Reported
Format: Online

BA in Interdisciplinary Studies

Required Credits: None Reported
Completion Time: None Reported
Format: None Reported

BS in Respiratory Therapy

Required Credits: 50
Completion Time: None Reported
Format: Online

BSN in Nursing

Required Credits: None Reported
Completion Time: None Reported
Format: None Reported

BS in Radiation Science Technology

Required Credits: 60
Completion Time: None Reported
Format: Online

BAS in Technical and Applied Studies (BTAS)

Required Credits: 60
Completion Time: None Reported
Format: Online

BS in Health Information Management

Required Credits: 52
Completion Time: None Reported
Format: Online

BS in Law & Paralegal Studies

Required Credits: 120
Completion Time: None Reported
Format: Online

BS in Early Childhood Education (ECE)

Required Credits: 120
Completion Time: None Reported
Format: Online

BS in Pre-Occupational Therapy

Required Credits: 52
Completion Time: None Reported
Format: Online

BA in Communication

Required Credits: None Reported
Completion Time: None Reported
Format: Online

BS in Social Work

Required Credits: 57
Completion Time: None Reported
Format: Online

BS in Fire Science & Emergency Management

Required Credits: None Reported
Completion Time: None Reported
Format: None Reported

BS in Substance Abuse Counseling

Required Credits: 60-120
Completion Time: None Reported
Format: Online

BS in Information Technology

Degree Concentrations

Networking and Systems
Software Application Development
Cybersecurity
Game Development and Simulation
Data Technologies

Required Credits: None Reported
Completion Time: None Reported
Format: None Reported

BS in Health Sciences

Required Credits: 59
Completion Time: None Reported
Format: Online

Other Rankings

Providence College's Most Influential Basketball Players

More Influential Basketball Players

Providence College's Online Degrees

BS in Fire Administration

Required Credits: 120
Completion Time: None Reported
Format: Online

BA in History

Required Credits: 120
Completion Time: None Reported
Format: Online

BA in Leadership Development

Required Credits: 120
Completion Time: None Reported
Format: Online

BA in Liberal Studies

Required Credits: 120
Completion Time: None Reported
Format: Online

BA in Professional Studies

Required Credits: 120
Completion Time: None Reported
Format: Online

BA in Social Science

Required Credits: 120
Completion Time: None Reported
Format: Online

BA in Theology

Required Credits: 120
Completion Time: None Reported
Format: Online